As HIIT reigns, these machines are getting newfound cred as real body changers.
Treadmills have a magic that other cardio equipment can't quite match. Compared with the usual suspects (rowers, spin bikes, ellipticals, stair climbers, cross-country ski machines), treadmills can help you burn more calories at every intensity. "Also, running on a treadmill promotes dynamic balance, something you don't get on seated equipment like a bike or a rower," says Christi Brewer, an assistant professor of exercise science at Eastern Washington University. A new study by Christi showed that a treadmill run can even outburn a high-intensity weight circuit. At the same heart rate, exercisers doing a steady 20-minute treadmill run burned 37 per cent more calories (206) than doing 20 minutes of circuit training with weights (fastpaced reps for 30 seconds and no rest between sets), even though they rated circuits much higher in perceived exertion. "While circuit training does get your heart rate within an aerobic training zone and feels more strenuous than treadmill running, it does not burn as many calories at the same heart rate," Christi says. Want to get even more out of your treadmill time and tap the versatility of your machine? Check out the workout plans, science, gear, and tips packed on these pages.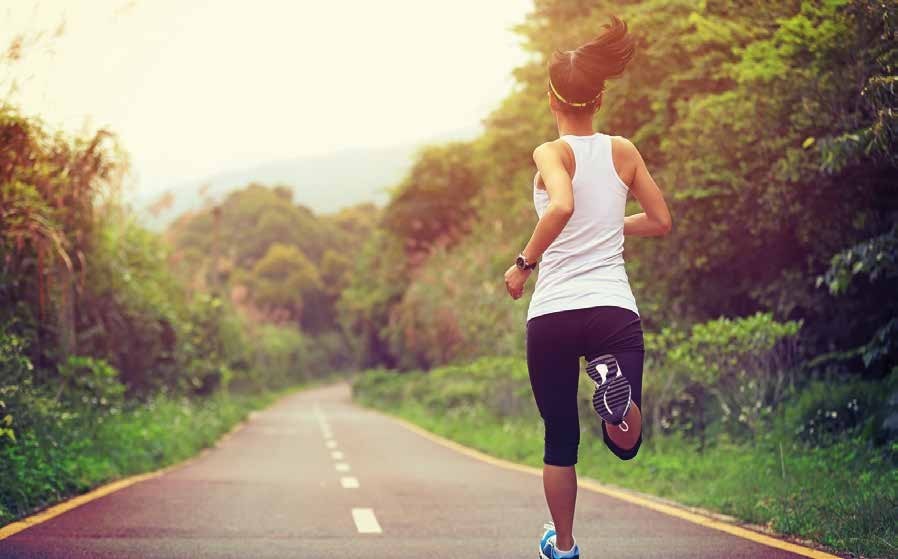 THE GREATEST HIITS
Top instructors at two treadmill studios give simple interval routines.
40-MINUTE HILL CLIMB
A. Warm up at an easy pace for 5 minutes, then do a 2-minute hill interval (choose a 4 to 7 per cent incline) at hard eff ort, followed by 2 minutes at a recovery jog or walk on a 1 per cent incline. Repeat combo, this time doing a 3-minute hill interval, with a 2-minute recovery.
B. Do the next 2 hill intervals at 4 minutes each, with a 2-minute recovery.
C. Finish with 2 more hill intervals, first a 3-minute interval and then a 2-minute interval, each with a 2-minute recovery. Cool down with a 5-minute walk.
– ELIZABETH CORKUM, MILE HIGH RUN CLUB STUDIO IN NEW YORK CITY
25-MINUTE SPRINTERVALS
A. Warm up at an easy jog for 10 minutes. Next, complete 60 seconds on (that is, at a challenging fast running speed), then 60 seconds off (easy-paced recovery).
B. Repeat 3 times, decreasing the recovery by 10 seconds each time: 60 on, 50 off ; 60 on, 40 off ; 60 on, 30 off .
C. Recover at an easy jog or walk for 1 to 2 minutes.
D. Do five 30-second sprint intervals: 30 on, 50 off ; 30 on, 40 off ; 30 on, 30 off ; 30 on, 20 off ; 30 on at an all-out sprint. Cool down for 5 minutes.
– BECS GENTRY, AN INSTRUCTOR AT PELOTON TREAD STUDIO IN NEW YORK CITY
QUICK TIP
"Set your treadmill incline to 1 per cent."
"Bringing the treadmill up that tiny amount off sets the belt's movement below you and makes your hamstrings kick in more," says Elizabeth Corkum, an instructor at Mile High Run Club studio in New York City.
TEXT MARY ANDERSON MAIN PHOTO ANTONIO TERRON/TRUNK ARCHIVE PHOTO 123RF.COM
On-tread strength tips
1 ALTERNATING SHUFFLE
Set the pace on your treadmill to 3 kilometres per hour and put incline to 0, then alternate between 30 seconds each of skipping, side shuffling (shown), galloping, and jogging backwards, switching sides as you go. Use handles for support if needed.
– ANNA KAISER, CREATOR OF AKTREAD AND AKT STUDIOS IN NEW YORK CITY 
2 TRICEPS DIP
Step onto the idle treadmill and, facing away from the dash, grasp handles and straighten arms to lift body (bend legs behind you). Bend elbows 90 degrees behind you to lower body (shown), then press up. Continue for 30 seconds.
SCALE IT DOWN: Start with dips off  the back of the tread.
– REBECCA SKUDDER, MYSTRYDE GROUP TREADMILL STUDIO IN BOSTON
HYDRATION
Drink enough fluids during your run so that you weigh about the same when you get off  the treadmill as when you got on, says Laura Daray, a senior scientist at Gatorade Sports Science Institute. So if you're down 0.5kg (500ml) after drinking 250ml of water midworkout, aim to have 750ml of fluid next time. Going longer than an hour? Consider a drink with sodium – an electrolyte that helps retain fluid – and carbs (to restock your body's quick-energy stores), Laura says.
Q Sometimes I phone it in on the treadmill. What are some mental tips to keep it fresh and engaging?
I see so much of myself in this question! Running for me has always been a struggle – I have to push myself to do it. And likewise, I've had to get creative with the ways I stimulate my headspace on the treadmill so that I'll stick with it and reap the benefits of this effective tool.
Using your playlist is the most accessible pick-me-up: Elevating your speed and incline on the choruses and working more moderately during each verse will spice things up.
I also encourage you to set shortterm goals with your treadmill sessions. Instead of committing to run for 20 minutes straight, I want you setting speeds and distances that you need to hit within certain times. For example, run at the best speed you can hold for two full minutes. Take 60 seconds off , then replicate those two minutes trying to get even 150 metres farther. Five rounds total of this, and you're already at 15 minutes! Want a break from measuring distance? Maintain your speed for each interval, but increase the incline each time. These small goals will add up to a higher volume of tread work and a much more engaged experience.
JEN WIDERSTROM IS A FITNESS EXPERT, AND THE AUTHOR OF DIET RIGHT FOR YOUR PERSONALITY TYPE.
PHOTOS TOP LEFT CHRIS FANNING, TOP RIGHT HIRO LANDAZURI BOTTOM
123RF
.
COM