Check out what's new in stores this month.
Check out what's new in stores this month.
LOCK IN MOISTURE 
Fickle weather in Singapore calls for long-lasting hydration for the skin without leaving any icky feel. With over 40 million jars sold worldwide since 2005, many have entrusted their skin to Kiehl's #1 Moisturiser Ultra Facial Cream. Made with proteins and moisturising oils that work to restore and lock in moisture, it leaves you with softer, smoother and healthier-looking skin. At $52 (50ml) and $95 (125ml, limited edition jumbo) at all Kiehl's outlets. www.kiehls.com.sg
PLUMP UP WRINKLES 
Reduce the look of crow's feet, nasolabial folds and marionette lines with the Skinceuticals H.A. Intensifier, which contains a high amount of hyaluronic acid , proxylane and purple rice extract to restore skin plumpness, elasticity and firmness. The corrective serum is said to amplify hyaluronic acid levels of up to 30 per cent for more supple and refined-looking skin. At $159 (30ml). For authorised retailers, go to www.skinceuticals.sg
LOOK GOOD, FEEL GOOD
Has your skin been experiencing bouts of dryness, flakiness and sensitivity even though you have tried different moisturisers? 
This could be a sign that your skin's moisture barrier has been compromised. Try IDS Skincare's Ultra Moisturiser, an emollient-rich, creamy moisturiser. Used once or twice daily, expect almost instantaneous relief to sensitive skin such as irritation and itching, and most of all, moisturised and supple skin. At $69 at IDS Skincare retailers. jyx.shop
LOVE FOR LASHES 
Eyelashes suffer from breakage due to external stressors, and requires a strengthening lash conditioner. This is vital if you use mascara every day, or if you tend to rub your eyes. RevitaLash Advanced Eyelash Conditioner counters eyelash ageing resulting in brittleness, dryness and breakage. With peptides, biotin and green tea extract, the serum protects and strengthens your lashes while improving their flexibility and shine. www.revitalash.com
LUMINOUS SKIN INSIDE OUT
Put aside home remedies for dark spots, your hyperpigmentation woes is reportedly as simple to resolve as a pop of a pill. Heliocare Purewhite Radiance Max 240 is an oral supplement that tackles pigmentation. It uses an ingredient that was extensively researched and developed at Harvard Medical School for over 12 years, and doesn't contain animal derivatives. At Heliocare retailers. www.heliocare.com.sg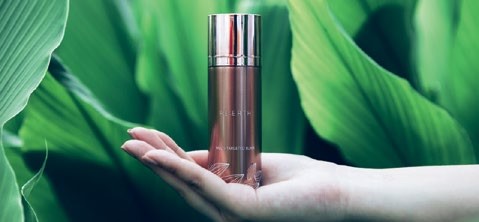 ONE-STOP SKIN SOLUTION 
Save time by reducing your skincare steps with Re:erth's Multi-Targeted Elixir. This lightweight serum has Japanese spring turmeric leaf extract proven to help brighten the skin by inhibiting melanin activity by 88 per cent. It also has a high concentration of vitamin C to help stimulate collagen synthesis for firmer skin, and a white turmeric extract works to prevent hyaluronic acid degradation for smoother and more radiant skin. At $108 (30ml), at retailers at Design Orchard and QUE Downtown. www.reerth.com