If scrolling through home decor on Pinterest boards always leaves you envious, use these timeless hacks to achieve the look you want – sans a costly.
If scrolling through home decor on Pinterest boards always leaves you envious, use these timeless hacks to achieve the look you want – sans a costly.
1. NEW LICK OF PAINT
Cream and white are not the only colours that can bring about a sense of calm. Try lighter shades of grey, green or purple, like Grey Jeans by Dulux as pictured here. While most of the wall is in grey, Dulux's Bellcourt Castle (beige) goes around the window, creating an interesting wall accent and the illusion of a larger window.
2. GIVING OLD FURNITURE A NEW LOOK
Before you start shopping for new furniture, do a stock check of what you already have. That old chest of drawers or "boring" wooden headboard can look dramatically different with a new colour palette. If you like the matte or distressed look, try furniture paint brands like Annie Sloan Chalk Paint ($28, 120 ml; $75, 1-litre). Local distributor Big Blue Trunk carries a wide colour range – perfect for those struggling to find furniture in the right hue.
3. CHANGE OUT YOUR LIGHTS
If you find your current statement lamp passe, check with the shop whether your current ceiling plate can accommodate a different design. Local brand Like Lights carries various fixtures that use the same plate, giving you the freedom to switch lamps. Changing from white light to warm or moody lighting can also make a lot of difference to your room ambience.
4. ACHIEVE A THEME WITH WALLPAPER
Jungalow, baroque or contemporary glam – for every style, there's a wallpaper design. It's a high-impact, low-effort hack. Use wallpapers as backdrops for dining areas and bedrooms, or if you're up for a challenge, around window frames. For contemporary designs, Finnish wallpaper brand, Feathr (feathr.com), offer imageries of nature, ombre prints and monochrome designs. Where They Belong Summer Duo (pictured left; $188.50 for a 10-m roll) is vibrant yet will not overwhelm a space, while Oslo (pictured above; $71 per sq m) is calming. 
5. UPGRADE THE SOFA
We recommend the sofa – it's the first thing you will see when entering a home. Play with size, colour and configuration. A leather chesterfield gives off masculine vibes, while velvet grey fabric is glamorous. Finn Avenue combines both with the Earl of Chesterfield sofa (pictured above; $2,290). You can also downsize to a smaller sofa with statement armchairs like Augustus (pictured right; $1,318) or Made and Make's Wendelbo Ventall Lounge Chair (pictured far right) from Etch and Bolts.
From left: Lejongap, Alpklover and Vinterjasmin curtains; all from Ikea.
6. JAZZ UP YOUR WINDOWS WITH CURTAINS
If you're afraid to commit to a bold wallpaper, try printed curtains; they pop against a neutral-hued wall. If this is still somewhat daunting, choose sheer cotton or open-weave linen. These fabrics pare down the prints while still achieving a unique effect – see Alpklover's green leafy design ($39.90 for a pair) or Vinterjasmin ($29.90 for a pair) by Ikea. A minimalist alternative like Ikea's Lejongap ($49.90 for a pair) helps create a classic, airy ambience.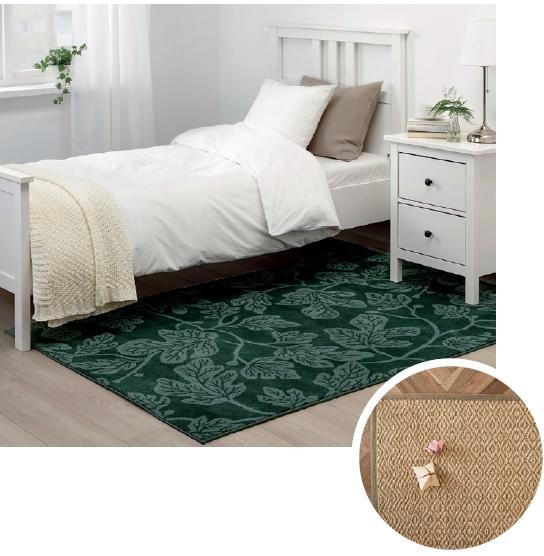 7. ADD OR CHANGE RUGS
Think colour and texture. A warm-hued Persian rug can soften the look of concrete flooring, while jewel-toned rugs like Ikea's Vonsbak (pictured above; $49.90 to $159) can perk up a dark or dull floor. Create a plush-looking environment by swopping your low-pile carpet for a high-pile one that's softer on your feet. Found a rug you love, but it's too small? Layer it over a larger, plain carpet.
From left: Mielana Mirror from Island Living by Cocoon, and District Eight Half Circle Mirror from Journeyeast.com.
8. ADDING DECORATIVE MIRRORS
Instead of a regular photo wall, how about a melange of mirrors? Mirrors with carved wooden frames, such as the Mielana ($55) from Island Living by Cocoon, as well as tinted surfaces are suitable for a bohemian look. You can also make a statement with an oversized or odd-shaped mirror in the foyer.