Each year, The Weekly throws the spotlight on 18 inspiring women in The Great Women Of Our Time Awards.
Each year, The Weekly throws the spotlight on 18 inspiring women in The Great Women Of Our Time Awards. Some are hard workers, with an earnest ambition which makes them stand out. Others have faced personal demons but refuse to be crushed, inspiring others in a way they never anticipated. In this issue, meet all the nominees across six categories and find out what makes them trailblazers in their fields.
Arts & Media
TRACIE PANG, 48 
Artistic Director, Pangdemonium 
In 2009, Tracie founded theatre company, Pangdemonium, with her actor-husband Adrian Pang and has been instrumental in widening the breadth of Singapore's arts scene through her productions. The writer-producer-director recently won the Best Director gong at the M1-The Straits Times Life Theatre Awards, proving that there is a space for women in the arts industry despite cries to the contrary. "When I started out in the arts in Singapore, there weren't very many women. Certainly not in the technical side; there would be me, maybe one other girl and a whole lot of guys. You had to be like one of the guys to get any amount of respect," she says. "But I enjoyed it immensely because it proved that I could get things done regardless of my sex and it reached a point where I never even thought about it, I just followed my passion."
Sarah Martin, 45 
Chief Executive Officer, Arts House Limited 
Describing herself as a "builder", Sarah took over the helm of Arts House Limited last year and immediately expanded the arts management company's portfolio to include the running of the Victoria Theatre and Victoria Concert Hall on top of existing venues such as the Aliwal Arts Centre and the Goodman Arts Centre. In the grand scheme of things, Sarah hopes to support Singapore's arts development so it can flourish. "The Arts House Limited has great potential to be a massive intermediary for the arts scene," she declares. "We're in the best position possible to help artists and to grow audiences, because of our nature and the hybrid that we are." Prior to joining the Arts House Limited, Sarah was involved in the smooth running of the Singapore Grand Prix as its Director of Operations.  
KIRSTEN TAN, 36 
Film Director and Screenwriter 
A versatile filmmaker with a penchant for bold visual storytelling, Kirsten Tan, has made history by becoming the first Singaporean to win an award at the prestigious Sundance Film Festival. Her debut feature-length film Pop Aye nabbed the World Cinema Dramatic Special Jury Award for Screenwriting. Her labour of love, which took a total of three-and-a-half years to create, is proof that there has never been a better time for women to make their mark with local films. "If you look at the size of representation that female directors have, you'll quickly realise that there is quite a serious gender imbalance in the filmmaking industry, not just in Singapore," says Kirsten. "It's not just about film, it's how society and our culture think about women and we still have a long way to go in educating people about gender norms and the role of women in the world." 
Design & Style
ELYN WONG, 40 
Founder and Fashion Designer, Stolen 
A graduate of Visual Communication and trained in graphic design, Elyn actually got her start in another industry. "I was in the advertising executive for 16 years and I never imagined myself in fashion," she confesses. "The reason I started the label was because of my insecurity. As a creative person, I also felt that even though I was in advertising I should be able to create anything. So I challenged myself to design a fashion line." What began as a challenge quickly turned into a passion for Elyn as she married garment construction with architecture and installation art, resulting in home-grown fashion label, Stolen. The brand, which turns 10 this year, has come leaps and bounds since its inception. In 2014, Elyn took the label and participated in TMRW, a showcase featuring emerging designers from around the world during New York Fashion Week. 
KAREN TAN, 36 
Founder, Pocket Projects 
Karen specialises in taking run-down areas and redeveloping them into something attention catching and sustainable, such as the award-winning Lorong 24A Shophouse series in Geylang. Through Pocket Projects, a design consultancy she co-founded, Karen was able to realise one of her most famous revamps – the chic art-house cinema, The Projector, situated in what was once a derelict building on Beach Road. "Where people see rubbish, we see potential and exciting opportunities to do something creative," says Karen. "When we started the project, there was a lot of negativity and people telling us that it's not going to work. Somehow we dispelled that, barrelled through because we felt it deserved a shot, and managed to fill a gap in Singapore's cultural landscape." 
YU NONG KHEW, 35 
Founder, Khew + Cornelius 
Architect, designer, researcher, and artist. It's clear that Yu Nong has worn many hats during the course of her career, but one that doesn't get a lot of air-time is eco-warrior. As co-founder of design studio, Khew + Cornelius, the petite powerhouse has always been interested in how design and technology can work together to solve the social problems of environmental degradation on Earth. "I looked at my immediate surroundings and thought, 'What can I do'? I looked at the food  we throw away on a daily basis, and decided to tackle the issue of waste," Yu Nong explains. From there, she designed a smart home compost system that turns food scraps into fertiliser 50 times faster than the traditional way of composting. Currently, Yu Nong is also working on a range of 100 per cent compostable interior and lifestyle products. 
Finance & Commerce
TAY SU-LYN, 41 
Founding Partner, Violet Oon Singapore 
It was the thought of losing their mother's life's work and legacy that prompted Tay Su-Lyn and her brother to transform their family restaurant business into a culinary empire. "You know that Peranakan hospitality where you invite people into your home to makan (eat)? We wanted to keep that DNA alive with the branding of Violet Oon's Kitchen," says Su-Lyn. "But at the same time, we want to give diners an experiential dining experience and give Singaporean food the respect it deserves. It's not fine dining per se, but we want to offer something that comes from the heart, that will attract people from all generations." Su-Lyn, in particular, has been instrumental in spearheading the drive to modernise the Violet Oon brand to appeal to a broader audience, and it's paid off as the business currently has three outlets in Singapore with plans to expand.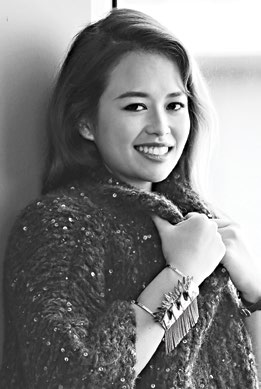 CANDICE ONG, 33 
Chief Commercial Officer, ShopBack 
At the tender age of 33, Candice has pushed e-commerce start- up ShopBack from a Singapore-based team of just three people in 2014 to a regional force of 100 employees today. In addition, her tenure as Chief Commercial Officer has seen the company flourish across six nations in Asia in less than three years, and outgrow their No. 1 competitor, Ebates.com, in the region. Not bad for a young lady who took a massive 70 per cent pay cut just so she could jump ship from finance to tech. "In 2012, I saw that my US-based friends whom I respected were making huge career switches. That helped to push me to make the change as well," says Candice. "Most importantly, I realised that I didn't see myself doing banking in the next five years when I took a moment to reflect my career path. I wanted to expand my skillsets and open more options." 
JOCELYN CHNG, 50 
CEO, JR Group 
Having experienced a poverty-stricken childhood, Jocelyn turned her life around and is now the boss of one of Singapore's largest food companies, Sin Hwa Dee. A single mother of three after her husband passed away suddenly while her children were still young, Jocelyn is also the Chief Executive Officer at JR Group, which started serving hot meals from vending machines. Hot food from a box? While it may have its detractors, Jocelyn says it's all a matter of perspective. "Changing people's lifestyles and mind-sets is not easy, but we are excited about the revolution we are bringing to the F&B market," she shares. "When ATMs first came out, no one wanted to use them. They were wary and suspicious, but now ATMs have become the norm. It'll be like that, too, with Chef-in-Box." The company has since launched 100 standalone vending machines, as well as Singapore's first vending machine café. 
Health, Sports & Wellness
DR ROSEMARY TAN, 48 
Chief Executive Officer and Founder, Veredus Labs 
Dr Rosemary serves as the Chief Executive Office of Veredus Labs, a Singapore-based medical diagnostics company. Her firm has made headlines for developing a test kit that can detect seven major tropical diseases, including Zika and dengue, from just a drop of blood. "We're at the cutting edge of technology. We have shrunk an entire lab onto a chip that's the size of a fingernail," she explains. "As long as a specimen contains DNA, we can tell you what pathogens are contained in it." Her inspiration? Sci-fi television series, Star Trek. "There is a clinic on board the Starship Enterprise with a scanner that detects all kinds of diseases in humans and it can tell you why you're sick," she explains. "I thought if they could have one on the show, why couldn't we have one in real life? As a biologist, I knew I had to get a team together and create it." 
DORIS GOH, IN HER 50S 
Chief Marketing Officer, Two Roads Hospitality 
With a distinguished career spanning more than twenty years in the hospitality industry, Doris is the first Asian woman to serve as education chairperson at the Association of Corporate Travel Executives (ACTE) in Asia. Currently the Chief Marketing Officer of Two Roads Hospitality, Doris is redefining the concept of luxury travel. "What is luxury? For me, it's about living graciously, where people will want to do something for someone without expecting anything in return, about being in a community where people care enough to practise good neighbourliness," she says. Graciousness is the cornerstone of Alila's branding, which Doris has worked tirelessly to perfect. Considering that Alila, which means 'surprise' in Sanskrit, is seen as one of the foremost luxury boutique offerings in the world, it's a testament that her work is paying off. 
JERI CHUA, 42 
Ultra Marathon Runner and Founder, Red Dot Running Company  
A former physical education teacher, Jeri Chua began running ultra-marathons in 2009. She has since completed the 400 kilometre Ultra Trail Gobi in China's Gobi Desert, which saw her brave blistering temperatures, unnavigable sand dunes and extreme physical duress, to finish second female overall and becoming the first Singaporean woman to complete such an ultra-distance. "I realised then that no one can help you across the finish line," she says of her journey. "You have to find it within yourself. You can find support in other people but at the end of the day, it's your choice to make whether you want to carry on or not." Jeri is currently working on building up the ultra-running community in Singapore and Southeast Asia through the Red Dot Running Company. On a personal scale, she's also planning to run the length of New Zealand next year in under 60 days. That's some 3,000 km! 
Public Service & Education 
Saleemah Ismail, 48 
Co-Founder, New Life Stories 
While Saleemah started her career in the private sector and worked for several years there, the call of social activism proved too strong for the gender equality and diversity advocate. She soon moved to a consultation role with UN Women and UNDP, before founding New Life Stories in 2014, which provides pre-school education for the children of incarcerated mothers. "My friends and I were invited by the Singapore Prison Service to develop a vocational training programme for their female inmates," explains Saleemah. "I found out that many of those imprisoned were mothers and that they were extremely remorseful for the pain that they caused their family." She decided then to also help these women heal their relationship with their children. To date, the non-profit has helped some 15 mothers and 30 children a year, every year, since their inception.  
Esther Tan Cheng Yin, 42 
Singapore's First Female Naval Diver 
Dubbed Singapore's GI Jane, Esther has made history as Singapore's first female naval diver with the elite Naval Diving Unit of the Singapore Armed Forces (SAF), in a job that involves search-and-rescue operations and explosive ordnance disposal. For many the sheer body strength needed to complete many of the tasks on the job are incomprehensible, and even more so for a lady. "Gender isn't an issue: What's more important is ability. I'm glad I listened to my heart and not the physical limitations of my body," Esther says of her time in the force. "There was nothing more that I could ask for in a job that required both mental strength and mettle, with a strong emphasis on teamwork and professionalism." After an illustrious 22-year career, Esther left earlier this year and she now takes part in expedition races in the desert and over mountains for hundreds of kilometres at a stretch. 
Grace Sai, 34 
CEO and Co-Founder, The Hub Singapore 
"There's sexiness around entrepreneurship, even though entrepreneurship is anything but sexy. It is actually really difficult," confesses Grace, who founded The Hub Singapore. "In a company, there are many layers to share that burden and diffuse that burden. Whereas in the start-up culture it's all on you." Despite this, Grace has worked tirelessly to realise her dream of growing and supporting enterprises that want to make the world a better place. "Our initial legacy was that of the 'mother' of all social enterprises and we did that by encouraging our members to use technology, supporting their endeavours through incubation and mentorship, and helping them to measure their success," she explains. "Now, we're starting to invest in venture capital funds so that anyone with an idea, hobby, or passion can come to us and realise their dream." 
Science & Technology
GILLIAN TAN, 36 
Founder, Clicknetwork 
Gillian started her own company with $10,000, a mini video camera and an old Macbook. Today, what was previously a one-woman-show has since evolved to be one of Singapore's most creative and successful production companies. Clicknetwork has the honour of being the first YouTube channel in Singapore to hit one million subscribers. "When I was a kid, I used to love watching movies. I would try to make home videos of my parent's birthdays and things like that, but at such a young age I didn't have the technical know-how," she explains. "So from way back as then, I knew I wanted to study video production at university and learn how to work with cameras properly and learn how to edit. It was very clear to me that I wouldn't do anything else." The passion has steered Gillian on in her quest for greatness in the tumultuous media landscape.
DR LI JINGMEI, 35 
Genome Institute Scientist, Agency for Science, Technology and Research (A*STAR) 
Dr Li Jingmei studies mammogram images to see how breast density predicts cancer risks. She also plans to use Singapore's nationwide disease registries to work out how genetic mutations that increase the risk of breast cancer slightly are linked to aggressive types of breast cancers. As such, Dr Li's work is as important as ever in helping to improve the state of women's health. "The thing about breast cancer is that no one wants to talk about it. They feel like being sick is a burden to others," she says. "I aim to change that." The daughter of a jewellery manufacturer and a housewife says it's difficult to predict your risk of cancer if people in your family aren't forthcoming about what illnesses they are suffering from. That's part of the reason why she's so driven to improve the lives of women in general. 
ANG SEOK KHIM, 42 
Principal Defence Researcher, DSO National Laboratories 
Along with her lab partner, Seok Khim has done what no one else in the world could. The pair have developed bulletproof transparent ceramics for use in military vehicles and other security applications such as civilian guardhouses and VIP cars – a global first. "The whole process was very challenging. We are working in a very niche area with transparent ceramics and not many people around the world can do what we've done," she explains. "So we didn't have anything to work off in a way because we're one of the few scientists worldwide that have done this and that, for me, is really rewarding." The use of transparent ceramics will help Singapore reduce its reliance on other countries for cutting-edge defence technology. The material has now been put into small-scale production as the duo wait for an exclusivity patent to be granted. 
TEXT AND COORDINATION: NATALYA MOLOK
PHOTOS: NICKY LOH, YANN CLOITRE & CHIEKO KATO
ART DIRECTION: CHRISTINA LIM
STYLING: JEROME AWASTHI, ASSISTED BY JET ONG & LING CHEW; & NEO LIRONG, ASSISTED BY CAROLINE NEO
HAIR: KENNETH ONG, DESMOND YAP, SEAN ANG & ASH LOI
MAKEUP: GINGER LYNETTE, GIGI SNG, KEITH BRYANT LEE & RIE MIURA
LOCATIONS: FRASER SUITES, CAPRI BY FRASER, FRASER PLACE & OAKWOOD PREMIER OUE SINGAPORE