Despite the small footprint of her flat, this designer managed to create a bright, spacious abode with a few creative customisations.
Despite the small footprint of her flat, this designer managed to create a bright, spacious abode with a few creative customisations. 
WHO: An interior designer in her 40s.
HOME: Four-room HDB BTO flat in Choa Chu Kang.
SIZE: 990sqf.
When Lilian Sim first saw her new four-room Housing Board flat, she was a little disappointed. "I thought it looked really small," remarks the interior designer. She thought long and hard about how to create a "large, minimalist home with lots of clean lines", and looked to Pinterest and interior design magazines for inspiration.
A wall, which separated the kitchen and the dining room, was removed to create an open-concept space. As there was limited space for storage, built-in drawers were installed under all the beds. The fixed, L-shaped dining table plays many roles, too – it's a kitchen worktop, as well as a desk.
Lilian also incorporated unique and personal touches into the home to make it her own, in a renovation that cost about $60,000 (including furnishings). Here's what makes the space different.
A versatile dining table
To provide the impression of a spacious living and dining area, Lilian cleverly emphasised the vertical space above the dining counter. The wood laminate that clads the surface of the table was extended to the ceiling to create a "canopy". "This makes the space visually larger as the eyes are drawn to the ceiling," explains Lilian. 
The dark wood tone of the laminate was chosen to contrast with the home's light colour palette, so that the structure stands out as the focal point of the home. Bronze-tinted mirrors wrap the base of the dining table, reducing its visual bulk.
One-of-a-kind track lighting
Every room uses track lighting, including the hallway, but the lighting in the living room stands out – the spotlights in this space are encased within Sapporo beer cans. Lilian simply cut out the base of the cans, and had an electrician fix in the lights. "Spotlights are very flexible – I can angle their light to face whichever direction I want. It's also easier to replace spoilt ones, as compared to regular lights," Lilian shares.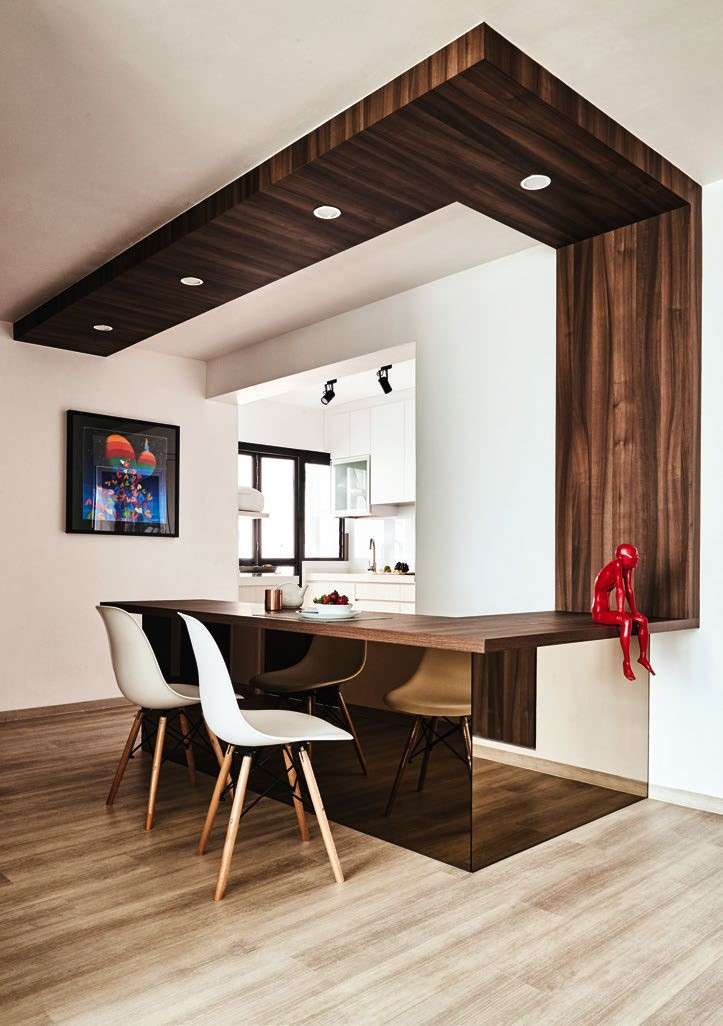 Unique home accessories
Lilian looks to popular Chinese e-commerce site Taobao to find affordable home-decor accessories. Her Taobao buys include the light fixture in the living room, her track lights, a moose-head wall decor along the hallway and a set of three whimsical coat hooks in the master bedroom.
She also recommends her buys to clients if she finds the items to be of high quality. She also decorated her home with her toy collection, such as paraphernalia of her favourite characters – Astro Boy, Tintin and Batman. "They add colour to the home's neutral palette," she says.
WHERE TO GO Shen Interior Design, TEL: 6725-8438