While most people take photographs as a way to create lasting memories, this intrepid artist found a unique way to make his.
While most people take photographs as a way to create lasting memories, this intrepid artist found a unique way to make his. On a mission to remember the residents at his grandparents' home village in Shaoxing, China, one person at a time, Warren King, 49, crafted a series of life-size human figures out of nothing more than cardboard and glue.
It was in 2010 that he and his brothers visited Shaoxing for the first time, and met the locals who had memories of their grandparents from 50 years ago, before they left for Taiwan during the Chinese Civil War. 
"The feeling was profound and surreal, and somewhat contradictory," he recalls. "I felt such a strong connection to those people, who were like a part of the past that was lost. But at the same time, our differences – in clothing, physical appearance, mannerisms – made it obvious that there existed a huge chasm between us. Something found, but at the same time, the realisation of something lost. It was a pivotal experience for me, one that inspired me to become an artist. Through my work, I am attempting to understand the fragile connections to people and culture, and examine whether those connections, once broken, can be restored."
Warren King became an artist only later in life.
Thrill Of Nostalgia
The child of Chinese immigrants who went to the US for graduate school, Warren was born and raised in the suburbs of Wisconsin. His uncles and aunts were accomplished businesspeople and scientists, and his parents were hardworking, strict disciplinarians, who expected him to excel academically and to support the family engineering business.
He studied engineering and eventually became a structural engineer working on large-scale commercial buildings like stadiums, hospitals, offices and carparks. Subsequently, he worked as a software company executive for 15 years; becoming an artist was never a consideration. 
"Art came much later in life," he admits. "Even after my first exhibition, being called an artist felt awkward. But I've been working at this for a few years now. After experiencing how people can be genuinely touched by what I have to convey, and getting an idea of the range of subjects that can be explored, I can finally say that I feel compelled to continue."
Aside from human faces, Warren also experiments with making animal ones.
A Different Path
The turning point came in 2012 when Warren and his family decided to live abroad. They moved to Sweden and lived there for four years. Being out of his normal environment opened his mind to new possibilities, and he began to seriously consider doing art. It was there that he made his first Shaoxing Villagers – he became a full-time artist in 2013. In fact, he had discovered his talent for working with cardboard earlier, as he used to make toys and disguises for his two children when they were young, using whatever materials were readily available around the house. 
His first piece was a Darth Vader helmet, and soon after that, he was making props and costumes for his children's school theatre productions. After a few years of making cardboard masks and helmets, he turned his attention to human figures, capturing facial expressions and their nuances. "What I find most interesting about working with cardboard are the limitations," he discloses. 
The range of emotions and stories that can be conveyed is limitless, and i've barely just started.
– Warren King, cardboard artist
Warren's work is lifelike and realistic, in terms of form and proportion.
"With wood, clay or stone, you can create virtually any shape. But with the way that I choose to work with cardboard, the range is severely limited. 
I don't crush or mash it but, instead, I preserve the layers and the corrugation. And I don't bend it unnaturally. That means it can be curved in only one direction, parallel to the corrugations. With these rules, spherical shapes are therefore impossible. So using cardboard to make a human face, which is full of rounded shapes, requires a completely different thinking from the mindset associated with traditional mediums. It's about creating an illusion of roundness, about breaking complex shapes down into simpler geometries.
"But this is what I find so compelling about the material. These limitations don't inhibit my creativity; they are the source of it. By making it necessary to abstract or simplify a shape, I force myself to really understand the components of an expression or gesture."
Warren's piece, entitled Grandfather's Friends.
Simple Does It
Without using a computer and rarely sketching before beginning an artwork, Warren works entirely by hand, employing the most basic tools: scissors, a few different kinds of knives and glue. 
With most of his figures, if you look at them from the back, you find that they are hollow shells with little structure or mass. They are just a surface, to which he has recently begun adding colour and graphical elements, in the form of cut paper images glued on, to introduce a new dimension.
Inspired by intricate scenes portrayed on lacquerware or carved wooden panels, and patterns adorning robes worn by royalty, he uses paper cutouts to relate narratives important to him. For each, he's telling a story, whether from personal experience, or based on characters from history, folk tales, or his imagination.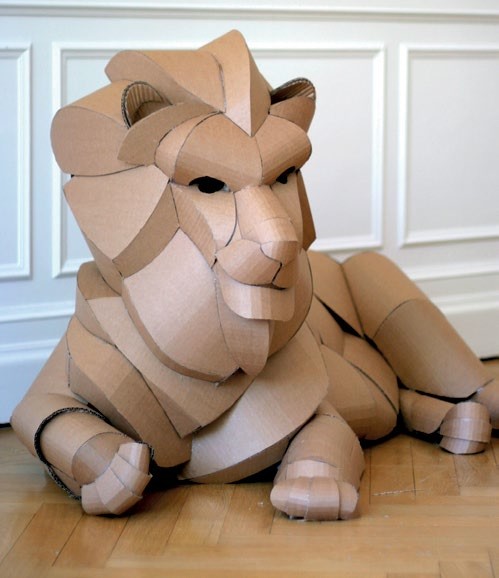 The artist used the image of a lion to symbolise his grandfather
"Cardboard, being a sculptural material, as well as a flat paper surface, seems uniquely suited for this type of storytelling," Warren notes. "What I'm looking for is something that sheds light on, or raises a question about, my connection to my culture and ancestors. The things that really interest me are cultural and ethnic connections, how we try to preserve them and how they shape us even after they've been severed. And then I try to develop ways to visually express these connections." 
Warren is also exploring the use of cardboard as a medium for other types of artwork, such as panels and screens.
Shadows help create a sense of dimension in his artworks.
For example, he created an installation of five characters seated around a low table, which was inspired by his memory of seeing his father and his siblings and mother gathered at their old family home in Taiwan, reunited there to prepare for the passing of his ailing grandfather, who is represented by a lion at the table.
Although Warren loves crafting masks and animal sculptures – he has created lions, roosters, lizards, frogs, hedgehogs, monkeys and horses – to try out new techniques or just for fun, making human figures remains his main focus.
This work, titled 400 Apples A Day, was inspired by the life of the Empress Cixi.
"The range of emotions and stories that can be conveyed is limitless, and I've barely just started," he says. "But I think the main reason is that nothing else is nearly as challenging. There's far less leniency when you make human figures. If something is off, anyone can sense it. And a millimetre of adjustment can change a whole expression."
As cardboard is not as durable as canvas, he explains how he intends for his artworks to stay in pristine condition over time. "It's true, cardboard won't last as long as stone or metal, but its durability is generally underrated. When I started, I used common cardboard from old boxes, but what I found is that there is a huge range in quality. So I switched to non-recycled material, which made a big difference. 
Another creation from Warren's series entitled Grandfather's Friends.
"Nowadays, I use museum-quality board, which is acid-free and very strong. On top of that, I coat the finished pieces with an invisible varnish. So I think they should last for quite a while… as long as no one leaves them outside in the rain, or sits on them!" 
Photos Warren King