The creations of Canadian-born Japanese designer and interior architect Oki Sato and his design studio, Nendo, are characterised by simplicity, lightness and elegance, while always embracing functionality and a sense of humour.
Oki Sato is really a child at heart. Designing, to him, is all about having fun. Take, for example, the Gacha Gachaminiature capsule toy figurines he has just designed for Kaiyodo – the type dispensed from vending machines after inserting coins into a slot and turning the knob – or the single-flower vases perched on metal bars for Zens, which call to mind birds on a wire.
Gacha Gacha
Inspired by the look and appeal of conventional toy vending machines, Oki Sato's team at Nendo developed their own version of the device, which dispenses ideas instead.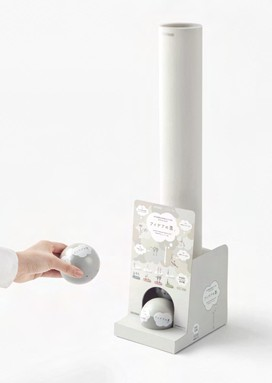 INAC Hourglasses
Each of the four hourglasses is made from polished acrylic and directs the flow of coloured sand in different ways, in order to show how time can be presented in an interesting visual manner.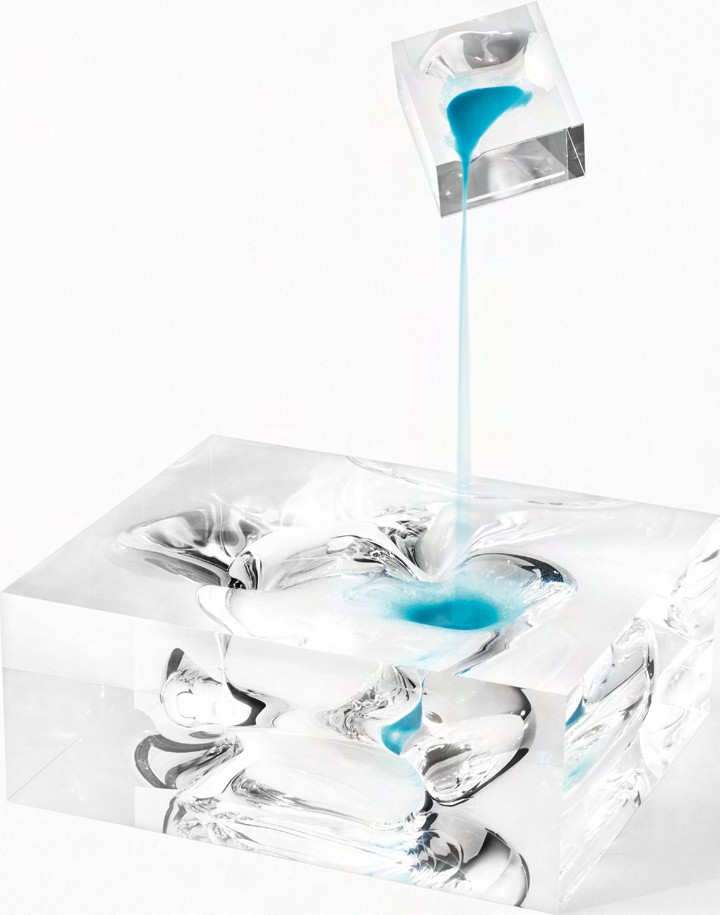 There are also the four unconventional hourglasses for Japanese brand INAC that he designed, with organicshaped cavities carved out of blocks of transparent acrylic that resemble ant farms – one of 10 collaborations with Japanese manufacturers such as Blanc Bijou, YKK and Wakazono that examine the notion of movement. They are all representative of his playful yet rational approach. "My style is simple, functional and friendly, but the simple designs are the most difficult ones to achieve because they have to be perfect in every single way," he discloses.
As the poster child for contemporary design from Japan, the young, eloquent and good-looking Oki is setting the tone for design's future on the global scene, and his firm is one of the most sought-after design studios worldwide. His aim has always been to inject small magical moments with a twist into people's lives, transforming their interaction with everyday objects. Perhaps this was the result of moving to crowded, chaotic Tokyo at the age of 10, after having grown up in calm and slow-paced Canada surrounded by nature.
"I'm really influenced by the fact that I was a Canadian kid living in Tokyo," he reminisces. "Suddenly, I was enjoying so many things that normal Japanese kids would find normal. I think that the foreigner kind of way of seeing things really helps me as a designer because I feel that special ideas do not exist in special places. My inspiration is from my ordinary life, not from any special events."
Oki's creations demonstrate unexpected variations in material, shape and colour that deliver surprises. As he is interested in the story behind a product, his design solutions tell tales that connect with the user, while being a rethink of typologies of form and function, placing him somewhere between the likes of Shiro Kuramata, Naoto Fukasawa, and Piero and Achille Castiglioni. He notes: "The story behind a shape is the most important aspect for me. Shape, colour and material come next. Checking the first prototype is the most exciting moment." Although he uses 3D-printed models early in his creative process, he stresses the importance of the initial sketch, whether it's for chewing gum packaging or a large building. 
Kartell Eigroub Lamp
A tribute piece to commemorate the 10th anniversary of the brand's Bourgie table lamp, it is the result of Nendo inverting and rotating the lamp's silhouette, rather than touching the original design.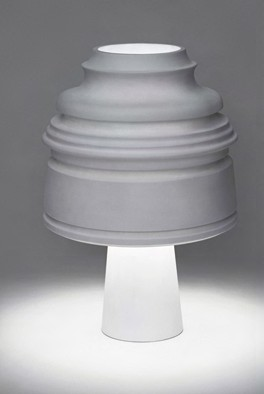 Zens Fungi Series
Inspired by the sporadic growth of mushrooms, platforms of varied sizes, stacked on the rims to form unusual display combinations, seem to be sprouting from one another.
Glas Italia Soft Tables
The frosted glass low tables in the shape of boxes feature joints printed in bright colours with a gradation effect, as well as edges that give a soft, blurry appearance – contrary to the usual image of glass. 
"I make awful sketches, but, when you're very good at sketching, you feel that the design and idea are good as well. If it's a very bad sketch, but you're excited, that means your idea is good, so you feel very confident. It's like a lighthouse for us, leading us back in the direction that we want to go." Zens Fungi Series Inspired by the sporadic growth of mushrooms, platforms of varied sizes, stacked on the rims to form unusual display combinations, seem to be sprouting from one another.
Prolific and versatile is Oki, whose wide-ranging client list includes Baccarat, Bisazza, Boffi , Bombay Sapphire, Casamania, Driade, Foscarini, Fritz Hansen, Glas Italia, Kartell, Lasvit, Moleskine, Moroso, Puma, Ruinart, Serralunga, Shiseido, Starbucks and Tod's. He has worked on everything from an installation for Hermes' flagship store in Tokyo, punched metal chairs mimicking the spaces in which they were placed at London's Victoria and Albert Museum, a stool for Cappellini with its construction looping like ribbons of ballet slippers, and gold jewellery that seemed to have been drawn by hand in a single stroke, to a portable lamp for Louis Vuitton's firstever furniture collection, 24 Issey Miyake boutique interiors, a human-sized birdhouse containing 78 nest spaces located in a forest, and tableware made from recycled Coca-Cola glass bottles.
Born in Toronto in 1977, Oki graduated with a master's in architecture from Waseda University in Tokyo in 2002. He immediately set about founding his multidisciplinary design practice, Nendo, in the city after visiting the Milan Furniture Fair for the first time. He based the name on the Japanese word for "modelling clay", as he wanted to create something adaptable and free.
By 2005, he had opened an outpost in Milan, and one in Singapore seven years later. "I was born in Toronto because of my father's job," he recounts. "He worked for a Japanese electric company there. I was always reading Japanese cartoons as a child, but never thought I would be a designer or architect, until going to university. I chose to study architecture because I have a good imagination, not because I wanted to be an architect. In fact, I felt it was kind of boring studying architecture."
Like so many young designers before him, Oki cites his meetings with Maddalena De Padova and Giulio Cappellini as defining moments in his career, as he developed products with them early on, and got the opportunity to work with European clients.
Although he calls them his "Italian mother and father", as they coached him to become a designer, though he did not have any formal design training, he divulges that his encounter with Issey Miyake marked a turning point. The fashion designer asked him to create a chair with the pleated paper discarded from producing the Pleats Please collection, resulting in the Cabbage chair.
He recalls: "I felt that it was not completed, that it had to have more function, to be more stable, to be more comfortable, but Mr Miyake said, 'You have to stop. When you feel that it looks nice and feels nice, it's okay to stop doing the project.' 
Emeco Su Stool
This stool references Emeco's aluminium 1006 Navy chair and comes in eco-conscious materials: recycled polyethylene, eco-concrete or reclaimed oak.
"That was the moment I felt so much freedom. You have to see the goal, then you have to go accordingly, but, when you go in a different direction, there's another goal in that direction. Suddenly, I was relaxed and enjoying design even more than before."
Today, the boundarycrossing designer leads a 70-strong team working in product, graphic, interior and exhibition design, and architecture. Although tackling a mind-boggling 400 projects in parallel, Oki delivers products of consistently high quality. He's interested in keeping his ideas as raw, fresh and pure as possible and to be honest and true to the materials, while insisting on meeting all his clients, seeing every single prototype and discussing each detail.
"That is what makes me happy at the end of the day," he says. "It's very tough – I have to travel around the world every month, but this is what I enjoy doing, and as long as I feel excited about this, 400 is okay for me. When I feel that design is just a job, I don't think I should continue anymore. Design is my hobby, my life; it's almost like breathing. In the future, I think design is going to be everywhere, in the air. It's not going to be something special anymore. This creative way of thinking is going to solve all of life's problems. In that sense, design might disappear within culture and lifestyles, which is very beautiful."
Always looking to the future, he is searching for ways to apply all of his experiences to his next project. He favours product and interior design work as they can be completed rather quickly, so he can learn from the results – knowledge that can then be applied to subsequent projects. However, seeing no division between architecture and design – where the idea is always to find solutions to existing problems, driven by logic and meaning – he has been dabbling in architecture.
Last year, he completed his first public architectural project, Tenri Station Plaza, in Japan. A 7,700sqm area comprising bicycle rentals, shops, a cafe, information kiosk, play area, outdoor stage and meeting area, it has been fully embraced by locals and tourists. The variety forms an "ambiguous" environment between architecture and furniture that persuades visitors to spend time there.
"We said we're not going to make architecture," Oki explains. "We're going to make a single bench. People can sit down anywhere, do whatever they want anywhere. We're going to make a place that makes people feel they want to be a part of it." 
Fritz Hansen N01 Chair
Hand-assembled using 23 pieces of wood and veneer from a Belgian family-owned wood manufacturer founded in 1924, this chair was designed to highlight the timeless nature of quality wood craftsmanship. (Available from W.Atelier)
Rokumaru Coat Rack
Reinterpreting nature, Nendo designed a coat rack with six branches that are the radii of an imaginary circle, and it's named after the union of the Japanese words roku (six) and maru (circle).
Axor Lampshower
Starting from the idea that the bathroom could open on to the living room, the creation is neither a lamp nor a shower, but a hybrid, where water jets emerge from the rim of the lampshade.
text Y-JEAN MUN-DELSALLE