Cue the music, lights and Crubox action: the LA boxing studio beloved by celebs and models is now in Duxton. Psst, it's owned by three Singapore siblings.
Inside the dark studio, club lights are flashing I and house music is thumping, but you're not in your Saturday finest and the DJ isn't telling you to "put your hands in the air". Instead, you've got gym gear and boxing gloves on, and you're punching a sandbag, or grinding out another set of high-intensity cardio. Repeat. Until you're worn out after the 50min session.
The voice you hear as you're cooling down could be one of the three Ding siblings (Bebe, Valerie or Calvin, all co-founders and instructors) still trying to lift your spirits because, as Bebe says: "It's really not just a workout; it's much more than that. I'm here to bring out the best in you." The athletic 28-year-old (below right) certainly looks the part. She's put her "crazy rave" days behind her, and now focuses on empowering a community to grow together in skill and confidence.
It's this pursuit of mental, physical and, yes, spiritual strength that's won the Dings a Hollywood following in their first Crubox  in Los Angeles, which opened a year ago. Fans include the Kardashians, Usher and Nicole Scherzinger. Now, they have a growing clientele in their new boxing studio in Duxton Road, here in Singapore.
The siblings are global citizens; work takes them between Singapore and LA. Valerie, 32, is the CEO, while bro Calvin, 31, helped give the studio its minimalist industrial edge.
"When we opened Crucycle (a spin studio) in Singapore 4 ½ years ago, we actually had a vision to open small boutique studios: Cruyoga, Crubox, Crucafe. A couple of months after we opened Crucycle, we thought it was time for the next step, and we felt that boxing was becoming a trend – we were starting to see it everywhere. A lot of supermodels made it trendy," explains Bebe.
The Dings then took a year to develop the boxing programme (say their last name three times, real quick – does it ring a bell?), and they launched it in LA. The workout uses authentic boxing techniques and fighting manoeuvres. Combined with the cardio workout, it helps build power, agility, endurance (yeah, we struggled), as well as mental discipline. The music kicks butt (all the instructors are trained to mix music).
"I have evolved over the years – I started training when I was 22 – and I now listen mainly to three music genres: hip-hop, R&B, and deep house. So the music I use in training is really what I'm feeling and what I'm in the mood for. For boxing, it's deeper beats – it feels good to box it up to hip-hop beats, because you're punching inwards. Whereas in spin, it's more euphoric, because your body is rising."
You probably won't see Brad Pitt in the Singapore studio, but it's a good place to train for your fight club, and here we are, talking about it. – DFL
It's $40 for a class, and $1,600 for 50 classes. At level 4, 68 Duxton Road. www.cruboxing.com.sg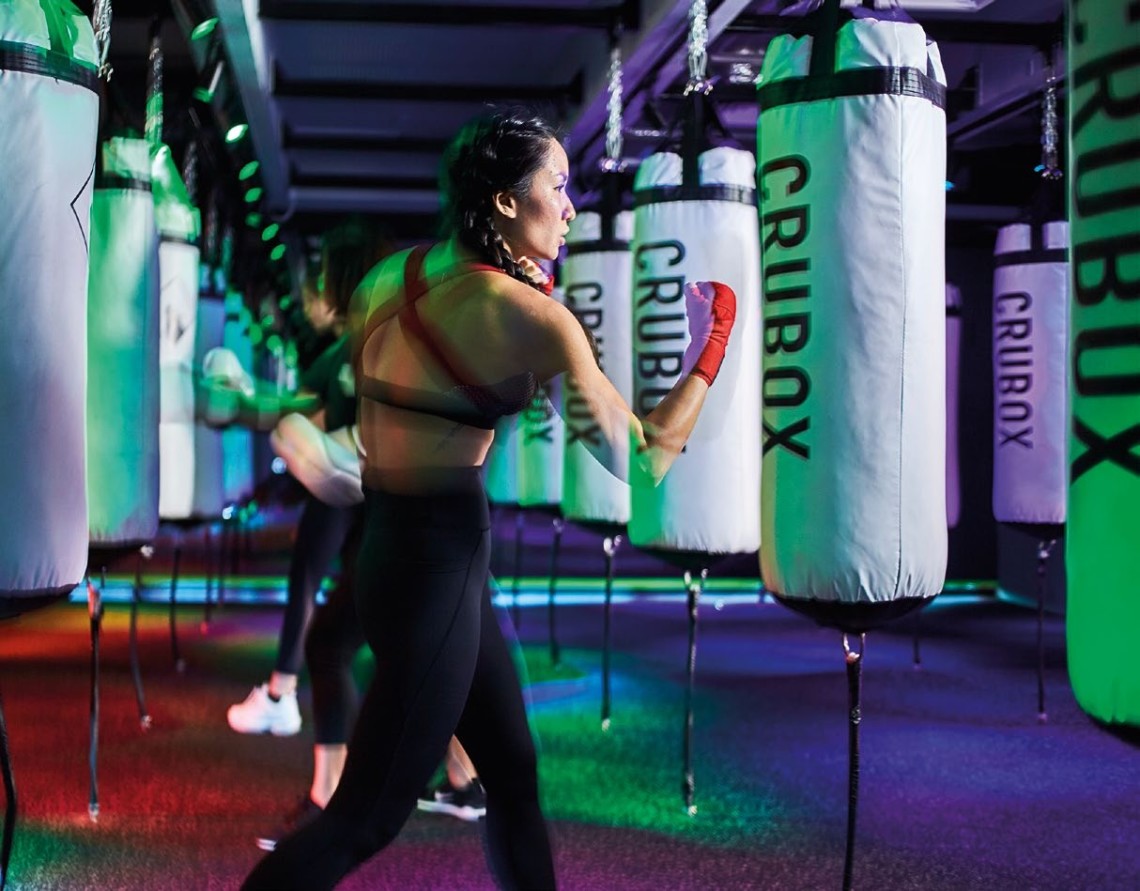 Themed sessions like hip-hop Wednesdays and '90s Remixes sessions are available as well.
PHOTOGRAPHY FRENCHESCAR LIM ART DIRECTION SHAN