We asked 118 readers if their skin has changed (it has) in recent months and how their beauty routines have evolved (more self-care, minimal makeup). Doctors explain what's going on with your skin and what you should use.
We asked 118 readers if their skin has changed (it has) in recent months and how their beauty routines have evolved (more self-care, minimal makeup). Doctors explain what's going on with your skin and what you should use.
I now take the time to complete my five-step skincare routine without skipping steps. I've been using more exfoliator as I haven't had a proper facial, and as I spend almost all my time indoors with the air-conditioning on, I also use a deep hydration mask. My skin has improved a little from not wearing foundation every day.
Dr Suhina Singh, medical doctor and HW Tribe member
HAS YOUR BEAUTY ROUTINE CHANGED SINCE THE CIRCUIT BREAKER?
WHAT YOUR ROUTINE IS LIKE NOW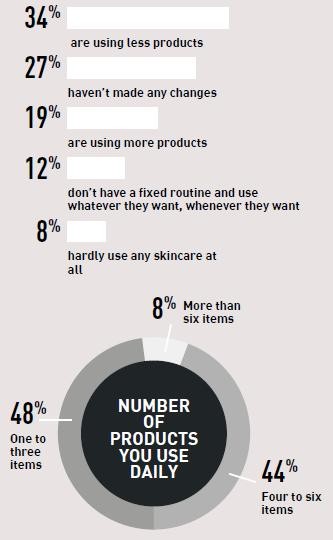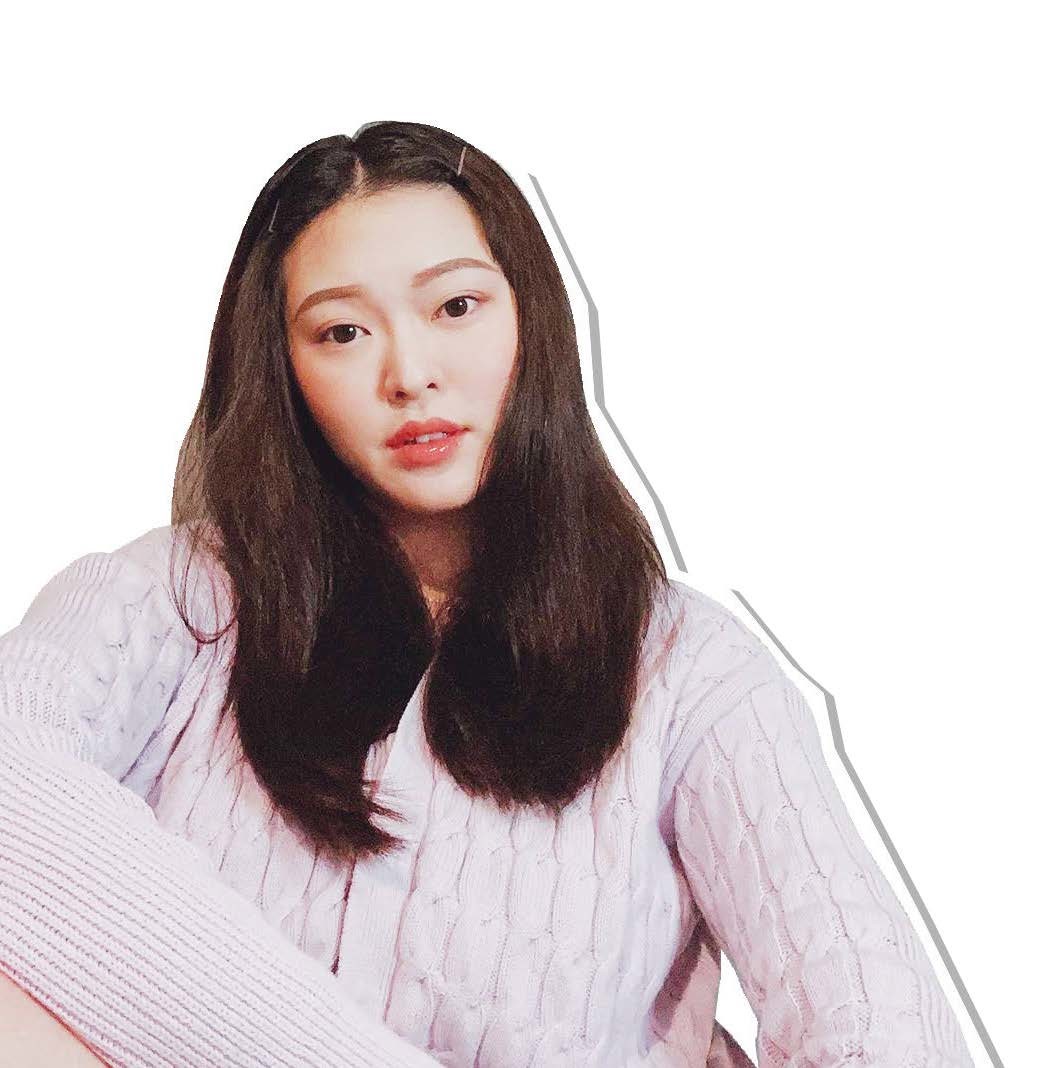 Circuit breaker has shown me how amazing my skin can look when I'm able to get more rest and drink more water. I'm allowing my skin to take a break from makeup and have been focusing on skincare, discovering and trying new products. Now, my skin looks clearer, brighter and more even in tone, and my pores appear smaller too.
– Christabel Chua, social media personality
HAVE YOU SPENT MORE OR LESS TIME ON SELFCARE LIKE SKIN PREPS AND FACIAL MASSAGES?
PRODUCTS YOU'RE USING MORE OF NOW
My beauty routine is still cleanser, lotion, toner, serum, eye cream, moisturiser and sunscreen. But I've been using more sheet masks as I had more time during the circuit breaker. I'm also a huge believer in self-care – I take a comforting warm bath every week.
– Willabelle Ong, social media personality
DO YOU APPLY SUNSCREEN WHILE WORKING FROM HOME?
... AND MOISTURISER, TOO?
HOW YOUR SKIN HAS CHANGED DURING THIS PERIOD
I have stopped using foundation and prefer a bare face now – I just dab concealer on my spots and lighten my eyebrows. My skin has become clearer from not wearing makeup and being in the sun. I also spend more time on self-care, such as using hair oils, meditating, exercising and journalling.
– Jade Seah, actress, host and HW Tribe member
WHAT YOU'RE LOOKING FOR IN A BEAUTY ROUTINE
THE SKIN IMPROVEMENTS YOU WANT TO FOCUS ON NOW
I spend 30 minutes doing DIY facials, acupressure facial massage and using an LED skincare device – to rehydrate my skin. And I've been using skincare that's more calming and moisturising, with antibacterial and anti-inflammatory properties.
- Yvon Bock, founder/CEO of Hegen, and HW Tribe member
What's Really Going On With Your Skin
More breakouts, oilier skin, unpredictable changes. Dr Teo Wan Lin (above), founder and medical director of TWL Specialist Skin and Laser Centre, says the changes are normal, more so if you have pre-existing oily skin issues, as your skin adjusts to the humidity of a non-aircon environment at home.
Dr Low Chai Ling (middle), founder and medical director of SW1 Clinic, adds that the reduced frequency of regular facials and lasers is a factor. "The lack of it can change the way your skin behaves, making it more clogged or porous looking." So you should use deep-cleansing products that keep your pores clean before you apply your makeup. 
Having to wear a protective mask shouldn't affect your skincare routine – keep to what you're doing but opt for lightweight textures. Dr Ivan Puah (below), medical director of Amaris B Clinic, says: "Essential skincare includes proper daily cleansing, toning, serum, moisturising and broad-spectrum sunscreen daily."
Your doctor-recommended skincare essentials
#1 Double Cleanse
Especially if you're wearing makeup again. Dr Teo says to start with an oil cleanser to dissolve makeup, then a lathering cleanser. 
Shu Uemura Ultime8 Sublime Beauty Cleansing Oilin-Foam, $65
A feathery light foam cleanser that contains the brand's signature oil + Japanese Tsubaki oil to remove makeup, impurities and sebum so skin is smooth and supple.
Drunk Elephant E-Rase Milki Micellar Water, $40
Powerful yet gentle, the milky cleanser takes away makeup, dirt and pollution without leaving skin dry and tight. It contains ultra-mild micelles, vitamin E, and plant oils such as marula and sweet almond.
Philosophy Nature In A Jar Gentle Detoxifying Cleanser with Agave, $41
A gentle creamy cleanser that removes dirt, makeup and even sunscreen with ease.
#2 Lightweight Moisturiser
Now that wearing a mask is mandatory when you're outside, Dr Puah advises applying a little more moisturiser to the masked area to keep skin hydrated – especially if your mask is tight or if you need to wear it for more than eight hours.
If you're working from home in a humid environment and have oily skin, Dr Low suggests opting for an oil-free water-based hydrator instead.
Dior Hydra Life Matte Dew Hydration, $50
Ideal for combi yet dehydrated skin, this balances the complexion with its mauve extract and hyaluronic acid that boost hydration, while cellulose powder absorbs excess sebum.
Senka Deep Moist Gel Cream, $21.90
Naturally derived ingredients including marine collagen, rice bran oil and honey, help boost skin hydration and lock in moisture at the same time.
Estee Lauder Nutritious Super-Pomegranate Radiant Energy Milky Lotion Light, $105
Packed with twice the pomegranate concentrate of its predecessor + a berry ferment, its water-like texture is perfect for our humidity.
#3 Facial Mist
Consider carrying a facial mist with you that you can spritz on your face throughout the day, says Dr Low. "This is especially good for people wearing masks for long periods of time as it can refresh the skin, and minimise irritation and breakouts."
Tatcha The Satin Skin Mist, $69
The oil-free liquid powder mist contains Okinawa clay to keep skin fresh and hydrated while controlling excess sebum. Good for when the afternoon humidity gets to your skin.
Dr Jart+ Cicapair Facial Calming Mist, $31
Perfect for skin that's flushed and irritated, it contains instantly soothing centella asiatica and also delivers moisture to combat skin dryness.
Laneige Cream Skin Refiner Mist, $33 
Amino acid-rich white tea leaf water delivers long-lasting hydration and dewiness to skin, and strengthens barrier function to protect it from external stressors.
#4 Hydrating Mask
Wearing a protective mask all day can leave your skin dry and rough so Dr Puah suggests "relaxing with a hydrating mask once or twice a week to give your tired skin a little pampering". And since 38 percent of the women in our survey say they're doing more for their self-care routine during their stay-home days, this is a perfect way to ensure that skin stays well-hydrated and healthy.
Chanel Hydra Beauty Camellia Repair Mask, $102
The balm mask quenches thirsty skin with a big dose of hydration, with its white camellia extracts, pro-vitamin B5 and blue ginger from Madagascar. Use it as a wipe-off 10-minute mask or wear a thicker layer overnight. The result: Skin is softer, smoother and glowing.
Whal Myung Skin Elixir Mask, $28 (box of five sheets)
Power-packed with traditional Korean medicinal extracts like dried tangerine peel, cinnamon, ginger, nutmeg and corydalis, each sheet infuses skin with moisture and nutrients, leaving it radiant and dewy after.
A.H.C Premium Hydra Soother Cellulose Mask, $34.50 (box of five sheets)
Vitamin B5 and hyaluronic acid instantly hydrate skin while boosting its moistureretaining capabilities. Skin is nourished, feels soothed and looks healthy.