ACCORDING TO REPORTS, THERE ARE 217,200 SINGAPOREANS LIVING ABROAD.
ACCORDING TO REPORTS, THERE ARE 217,200 SINGAPOREANS LIVING ABROAD. THE FIVE INDIVIDUALS FROM THE CREATIVE INDUSTRIES FEATURED HERE ARE AMONG THEM AND SPAN THE BERLIN-BASED GLOBAL SALES DIRECTOR OF ONE OF FASHION'S MOST SUCCESSFUL CULT LUXURY LABELS TO AN UP-AND-COMING STYLIST IN SHANGHAI. ALL OF THEM HAVE REMAINED OVERSEAS DESPITE THE PANDEMIC. HERE, EXCERPTS FROM THEIR INTERVIEWS ABOUT HOW THEY'VE PUT THE "HOME" INTO THEIR ADOPTED HOMELANDS.
FOR THE FULL INTERVIEWS, HEAD TO WWW.FEMALEMAG.COM.SG
ZO FAN, filmmaker and photographer
Location: Paris for the past four years
What brought her to Paris: "I was accepted into the filmmaking programme at EICAR, The International Film and Television School of Paris in 2016."
Her place: "I chose this apartment on Rue du Faubourg de Saint-Denis in the 10th arrondissement for its incredible natural light and its practical location. It's right next to the Gare de l'Est railway station that's half an hour from everything – it means that London is technically a 10 minute walk and train ride away... My favourite corner of my home is a little vegetable garden that I've created using vegetable scraps and supermarket plastic containers... I don't like buying anything that I can make on my own so my home has become a place for me to unleash my creativity as I turn it into a space that's truly mine."
Fan lives on Rue du Faubourg de Saint-Denis in the 10th arrondissement, which is known to be a melting pot of cultures, home to everything from African jewellers to Paris' "Little India". (Left) One of her most recent and personal projects is Dear Mother, a visual essay and letter she created during Paris' lockdown to chronicle her thoughts and reflections during the period.
How Paris has shaped her: "It's shaped me as a person, which in turn influences everything from my world view to the colours that I use in my work... In Paris, beauty is everywhere. It's a matter of whether one sees it or not."
Paris or Singapore: "I wouldn't be able to do what I do here in Paris back in Singapore, but it's the same vice versa. That being said, my work has constantly involved Singapore whether it's projects for Singapore clients or having Singaporeans in the crews that I work with. Where I am doesn't matter."
To make her light-filled apartment feel like home, Fan's taken to DIY-ing the decor, including creating a garden using discarded yoghurt and ketchup bottles.
What of Paris she would like to see in Singapore: "I like that Parisians work hard, but also make sure that they have adequate rest."
What's home to her: "I'm at an age (she's 24) when I'm constantly exploring and learning so home is ever-changing for me. A new one marks the start of a new chapter in my life and an old one is a keeper of my stories. Home is a witness to my growth and my ups and downs."
NABIL ALIFFI, chief creative officer of the Soho House Group
Location: London since 2012
What brought him to London: "After national service, I moved to Paris for a year to work at a fashion magazine before shifting over to attend the London College of Fashion."
On what makes it special: "It makes you work for its  affection. It's one of the more expensive cities to live in in Europe and it's truly diverse – Nottinghill is very different from, say, Hackney or Brixton and the tension between these different pockets is what makes it very exciting to live in as a creative."
Nabil on set the S/S '19 menswear campaign for Selfridges where he had previously worked as digital fashion director
A shirt from Issey Miyake's 1996 Pleats Please Guest Artist Series collaboration with the artist Yasumasa Morimura – one of his prized possessions
His place: "I live in Marylebone, which is as central as it gets. It's two streets away from Selfridges where I had previously worked at as fashion director. My flat's in a building that used to be EMI's headquarters so there are pictures of David Bowie, The Beatles and Diana Ross on display – it's quite surreal. And next door is the Wallace Collection, one of my favourite museums in the city. I wanted my home to feel like a bobo's apartment on Paris' Left Bank so it's filled with books and memorabilia. It feels warm and has a good study room and a touch of Carrie Bradshaw to it with windows that overlook a street lined with apple blossoms."
How London has shaped him: "It's given me opportunity. I never imagined that I'd work for Selfridges and now Soho House when I first moved here. For a city that I once thought of as rather closed-off, I've somehow found myself here."
Nabil's home in London's chic and central area of Marylebone is designed after a bourgeois-boheme's Left Bank apartment, filled with books, memorabilia and the odd fashion accessory passing off as part of the display. (Near left) One of his favourite neighbourhood haunts is the Chinese restaurant Bright Courtyard Club, where Jimmy Choo is also known to frequent with his family for dim sum.
London or Singapore: "During my trips back, I've noticed that a lot has changed. Young Singaporeans are unafraid to speak their minds and act on what they believe in. Perhaps had I stayed on, I could be doing in Singapore what I do now in London."
What of London he would like to see in Singapore: "We need to encourage young people to be brave in their thinking and acknowledge that there is no straight path to success. We should look inwards for a sense of value versus always looking externally for accolades or validation. We're the real deal!"
What's home to him: "Singapore is and will forever be my birthplace, but home is something that I carry with me wherever I go. My closest friends are spread out across several cities – New York, Los Angeles, Paris – and include people whom I've grown up with since secondary school... Food also plays a big part. Sometimes one needs a dose of Singapore fare."
Glass artist Chua's serene home in Toyama is a room in a traditional Japanese house rented from a collegue. To make it feel like her own, she peppers the place with knick-knacks that span the work of friends to objects she – a self-proclaimed karang guni – picks up when she goes out and about. 
MAY CHUA, glass artist 
Location: Toyama in Honshu, Japan since 2018
What brought her to Toyama: "I came to Japan to pursue glassmaking, first spending a year in Tokyo to study Japanese then enrolling in the Toyama Institute of Glass Art – the city is famous for glass."
On what makes it special: "I like its pace of living. I wouldn't exactly call Toyama a city – not in the same sense as Singapore. It has an urban side as well as vast swathes of countryside. I love that the mountains and sea are close by."
(Middle) Chua, who offered this illustration in place of a photo of herself for this story, is based in the coastal Japanese city of Toyama that she calls the perfect blend of urban life and nature.
Her place: "I live in a small town within Toyama called Fuchu. It is convenient and a short drive to the glass studio I work at. I'm currently renting a room from my colleague and it's in a really nice old Japanese house that still has bamboo-mud walls in certain parts. There are holes everywhere, but it's very pretty... To be frank, I had no design considerations when moving in except that I wanted to maximise the space as much as possible. Besides my own photos, all the little personal touches you see work experiments, the works of friends or things that I picked up during hikes or when out. Nearly everything that I own used to belong to someone else – stuff that people threw out or no longer have any use for. I hate seeing things go to waste or become trash."
How Toyama has shaped her: "Attending the glass school and living here has certainly broadened my view of the arts. Keeping my career going is a constant struggle, but I'm trying my best to make it work."
(Third from top) Chua's recent piece for her graduation showcase, One With, is an intricate structure made up of interlinked hoops, each delicately crafted out of borosilicate glass. The photo on the far left depicts the work in progress. 
Toyama or Singapore: "I have every intention to share my love for glassmaking in Singapore, but I simply would not have the resources and finances to do so... I hope that with some assistance from my home country, I could do something there someday."
What of Toyama she would like to see in Singapore: "I would definitely like to introduce glass as a material to Singapore, be it to the creative industry or otherwise. Glassmaking is the most fascinating craft and getting into it was the best decision I had ever made. Toyama helped to kick start this journey for me."
What's home to her: "I ask myself that all the time. I suppose it should possess a sense of peacefulness." 
Schroder-Seah's chic yet down-to-earth apartment features a mix of Mid-Century Modern furniture such as the '60s Roland Wilhelmsson pine coffee table in his living room.
BRANDON SCHRODER-SEAH, global sales director at Thom Browne
Location: Berlin since July last year
What brought him to Berlin: "My partner had a new job opportunity in Berlin so we left New York, where I had been based for the past decade."
Modular shelving, desk and wardrobe systems that allow for the easy reconfiguring of spaces.
On what makes it special: "It might be premature to call Berlin home since I've only lived here for a year, but I do find myself yearning to come back every time I'm on the road for work, which is a lot. It's an ideal intersection between pre- and post-WWII and the city has done a monumental job of immortalising its history. I find it extremely inspiring to see how contemporary culture has been cultivated around it. I also thoroughly enjoy the work-life balance that Berliners and Europeans in general cherish especially after having been part of the intense grind that is New York work life for six years."
A dish of octopus, chickpeas and oregano Schroder-Seah whipped up during the pandemic lockdown
His place: "We live in a top floor maisonette in the Friedrichshain district. Most people immediately think of Berghain and the lively Boxhagener Platz square when I tell them that we live here. Our place however is on a tree-lined street that offers the serenity and greenery that we lacked when living in New York, all while being a stone's throw away from a cornucopia of restaurants, bars, grocery stores and shops. When furnishing it, we agreed on investing in pieces that would stand the test of time in terms of quality and style, which explains our range of modular furniture from the likes of Stocubo (a local sustainable company). Europe's got a wealth of Mid-Century Modern furniture and one of my favourite finds is our large, solid pine coffee table by Roland Wilhelmsson from the '60s. I love the wide variety of seasonal flora and try to always have fresh cut flowers in the apartment as they remind me of my mother."
His equally fashionable parents on a visit
How Berlin has shaped him: "There's a feeling of defiance to this city that's conveyed through the way the locals live and operate. It's taken me a little while to assimilate, but I'm embracing it with open arms."
Fresh floral arrangements remind him of his mum.
Berlin or Singapore: "This is a question I get quite often when people ask if I ever see myself moving back. Currently, I do not think that there are opportunities for me in this specific subset of the industry in which I work... Furthermore my notion of home is a place where I can be me and truly express myself and feel safe, nurtured and heard. I do not currently feel that Singapore offers me that."
Schroder-Seah – Singaporean, former New Yorker and now Berlin resident – in a S/S '20 coat from Thom Browne where he's global sales director.
(Right) Pet cat Louise Elizabeth Stein
What's home to him: "Home is where my loved ones are... Home feels complete when I'm surrounded by love."
Choo's "home essentials" include a singing bowl, incense holder, Himalayan salt rock lamp and aroma oils – he practices yoga and meditation.
A fashion editorial Choo worked on, featuring the Chinese drag queen Nama Lilly
MARCUS CHOO, freelance fashion stylist
Location: Shanghai for the past two years
What brought him to Shanghai: "I was in Tokyo studying fashion design and got an opportunity to style a test shoot with a Chinese team. After that the producer got me on board a shoot in China and that's when I decided to relocate."
On what makes it special: "Shanghai is the heart of creative activity in China. There's always something new going on, cool things happening and there is Taobao, period. Here I've established romantic relationships and close friends and secured a really cool house so I would definitely call it home."
Choo's top priority when finding a home in Shanghai was space to store the likes of props and clothing that both he and his partner, who's in the entertainment industry, use for work. They landed on a two-room loft with a rooftop balcony in the popular Jing'an district.
His place: "My house is located on the fringe of the Jing'an district. It's a loft with two rooms and a nice little balcony that my partner and I plan to decorate. Our main priority when house hunting was getting a large place. I need room for my clothes and accessories and my partner, who's a make-up artist, needs space for wigs, tools and whatnot. We also have separate rooms because our sleeping schedules are as different as day and night literally. The whole house is plastered in posters of our favourite artists and polaroid photos of us and our friends... To give my room a Zen, naturalist vibe, I added floor and wall rugs in tones of beige, brown and blue. My other essentials include a singing bowl, an incense holder, a Himalayan salt rock lamp and aroma oils."
How Shanghai has shaped him: "The best talents in China come to Shanghai. You're competing with them and, at the same time, learning new ways of doing things... I'd give the city an A-plus for what it's done for my career growth. It's also always interesting to see how people here do things from a Chinese perspective given their rich history and how the meeting of East and West takes shape."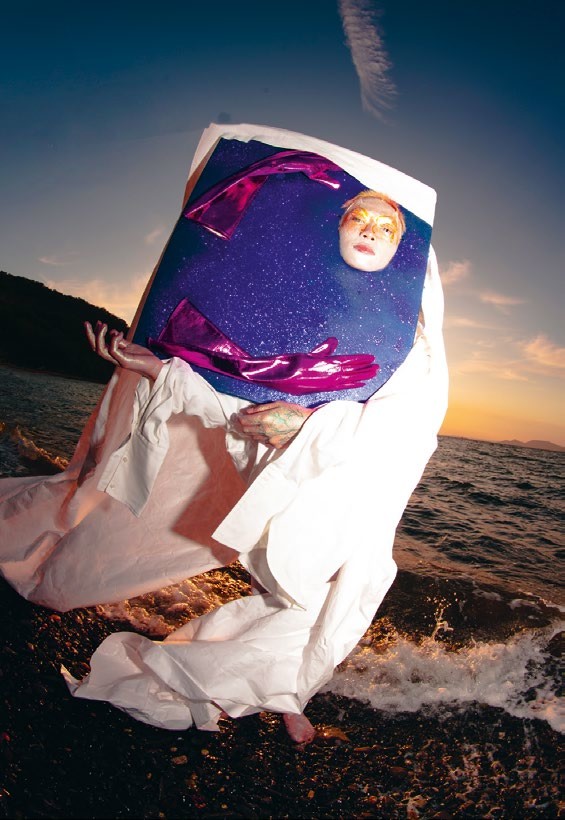 As a stylist with a dreamy and irreverent eye, Choo has travelled to exotic locations such as a snow mountain near Chengdu, a desert in Lanzhou and the art-filled Japanese island of Naoshima for work.
Shanghai or Singapore: "I would not at all be able to do what I do here back in Singapore. For one, I would not be able to do a winter campaign. The resources in Singapore are also just too limited. My hands would feel tied."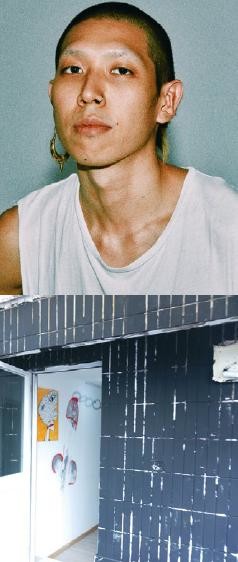 What's home to him: "Home is where I feel safe and loved. The location doesn't matter."
Home essentials: "A futon and hot water. I'm easy."