With mental well-being more talked about than ever before, today's pursuit of pleasure needn't be extravagant or expensive (although some undoubtedly are).
With mental well-being more talked about than ever before, today's pursuit of pleasure needn't be extravagant or expensive (although some undoubtedly are). Instead, they help to render you content —not just in life—but in yourself Writer Zoe Louise Cronk
1 Adrenaline
From mountain climbing to base jumping or cage diving, thrill seekers crave the rush and excitement that comes with risk, and often describe it as heightening their senses or giving them a feeling akin to mindfulness. When you consider that in modern life these kinds of pursuits are unnecessary, why do we test ourselves, physically and mentally, in such a way? According to Michele Eckersley of World Expeditions, a Sydney-based company with 40 years experience operating unique adventure holidays, "There's a huge sense of satisfaction and accomplishment in taking on a challenge and succeeding. It keeps you fit, pushes you out of your comfort zone, gives you the opportunity to meet like-minded people and helps you grow as a person." Some of their most popular options range from remote trekking expeditions through Sherpa villages in the awe-inspiring Everest region of Nepal to the epic 39-day Great Tasmanian Traverse, which sees a small group cycling, rafting, canoeing and hiking through the remote wilderness of Tasmania.
2 Travel
A love, bordering on obsession, for leaving the everyday behind and jetting off to explore exotic corners of the globe is understandable. Travel is a pleasure pursuit that can take a multitude of forms but that ultimately comes down to an individual seeking to improve their mindset, sense of self and awareness of the world. It can take you to a beautiful beach where you do nothing but gaze at the waves, to a sophisticated metropolis or into a culture in drastic contrast to your own filled with history, traditions and new cuisines.
What could be more hedonistic than a whirlwind of pleasure for the eyes, ears and taste buds? Every book you read, every website you scour, every person you ask for travel tips, even the energy dedicated to organising and packing can be almost addictive. The time spent looking forward to, talking about and planning are just as much a part of it as the trip itself. Then when we return home, we say: "That holiday was so great, where shall we go next?" And so begins a new cycle.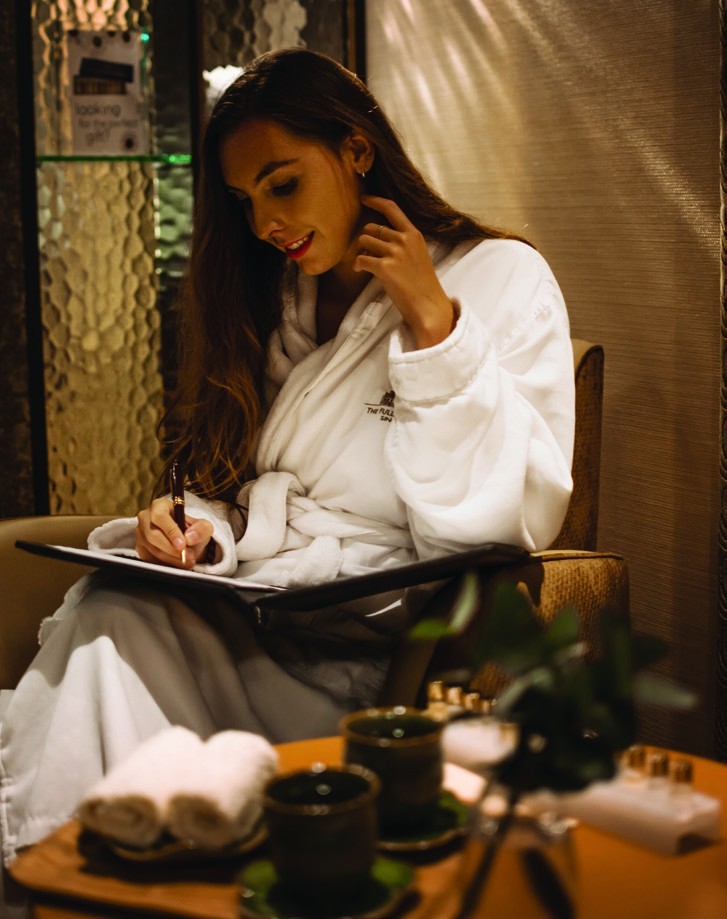 3 Wellness
The wellness industry is a global collection of businesses working towards bringing clients minds, bodies and souls into balance. From urban or mountaintop spas to idyllic retreats dedicated to yoga, digital detox or meditation, there is an ever-growing array of options for those seeking serenity. And it doesn't have to be a week or month-long escape either. Whether it's a deep-tissue massage, Pilates studio membership or regular life coaching sessions, the intention is the same — to feel better, more positive and more relaxed now. Finding a little haven of tranquility  and pampering amidst the go-go-go of the city is the best way to relax and/or re-energise. After all, what better hobby than a bit of me time?
4 Philanthropy
Think all hedonistic hobbies have to be selfish? Think again. Any pursuit that brings joy or happiness is by nature hedonistic and so philanthropy––being charitable or giving back in some way––scores high. There's a billion ways to do good and feel good, from building to build schools in Ethiopia to selling jewellery for charity, from caring for an abandoned animal to helping educate on climate change. Organisations like International Volunteer HQ are a great place to get started and list projects in wildlife conservation, arts for the underprivileged, women's rights and refugee support.
5 Flying
Learning to fly is one of the costliest pastimes out there –– becoming a private helicopter pilot requires a specific license that takes around 50 hours of in-air training and several theoretical exams to achieve. It's estimated to cost up to USD$15,000 to get your license, and let's not forget, you're not gifted a chopper upon qualifying. But the risk involved with manning an aircraft triggers a rush of adrenaline that many rarely experience elsewhere. Unlike some other thrilling activities, this one requires concentration from start to finish. For those that do learn to fly, the feeling of freedom is often described as 
6 Sailing
For outdoorsy types, sailing might be one of the most pleasurable pursuits possible. Pair the peacefulness of being out on the open ocean with the freedom to go wherever the wind takes you. Whether you take to the water on a humble dinghy or the most elaborate yacht, if getting out on the water brings tranquillity and happiness it's a hedonistic hobby. Months at a time can be spent engaging in this pastime, feeling at one with the nature that surrounds you and savouring the therapeutic rocking of the waves.
7 Fashion
The continuous quest for pleasure that defines hedonism is often extended to the fashion industry. Keeping up with trends has become synonymous with repetitive purchasing, and went hand-in-hand with the rapid incline of 'fast fashion'. But times are changing as consumers become more ecoconscious, choosing to shop from brands that create and sell their products in a more ethical way. Some brands channel their efforts into producing garments made from recycled materials or ocean plastic, or manufacture locally to avoid transport emissions. Others are promoting the idea of fashion swaps, in which customers bring along their unwanted items and swap them with someone else. There's no denying that a fresh wardrobe can give a boost of confidence and leave us feeling great; even better when it ticks the box for sustainability too. It's not called retail therapy for nothing!
8 Collecting Art
What could be more hedonistic than a hobby that brings you joy every time you walk past a piece of art in your home? Art devotees say that art focuses their attention and requires strategic thinking to find sense in the seemingly nonsensical. And that's after the actual 'collecting'. Locating, researching, acquiring, negotiating and displaying all requires time and commitment. And whether a new piece is purchased every month or every year, investing in art brings long-term enjoyment.
9 Ballroom Dancing
A style of dance that has been dubbed 'artistry in motion', ballroom is categorised as a combination of physical movement and emotive storytelling. As well as the obvious gains for in terms of fitness, dancing is fantastic for stress relief and improving mood. It empowers selfexpression and is often compared to a moving meditation, which is why it's so often recommended for improving mental health. How is it a pleasure pursuit? Taking on the character of the dance means leaving your nine-to-five identity behind and discovering a new persona. Plus the rush of endorphins guarantees you leave feeling great. Ballroom has gained increasing popularity thanks to television programmes such as Dancing with the Stars and Strictly Come Dancing. As these shows have proven, it's far more complicated to learn and execute than it looks, yet an astounding number—inspired by the poise and finesse of ballroom—have taken it up as a hobby, be it to dance for pure enjoyment or step out of their comfort zones and do something simply for themselves.
10 Sports
Sports often get a bad rap due to their competitive nature, but this can be the ultimate hedonistic pursuit, considering the heady rush of euphoria one feels upon winning. Those who dedicate a significant percentage of their free time (and finances) to a particular sport do so because they are committed to improving their skills and performance. This increases their likelihood of standing on a podium, clutching first prize, feeling elated. And it's not just about winning. Team and individual sports are a form of social bonding, and have been consistently shown to increase productivity, improve mood, evoke optimism and be an outlet for stress and anxiety. Given how emotion and hedonism shape behaviour, it makes perfect sense that sports are universally popular.