There's no better time or place for yacht makers to unveil their latest creations than at the world's most prestigious events on water at the Côte d'Azur this autumn. Here, we preview just a few of the head-turners at Cannes Yachting Festival (Sept 10-15) and Monaco Yacht Show (Sept 25-28).
There's no better time or place for yacht makers to unveil their latest creations than at the world's most prestigious events on water at the Côte d'Azur this autumn. Here, we preview just a few of the head-turners at Cannes Yachting Festival (Sept 10-15) and Monaco Yacht Show (Sept 25-28).
CANNES WORLD PREMIERES – SAILING
BENETEAU FIRST YACHT 53
The Cannes Yachting Festival is the main European event that brings together all the leading players of the yachting market without exception. 
The eagerly awaited First Yacht 53 will make her preliminary series of tacks along the French Riviera. The First Yacht 53 is a high-end sailing yacht marrying luxury and performance, making her comfortable and easy to move around. 
Roberto Biscontini of America's Cup fame designed the hull, and Lorenzo Argento designed the interior and exterior. For sailing purists with high expectations of excitement at the helm and life at sea, the First Yacht 53 boasts strong features.
"We asked the best outfitters to provide their top performing products: North Sails for the sails, Harken for the deck gear, Lorima for the mast, and Lemer for the keel," says Biscontini. 
With a full plumb bow and a maximum beam further aft, the twin rudders give the perfect feedback to control the highly responsive hull. The 2.5m or 3m draught (with lead bulb), as well as an optional carbon mast give the First Yacht 53 the competitive advantage to clock up miles quickly.
www.beneteau.com/en-as/first/first-yacht-53
EXCESS 15 
Excess is a newly created and sporty sailing cat builder that is part of Beneteau Group, which revealed designs in January. The innovative brand focusses more on sailing performance that its other cat builder, Lagoon, while not compromising on comfort aboard the five planned models ranging from 11 to 15 metres with hull designs by VPLP. 
Cannes will see the unveiling of the Excess 15, as well as the Excess 12 with exterior styling by Patrick Le Quément and interior by Nauta Design. The Excess 11, 13 and 15 models will come to market later.  
Inspired by racing and built for cruising, the Excess 15 sailing cat features twin helm stations that offer clear views of the sails, sea and the bows. It also has a super high aspect ratio rig and a pulse line boosted rig to add thrills (+10 percent SA/DSP). The Excess 15's very contemporary interior configuration options include three cabins/three bathrooms, four cabins/ four bathrooms and six cabins/ six bathrooms.
www.excess-catamarans.com
FOUNTAINE PAJOT NEW 45 
The New 45 is a boldly modern, bright and spacious cruising catamaran from legendary French builder Fountaine Pajot and architect Berret-Racoupeau Design. It boasts energetic lines and inverted bows, accommodating incredible interior living spaces. This newly designed helm station will improve handling, promising excellent performance.
The New 45 offers an abundance of light, an extensive cockpit opening onto an innovative saloon, together with the largest lounge space in her category, and plenty of invisible storage.
The owner's suite and guest cabins are also bathed in light and offer a quiet, comfortable place in which to relax, with en-suite shower rooms depending on the version. The New 45 also has generous relaxation spaces on the foredeck, lounge deck and in the cockpit, not to mention the beach club electric platform available as an option.
The interior layout offers two choices: the Maestro version with one owner's suite and one bathroom / two double cabins and two bathrooms, or the Quatuor version with four double cabins and two bathrooms.
www.catamarans-fountaine-pajot.com/en/
JEANNEAU SUN ODYSSEY 410 
Since 2002, when Jeanneau asked Marc Lombard to design the Sun Odyssey 35, more than 17,000 Sun Odyssey sailboats have been sold. Being unveiled in Cannes this year is the Sun Odyssey 410, which is 23.5m (40.5ft) and offers a surprising amount of space and comfort while cruising or berthed. 
Designed by Jean-Marc Piaton and his crew, the interior partitions and the distribution of space were designed in a somewhat atypical fashion in order to maximise the interior space, both visually and physically. 
Five more models have been designed by Marc Lombard's studio: the Sun Odyssey 39i, the Sun Odyssey 42i, the Sun Odyssey 36i, the Sun Odyssey 49 DS and the Sun Odyssey 42 DS.
More recently, he produced the design for the Sun Odyssey 379, which has become the Sun Odyssey 389, incorporating design evolutions in terms of "cruising" hull shape. He also collaborated with Jeanneau to create the Sun Odyssey 349, a continuing success.
www.jeanneau.com
CANNES WORLD PREMIERES – POWER
AZIMUT GRANDE S10 
Azimut Yachts will present all the Italian builder's major models in Cannes, including its most successful ones – Azimut 60, Magellano 66, Azimut S7 and Grande 25 Metri. In addition, there will be three high premieres – Azimut Grande S10 (by Alberto Mancini), Azimut 78 Flybridge, as well as the newly updated cruiser Atlantis 45.
Mancini says he was looking for inspiration in sailing superyachts, modern beach villas in Malibu (USA) and in new car models. The Grande S10 lines show unmistakable sports genes. 
"They gave me a blank sheet of paper – that was a dream," Mancini says. "I thought my idea was maybe too mad and they were going to kick me out, but they said, 'Let's try it!'"
The interior by Francesco Guida is clean, modern and cosy. With a width of 6.34 metres, there are four guest cabins (for eight people) and two crew cabins (for three or four) on board. 
Each buyer can order the desired fabrics, leather and wood used in the interior decoration, as the Azimut Grande S10 is a semi-custom project.
www.azimutyachts.com/azimutgrandes10.html
FAIRLINE SQUADRON 68 
The 2019 Cannes Yachting Festival will be the first chance to see the new Fairline Squadron 68 and the F//Line 33. Featuring the award-winning talents of Italian designer Alberto Mancini and world-renowned engineering from Vripack, the Squadron 68 is effortlessly chic, blending luxury design and a well-considered layout with the celebrated build quality and seakeeping ability of all Fairline models. 
Initially called the Squadron 64, the new spacious flybridge model has been renamed to reflect its grand proportions. The Squadron 68 offers 12 percent more lower deck accommodation space, a 5 percent larger main deck saloon area and a 10 percent bigger flybridge than the outgoing Squadron 65.
The second Fairline yacht premiering in Cannes is the new express cruiser, the F//Line 33, which draws on Fairline's heritage of producing fun and exciting day boats. Also designed by Mancini, this entry-level model is perfect for summertime entertaining. 
In terms of power, the F//Line 33 carries twin Volvo Penta V6-240 petrol engines, but for greater performance the option of either twin Volvo V8-430s or twin Mercruiser 8.2-litre petrol V8s is available. A diesel option utilising twin D3-220s from Volvo is also on offer.
Other Fairline models on display in Cannes Yachting Festival 2019 include the Targa 65 GTO, Targa 48 Open, and the Targa 43 Open.
www.fairline.com
FERRETTI YACHTS 720 PROJECT 
Being onboard the Ferretti Yachts 720 Project is like being at home, or in a villa. It is the second project to sport an exterior designed by architect Filippo Salvetti in collaboration with Ferretti Group. The interior design is by the Group's architects and designers.
With a length of 73.4 feet (22.3m) and a beam of 18.4 feet (5.6m), Ferretti Yachts 720 Project's interior is a large open-plan space organised into three zones. The living area features two ample facing sofas and is separated from the raised dining area. Located on the foredeck is the helm station. And the lower deck features a four-cabin layout. 
Owners can choose between two styles for the interior design. The Ferretti Yachts 720 Project will also be available in the Tai He Ban version, featuring more entertainment areas.
The first unit of Ferretti Yachts 720 Project, equipped with twin MAN V12 engines capable of producing 1,400 metric horsepower, reaches a top speed of 32 knots with a cruising speed of 28 knots. In its standard configuration, the yacht has twin MAN V8s with an output of 1,200 mhp.
www.ferretti-yachts.com
HORIZON FD87 SKYLINE 
Once again, world-class Taiwanese builder Horizon Yachts is presenting something special this year at Cannes with two brand-new models from the popular and successful FD Series: the FD87 Skyline hull no. 7 and hull no. 10 on the Super Yacht Extension (SYE) at stand SYE230 and berth SYE039.
These are advanced fast displacement (FD) motoryachts that marry impressive interior volume with superior cruising capabilities. Designed with the Skyline (enclosed bridge) configuration, the yachts retain the FD Series' signature head-turning exterior styling penned by yacht designer Cor D Rover, atop the proven High Performance Piercing Bow design and hull platform.
The Horizon FD87's extended length allows for even more amenities in a yacht that feels like a 100ft-plus boat. Offering a five-stateroom layout with an enclosed skylounge on the upper deck, the new FD87 Skyline hull no. 10, which has obtained CE marking, incorporates superyacht amenities into its voluminous design. 
The ingeniousness of the FD Series design underscores why Horizon has, to date, sold 25 FD Series yachts in less than three years.
www.horizonyacht.com
LAGOON SIXTY 7 
The Lagoon Sixty 7 is a luxury power catamaran that fills a void between the Lagoon 630 MY and Lagoon Seventy 8 that will also be at Cannes along with the Lagoon sailing cats 40, 42, 46, 50 and motor cat Seventy 7. The expected shipyard's style and timeless elegance that are trademarks of Patrick Le Quément are continued with the Sixty 7. Simple, clean lines with a suspended roof give this motoryacht a fresh and exciting yet familiar look. 
The expansive outdoor areas of the Lagoon Sixty 7 are full of open space for relaxing and entertaining that flow from the generous, well-appointed cockpit to an oversized flybridge and forward cockpit. 
The well-designed hull is suited to powered propulsion speeds exceeding 20 knots, while large tanks for fuel and fresh water assure your freedom on the seas. Nauta Design delivers once again with a warm, cosy, yet thoroughly modern interior style similar to the aesthetic of the Seventy 8, with different configurations allowing for four, five or six cabins.
www.cata-lagoon.com
PERSHING 8X 
Pershing continues to accelerate on the course of innovation and contemporary aesthetics. Like its predecessor 9X, the new 8X is made of carbon fibre. This not only means lighter weight, greater speed, and lower fuel consumption, but also more volume due to the ability to design larger, more comfortable spaces.
At 25.6m in length (approx. 83ft) and 5.9m wide (19ft), Pershing 8X stems from the collaboration between yacht designer Fulvio De Simoni, the Ferretti Group's Product Strategy Committee, headed by Piero Ferrari, and the Group's Engineering Department. 
The new Pershing 8X features a Music Hull, which makes it possible to listen to music underwater during dive sessions or while swimming. Developed by the Ferretti Group Engineering Department in collaboration with Videoworks, this transforms the hull itself into a high-definition loudspeaker.
The standard engine configuration of the 8X comprises twin MTU 16V 2000 M96 engines delivering 2,435mhp each, combined with TopSystem surface drive propulsion with surface propellers. The vessel reaches a top speed of 45 knots and cruising speed up to 38kn, with maximum range of 320nm. 
www.pershing-yacht.com
PRINCESS F50 
The F50 completes an all-new, five-yacht line-up of classic flybridges from Britain's best-selling luxury motor yacht builder. It delivers the core F-Class qualities recognised in its award-winning sibling, the F55 – that's an impressive combination of comfort, quality and flexibility in its class.
Princess Yachts Design Studio and Bernard Olesinski ensure the F50 delivers technical innovations that make it feel as spacious above deck as below, which features a full-beam owner's stateroom, elegant hull-length windows and luxurious materials. Up to six guests can enjoy three beautifully appointed, spacious cabins, two of which are en-suite.
Efficient twin Volvo D8-IPS 800 (2 x 600mhp) engines combine with Princess's unique resin-infused deep-V hull for a top speed of up to 36kn.
The F50 joins the F45, F55, F62 and F70 to complete the Princess entourage.
www.princessyachts.com
SANLORENZO SD96 
The Sanlorenzo SD96 is built on three decks, but thanks to the carefully studied proportions and great balance achieved between design and volume, it is not only exceptionally elegant, but also as light and manageable as a two-deck yacht.
The SD96 is the first yacht designed by Patricia Urquiola. Bringing her vision on board, the architect and designer interprets the interior of the SD96 in the name of transformability, for a boat capable of evolving and continuously adapting to the needs of those who live on it.
The yachts of the SD fleet, the semi-displacement models of Sanlorenzo, draw inspiration from the aesthetics of the transatlantic liners of the 1930s. The series presents models in composite material from 28 to 38m (approx. 92 to 125ft) in length, offering outstanding range to reach even the most faraway destinations. The SD96 will be on show at Cannes alongside 10 other Sanlorenzo models, including the Bluegame BGX70.
www.sanlorenzoyacht.com
SUNSEEKER HAWK 38
With its much-anticipated new, high-performance day boat Hawk 38, Sunseeker has returned to its performance roots to deliver an exciting and dynamic stepped hull in conjunction with FB Design, winner of 43 World Speed Records and 55 World Championships.
The Hawk 38's searing performance will ensure it's always first to the best anchorage or beach restaurant. With a choice of paint finishes and upholstery, it will also make the ultimate superyacht chase boat; no two boats are ever likely to be the same.
Drawing on the company's racing heritage, this high-performance model will be capable of a leisurely 70mph (62kn) with standard twin Mercury 400R outboards mated to Mercury Racing Digital Zero Effort throttles. The hull has been optimised to take advantage of the latest outboard engine technology, giving not only performance benefits but also low-cost maintenance for clients.
www.sunseeker.com
48 WALLYTENDER 
The Wally brand is now fully owned by Ferretti Group following the acquisition announced at Boot Düsseldorf in January. The 48 Wallytender units three and four being unveiled at Cannes are among the first launched in what Ferretti CEO Alberto Galassi calls the "new era". One of these day boats with a gunmetal grey paint finish will be exhibited in the water; the other, with custom Sahara sand livery, will be on land. 
The 48 has the Wallytender line's trademark wraparound fender, and the generous interior includes a suite, combining the sailing heritage of teak decking with panels and fittings in carbon fibre, which Wally introduced to the yachting world in 1991. The 48 Wallytender is the only one in its segment to offer as standard fold-down bulwark sections to increase the swim platform area, an evolution of the innovation introduced in 2002 on the 118 Wallypower. 
Wally had three orders for the 48 Wallytender before the first unit touched water, sold to owners in Europe and the US. With about 170 sailing and motor yachts in its stunning build portfolio, Wally is the only yachting brand to twice win the ADI Compasso d'Oro, the world's most important award for quality and design.
www.wally.com
MONACO WORLD PREMIERES 2019
ALIA YACHTS 60M SAMURAI 
A premium yacht builder based in Antalya, Turkey, Alia Yachts brings quite a statement to Monaco. 
Exuding power and poise, Samurai's proud visual impact is matched by the performance of her revolutionary, patented hull form, achieving unprecedented efficiency through the power curve to a top sprint of 21kn, with a marathon cruising range of over 5,000nm.
A sophisticated and deceptively high-volume yacht, Samurai's exterior architecture is celebrated throughout the interior with great synergy between inside and out, creating interesting and refreshing spaces.  
The owner's suite and each guest cabin, all on the main deck, command fabulous views of the current locale through full-height windows. The flow between flexible and airy entertainment areas enhances a kind of loft-living conviviality, whilst guaranteeing privacy and intimacy when desired.
Crew accommodations, main galley, tender storage and the impressive engine room are all on the lower deck, which leads aft to the gym and the sea-level beach club.
www.aliayachts.com/yachts/samurai/
AMELS LIMITED EDITIONS 220 AURORA BOREALIS
Highly-regarded Dutch shipyard Amels returns to MYS, boasting a revamped hospitality area at Appontement Jules Soccal jetty, booth JS6, and a handful of spectacular vessels are to be on display (berth S13). The 67.6m (220ft) Aurora Borealis Limited Editions Amels 220 premieres with an exterior designed by Tim Heywood with interiors by Winch Design – both based in the UK.
Another one that will be hard to miss is 83m Here Comes The Sun (Heywood/Winch again) – the largest Amels yacht built to date and the first Amels 272 from the Limited Editions range, along with the 55m Elixir Amels 180 (Heywood/Laura Sessa), the 55m Joy Rider Yacht Support, and the 55.3m Yacht Support vessel Shadow that both have naval architecture by Damen rather than Amels, which the others on display in Port Hercules this year have.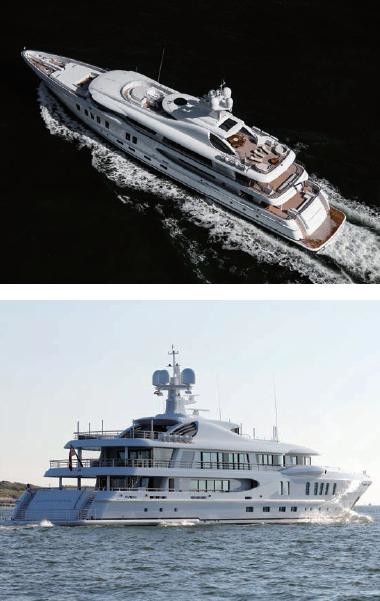 While relaxing in the lounge, you can also check out the latest developments of the upcoming Amels Limited Editions, its Full Custom offerings, and its Refit projects such as the Amels 60 – the brand new Espen Øino design in the Limited Editions range. The 60m superyacht, with Hybrid by Amels technology, is now under construction and available for spring 2022 delivery, so look for it at MYS 2022. 
www.amels-holland.com
CRN 135
CRN's second-largest yacht after the 80m Chopi Chopi (2013), Project 135 launched in May at the Ancona shipyard in Italy and is now known simply as 135. Spread out over five decks, this fully custom steel and aluminium 79m yacht features interior design by Laura Sessa and an exterior design by Zuccon International Project. 
Power comes from a pair of Caterpillar diesel engines for a top speed of 16kn and a cruising speed of 15kn. Accommodation is for a total of 12 guests in five VIP cabins and a master suite. The yacht also has enough crew accommodation for 39 staff.
Part of the Ferretti Group, CRN is currently working on four projects of 60m to 70m in length, including the recently announced 60m CRN 141 to be completed in 2022. 
www.crn-yacht.com
SANLORENZO 64STEEL ATTILA
The largest yacht ever built by boutique Italian shipyard Sanlorenzo, Attila is described by the builder as "a prestigious and imposing flagship, a roomy, spacious, and welcoming long vessel that offers a prestigious level of on-board social life that has never been seen before in a 1,600 GRT yacht."
With five decks and an internal maximum width of 12.5m, Attila features an exterior design by Mauro Micheli and a fast displacement hull. She has a top speed of 17kn, and can accommodate 12 guests in six cabins, with quarters for a crew of 17.
The main deck at the stern and the beach club on the lower deck are the most distinctive areas of the project. A strong hallmark of design and layout is the double stairway that connects the pool and dining area to the beach club that's equipped with a sauna, hammam, massage room and gym, right at the waterline. With the bow mirror and the side platforms open, the beach club covers an area of 78sqm (approx. 840sqft).
www.sanlorenzoyacht.com