These group workouts are crazy effective at raising your metabolism and torching calories for hours (or maybe even days) after.
These group workouts are crazy effective at raising your metabolism and torching calories for hours (or maybe even days) after.
Admit it: Whether you're at the gym to tone up or build strength, fat-burning is always on your mind.
There's no reason why it shouldn't be. When you lose fat, you not only become leaner, but your muscles also get more definition. Your flabby bits shrink, and you'll look shapely – in a very good way. Who doesn't want that?
But burning fat is easier said than done. When you do the same workout repeatedly – for instance, running at the same pace – your body adapts quickly and becomes more efficient at doing it. As long as you're trying to lose weight, being efficient is not a great thing; your body uses less and less energy to perform the task. And that means fewer calories get burned. Over time, you'll hit a plateau. That's when you stop seeing results, and may even lose the fitness motivation.
Which is why the Shape team went around the island sussing out group exercise classes that will keep your flame (and fat) burning. Whether you're a loner or social butterfly, there's always the extra push to go further when you work out with company. Or that smokin' hot dude to keep you on your toes.
The idea is to train at a high intensity with short rest periods, so you can reap that delicious afterburn everyone's talking about – where your body experiences excess post-exercise oxygen consumption, causing your metabolism to spike post-workout. As your body tries to replenish the oxygen level, it burns more calories than usual, even when you're doing nothing.
No matter where you are in your fitness journey, these classes will definitely rock your boat. They include barre, yoga, pilates and functional bodyweight moves you've probably never tried before – and all done at a high intensity.
The workouts are nothing short of challenging, but they will stoke your fat-burning furnace and firm you up like never before. Well worth the effort, and of course the aches.
WEBARRE – WEBARRE HIIT
86B Tanjong Pagar Road, Level 3 (6221-5539) and 5A Stanley Street, Level 2 (6221-9256)
Unlike delicate barre movements, like plie and passe, this class is all about big, badass exercises, featuring ballet-inspired moves only during the warm-up. Done in a circuit, they involve your body weight, free weights and tools like resistance bands and sliders to fire up your core. Everything is fast-paced to raise your heart rate and boost metabolism. The class ends with core-strengthening exercises as well as deep, calming stretches. Your most productive 40 minutes ever. 
Visit www.webarre.com.
TRIPLEFIT SINGAPORE – ENDUROFIT
#02-63 Millenia Walk (6255-5064)
This 45-minute endurance-based class is conducted in an interval and circuit training style, making you switch among cardio machines, like the rower, air bikes and ski ergs, and do sprints and bodyweight exercises as well. Throughout the workout, you'll wear a Polar heart rate monitor on your wrist. Based on your real-time heart rate projected on a screen, the instructor will motivate you to reach the optimal fat-burning zone, which is 75 to 85 percent of your maximum heart rate. 
Visit www.triple.fit.
ORANGETHEORY FITNESS – ORANGE 60
#02-01 Robertson Quay (6266 1715) and #01-58 Icon Village (6224-4288)
True to its name, the equipment is orange, and so are the lights. Orange light has been found to boost alertness and brain function, so you'll be especially awake in this gym despite the dimness. As the workouts here are heart rate-based, you'll need to wear a heart rate monitor around your chest throughout. In 60 minutes, you'll do a mix of exercises that focus on endurance, strength and power to activate different muscle groups. The aim is to send your heart rate into the "orange zone" (84 to 91 percent of your maximum heart rate) for up to 20 minutes to trigger the afterburn effect. This gym offers treadmills, rowing machines, suspension training systems, free weights and benches that cater to up to 24 people at one go, and exercise demos are shown to guide newcomers.
Visit www.orangetheoryfitness.com.
F45 – FUNCTIONAL TRAINING
More than 15 studios islandwide
This Australian gym concept focuses on functional training movements such as lifting, squatting, pulling and pushing to sculpt lean muscles. Each class takes 45 minutes, and combines interval, cardio and strength training to leave you sore and breathless. The exercise plans are never repeated, so each workout is a surprise. Besides the instructor, video demonstrations of the exercises are shown on screen to help you along. The high energy and positive vibes will make you forget how hard you're working.
Visit www.f45training.sg.
GUAVALABS – STILL 30/30
#B1-04/05/06 OUE Downtown Gallery (6800-5355)
If HIIT classes are stressful, you'll find a good balance in this one. Still 30/30 comprises 30 minutes of HIIT followed by 30 minutes of gentle yoga to let you cool down and stretch out sore muscles. The HIIT exercises use various equipment, like kettlebells, TRX, battle ropes and ViPR, to keep you engaged. On weekday lunchtimes, the class is shortened to 50 minutes. 
Visit www.still-group.com.
RITUAL – HIIT
#03-01 Raffles Place (6536 7291), 17b Lorong Liput, #02-01 (6463-4690), and 140 Robinson Road, #03-01 (6584-9469)
Many time-strapped office workers rely on this high-intensity interval training class to stay in shape. The workouts are done in 20 minutes, and held every half-hourly. The class size is capped at 10, which means you get plenty of attention from the instructor who goes around checking your form. Don't worry about not being able to keep up. The exercises come with four progression levels – there's bound to be one that suits your needs. We love that workout tops and bottoms are provided, and the class is done barefoot on a shock-absorbent floor (no shoes!), so all you need to bring is your sports bra. There's also a fuel bar selling post-workout smoothies if you need a quick replenishment. 
Visit www.ritualgym.com. 
FAMA (FITNESS AND MARTIAL ARTS) – FAMA FIT
#02-03 Clarke Quay (6352-0992)
Pick up your heart rate as well as martial arts moves that could save your life. This hour-long high-intensity class covers strength exercises such as push-ups, squats, TRX rows and superman holds to train your core and other major muscle groups. Mixed martial arts moves like punching, kicking and grappling are introduced to improve stamina, agility and coordination. Feel like a warrior afterwards!
Visit www.famafit.com.
BBOUNCE STUDIO – BB360 CIRCUIT
#06-09 The Centrepoint (6262-2272)
Designed by professional and Olympic athletes, this functional training-based class puts you through up to 10 exercise stations that target cardio fitness, strength and power. The high-intensity moves are done in bursts of 30 to 40 seconds, with brief periods of rest in between – just enough time to grab a swig of water. If you're lucky, the instructor may add fun partner exercises to pump you up. After the 50-minute workout, you'll be sweat-soaked and wiped out – but on a new-found exercise high. 
Visit www.bbouncestudio.com.
DANCEVAULT STUDIO – BUNGEE WORKOUT
176 East Coast Road (6909-3607/08 ) and 48 Woodleigh Park (8164-8202)
Here's one workout that will take you to new heights – literally. You'll need to wear a harness around your hips and get hooked up to a bungee cord suspended from the ceiling. Then you'll be instructed to do dance and aerobic moves to an upbeat song. The bungee cord supports some weight, so you'll feel lighter and especially empowered to do hops, turns, dives, star jumps and inversion poses you've been too scared to try before. They may look effortless, but lots of core activation is required to stay balanced. By the end of the class, you'd be able to perform a simple choreography that will have you beaming with pride. 
Visit www.dancevaultstudios.com.
TRIUM FITNESS – HIIT YOGA
#03-01/02 Aperia Mall (8782-8633)
High-intensity doesn't mean high-impact. In this express 30-minute class, you'll do yoga-type exercises in a HIIT format – for instance, 40 seconds all-out followed by 20 seconds rest – with little or no pressure on your joints. Examples include planks with alternating arms and legs, side plank crunches and backward lunges. Be amazed by the range of low-impact exercises you can do, using just your body weight. With its friendly, non-judgmental vibes, this class is great for anyone who's new to HIIT or exercise.
Visit www.triumfitness.com.
AMORE FITNESS – KICKBLITZ
Eight clubs islandwide
One of Amore Fitness' signature classes, KickBlitz is a fusion of kickboxing and HIIT exercises done to high-energy music. The kickboxing moves, like jabs, punches and kicks, will challenge your power and coordination, while the HIIT exercises will shoot your heart rate up. We were sweating within 15 minutes! Core and strength-training moves are incorporated in the last part of the 55-minute class. 
Visit www.amorefitness.com.
VIRGIN ACTIVE – ZUU
Level 6, Tower 2, One Raffles Place, #06-01 Tanjong Pagar Centre, Level 2, The Heart at Marina One, and #03-05 Raffles Holland V
From frog jumps to bear crawls and donkey kicks, you'll be asked to do a series of animal-inspired movements that require nothing but your body weight against gravity. It's gruelling, but also camaraderie-building as you'll be toughing it out with 20 or more others. The exercises are intense, and torch every muscle fibre. Be prepared to leave this 30- to 45-minute class completely shagged. 
Visit www.virginactive.com.sg.
BARRE 2 BARRE SINGAPORE – BARREAMPED BOOTCAMP
42 Hongkong Street (9115-9473)
Tired of standard HIIT classes? Try this one, which combines barre exercises with short cardio intervals. The isometric movements don't look like much, but they will set your thighs and butt on fire. There's also an upper body workout using light weights. We appreciate that the instructors are particular about form and making sure that all students know what they are doing – either through verbal instructions or physical adjustments. Expect to ache the next day! 
Visit www.barre2barre.com.
BREATHE PILATES – FAT BLAST PILATES
#09-33 Novena Medical Centre, #13-02 Parkway Centre, #01-04 Galaxis, and #05-07 Camden Medical Centre
Pilates is anything but slow and boring in this cardio-based class. Fast-paced exercises are done on a reformer machine to drive up your heart rate. At the same time, the movements are graceful and will make you feel like a ballerina. You'll work on your aerobic fitness, balance, posture and core strength in this one hour. The instructor will scale the session according to your fitness level and reformer experience, so you'll get a decent workout no matter what. 
Visit www.breathepilates.com.sg.
PURE YOGA – DETOX FLOW YOGA
Level 4, Chevron House, Level 18, Ngee Ann City Tower A, and #06-02 Asia Square Tower 2
Not your usual sun salutation flow, this hour-long session takes you through lots of twisting, bending and compressing postures that will stimulate the digestive organs to aid detoxification and reduce fluid retention. Think bow pose, chair pose with twists, and revolved side angle pose. The class is conducted in a room heated at 35 to 38 deg C – a comfortable temperature that warms up muscles, elevates the heart rate and induces sweat without giddiness. Have plenty of water before and after class, as you'll be sweating buckets and peeing more often post-yoga. 
Visit www.pure-yoga.com/singapore.
TRUE FITNESS – K KARDIO DANCE
Eight gyms islandwide
If pop music gets you grooving, you'll enjoy this dance fitness class with K-pop songs and MTV-inspired moves. The instructor demonstrates them step by step on a raised platform, and lets you practise them for a few rounds before gradually introducing more steps. The beats are catchy enough to make you sway and shake along spontaneously – no awkward moments here! You'll learn a different choreography to every track, and feel like an accomplished dancer by the end of the 60-minute class.
Visit www.truefitness.com.sg. 
SHAPE Recommends
EnduroFit
TAKE YOUR CARDIOVASCULAR FITNESS TO THE NEXT LEVEL IN THIS TRIPLEFIT CLASS.
Do you find cardio-based workouts dull and monotonous? Well, getting your cardio fix doesn't have to be a snooze fest. There are many activities you can do beyond conventional exercises, like running, brisk walking and swimming.
EnduroFit, available at TripleFit, is definitely one workout worth exploring. The 45-minute class comprises interval training with a focus on cardio-type exercises. You'll use equipment like rowing machines, air bikes and SkiErgs (the machine's movements mimic cross-country skiing), as well as tools such as jump ropes, sleds and kettlebells. You'll alternate between doing the exercises and having short rest periods under the guidance of an instructor. 
What's unique about EnduroFit is that it incorporates heart rate training. All participants wear a Polar fitness tracker that documents how hard their heart is working in real time. 
The objective is to exercise at 75 to 85 percent of your maximum heart rate (that's 200 minus your age) to help you build your aerobic base and efficiency while torching calories. Everyone's progress will be projected onto a screen for easy reference so you'll know when you need to ramp things up to get your heart rate in the right zone. This class is suitable for all levels; everyone from total beginners to those who work out regularly will benefit from this class. 
TripleFit is at #02-63 Millenia Walk. Other than EnduroFit, there are a variety of other workouts that can help to improve your balance, endurance and strength. That's not all. TripleFit is more than a gym. It also boosts an impressive retail zone, with the latest activewear from premium sports brands. 
Swiss running shoe label On, Japanese high-performance compression wear brand C3fit and American sportswear label Under Armour are just a handful of the notable names. 
Healthy food that's perfect as post-workout nosh is also readily available. A kiosk with customised protein shakes and wholesome bites stands right at the entrance of TripleFit. For more information, visit www.triple.fit.
Also try: CORE 360
Turn your dream of having flat abs into a reality by going for Core 360. This waist-sculpting workout targets everything from the obliques to the deep abdominal muscles that stabilise the body. Expect to do traditional moves like planks and V-ups, as well as new exercises that utilise slide discs, resistance bands and other tools. No Core 360 class is exactly the same, so you'll feel challenged every single time.
K Kardio Dance
CHANNEL YOUR INNER K-POP DANCER IN THIS UPLIFTING TRUE FITNESS CLASS.
If you've been secretly wanting to dance like your favourite K-pop singers, now's the chance.
True Fitness recently introduced K Kardio Dance that teaches you simplified MTV moves to trending K-pop songs. It doesn't matter if you have two left feet; the charismatic instructor will demonstrate basic and super cute moves to psych you up for the one-hour class.
After a few minutes, you will lose all inhibitions and be fully warmed up. You might even be grinning to yourself as you execute funky steps you never knew you were capable of!
There's hardly a break as you dance from song to song – not that you'd need one. Each track is catchy enough to keep you energised and entertained. Plus, the choreography is varied so there's never a dull moment. 
Expect to get really sweaty. The fast-paced workout means you'll be torching lots of calories and working on your cardio fitness without realising it. The effects are similar to running, except that you'll have tons of fun shaking – and perhaps singing – during this class. By the end of it, you should feel like a perfectly legit K-pop dancer, and be tempted to show some moves at the next party!
True Fitness is located at eight convenient locations – Chevron House, Djitsun Mall @ Ang Mo Kio, Great World City, Harbourfront Centre, Income @ Tampines Junction, Suntec City Mall, Viva Business Park and Velocity @ Novena Square. 
All the centres are equipped with state-of-the-art fitness facilities, new cardiovascular machines, the latest integrated TVs and iPod Links, as well as its signature VIP Black Card Lounges. Members can also choose from a wide variety of classes such as yoga, hot yoga, dance and spinning classes. 
For more information, visit www.truefitness.com.sg.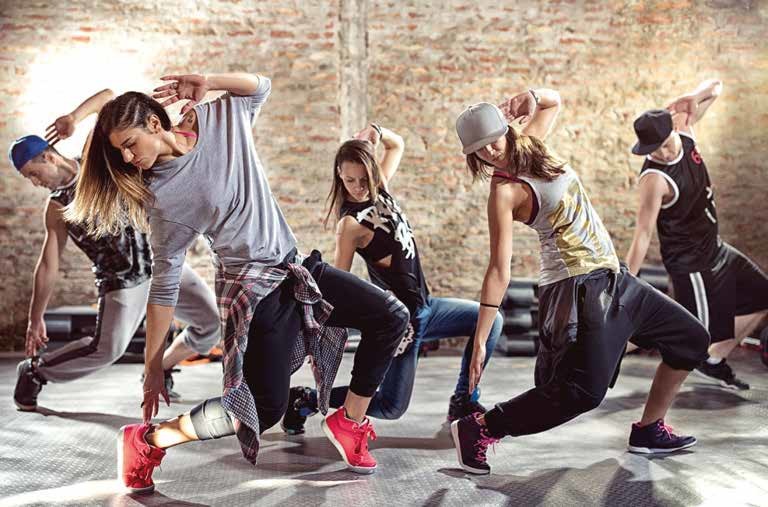 Also try: SWAGFIT
Love pop and R&B music? Join Swagfit, another MTV-inspired dance class that keeps you moving to upbeat tunes from Asia and the rest of the world. The workout comes with easy-to-follow choreography and is designed to work every muscle group, helping you shape as well as atone up.