The benefits you get from luxuriating with masks, soaks, and other decadent rituals are much more than skin-deep.
The benefits you get from luxuriating with masks, soaks, and other decadent rituals are much more than skin-deep.
Taking the time to dote on yourself is more important than ever. According to the World Health Organization, the number one cause of ill health and disability globally is depression – a lot of which is caused by anxiety. 
"The self-care and wellness movement – for lack of a better term – is a good way to counter that angst," says Shel Pink, the founder of SpaRitual and the author of the new book Slow Beauty. "As the world speeds up, caring for your skin is a simple yet effective coping mechanism," adds Lev Glazman, a cofounder of the beauty brand Fresh. But beauty regimens, which force us to slow down, do more than just help us tolerate our hectic lives. They're good for our bodies and brains. 
"Instinctively, we're aware that slowing down is good," says Whitney Bowe, a dermatologist in New York City and the author of The Beauty of Dirty Skin. "Just think about how you feel after a leisurely vacation: You sleep better, you digest better. Now science is proving that mellowing out and stopping emotional upheaval help lessen inflammation, which has a positive effect on our skin and overall health." So please indulge. We've got the best new ways to make the most of your "me time". 
"As the world speeds up, caring for your skin is a simple yet effective coping mechanism."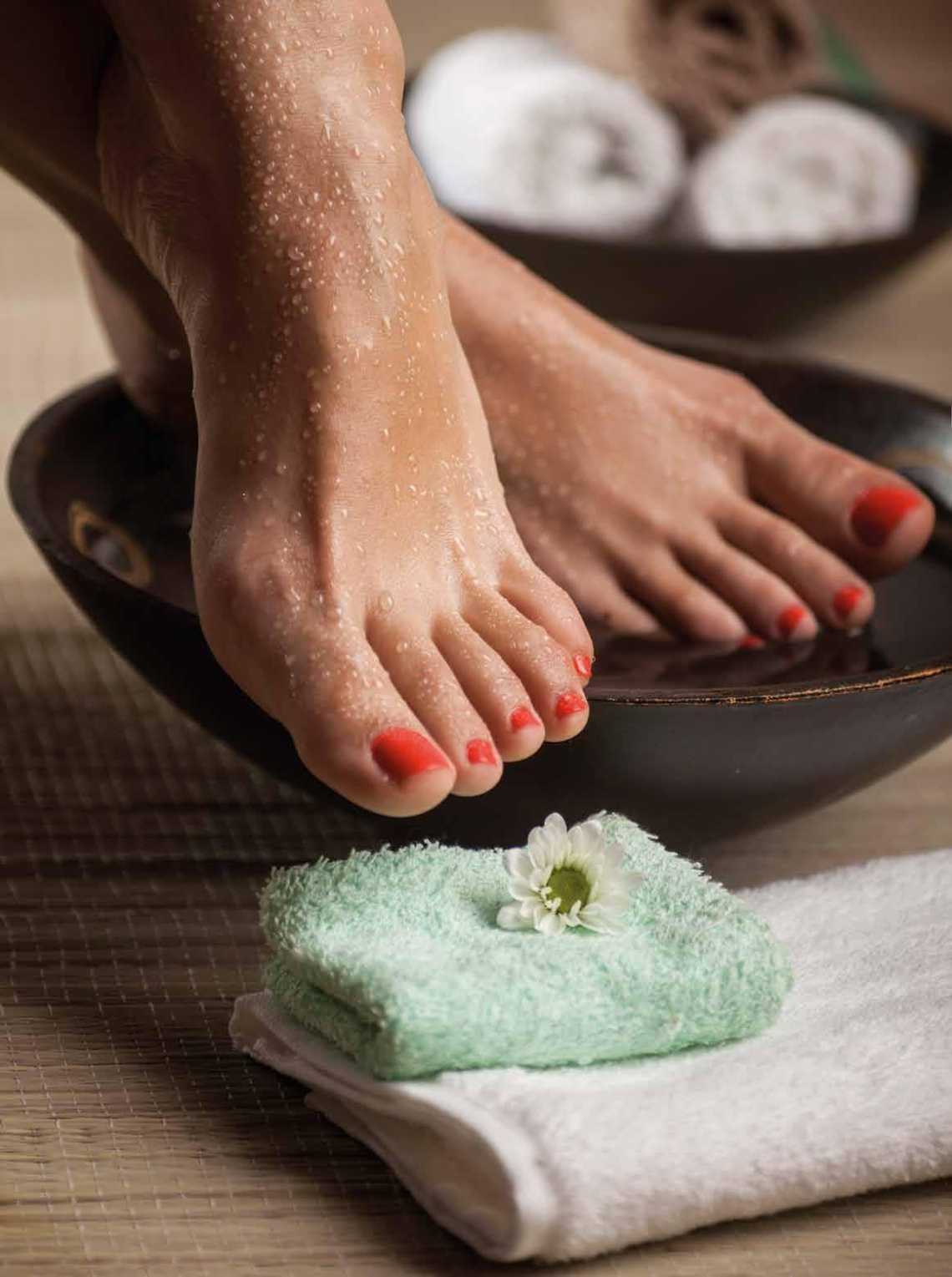 WATER CURE
Even if you don't have time to fully submerge yourself, a foot soak can help you chill out. 
1. FOOT SOAK AND MASSAGE
To begin, fill any basin with warm water. Place one cup of magnesium salts in the water, plus two to three drops of your favourite essential oil. Mix until the salts dissolve. Sit back and relax as you soak your feet for 10 to 15 minutes, then towel dry. To massage, pour one teaspoon (per foot) of an essential oil into your hands, then rub them together to warm the oil. Place hands on both sides of your foot, and rub in the oil, being sure to massage it between your toes, says Shrankhla Holecek, an Ayurvedic expert and the founder of Uma oils.
2. MASKING MEDITATION 
"Meditation enhances our capacity for deep sleep and boosts our immune system, which both benefit beauty," explains Jackie Stewart, a meditation teacher at MNDFL in New York City, who partnered with Fresh to develop an easy five-minute practice that can be done in tandem with the company's Lotus Youth Preserve Rescue Mask ($105, www.sephora.sg). First, smooth the mask over your skin. Then sit on a pillow or the floor, take a few breaths, and let your body settle. Next, with eyes open or closed, scan your body, becoming aware of your feet, your neck lengthening, the softness of your belly, and your shoulders broadening. If you sense your mind wandering, bring it back to your breath, which directs you to the present. Continue this for five minutes, then rinse the mask off. It's best to do this in the morning, when your cortisol (stress hormone) levels are highest, says Naomi Whittel, an entrepreneur, a health expert, and the author of Glow 15. "It will have the highest return on investment of anything you can do all day," she says. While you meditate, if you need to deep clean rather than hydrate your skin, try the Ahava Mineral Mud Clearing Facial Treatment Mask ($42, www.ahava.com.sg) with naturally clarifying Dead Sea mud. 
MUDDY BUDDY
The mask that started it all: Borghese Fango Delicato Mud Mask for Delicate Dry Skin ($36, www.lazada.sg) has been retooled for sensitive skin so that you can take in the nourishing mud, inspired by Italian spa culture.
3. NATURE BATHING
Soaking in the outdoors is another way to feel and look relaxed, says Jen Snyman, a lifestyle specialist at the Lake Austin Spa Resort in Texas. "We are so disconnected from nature, yet there are many studies that show that going into the forest can boost our endorphins [mood-enhancing hormones] and emotions," Jen says. At the spa, Nature Bathing consists of a guided walk incorporating long stretches of silent hiking (to engage with the sounds of nature), as well as outdoor yoga. But you don't need to be at a spa or even deep in the woods to bathe in nature on your own. "Go to a park," Jen says. "Close your eyes, take a few deep breaths, open your eyes, and pretend it's the first time you're looking around. I promise you will find something new and beautiful."
4. DRY BRUSHING
Using a brush to scrub your skin comes with a nominal start-up cost and is "the most nat ural way to get rid of dead skin cells and improve blood circulation," says Ilona Ulaszewska, an aesthetician at Haven Spa in New York City. Brushes don't contain any chemicals, so they're hypoallergenic and safe for all skin types. To elevate your everyday shower to an exfoliating ritual – and wake yourself up on those mornings when you just can't get yourself going – start brushing dry skin at the outer extremities. Work the brush gently inward towards your heart. Then shower as usual. 
PHOTOS 123RF.COM
PHOTO CLAIRE BENOIST
STYLING ALMA MELENDEZ/HALLEY RESOURCES