Cover all the bases for beauty, fashion and gift ideas at Capitol Piazza.
Cover all the bases for beauty, fashion and gift ideas at Capitol Piazza.
Aveda B2-33 
Define and enhance the natural texture of your hair with the Texture Tonic ($50) from Aveda. The pliable formula uses sugar and salt to create a naturally tousled texture and provide flexible hold. This means it's an effortless product to create a touchable style with, and it's even more enjoyable because of its ginger, ylang- ylang and clary sage fragrance derived from organic plant essences. 
Aesop 01-11 
The Australian brand draws inspiration from studies of human behaviour and psychology for its festive gift sets, giving them the theme of "The Enigmatic Mind". We're partial to the Perception Gift Kit ($115), a set of luxurious body-care products. In it, you'll find the Geranium Leaf Body Cleanser, Redemption Body Scrub and a limited-edition Redemption Body Balm – an invigorating and beautifully-scented trio for smoother skin all over. 
The Body Shop B2-18 
Fans of cruelty-free beauty will enjoy getting the Frosted Berries Festive Tin ($32) from The Body Shop. Inside are fruit-fragranced favourites that are sure to please. This special winter recipe is enriched with cranberry seed oil from the floodplains of North America and subtle notes of red berries, creamy white flowers and sweet vanilla – making it possibly the fruitiest festive scent. 
Sulwhasoo 01-72/73 
Give a thoughtful touch of Korean tradition with the Limited Edition Herbal Soap collection ($88) from Sulwhasoo. In the elegant box are four herbal soaps made with red ginseng, pine tree extract, liquorice extract and white cloud grass – the key ingredients are all carefully selected and aged for 40 days in a special process. These limited-edition face soaps promise a relaxing cleanse that leaves skin feeling smoother and more hydrated. 
Alexandre de Paris 01-18
Hair accessories make unconventional and delightful gifts. Consider the Vendôme Couleurs Hiver in Bordeaux ($188), made by hand using time-tested traditional methods that are well over 100 years old. The brand is highly respected for its quality – the man behind it was, after all, famous for working on the coiffures of Hollywood legends like Elizabeth Taylor. 
Mimento B2-17 
There's nothing better than a customised gift that expresses thought and consideration. Mimento now makes it possible for you to create exclusive rings using Bronzallure Powered by WORDS – an interactive word-configuration system – which instantly brings your desired jewellery to life by utilising your favourite words and emoticons, accented with natural gemstones. The rings are available in 925 sterling silver and 18K white, yellow and rose gold, with up to five lines of customisation. It's the perfect way to treasure a loved one. From $228. 
Cortina Watch 01-77/80 
This year marks the 60th anniversary of Piaget's Altiplano watch – a revolutionary, ultra-thin timepiece that redefined elegance when it was first introduced to the world. Its signature design still holds up today, proving that elegance can withstand the test of time. To celebrate its sixth decade, the Swiss brand is releasing the watch in vibrant new shades – such as the vivid pink pictured here (price available upon enquiry), which ticks away with a mechanical Calibre 430P movement in a dainty 34mm white gold case.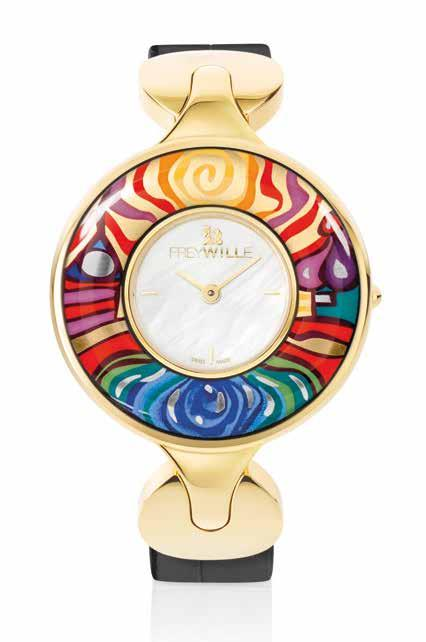 FREYWILLE 01-81 
The Helena watch ($4,160) by FREYWILLE is a captivating piece with artistically-designed fired enamel. The dial, in classic mother-of-pearl, is housed in an elegant gold-plated steel case, circled by an enamel bezel with an architectural design inspired by Austrian artist Friedensreich Hundertwasser's paintings. The vibrant shades make a lively statement, like a piece of art on the wrist. 
Lancôme 01-12 
The gift sets from this iconic French brand are always irresistible, and of great value. Lancôme's Matte Shaker Coffret for Christmas 2017 holds a Matte Shaker Liquid Lipstick, a La Vie est Belle EDP, and a Hypnose Drama mascara. It's available for $38 – the products in it are worth $69, so it's a steal. 
Julie Nicole 01-17 
Multi-brand concept store Julie Nicole is a cult favourite for the hard-to-find European labels it carries. We like Italian brand Coccinelle for its cheerful celebration of the everyday lives of women. To that end, consider the Arlettis Patch bag ($740). With colourful patches of suede, it's the perfect size for daily essentials – a gift that will surely be well loved and well used. 
45R 01-13/14 
Thoughtful design made to withstand time and trends lies at the core of this Japanese brand's approach to fashion, which it dubs "slow fashion". Its designers use traditional techniques that give the handmade garments a genuine patina over time. We like the Float Wool Plaid Dress ($790), which sports two kinds of plaid in a light, airy wool that wears equally easily in spring and autumn temperatures – perfect for your overseas trips. 
Marimekko 02-17/18 
Great news for print lovers: The Scandinavian brand's bright and cheerful designs are on-trend! Looking almost like a two- piece, this flouncy Ami dress ($589) is made of a light viscose and silk blend and covered with a brick, red and petrol-coloured Ruusuruutu pattern that's inspired by snow-covered roses and twigs. 
G-Star RAW B1-34/35
Western design meets technical details in the deconstructed Motac denim jacket ($379) and skinny jeans ($289). This line of denim garments is created with ease of motion in mind – it emphasises the kind of ergonomics cyclists would need. Yet, it doesn't sacrifice a thing in the style department. 
Joseph 01-19/21 
English brand Joseph is the contemporary go-to for understated elegance and refined minimalism. Its Pre- Fall 2017 collection explores the tropes and archetypes of femininity in its myriad variations. The collection is punctuated by gentle flower motifs and Fair Isle sweaters, a twist on tradition and expectations. Fair Isle Double Sweater, $540; Liberty Print Dress, $1,165.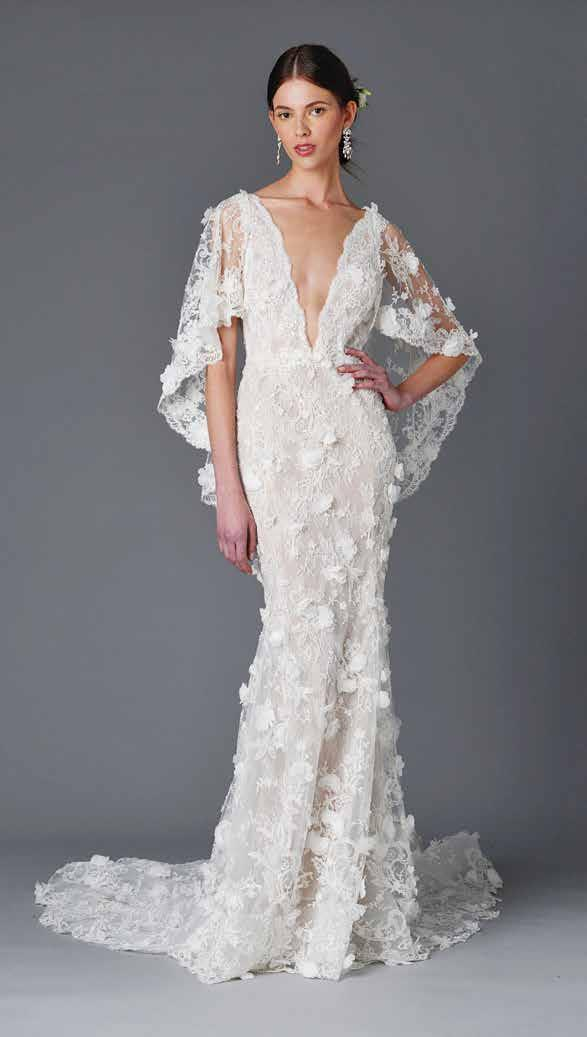 The Proposal 01-67/68 
In Singapore, you can find the stunning Marchesa bridal label only at The Proposal. Co-founded by British designer Georgina Chapman and English-Swiss designer Keren Craig, the brand creates well-loved red-carpet staples. The Daffodil Wedding Dress ($12,700) is a delicate beauty with a plunging V-neck, embroidered all over with lace and applique organza flowers – a breathtaking design that works beautifully even off the wedding aisle. 
SABRINAGOH 02-14 
Support local, so the hashtag goes. Founded in 2009, this local label has become a fast favourite of fashion insiders for its inventive silhouettes. Plenty of party outfits are to be found here, like the Calista dress ($189.90), which has a crisp top and gracefully pleated skirt – just right for dancing. 
The Reckless Shop 02-32 
For art lovers, the Yves Cross-back Dress ($259) is a winning combination of fashion and art history. Inspired by the legendary artist Yves Klein – after whom the famous shade of Klein blue is named – the collection takes a postmodern spin on life and art, fusing images together. Expect this collection to feature the label's signature silhouettes – softly layered, pleated and draped, and versatile enough to be effortlessly dressed up or down.
SPECIAL! 
From Nov 16 to Dec 31, 2017, spend a minimum of $50* at Capitol Piazza and stand to win a 5D/4N trip for two to Hokkaido, Japan and other attractive prizes in the Festive Lucky Draw. You could also receive an exclusive Capitol Piazza wrapper set. 
The mall is giving away $150,000 worth of retail and F&B vouchers, so visit the Capitol Piazza website for more details. 
*Terms and conditions apply.  
Capitol Piazza is at 13 Stamford Road, tel: 6449-5168. 
Website: http://www.capitolpiazza.com
Facebook: capitolpiazza 
Instagram: capitolpiazza