Chanel's youth-boosting Sublimage L'Essence Fondamentale is a skincare creation that harnesses the powers of nature with meticulous savoir faire.
Chanel's youth-boosting Sublimage L'Essence Fondamentale is a skincare creation that harnesses the powers of nature with meticulous savoir faire.
From left: Solidago virgaurea alpestris. Backstage at Chanel 
From a tropical isle to ancient Greek ruins and even a space centre, Chanel's fashion shows have brought all kinds of fantasy destinations to life in the heart of Paris in the Grand Palais. But what also deserves a showcase of its own is a collection of a different kind: A smooth cream with an impeccable, velvety richness. Welcome to Sublimage—a range of masterfully concocted, luxuriously potent skincare that harnesses the powers of unique active ingredients that zoom in on the five signs on ageing—hydration, tone, radiance, wrinkles and firmness. And, the savoir faire that goes into the elaborate creation of these formulas is truly one of a kind.
The Sublimage journey began in 2002 with the cultivation and study of Madagascan vanilla planifolia, from which the Chanel Research lab extracted its first natural active ingredient four years later, Planifolia PFA. This has remained at the heart of the skincare line ever since. 
But as Mademoiselle Coco did, and as Karl Lagerfeld does, Chanel constantly evolves. From Madagascar to the southern French Alps, Chanel erected a second open-sky laboratory in the Provence Alpes Cote d'Azur region—a unique hotspot of biodiversity—eight years ago, and began examining the medicinal properties and endemicity of over 500 wild plants. This extensive search led to the creation of five extracts with exceptional biological properties for use in skincare, one of which is Solidago. Scientifically known as Solidago virgaurea alpestris, this is the keystone of the new Sublimage L'Essence Fondamentale. Its name is of Latin origin, meaning "I consolidate", a reflection of its restructuring action on the epidermis, with the ability to boost cellular activity in order to reinforce skin tissue; reactivate dermal fibroblasts, which produce crucial collagen; and prolong the life expectancy of cells to proliferate anew. Talk about an impressive beauty-boosting trifecta.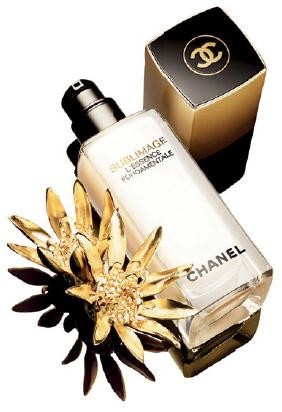 Sublimage L'Essence Fondamentale, Chanel
Both preventive and corrective, this formula, together with the range it belongs to, seeks to optimise skin's self-regenerating powers from the inside out. Used on freshly cleansed and toned skin, the lightweight serum-emulsion absorbs swiftly for suppler and brighter skin instantly, and firms, lifts and contours over time. Adding this to your skincare ritual also helps to balance skin's moisture levels, with an added benefit of soothing and smoothing reactive sites from any unwanted scarring—all whilst you sleep.
It is an elixir that strengthens skin from deep within, helping women enhance their beauty naturally and embrace ageing gracefully. Gabrielle Chanel would certainly approve.