Dress your fingers in a prism of hues. These luscious gems are picture perfect for rocking any outfit.
Anticlockwise from top right: Pink gold, sapphire, opal and diamond Dior et Moi – Pink Sapphire Pink Opal ring, Dior. White gold, yellow gold and multi-stone Les Ciels de Chaumet – Lueurs d'Orage ring, Chaumet. White gold, yellow diamond and white diamond Sunlight Escape – Sun Vibrations ring, Piaget. Platinum and multi-stone Magnitude – Théia ring, Cartier. White gold, rosegold, pink diamond and white diamond Exceptional Gemstones ring, Chopard. Platinum, sapphire, spinel and diamond Winston Candy – Red Spinel ring, Harry Winston. Platinum, gold, yellow diamond and white diamond Le Paris Russe de Chanel – Roubachka ring, Chanel. White gold, emerald, sapphire and diamond Romeo & Juliet – Amore Trionfante ring, Van Cleef & Arpels
Van Cleef & Arpels' vintage floral bouquet brooch with rubies and coloured sapphires (circa 1940s) doubles as a statement hair clip effortlessly
HOW DOES YOUR GARDEN GROW?
Delving into the world of transformable jewellery unveils delightful surprises andmagic.
Sometimes, life throws you surprises. When it comes to haute joaillerie, these come devilishly disguised in the most precious gems. A dazzling necklace reveals earrings, cleverly hidden within its design, that come away with clasps found on the underside; a brooch transforms into a pendant by threading a gold chain through the bails at its back; via hooks and clasps, modular drop earrings allow for a myriad of ways to wear them—with each precious form as charming as the rest. Under the skilled hands of master jewellers, transformability becomes a mesmerising puzzle game that enthrals with its ingenious design and captivating beauty. And no one arguably brings to life the art of metamorphosis with more poetry than VanCleef&Arpels. Three years ago, the House unveiled its envelope-pushing LeSecret collection, presenting to the world some 80designs that each holds exquisite secrets (think swans that transform into fairies with a quick rotation and flower petals that flutter away as butterfly wings). The collection threw the spotlight on the brand's lyrical inventiveness, and lucky for us, it's a magical element that's ever present throughout its creations.
ROSE DE NOËL
A hair clip or a pendant? The Rose de Noël brooch offers a myriad of options for stylish wear.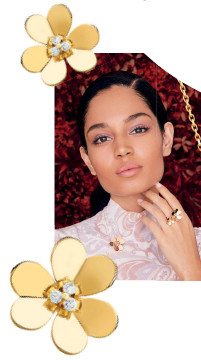 FRIVOLE
The gold and diamond Frivole brooch can also be worn as a long or short necklace (below).
LOTUS
It's hard to resist a ring that lets you wear it differently. Here, Van Cleef & Arpels' signature Lotus Between the Finger ring converts intoa conventional single-finger ring with a quick slide of its band.
BY CHARMAINE HO
BAGAAR MUST HAVE
CORP COMME
Dress to kill with this chic icon that marries everyday diamonds with a richly hued strap
Pink gold and diamond Santos-Dumont (large) watch, $27,500, Cartier
From top: Jacket, Saint Laurent by Anthony Vaccarello. Skirt, $2,309, Comme des Garçons at Farfetch. Bag, Dior. Sunglasses, $245, Coach. Hair clip, Chanel. Bootie, Givenchy
BY CHARMAINE HO