As if getting to the top of the game in one business isn't enough, these women are making money from their side interests, too, and proving that when it comes to their careers, two businesses are twice as nice
"Lelian wears earrings from Mango; jacket from Longchamp; SOE Jakarta skirt from SocietyA; and Monki top and Public Desire boots, both from ASOS."
WEDDING PLANNER + FLORIST
Lelian Chew
37,  Founder & CEO, The Atelier & Co
Lelian got her start as a private banker with Goldman Sachs before turning her beautifully-manicured hands to wedding planning for tycoons mainly from China, Hong Kong and Indonesia with The Wedding Atelier in 2013. Two years later, she branched out into flowers and set up The Floral Atelier in Singapore to curate bespoke floral arrangements for her ultra-rich clients. Today, she's converged two brands under one roof with her parent company – The Atelier & Co, which launched its global headquarters at Delta House in July.
What was the inspiration behind The Floral Atelier?
"It was a logical move because my team was already doing all the styling and conceptualising of our weddings but we were outsourcing the flowers, which were costing us as much as $1 million at times. This is an industry that has very low barriers to entry so we wanted to differentiate ourselves from the get-go, by raising the quality and standards of what was already on offer. To stand out, we hired people who worked for luxury brands, and most importantly, we don't follow trends."
If you had to choose, which of your two businesses is your favourite?
"You might play favourites at certain times of your life but they're both very dear to me. The Wedding Atelier was my firstborn and we fought really hard to create something out of nothing. It was a very difficult industry to break into because nobody really knew what a wedding planner was, neither did anyone think to create a career out of it. The Floral Atelier had a bit of an easier path because it could lean on the reputation of its older sibling. It's special in the sense that we started it in Singapore, which is where I'm from, whereas The Wedding Atelier started in Hong Kong."
Has your side business now been absorbed into your main business with the creation of parent company, The Atelier & Co?
"You know, even when we started six years ago with The Wedding Atelier, we bought the domain for The Floral Atelier and for The Atelier & Co. There was always this sort of vision to bring several companies under one global brand, we were just waiting for an opportune time to launch each business. In my head, there isn't a side business and a main business because it's all one. Each has been meticulously planned from the start, even though to outsiders, it seems to be a whirlwind fairy tale." 
"Jasmine wears earrings from Mango; top and skirt, both from ASOS. Dog accessories from PuppyLove."
EXECUTIVE PRODUCER + PET FOOD MAKER
Jasmine Tham
35, Executive Producer, Verb Represents
A pet lover who owns three dogs and two chinchillas, Jasmine searched for years for food that wouldn't set off her fur kids' allergies. An indepth look into pet nutrition spurred her to start her own brand, Pet Delights, which omits known ingredients that trigger skin or digestive issues in animals. She keeps her day job as an Executive Producer for a creative agency intact though and works on her second job on the side.
How do you juggle two jobs at once?
"My schedule as a producer is extremely hectic and prone to last-minute requests and changes from clients so it's tough to juggle two jobs for sure. My pet food is all made-to-order so I have to plan my production timeline to a tee and ensure I can meet my customers' demands. It motivates me to hear people appreciate the dog food and tell me that I've improved their pets' quality of life."
What advice do you have for others looking to supplement their income with a side business?
"If you want to start your own small business, don't quit your day job, as it will take some time to earn a steady income through your hobby. It's always better to gradually transit from being an employee to becoming an fullblown entrepreneur."
Do you think your side business will become your main mode of income one day?
"I hope so as I love taking care of animals. With Pet Delights, it really just started out as a way for me to give gifts to family and friends but with their help and word-of-mouth, it's become a fully-fledged business. I also plan to go into boarding small pets soon because there's a gap in the market for boarding facilities for guinea pigs, rabbits, chinchillas and the like at the moment. To be perfectly honest though, a start-up takes time to mature so I can't make the jump into full-time entrepreneurship just yet."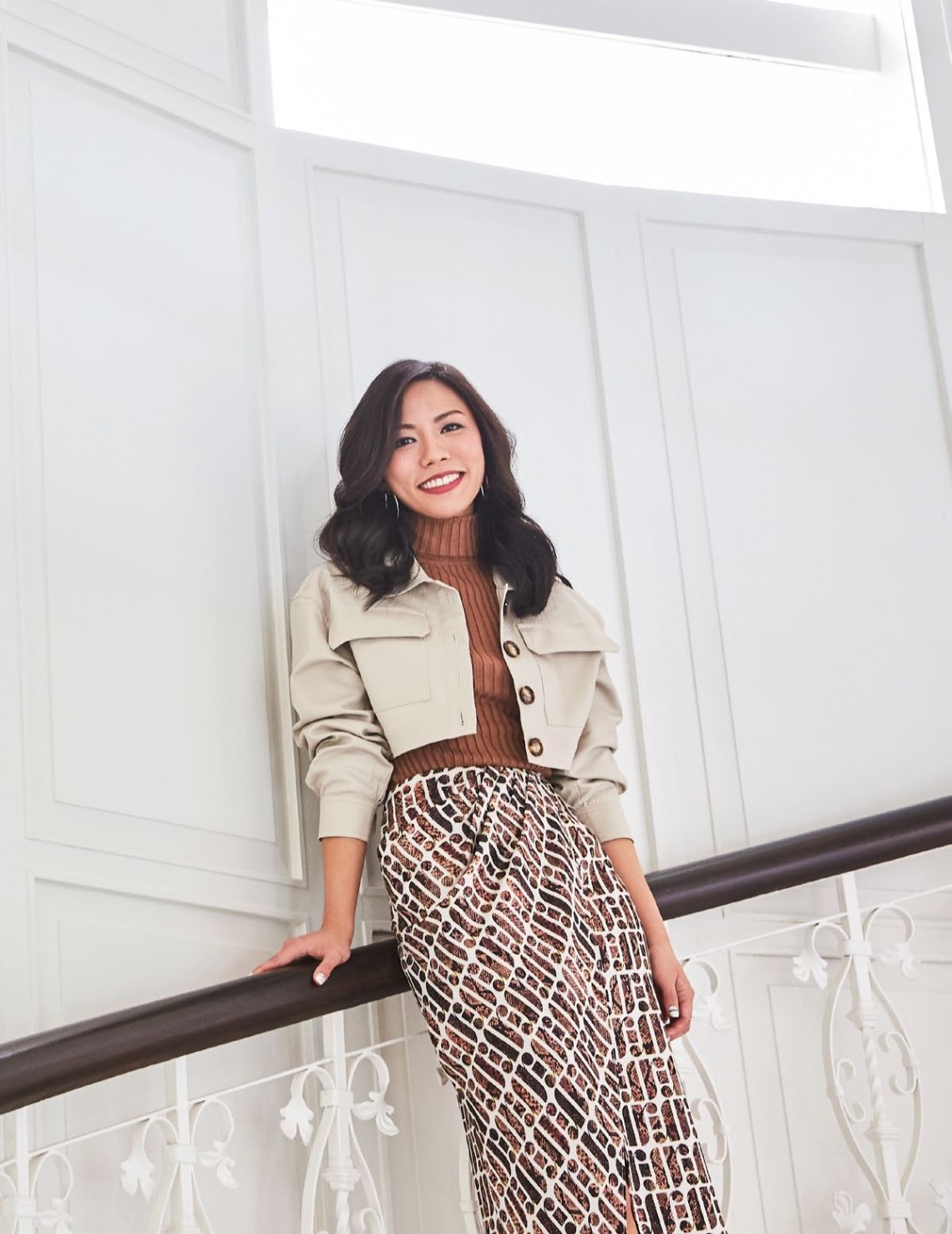 "Laura wears hoop earrings from Juelier Saturday; top, jacket and River Island skirt, all from ASOS."
VET + REAL ESTATE AGENT
Laura Lee
31, Veterinary Doctor
It took six years of study to prepare Laura for a career in veterinary medicine but the go-getter wanted more than to just become a vet. Soon after securing a full-time job and buying her own place, the 31-year-old decided to pursue a secondary career in real estate after spotting some deficiencies in the housing system that she could capitalise on. While she is mainly involved in veterinary work, Laura also conducts polytechnic lectures and sells houses in her spare time.
Why did you decide to pursue multiple careers?
"You know, I really enjoy helping people find their homes and I like being a vet, so I think at this point, I don't see having a few jobs as a chore. Obviously, there's always a financial motivation behind my decision. I do have my own mortgage to pay and that spurs me on a little bit more but ultimately, being successful motivates me to work even harder."
Do you think your side business will become your main mode of income one day?
"I don't think I'll ever let go of being a vet. I went to school for far too long to let it go [laughs]. I love being able to help animals, that's really fulfilling. The employers at the clinic I'm working with are really very nice in that they give me the flexibility to pursue my other interests, so it is a possibility that I could leave it all behind to do real estate but I'm not ready to let that part of myself go yet."
Would you encourage or discourage people from having a few jobs at once?
"Encourage, definitely. I think if you want to lead a good life in Singapore, it's not something that is easily attainable. To really reach your goals in life you have to have some sort of forward planning. For me, that means working multiple jobs because I don't want to have to rely on my parents. I think it's important that young people recognise this and do what they can to elevate themselves."
PHOTOS: VEE CHIN & DARREN CHANG / ART DIRECTION: IVY CHOONG / STYLIST: LAUREN ALEXA / HAIR: ISAAC AND ALBEE/SALON NU, USING KEVIN MURPHY / MAKEUP: AUDREY WEE, USING CHANEL