Pick your version of this new bag to match your lifestyle.
$1,420 each, from Aigner.
Believe it or not, your bags are definitely an extension of who you are, and it's the easiest way to let people know your personality. Think about it: A black handbag suggests seriousness and firmness, whereas a patterned clutch would perhaps indicate someone with a livelier persona. This is where Aigner enters the picture, because regardless of wherever you fall on the personality spectrum, they've got a practical sac option for you. Muted crossbody bags will appeal to those who love their classics, and belt bags will catch the attention of the trendsetting crowd. As for us, we've got our hearts set on these fun top-handle bags – they are a little bit business, and a little bit bold. Who wouldn't love that! 
---
DO THE DANGLE
Accessory alert! Bracelets with dangly charms are in, and here are some of our faves. 
From left: 
Bracelet, $17, from Accessorize.
Bracelet, $249, from Swarovski.
Bracelet from Wanderlust + Co. 
Bracelet, $17, from Accessorize.
---
ONE MINUTE WITH TERIE SIM, FOUNDER OF TERIE 
Good underwear can make you feel great without hurting the environment, and that's why we love Terie's designs. We speak to Terie Sim to learn more about the method behind her magic.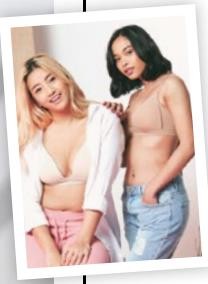 How did the idea of starting Terie come about?
"It all started back when I was a cabin crew member of Silkair. Because my work required me to be mobile whilst staying comfortable, wearing wired bras just wasn't practical. So when I tried on my first wireless bra, I was completely in love with the comfort it afforded me. This led me to realising that most wireless bras don't fit Asian women well, and one day, I thought to myself, 'Why not create my own?'" 
Your designs are made from organic materials. What is the reason behind this?
"As a modern brand, we believe that we play an important role in being a sustainable and responsible part of the industry, and we decided to work with organic and compostable fabrics such as bamboo and cotton so that we could minimise carbon footprints."
What's the one tip you swear by when buying a new bra?
"If you try it on twice, and it feels uncomfortable both times, then it is probably not the right size!" 
We also noticed that your lookbook often features a range of body sizes. Can you tell us more about that?
"Apart from using sustainable fabrics being one of our key factors, we also feature women from all walks of life as our brand models, because we want to embrace and love a woman's natural beauty at its most natural form. We believe that beauty comes in all nuances of skin colour, shapes and sizes. To keep it natural, we do not Photoshop our models either."
Check out Terie's lingerie range at www.loveterie.com 
COMPILED BY: AARON KOK / PHOTOS: AIGNER, TPG NEWS, SHOWBIT, TERIE