Style Meets Passion at This Luxe Hotel in Italy
Style Meets Passion at This Luxe Hotel in Italy
Situated in its founder's country of origin, Armani Hotel Milano is style maven Giorgio Armani's flagship for the eponymous hotel chain. While the interiors of the hotel are decked out in the famed designer's iconic understated manner, the luxurious finishes and impeccable service standards offer guests a unique and memorable experience. The hotel recently launched a new package for newlyweds looking to explore the city, along with a hotel stay of a lifetime. 
The couples-only special, which starts at $2,360, includes accommodation at the Armani Deluxe Room, where they will be served American breakfast and, upon arrival, a bottle of champagne and a flower tribute to their room. They will also be pampered with a dinner in the Armani/Ristorante, a luxurious 80-minute treatment at the Armani/Spa Couple Suite, and access to relaxation and spa facilities. 
Designed entirely by Giorgio Armani, the hotel exudes sharp and subtle sophistication with its cream and grey-hued furnishings, reminiscent of the signature style of the Armani fashion house. Situated within the Manzoni 31 building that was built in the 1930s, the hotel houses 95 rooms and suites from its second to sixth floors. 
What makes this package undeniably attractive is its hard-to-beat location. Milan's most famous luxury shopping street, Via Montenapoleone, is only a few minutes' walk from the hotel. Other fabled attractions like the Piazza del Duomo, Pinacoteca di Brera and La Scala theatre are also within walking distance. 
With the year-end holiday season fast approaching, book early if you intend to surprise your other half with a honeymoon trip to this fashion capital! 
TO MAKE A RESERVATION, CONTACT ARMANI HOTEL MILANO AT +39 02-8883-8381 OR E-MAIL RESERVATIONS.MILAN@ARMANIHOTELS.COM.
text ISABELLE TOW / photos ARMANI HOTEL MILANO
Creative Collision 
Imagine you gave Jaime Hayon – a designer known for his fantastical illustrations and who has worked with brands like Fritz Hansen and Lladro – a blank canvas. Rugmaker Nanimarquina did exactly that for its 30th anniversary, and the result was a whimsical, playful design reflecting the expressive Spanish designer. Named Hayon x Nani, the rug was created using a hand-tufting technique where a manually operated pistol injects pieces of wool, to achieve the fluid lines within the piece.

THE HAYON X NANI RUG BY NANIMARQUINA IS AVAILABLE ONLINE AT NEST, WWW.NEST.CO.UK.
Unmistakable Designs
Minotti's Home Anthology Collection wows design enthusiasts with its unique silhouettes and surprising material combinations. Designed by architect Rodolfo Dordoni, Song is a range of versatile coffee tables in materials like backpainted glass and Calacatta marble. There is also the Colette armchair (below), an elegant Mid-Century-inspired design with a contoured back. The collection features creations by Christophe Delcourt; the fluid forms of the Lou storage cabinets and tables showcase Minotti's masterful craftsmanship.
SEE THE DESIGNS AT THE MINOTTI SHOWROOM, #01-02, 30 HILL STREET, TEL: 6338-2822.
12 Days Of Christmas
This festive season, TWG Tea debuts its version of the advent calendar with a 12 Days of Christmas gift box. Packed in a gold and ruby-red chest are 12 ornament-sized 25g tea tins in a variety of colours. Gear up for Christmas by sipping on tea, including classic favourites like Milky Oolong Tea, White Night Jasmine Tea, and Silver Moon Tea.

THE 12 DAYS OF CHRISTMAS GIFT BOX IS AVAILABLE AT ALL TWG TEA SALONS AND BOUTIQUES FOR $150. VISIT WWW.TWGTEA.COM.
Like Clockwork
Clocks may be an overlooked decor item, but you'll definitely give these handmade clocks – made from materials like wood, paper and stone – by Japanese designers like Riki Watanabe and Nendo Design Studio – the time of day. The Keisoudo No Tokei ceramic clock was inspired by "well-being and warmth", and the Trio was modelled after an elegant wristwatch.

SEE THE RANGE AT DEPARTURES & ARRIVALS, #02-61 OXLEY BIZHUB 1 (WEEKDAYS BY APPOINTMENT) OR AT WWW.LIVINGDNA.SG.
Child's Play
Dulux recently launched the Far Away Places painting system, which aims to make painting and designing children's rooms a fun, family-friendly activity. The set comes with stencils, stickers, masking tapes, six Dulux Colour Play packs, and an instruction manual to get you started easily. Decorate your kid's room with any of the eight themes – including Under the Sea and Into the Woods (pictured) – and enjoy the experience together!

THE DULUX FAR AWAY PLACES SET RETAILS FOR $139.90. VISIT WWW.DULUX-FARAWAYPLACES.COM.
Flock Of Cranes
De Gournay's new wallpaper, Namban, depicts an abstract seascape and evokes the artwork of Imperial Japan. Designed by Oitoemponto, it is exquisitely illustrated in a 3-D gold leaf pattern, which evokes a 1920s' aura. Take it up a notch and install this wallcovering onto curved walls for a subtly striking effect.

THE NAMBAN WALLPAPER RETAILS EXCLUSIVELY AT DE GOURNAY FOR US$1,592 (S$2,168) PER PANEL. VISIT WWW.DEGOURNAY.COM.
Customisable Cassia
The daybed-cum-ottoman is a functional accessory you can use to spruce up your home - if you'd like an elegant, hotel-like ambience in the bedroom, place the ottoman at the end of your bed. For homeowners who love to host, the daybed offers more seating options than armchairs. The King Living Cassia daybed is available in leather as well as fabric, both of which are customisable. 

CHECK OUT THE CASSIA DAYBED AT #01-00 HONG AIK BUILDING, 22 KALLANG AVENUE, TEL:6805-4198.
DIARY Art and design showcases around the world worth checking out.
Ancient Religions
Dec 11 to Dec 31
Asian Civilisations Museum, 1 Empress Place, Singapore. Admission is free.
Ancient Religions explores how artists have masterfully expressed complex ideas about life and existence with religions through sculptures and paintings. See early styles and motifs of Buddhism, Hinduism, and Jainism in India, and how they spread in South-east Asia. 
WWW.ACM.ORG.SG.
Dali/Duchamp
Oct 7 to Jan 3
Royal Academy of Arts, Burlington House, London. Admission is £16.50 (S$30) per person.
Showcasing the works of Salvador Dali and Marcel Duchamp, this exhibition presents a conversation through art. The two artists bonded through humour and scepticism, which led them to challenge typical notions of art in different ways. 
WWW.ROYALACADEMY.ORG.UK.
The World of Tintins
Nov 17 to Dec 26
ArtisTree, Cambridge House, Quarry Bay, Hong Kong.Admission is free.
Celebrating a 20th-century cultural icon, the exhibition explores Tintin's adventures. On display are models of Tintin scenes, including Tintin's apartment. Enjoy a fully immersive experience, featuring vivid scenography of the beloved comics.
WWW.HOCA.ORG.
Online help for interior design
When Two Become One
Big-name collaborations are trending at the moment and this particular collab between two powerhouses of the audio-visual industry is definitely something to look forward to. Popular Korean tech brand LG teamed up with Danish designer label Bang & Olufsen (B&O) to launch the BeoVision Eclipse TV. Positioned as a definitive game-changer in the industry, the BeoVision Eclipse promises a sensory explosion of sight and sound by merging the core strengths of both established brands. It uses an LG OLED panel integrated with an oversized B&O soundbar.

FIND OUT MORE ABOUT THE BEOVISION ECLIPSE TV ON WWW.BANG-OLUFSEN.COM. 
Flaunt
The Singapore Furniture Industries Council (SFIC) recently launched Flaunt, an e-commerce platform of curated furniture and furnishings from Singapore-based designers and design-centric companies, supported by Lazada.sg and Singtel 99% SME. The online retail space now showcases products from 13 brands including Commune, Scene Shang, Creativeans and 11H. As a marketplace backed by SFIC, the aim is to create a community where local industry players can come together to offer quality designs and crafts in the form of furniture and home accessories, while increasing brand awareness and accessibility.
WWW.FLAUNT.COM.SG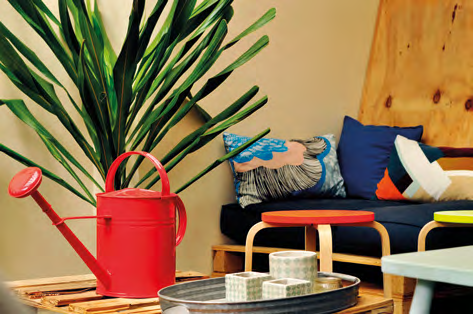 iDoo
Need help designing your home? Local start-up iDoo is offering a fuss-free and affordable way for homeowners to get expert interior design advice. Simply take a short survey based on your preference and budget, then select an in-house designer, and get advice via the direct messaging feature. Upload photos of your home, and receive a customised shopping list. Explore mood boards and visualise easily with 3-D renders. 
WWW.IDOO.IO
Wright & Smith
Founded by interior designer Sasha Young, Wright & Smith is an online platform with a curated selection of beautifully crafted furniture and accessories. With great respect for local and international craftsman and artisans, Sasha sources items from around the world, including hand-painted textiles from Italy, porcelain from China, and embroidered wall hangings made by Indian craftsman.
WWW.WRIGHTANDSMITH.COM
The Golden Age
Throws and bedspreads are a great way to decorate any space – Oyuna has a diverse range you can choose from. The Teva Throw (pictured) sports a luxurious golden two-tone design that will brighten up your room. Simply fold it and leave it on the couch for an effortless look!

OYUNA IS STOCKED EXCLUSIVELY AT TATUM SINGAPORE, 29B KEONG SAIK ROAD, TEL: 6221-2524. VISIT WWW.TATUMCOMPANY.COM.
Beat The Heat
Keep cool at home without using up floor space, when you choose the right fan. Samaire's ceiling fans, such as the Frankfurt SA575 (pictured), are designed with wide wingspans and high rotations per minute, to ensure that airflow covers as much of the home as possible. It also carries models that come in compact sizes and fit into smaller spaces. Its brand specialists will share tips on what to look out for before deciding on the perfect option for your home.

THE SAMAIRE FRANKFURT SA575 IS AVAILABLE IN COLOURS SUCH AS WHITE, BRONZE, STEEL, SHINY BLACK AND MATTE BLACK. VISIT WWW.SAMAIRE.COM.SG.
Bath Time
For those who truly appreciate a long and relaxing bath, having a comfortable and luxurious bathtub is vital – the Diamond bathtub (far left) will guarantee just that. This fanciful piece is presented in fibreglass in an elegant shade of translucent black.

THE MAISON VALENTINA DIAMOND BATHTUB RETAILS FOR US$25,655 (S$34,947), WWW.MAISONVALENTINA.NET. 
OUR PICKS
Festive Candles
text YOUNG LIM, DOMENICA TAN, ELIZA HAMIZAH & MARIE QUEK
DECOTALK SPECIAL
WARM AND TIMELESS
Your choice of furniture can make or break the look you want to achieve at home – so shop wisely.
Furniture shopping can be a fun yet challenging task, especially if you already have a style in mind for your home. A quick tip is to find pieces with an evergreen style, that are versatile and can evolve with your changing tastes and preferences. This helps keep things looking fresh in the home, while ensuring longevity of the furniture.
DecoTalk — a brand by Star Living — offers products designed to strike the perfect balance at home. You'll find pieces that embody a rustic charm, yet have a contemporary aesthetic touch. Designed using a combination of new and recycled wood, the pieces exude the beauty of the natural material with its patina and weathered look. DecoTalk Halia collection furniture pieces come in two colours — solid recycled pine in antique finish and solid acacia in brushed finish — and powder-coated steel legs.
In the living room, the Halia coffee table makes a statement with shades of black, white and brown. Its powder-coated steel legs give an almost industrial-inspired look that'll still work perfectly in any contemporary- or rustic-style apartment. Create continuity by pairing it with the matching Halia sideboard (available in 120 and 160cm configurations) that also doubles as a TV console! With just enough dedicated storage for technical requirements such as cables and a set top box, you won't have to worry about clutter.
Need more storage space for your book collection?  Choose the Halia bookshelf and carry the look right into the bedroom with the Halia console as your bedside table, or mini dresser, if you like. Soften the look by simply decorating with flowers, or add artwork and quirky accessories.
See the Halia collection and more furniture and home furnishings at Star Living's showrooms around the island. Find out more