For decades, Her World has been a champion for women – in mind, body and action.
For decades, Her World has been a champion for women – in mind, body and action. To celebrate Her World's 60th anniversary this year, we present #HerWorldHerStory – a collection of 60 inspiring real-life stories on print and on herworld.com. And it starts with you: real women. In this fourth of our six-part series, which runs till our August issue, #Her World Her Story will feature 10 women who encapsulate what it's like to be a w oman in Singapore. They share their successes, challenges, passions and ambitions – these are their stories.
Sophia Huang, 34
"I was so heartened when my daughter turned bubble wrap, rough paper etc into a family of puppet rabbits."
31/60 THE CHILDREN'S BOOK AUTHOR IS AN UPCYCLING ENTHUSIAST WHO TRANSFORMS TRASH INTO TOYS FOR KIDS.
When my eldest daughter was two, she would sometimes be more drawn to random items than her own toys. I thought, "Wouldn't it be better to create my own toys rather than spend on something that she would only be interested in for five minutes?"
It's a constant daily battle as a parent to three young children in a land of plenty. My kids often receive gifts from friends, families or teachers. But I started to wonder how I could inculcate a sense of gratitude and appreciation in them for the gifts they receive, and the hard work that went into earning the money to purchase them.
My mum used to call me "karung guni girl" when I was young because I saved nearly everything from bits and pieces like scrap material to packaging.
As a parent, I've tried to pinch pennies whenever I can to save costs. I'm also always on the lookout for activities to spark my children's interest and develop their creativity.
I once stayed up late to make a kitchen toy set out of cardboard boxes and cartons. My daughter was thrilled when I surprised her with the new toy, made with different sized boxes, old CDs, bottle caps, shopping bags and toilet rolls.
The upcycled toy cost about $8 for kitchen paper, metal racks and magnets, but it brought her the same joy as a $200 store-bought one.
I started sharing my upcycle projects on my Facebook page, Craftcycle for Kids, hoping that other parents would do the same. I also teach kids how to make upcycled craft out of plastic bottles and supermarket bags, during storytelling sessions.
One day, I was so heartened when my daughter used takeaway chopsticks, bubble wrap and rough paper, and turned them into a family of puppet rabbits and ducks!
Sure, upcycled products don't last, and they aren't meant to. But collecting and transforming trash is how I hope to impart values such as resourcefulness, creativity and environmental consciousness in my kids. And that's created in them (and myself) a sense of mindfulness about the environment and the waste we generate.
What's more important is the time parents spend with their kids building bonds and exercising creativity.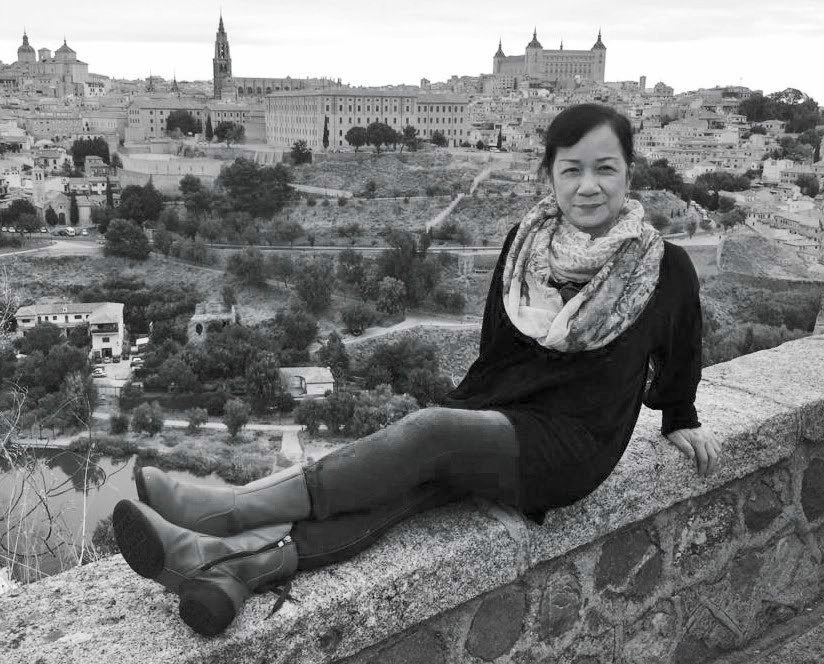 Choo Kheng Huay, 62
32/60 THIS FOSTER MUM HOPES MORE PEOPLE WILL TAKE UP THIS REWARDING TASK AND CARE FOR AT-RISK KIDS.
Fostering is often misunderstood as a burdensome task. In Mandarin, there's a saying, "Why make trouble for yourself?"
Many friends and relatives are baffled at my choice, asking me, "Why become a foster parent: when you should be enjoying your life?" I actually live a very fulfilled life.
My husband and I have been foster parents since 2002. We have four children of our own, and we've fostered 15 children so far.
The longest I've cared for a child is six years, and the shortest is 15 months. The foster kids call me "ah-ma" when I became a granny.
My husband and I live in a six-room jumbo flat, and the foster kids play in the living room and in a playroom with toys.
I took an interest in fostering years ago when my daughter showed me a news article on it. There were so many children who didn't receive enough love and attention, and wound up astray.
My husband and I have so much love to give, so I thought: Why not be foster parents? We registered with the Ministry of Social and Family Development. For each child, we get a monthly allowance.
Fostering is a rewarding task, but it can be challenging. I once took in a three-year-old boy in 2014. He was so afraid of us when he arrived at our house. He cried or many nights... it broke my heart.
We showered him with love every day and soon, he let his guard down when he started playing with the other kids at home! It is moments like this when you realise that there's no better reward than seeing a happy child.
Saying goodbye is the hardest part because you've developed a strong bond with them. I will continue to be a foster parent for as long as I can.
I'm now caring for a nine-year-old boy, and I hope more people will take up fostering.
Martha Tara Lee, 43
"I face the occasional online harassment because I'm a woman who talks about sex."
33/60 THE SEXOLOGIST IS GLAD THAT MORE WOMEN ARE COMING FORWARD EARLY TO SEEK HELP ON THEIR SEXUAL WELL-BEING.
When I first volunteered as a helpline counsellor more than 15 years ago, it took me a while to realise that I was buying snacks and filling myself up with these goodies because I was so sad and affected by the stories shared with me. I had to stop myself from binge eating, and I've since learnt how to "disconnect".
It's been 11 years since I started my practice, Eros Coaching. I wanted to do something different after finishing my Masters degree in public policy and management in 2007.
I was interested to know more about human sexuality, so I took up a post-graduate course at the Institute for Advanced Study of Human Sexuality in San Francisco.
People are still curious about my work as a sexologist. Sexologists aren't just sex counsellors, we need to understand the relationship between the mind, body and heart.
Some think that I have a lot of sex! Well, it's probably less than 20 per cent of my sexuality. In fact, keeping in touch with my sexuality, which is the way I feel about my body and my sexual confidence, is far more important than the deed itself.
The downside of my job: I face the occasional online harassment because I'm a woman who talks about sex.
There's still a lot to teach as many women still don't know where their clitoris is.
The good thing is: They're seeking sexuality counselling and coaching on their own (or with their partners) earlier into the relationship (usually one or two years into it) as opposed to more than five years ago.
It's great that people now see sex as an integral part of their life. I also try to get people to understand self-care.
That is, you don't always have to experience extreme emotion to feel good about yourself. It can be a simple task like taking time at home to declutter, exercise and read, to feel connected.
Joan Huang, 37
"Through our ceramics workshops, patients can better understand themselves and manage their emotions."
34/60 SHE QUIT HER JOB AS A DOCTOR TO START CENTER POTTERY STUDIO, WHICH COMBINES HER INTERESTS IN "MINDFUL" POTTERY AND MENTAL HEALTH TO HELP PATIENTS.
I left my job as a general doctor after working in the hospital for two years. Then, I saw those around me struggling with mental health issues. During my medical rotations, it was not uncommon to see exhausted medical professionals.
I began to understand the scale of the problem and observed the lack of mental health awareness.
After I left my job in early 2016, I attended workshops organised by the Singapore Centre for Social Enterprises to brainstorm ideas to help mental health patients and the elderly.
Then, it struck me! I could combine the therapeutic craft of pottery with mental health treatments. It was a eureka moment... a combination of both my passions, and my desire to help others in my own way.
In late 2016, I started Center Pottery Studio, a social enterprise that uses pottery as art therapy for mental health patients.
Together with two psychologists, we developed the programme's curriculum, which sees patients who are referred to us from various clinics and hospitals for our subsidised ceramics workshops. Through this, mental health patients can better understand themselves, learn to manage their negative emotions, and improve their mental health and well-being.
We also work with nursing homes, offering classes to residents and visitors.
I fell in love with pottery in 2006 when I signed up for ceramics classes in Pennsylvania, where I was studying medicine at the University of Pennsylvania. I continued to learn pottery for three years at the local art centre there.
Being a potter has made me grow in ways I never expected. I slowly developed a mindset of being steadfast, without being afraid to fail or make mistakes because sometimes, artworks don't survive the kiln firing and high heat, or they don't turn out as you expected.
It's a journey of humble learning, reminding me to keep my expectations low, while having to create diligently.
I wish mental health and resilience were topics that were taught in school when I was younger. These are important topics that we need to learn to be able to get through life.
Most people want to think that they can cope with any situation, and can overcome hardship some way, somehow.
No one wants to appear weak or as a failure, or even be seen as incapable. But everyone needs some form of support to get through life.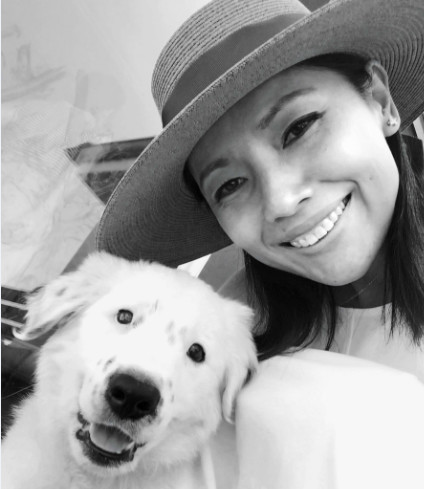 Sharon Au, 44
"I was a sponge, absorbing everything I could, appreciating every minute of learning."
35/60 SHE'S A QUEEN OF REINVENTION WHO CHARTED A MAP OF HER DREAMS, AND PURSUED THEM ONE BY ONE.
In the last 25 years, I have gone out of my comfort zone to try different things because I wanted to experience a lot more in life. I seized the moment and pursued my dreams, embracing the unknown and what the world has to offer.
I was a flight attendant after finishing college, but many know me as an actress, some as a magazine publisher. Others think of me as an entrepreneur when I started a French cooking academy last year.
I'm not one who believes that anyone is too old to try anything new. When I wanted to go to university, I was already 30. People told me, "You're just too old for uni." I didn't think so! I went ahead to enrol at Waseda University in Tokyo as a Liberal Studies major. Those were some of the most enriching times I've had. I was a sponge, absorbing everything I could, appreciating every minute of learning. That's how I've defined myself.
I've gained financial and emotional independence, which to me are the most valuable must-haves for women. At 44, I'm happy with my life. I'm writing this from Paris, where I've been working for nearly two years. I may not be where I am today if I had listened to people and gave up on my dream to further my studies in Japan.
Studying in Japan opened many doors. I learnt the culture and language, and even went on a one-year exchange programme to France and a two-month course in Spain. In France, I picked up French and fell in love with the country. I told myself then, "It'd be great if I could work or live here in the future!" Today, I'm living my dream. In the next five years after I returned from my studies, I took on several editorial and management roles. When the opportunity to work in Paris came in 2018, I was more experienced to take the big leap. I spoke French and was financially stable and mentally ready for yet another new challenge. These days, I spend my time at home because of the home quarantine. I used to take walks and visit the museums after work and on weekends. But what I really, really miss are my family and, of course, the food at Redhill Market.
Nur Aida Sa'ad, 28
"My sisters' quirks have become the main inspiration for my work as an ar tist."
36/60 INSPIRED BY HER SISTERS, THIS ARTIST WANTS TO CREATE MORE LEARNING OPPORTUNITIES FOR PEOPLE WITH SPECIAL NEEDS.
When I was younger, I had to deal with broken glass and cutlery thrown on the floor because of my sisters' fits. Aisha, who's 19, has autism and Sheila, 23, has 18q, which is a chromosomal disorder. I was very frustrated at first, but I grew to love and understand them more over time. My sisters' little quirks have become the main inspiration for my work as an artist. I also work full-time as a junior art director in an ad agency.
Aisha's obsession with rainbows was the inspiration for the Hullabaloo project at the Artground, a rainbow-themed playground installation for children that ran from August 2018 to January 2019 at Goodman Arts Centre. Her fixation on rainbows is typical of the way people with autism find comfort in repetition and routine, but it's an expression of her inner world, and really very creative.
Last year, my installation Rubberband Land in Hanoi, commissioned by Singapore Tourism Board, was inspired by Sheila who likes to fiddle with a rubber band and twist it around her fingers to make shapes. She helps me see magic in everyday things!
In 2018, I drew a series of comics based on my sisters and the mayhem at home when our parents left for a religious pilgrimage to Mecca. It was so well received on Instagram that I compiled all 70 comics into a book titled Magic and Mischief.
But I've a bigger dream: to involve my sisters and their friends in my work processes, from training them for tasks (like sewing) in a sheltered workshop to using their drawings, voices and ideas as inputs for bigger pieces.
One of the biggest problems people with special needs face is that not all will qualify for jobs after graduating, and they can't find meaningful activity to do for most of their adult lives.
I'm always thinking of ways that would allow my siblings (and the wider community) to lead self-sustaining lives in the future.
Chen Ziyue, 34
"Drawing helped me to forget the frustration of my struggles."
37/60 THE HEARING IMPAIRED ARTIST DIDN'T LET HER DISABILITY GET IN THE WAY OF PURSUING HER PASSION IN ART.
Growing up was tough because I was often left out of conversations. I was diagnosed with profound hearing loss in both ears when I was two and a half years old. I first studied at Canossian School (then Canossian School for the Hearing Impaired). When I was nine, my late mother transferred me to St. Anthony's Canossian Primary School. It was a big change going to a mainstream school.
But my mum wanted me to learn survival skills that would help me function independently in society.
As a child, art became my "escape" from a confusing world, not being able to understand others, and vice versa. The late American author Helen Keller who was deaf and blind once said blindness cuts us off from things, but deafness cuts us off from people.
Drawing and playing with art helped me to forget the frustration of my struggles with verbal communication. It also helped me express my emotions.
I've been a freelance artistillustrator for mostly children's books since graduating from Ringling College of Art and Design (RCAD) in Florida in 2013.
The most recent book I worked on is How Women Won the Vote by Susan Campbell Bartoletti, published by HarperCollins.
I now see myself as an equal to others. Living overseas alone made me more independent, and more aware of my identity as a deaf person. It was one of the best experiences I've had.
I hope the arts scene and disability inclusiveness continue to grow...it's promising to know that someone like me has a fair chance to work on my art. My wish is to work on a book to tell my story... I haven't been able to finish illustrating my feelings on my mum's passing but it's something that I'm working on.
Tan Kheng Hua, 57
"Rejection keeps my ego in check, helps me think on my feet and makes me feel alive."
38/60 THE VETERAN ACTRESS IS UNDAUNTED EVEN THOUGH SHE FACES MORE REJECTIONS THAN ACCEPTANCES IN HOLLYWOOD.
I was the ripe old age of 54 when the role on the Crazy Rich Asians (CRA) movie came to me. Some say landing a role like that is hitting the jackpot, but it never occurred to me that way... I never thought, "I have to achieve this by this time."
When I was offered representation in the United States after the success of CRA two years ago, and was asked to spend more time there to open myself to work out of Singapore, my mortgage was paid, my daughter Shi-An all grown up... so I thought, "Why not?"
I jumped into this new adventure with very little expectations, just to see where it would take me. I'm so thankful for some really wonderful work I've gotten to do since then and was filming the reboot of Kung Fu for the US network The CW in Vancouver when Covid-19 disrupted production.
Being in Hollywood has been wonderful. It's a much, much bigger pond, a huge, well-oiled machinery. Being in an environment and industry where everyone is so good at what they do is invigorating rather than intimidating. I get to meet and work with many people in an industry that has such high stakes and works with such rigour! It's rather different from what I'm used to in Singapore.
There are still many things I don't know and even more to learn. When I don't know something, I'll ask. I seldom have to audition in Singapore, but in the US, I put myself out there a lot because nobody really knows me or what I can do. I've gone for so many auditions and have had many more rejections than acceptances! This keeps my ego in check, helps me think on my feet and makes me feel so alive. Each day is new and energised.
In the last two years, I've shuttled a lot between Los Angeles and Singapore. I still love working in my home country despite the smaller scene because I'm helping to build something here.
My voice is more "potent" here. I get to build deep and long relationships with my fellow artistes and together we've been actively building this industry for so long. There is a special love we share. Even if I spend a lot of time away, I'll always call Singapore my home.
What keeps me going is simple. You know that feeling of falling in love and being uncontrollably compelled to move in the direction of your love? That's how I feel about acting. After all these years, it's still a defined and constant love for me. After so many projects, I still get excited to start a new one! But it hasn't always been smooth sailing. When I first started spending so much time overseas, it was hard to be away from family especially from my mum who's 84.
I worry about her health. It was hard to find new ways to connect when her language of love is cooking and watching me eat. Thankfully, she has learnt how to video chat on Whatsapp! I want to act into my old age. And I can't wait for the day I become a grandmother! I've a vision of myself as a healthy, 70-something grandma skiing down a slope with my grandkids... and that fills my heart with so much joy!
Woo Qiyun, 23
"We want Singaporeans to lose the buy-and-throw mindset."
39/60 THIS ENVIRONMENTAL STUDIES GRAD CO-INITIATED THE WHITE MONDAY MOVEMENT TO MAKE PEOPLE RECYCLE MORE AND BUY LESS.
As a teenager, I saw my peers use and throw away disposable products like plastic bags and cutlery every day. It was such a waste to see everything go into a bin! I started reading up on sustainability and in 2018, I began reducing my own consumption of plastic waste.
This was before I set up the Singapore chapter of the White Monday movement with my friend Sammie Ng last year. My "experiment" was inspired by Shihui Khee (@tabaogirl on Instagram) who logged the number of disposable items she used every day.
I used an excel sheet to track my daily usage of disposable products like chopsticks, forks, spoons and cups.
This then led me to taking the repair-reuserent practice of White Monday to a bigger scale in Singapore. It's a movement that originated from Sweden, focusing on getting people to think before they consume commercial products.
White Monday happens a week before Black Friday, the big discount sales weekend in the fourth week of November, so there's enough time for people to think hard if they need to buy new items.
During White Monday week, we would work with influencers to reach out to people by sharing stories and images on reusing items, vintage secondhand stores they frequent, or share why they aren't buying something new.
We want Singaporeans to lose the buy-and-throw mindset and switch to a more sustainable way of life. It's not as hard as you think: I once traded $500 worth of shopping vouchers for a rarely-used, 9.7-inch Ipad Pro, which would've cost me $2,000 for a new one.
White Monday is supported by 10 eco-friendly companies and 11 influencers. We're small, but we're positive that we can make a difference over time. I want to spark more conversation on sustainability, and it also starts with me. I now bring my own set of cutlery and water bottle everywhere I go. My aim is to hit zero use on disposable products on my excel sheet by year end.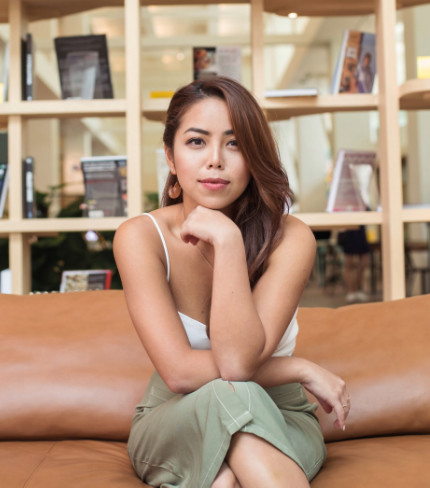 Charmaine Yee, 32
"Pursuing too many demanding goals at a time is counterproductive."
40/60 SHE ONCE FELT PRESSURED TO HAVE IT ALL, BUT A BUSINESS FAILURE HELPED THE KISS92 FM HOST REDEFINE THE MEANING OF SUCCESS.
The failure of my first business venture taught me valuable lessons. I've learnt that for a business to succeed, you've got to keep your ego in check, and listen when your loved ones tell you it's time to let go.
My dad told me, "Letting go doesn't mean it's gone forever. It's just gone for now. One day, you'll be a successful business owner again." I was defensive at first. My only thoughts were, "I've already spent this much on the business! Why should I let it go to waste? I'm sure I can make it work... it's so embarrassing to fail."
I've always been an overachiever... a school prefect, vice-captain of my sports team, vice-president of the English Literary Drama and Debate Society… the list goes on.
In my 20s, I felt pressured to have it all by the time I hit 30. I wanted a successful career in radio, television, and as an entrepreneur. Crazy huh? And that was how Zoeyanne, my short-lived clothing blogshop business, started in 2012. I ran the business with my ex and when we broke up, I rebuilt it from scratch – distractedly I might add.
The business didn't last over a year and I lost a five-figure sum, mostly because… I had no idea what I was doing! I left business operations to the team... would it have worked if I gave it the love and time? Probably not. I love fashion, but I've come to realise it's not the business for me.
I got a loan from my mother to cover my losses. I worked my butt off in every job to pay her back. When I was hanging on to the business, my family and friends told me I was spreading myself too thin doing four jobs at a time – juggling 5am shifts on Fox Sports Asia, my radio show on Hot FM91.3 from 1pm to 4pm, and hosting events. I was tired yet I refused to let go, as it felt like a failure for not achieving my goals.
My mum had a heart-to-heart talk with me. She told me that there's no in between when it comes to letting go. You either part ways or you don't... no sort-ofs, maybes or kindas. I've learnt that pursuing too many demanding goals at a time is counterproductive. This year, I started a new business MEvolution, as a speaking coach to empower people to be the best version of themselves, alongside my full-time radio show on Kiss92 FM and hosting ad-hoc events. My view of success is different from a decade ago. Whatever I do now, I do it with all my heart, with focus and purpose… to me, that's what success is.
HAYLEY TAI
CHEONG WEN XUAN
Photography Daniel Tan
Photography Shavonne Wong
Photography www.louiskwok.com