Nope, the hype hasn't died down yet – in fact, Western brands are now launching their own versions of this makeup must-have. CARINA KOH tells you how to choose yours.
Nope, the hype hasn't died down yet – in fact, Western brands are now launching their own versions of this makeup must-have. CARINA KOH tells you how to choose yours. 
Cushion compacts are having a serious moment – and why not? They combine the benefits of liquid foundations and BB creams, and boast a delivery system that ensures even and buildable coverage. Touch-ups, too, are easy, mess-free and so travel-friendly. So what's new in cushion kingdom? While South Korean brands such as Laneige and The Face Shop still dominate, western brands are fast catching up with their own versions of this product, upping the ante with serious skincare benefits, higher coverage, and a variety of shades and finishes that cater to every skin tone and type – be it dry, oily, mature or sensitive. Here, your foolproof guide to which cushion is best for you.
YOU HAVE: VISIBLE PORES AND BLEMISHES
Shu Uemura Blanc:chroma Brightening UV Cushion Foundation SPF50/PA+++, $55 for a refill and $20 for a case. 
Nylon powder particles fill in pores so they appear smaller, while amino acid-coated pigments work on evening out skin tone. It also has brightening actives to target dark spots, promising a radiant complexion with continued use.
Givenchy Teint Couture Cushion, $83.
A metal plate over its foundation-soaked sponge keeps things clean and the formula, cool. Formulated with myrrh oil and polymer beads, it soothes chapped skin, and reduces the look of pores and acne scars. 
The Face Shop CC Intense Cover Cushion, $29.90. 
Despite providing excellent blemish-hiding coverage, it doesn't feel heavy on the skin. Plus, it's hydrating – when we tried it on, dry, flaky patches looked more moisturised – and it doesn't cake. 
YOU HAVE: MATURE SKIN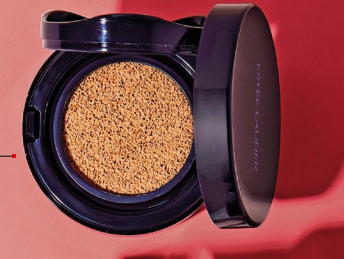 Estee Lauder Double Wear Cushion BB All Day Wear Liquid Compact SPF50/PA+++, $68. 
Hydrating ingredients, including apple and watermelon rind extracts, reduce the appearance of fine lines, while silk powder smooths skin and imparts a soft-focus effect. In five shades to cater to all skin tones.
Sulwhasoo Perfecting Cushion Brightening, $80. 
This perks up dull and sallow complexions, leaving skin with a subtle, iridescent sheen, so you can skip the highlighter. It also has white magnolia blossom extract and mother-of-pearl powder to reportedly prevent the formation of melanin.
L'Oreal Paris Lucent Magique BB Cushion Lumiere SPF29/PA+++, $31.90. 
Its lightweight and hydrating formula blends well into the skin, without causing any dry patches. In spite of its creamy consistency, it's non-sticky (even if you don't set with loose powder), and made our complexions look plumper and smoother. Consequently, makeup glides on and adheres better to the skin.
Laneige BB Cushion [Anti-aging] SPF50+/PA+++ , $62. 
The mineral water in its formula perks up fatigued complexions and leaves a cooling sensation on the skin. Perfect for those concerned with signs of ageing, it also has carob tree extract to reportedly improve skin elasticity and stimulate collagen production. 
YOU HAVE: UNEVEN SKIN TONE AND RED PATCHES
Lancome Blanc Expert Cushion Compact High Coverage SPF50/PA+++, $55 for a refill and $20 for a case. 
Providing medium coverage, this leaves a natural-looking, velvety-smooth finish to give the appearance of flawless skin. 
Bobbi Brown Skin Foundation Cushion Compact SPF50/PA+++, $54 for a refill and $21 for a case. 
Talk about an instant boost of brightness! This has tiny light-reflecting particles to give your complexion a dewy glow – dab more on your cheekbones to accentuate them. The formula also has pink silk tree extract to soothe irritation.
Dior Diorsnow Bloom Perfect Perfect Moist Cushion, $105. 
Its formula cools the skin immediately, so every touch-up becomes a refreshing treat. And it doesn't just conceal blemishes; it has edelweiss extract to diminish spots and even out skin tone in the long run. 
YOU HAVE: OILY SKIN
Yves Saint Laurent Beaute Le Cushion Encre de Peau, $88. 
If you like the brand's Fusion Ink Foundation, a liquid base, you'll be pleased to know that this cushion is soaked in that exact same ultra-light formula. It dries to a comfortable powdery-matte finish that won't turn greasy or sticky even in this heat. Plus point: It comes in shades for medium to dark complexions too.
Innisfree Long Wear Cushion SPF50+/PA+++, $34. 
This has a perspiration-proof formula that keeps makeup looking fresh all day, thanks to the Jeju volcanic cluster powder in it, which is said to keep sebum levels in check for a matte yet non-drying finish.
Biotherm Aquasource Evermoist C.C. Cushion, $48 for a refill and $17 for a case. 
Perfect for sporty types, this cushion, which evens out skin tone and hides minor imperfections, has a barely-there, breathable texture that won't clog pores. Formulated with the brand's Life Plankton cellular water to hydrate the skin, it also imparts a healthy-looking glow to the complexion, sans greasiness.
YOU HAVE: DEHYDRATED SKIN
Missha M Magic Cushion Moisture SPF50+/PA+++, $26.90. 
This gives the complexion a dewy – but not shiny – K-beauty glow. It also has moisturising bamboo water and skin-calming baobab fruit extract. 
Sephora Wonderful Cushion Foundation, $24.
Providing medium coverage and a natural-looking finish, this sinks into skin quickly, is non-greasy and adheres well to dry skin (no flakiness!).
Belif Moisture Bomb Cushion Foundation, $55. 
A fan of Belif's best-selling The True Cream – Aqua Bomb? This crease-proof foundation, which has a comfortable, creamy texture, boasts the same moisturising formula to hydrate dry areas and leave skin looking dewy. 
VDL Expert Metal Cushion Foundation SPF50+/PA+++ (price unavailable).
Dispensed via a metal plate, this reduces heat-induced blotchiness and evens out skin tone, thanks to the light-reflecting pigments in it. We like how its light, hydrating formula fills in lines for a smoother complexion.