Fashion for these times
Maybe it's the fashion enthusiast in me, but I always get excited by the September and March issues of women's magazines – that's when the Fall/Winter and Spring/Summer ready-to-wear collections hit the stores.
I'll eye the pieces I'm keen on, bookmark them, and strategise which ones to get once they drop so I can get more mileage throughout the season.
This Fall, however, is not quite the same as the ones before. You'll see in The Season-less Season FW '20 (page 32): Designers are more mindful of the times and feel the need to provide a more timeless wardrobe that we can wear for FW '20, SS '21 and beyond.
Perhaps, finally, fashion is coming to its practical senses and realising that this is really how modern women dress anyway. We're less swayed by trends, but more by comfort and personal style. Just because the floral print is not a trend in FW '20, doesn't mean we'll give it up if it's one of our wardrobe perennials, no?
My favourite pieces highlighted in FW '20 are definitely the column dresses ('cause covering up is the new sexy), leather dress shoes (I love a good masculine contrast), and boxy sling bags (super chic while practical with their amazing holding capacities). Of course, I already have these pieces in my closet, but it's time to add a few more since I know I'll definitely be wearing them beyond the season.
And let's not forget our beauty aficionados: Our exclusive interview with celebrity facialist Joanna Czech (page 88) is packed with useful beauty tips – I'm going to change my skincare application methods from now on! – NG YI LIAN, EDITOR 
Three ways to ace jewel tone dressing, pg 26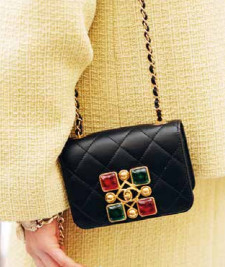 Fill your wardrobe with FW '20's timeless pieces, pg 32
Facialist to stars like Bella Hadid (above), Joanna Czech (left) shares her beauty know-how, pg 88