Best known for her extensively waitlisted Nina bag, Gabriela Hearst walks the talk when it comes to sustainable luxury.
Best known for her extensively waitlisted Nina bag, Gabriela Hearst walks the talk when it comes to sustainable luxury. The New York-based designer shares her inspirations, dreams and resolutions for herself and her eponymous label.
Who is the Gabriela Hearst woman?
"She's a woman of action. She's a professional. She's ambitious. She has to take care of her family. She's of service. And all we have to do is to make sure that we're giving her the armour that she needs to go through life."
What was the inspiration behind your S/S '20 collection?
"It was about courage – both the everyday and the extraordinary kind. On our moodboard were Kurdish female fighters; Athena, the goddess of war and craftsmanship; and Josephine Baker, a black dancer who was also a resistance spy during World War II. We wanted to do things we've not done before, and so we looked up real examples of courage." 
What's the next step for fashion when it comes to sustainability?
"The time for good intentions is over. Now, we have to be accountable – what you are talking about must match what you are doing. For example, my S/S '20 runway show was carbon neutral. We did all the models' hair without electric appliances; no models were fl own in; everything was repurposed and recycled; and we catered local. This will not be a once-off . We're going do it for all our shows to see if we can reduce our carbon footprint."
How did Gabriela Hearst start?
"I had another ready-to-wear label before. We started it with US$700 and it made US$1 million in its fi rst year. But I could not continue as it was really not where my heart was. I thought: Why does the world need another fashion brand? Maybe it needs a very good luxury brand that makes products to last, and makes them with integrity."
What are you most proud of?
"We raised funds with our handbags to cover 1,500 families during the 2017 drought in Africa that aff ected 20 million people. We managed to raise US$600,000 in two days. And the proudest thing I have is my team. Because I have a lot of ideas, but vision without execution is hallucination."
What is your favourite thing to design?
"I'd really love to do a collaboration with a watchmaker, a heritage house that I really like, because I enjoy the learning process. I like things that last. If it's a good watch, you want to have it for the rest of your life, and you will pass it down through generations. And that's also what I want to achieve with my clothes."
How do you balance family and work time?
"With humbleness, grace and trying to not lose the plot completely. You have to be a little bit crazy to do this job, but don't go all the way. I think the most important thing is to never believe the hype. It's not about fame. It's not about anything else. It's about your work. It's about what you do."
What are your 2020 resolutions?
"I want to go on a retreat for a week with no cellphone and be alone. I also want to structure my professional life such that I am with the product at all times – from creation and inception to the development and production. I hope to spend more time with the retail teams in our stores because I really enjoy it. And, of course, I'll continue working on my fabulous six pack." – VW
1 Designer Gabriela Hearst's philosophy: "I have two fundamentals: long-term view and sustainability. I love what I do, and I want to do what I do for the rest of my life. So I want to make sure we pace ourselves and are doing things right."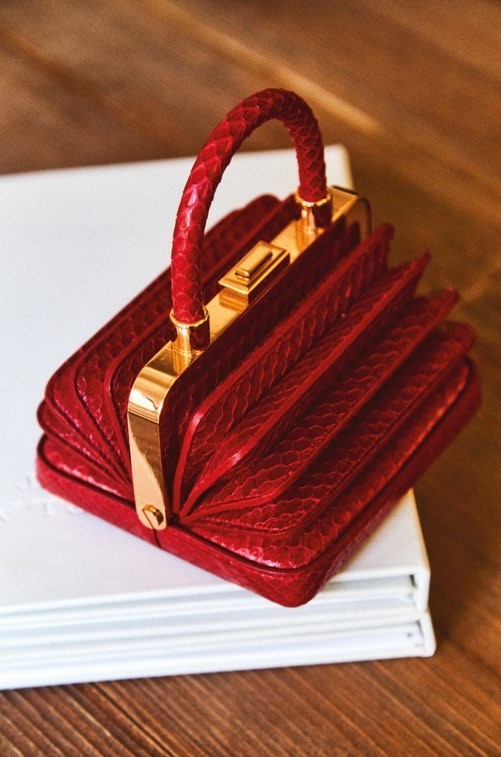 2 Named after Diana Ross, the Diana bag resembles the bellows of an accordion. From $3,990 for a Mini in suede.
3 Nina, Hearst's signature bag that's named after the late singer/ activist Nina Simone. Despite its irregular shape, it's spacious. Hearst's holds a handsized sketchbook and journal, sunglasses, wallet and two cardholders –with room to spare.
4 Joni is one of two bags inspired by singer-songwriter Joni Mitchell, and features drawer compartments with rose gold and leather pulls.
PHOTO OF GABRIELA HEARST:  PHOTOGRAPHY VERONICA TAY  STYLING DEBBY KWONG