MOROCCAN MAGIC.
"The spectacular show venue, with a huge pool lit by floating oil lamps, against a sunset sky"
Under #DiorCommonGround, Maria Grazia Chiuri took the world's media on an escapade to exotic Marrakesh for a Dior Cruise show unlike any other. Engaging the work of artisans from Europe, Asia and Africa, Chiuri imagined this collection as a map, filled with different traditions, places and cultures. And in so doing, she brought the best of the best together to come up with clothes rich in heritage but diverse in inspiration, that paid tribute to the land that Yves Saint Laurent (Christian Dior's first successor) was so enamoured with. The grand Palace El Badi was transformed into a glittering souk under a starry sky, filled with beautiful people, luxurious carpets and a runway of magical m odels outfitted in incredible fashion that showcased work from all corners of the globe. The after-party was another legend in the making with Diana Ross performing a medley of her greatest hits to an ecstatic crowd who didn't want this night to ever end.
Lupita  Nyong'o
Shailene Woodley
Models standing in front of the Palace El Badi
Jessica Alba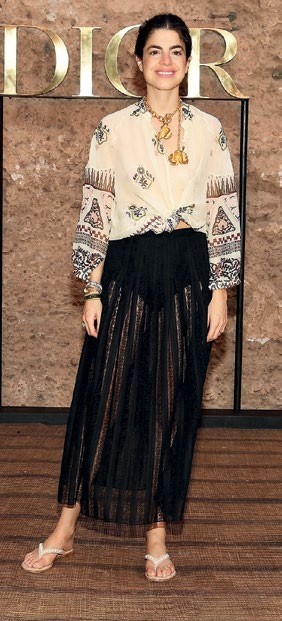 Leandra  Medine
The Haim sisters
Negin  Mirsalehi 
Karlie Kloss
BY KENNETH GOH
"Soo Joo walking the Chanel cruise 2020 show"
CRUISE CONTROL
This cruise season saw a new mood settling in at the Grand Palais, a venue Chanel has chosen to make its home for many of their spectacular shows. With newly appointed Artistic Director Virginie Viard presenting her very first stand-alone show, the space was opened up to reveal the full glory of this wondrous 122-year old palace. Guests went on a journey that started with breakfast at the elegant café-restaurant Le Riviera, before moving through into the nave of the building, which was transformed to a Parisian train station in the Beaux-Arts style, complete with old-fashioned benches and platforms that showed all the cities of past shows. As the whistle blew to signal the departure for joyful, sunnier climes, models walked down the runway in fashion that was altogether softer, more feminine and more contemporary—think sharp suits, frothy white blouses, tiered lace dresses and ankle-strapped heels with statement cone heels. Guests included Chanel ambassadors Caroline de Maigret, Vanessa Paradis, Lily-Rose Depp, Gaspard Ulliel, Keira Knightley, Nana Komatsu, Liu Wen and William Chan as well as Ali MacGraw and Claudia Schiffer.
Caroline de Maigret
William Chan
Hannah  Quinlivan  and Jay Chou 
Ali MacGraw
Nana Komatsu
A more pared-down  sensibility from Virginie Viard for the collection 
Keira Knightley  and James Righton 
Marjan Jonkman walking for  the show 
Liu Wen 
BY KENNETH GOH
"Violet Chachki and Patti Wilson"
PRADA'S  PARADE
Miuccia Prada held her 2020 Resort collection show at New York City's Piano Factory, the US headquarters of the Italian House designed by renowned Swiss architects Herzog & de Meuron. Attended by A-list auteurs and Hollywood indie types, the show saw the likes of Sofi a Coppola, Lee Daniels, Baz Luhrmann and Elle Fanning rubbing shoulders with fashion insiders as well as members of Mrs Prada's close-knit inner circle. It was a veritable parade of understated feminine pairings and covetable blazers, pinafores and Liberty-print dresses in humble cotton and baggy silhouettes. The line-up was said to reflect Mrs Prada's serious response to today's turmoil, yet the after-party was completely celebratory. Between casual chats and clinks of champagne flutes, the 100-odd guests were seen engaged in animated post-show conversation. About politics or the cute new Pr ada Bowling bag? We'd say equal parts of both.
DJ Nastia
Marc Jacobs, Charly Defrancesco and Sofia Coppola
Bonnie Wright, Jason Rembert, Marsai Martin, Miuccia Prada and Pom Klementieff
Elle Fanning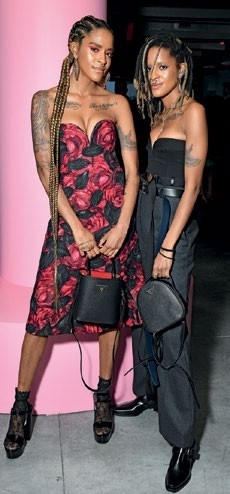 Coco Dotson and  Breezy Dotson
Naomi Watts
Sinead Burke
Uma Thurman, Miuccia Prada  and Hailee Steinfeld
Mafalda Saxe Cobourg  and Anderson Paak
Mafalda Saxe Cobourg, Princess Maria-Olympia of Greece, Caro Daur and Lauren Santo Domingo 
Colby Mugrabi, Selby Drummond  and Sarah Hoover
BY WINDY AULIA