BAZAAR's league of extraordinary women this year features individuals and teams who took a long, hard look at the needs of our communities and stepped up to the challenge.
"Charmaine Seah-Ong"
CHARMAINE SEAH-ONG
Founder and General of Brand & Merchantry, and Co-founder of Elementary Co.
"For as long as I can remember, my parents have been very involved in the community," says Charmaine Seah-Ong, 38. "Be it volunteer work, fundraising or mentoring, they were constantly taking on multiple projects, and made it a point to get my brothers and I involved, even though we were just little kids."
It is no wonder then, that when she co-founded her branding and marketing agency Elementary Co. with husband Derek Ong in 2013, she took on numerous social good projects, and used the team's creativity and network for the greater good.
One of the latest projects the company contributed to was the #HOMEFORALL Migrants initiative by the Collective of Migrant Efforts, which sought to raise funds to provide 20,000 migrant workers with rations over 10 days. Seah-Ong and her team joined forces with Kari Tamura Chua of SamaSama to get the word out about the fundraiser.
"With the help of visual storytelling studio 8EyedSpud, we got the artwork done up to effectively communicate the enormous task that the initiative had at hand, and reached out to nearly a hundred thought leaders, key opinion leaders, media personalities and even PR agencies within two days," she shares. "There was no question about it—we knew it was something we needed to do."
In less than a week, the initiative hit its $800,000 target, with donations continuing to pour in even after that. "It was heartening to know that there is so much kindness and generosity," says Seah-Ong. "It made me feel hopeful during a time when there is so much negativity going around in the world."
"Amanda Chong"
AMANDA CHONG
Lawyer, poet and o-founder of ReadAble
You could call Amanda Chong an overachiever. A graduate of the University of Cambridge and Harvard University, the 30-year-old excels as a lawyer— among other things, she topped the Singapore bar exams in 2013 and was, earlier this year, appointed to the Panel of Advisers to the Youth Court, which informs and advises the court in matters relating to the protection and rehabilitation of children and young persons.
But what's just as impressive are her accomplishments outside her chosen profession. Chong is also an accomplished poet whose accolades include being shortlisted for the 2018 Singapore Literature Prize and having her words studied worldwide as part of the Cambridge International GCSE syllabus.
In 2014, she married her love for words with her commitment to driving positive change in society by co-founding non-profit organisation ReadAble (readablesg.com). With the aim of "beating poverty one word at a time", it runs weekly reading and language arts classes for children and youths from low-income families in the Chin Swee area.
To help other underprivileged groups gain literacy, the recipient of the 2018 Singapore Youth Award, which recognises exceptional young people for their contributions to society, also runs writing mentorship workshops for migrant workers.
As she has shared on Instagram, her vision for Singapore is that "we would be a nation that listens to the stories of all its people and not just those with the loudest voices, and that we will build an inclusive narrative that welcomes everyone as equals to the table".
"Lynn Yeow-De Vito"
LYNN YEOW-DE VITO
Co-founder of Loop PR and Sassy Mama
With a passion for the F&B industry, it was only natural that PR maven Lynn Yeow-De Vito lent her expertise to the #savefnbsg initiative (wearefnbsg.com) spearheaded by her restaurateur husband, Beppe de Vito, and hotelier and restaurateur Loh Lik Peng.
The movement—conceived after dine-in restrictions during circuit breaker increased the burden on F&B establishments already struggling with mounting costs and low or no revenue— lobbies for the interests of the F&B sector in these trying times.
The 39-year-old joined the duo in the push for restaurant owners to band together and form a stronger voice to advocate for regulation changes that offer some relief to F&B businesses—especially those that could not pivot quickly enough into an online-orderinganddelivery model. The movement gathered pace quickly and in just over a week, grew to a coalition of more than 500—and counting—venues.
As F&B outlets welcome diners once again, albeit with safe distancing measures still in place, the call has shifted to #lovefnbsg. "F&B staff are still getting used to the new norm, which includes increased hygiene and sanitation efforts as well as temperature taking before entry," explains Yeow-De Vito, "so we should show them a little more patience as we slowly reopen for business."
"Kuah Chew Shian and Lisa Tang"
KUAH CHEW SHIAN AND LISA TANG
Co-founders of Kausmo
If anyone told you that the ingredients at year-old restaurant Kausmo (kausmo.com) were rejects, you'd be much surprised. After all, the mod-European dishes all come simply but beautifully plated by chef and co-founder Lisa Tang, 25, who draws from her stints at Pollen, JAAN and Le Amis to present attractive plates. The taste, too, is excellent—no different than if aesthetically pleasing ingredients had been used.
Tang, who trained at the Culinary Institute of America, had worked at a zero-waste restaurant on a farm in Maine and was inspired to start a "thoughtful business" when she returned home. Together with co-founder and restaurant manager Kuah Chew Shian, 27, she set out to challenge food norms and reduce unnecessary food wastage.
Through creative repurposing, Tang turns overripened as well as oddly shaped and sized fruits and vegetables into gourmet meals worthy of any haute-cuisine restaurant, while sending a strong sustainability message.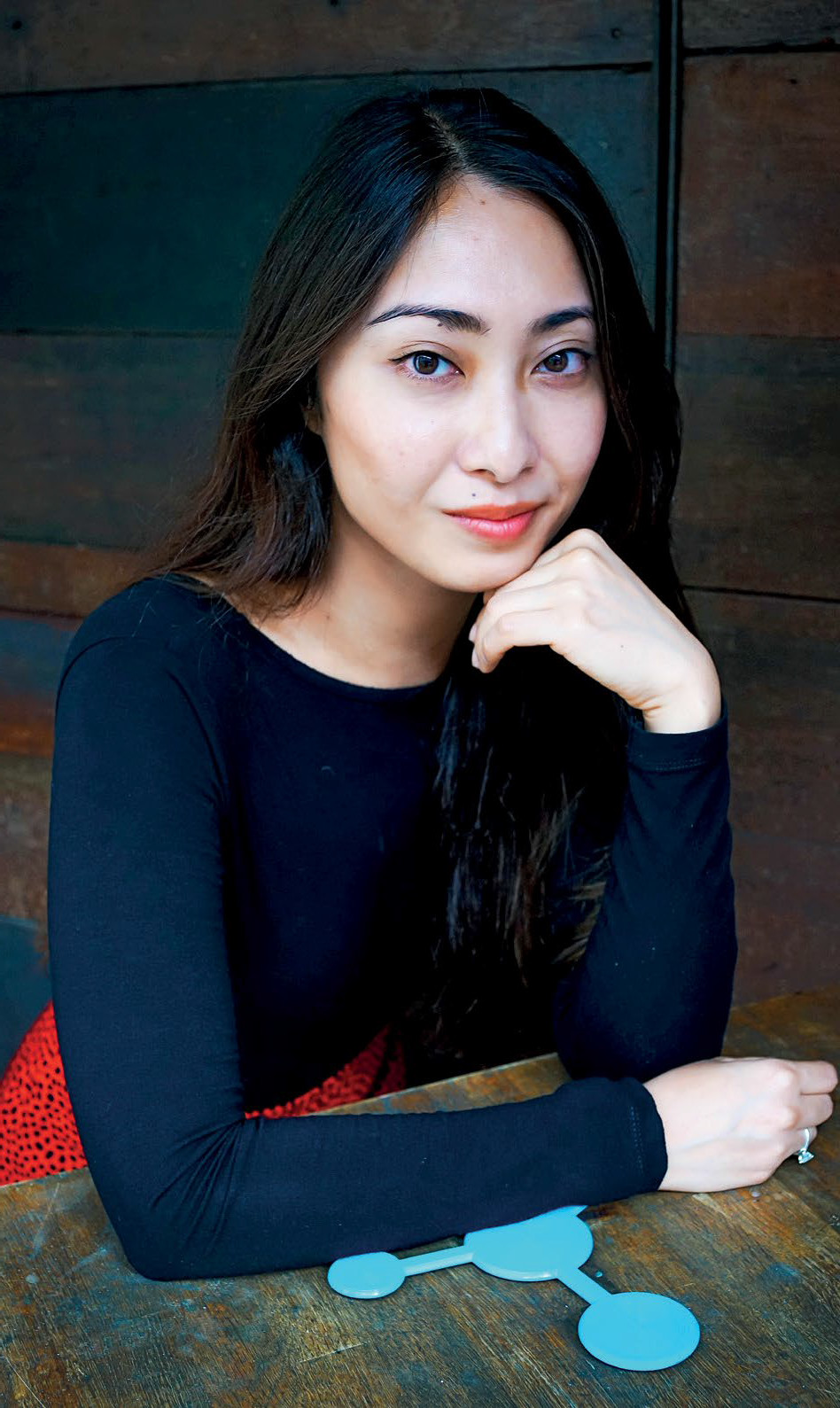 "Kari Tamura Chua"
KARI TAMURA CHUA
Co-founder of SAMA SAMA
Unsettled by the discourse around migrant workers in Singapore, Kari Tamura Chua, 30, set out to help redefine the narrative of the people who helped build our country. Her first step? Spearheading a 2016 Sama Sama campaign.
"Then, we approached the migrant worker community with the wrong mindset— sympathy. Early on in the campaign, we felt that the issue was systemic and out of our control," she shares. That was turned on its head when "Goh Wei-Leong, Chairman and Co-founder of HealthServe (a local NGO serving migrant workers), introduced us to a poet and migrant volunteer named Mukul—which led the way to other migrant role models who have created change for themselves and those around them."
While the pandemic has hit the migrant worker community hard, it has also seen its leaders stepping up and sitting with local organisations to brainstorm solutions and collaborate on key migrant issues. "This leadership, and their courage and passion in supporting their community at their lowest, is truly inspiring," says Chua.
Chua's movement, in partnership with HealthServe, also shows a different face of this marginalised group most often seen toiling on the ground. Our Pandemic (migrantstories.online), a collaboration between migrant poets and artists that highlights the challenges of confinement faced by migrants during lockdown through a series of illustrations and poetry readings in native tongues, shows that there is also a literary side to the group.
"Pat Law"
PAT LAW
Founder of GOODSTUPH
Known for being the digital marketing and advertising guru behind award-winning social media agency GOODSTUPH, Pat Law is also a philanthropist who never fails to give back to society.
As businesses felt the impact of Covid-19 and a very necessary circuit breaker, Law knew she had to do something for the community. Serendipitously, opportunity knocked in the form of the #SGPaySitForward initiative. Conceived by co-founder of Night Owl Cinematics Sylvia Chan and Ninja Van CEO Lai Chang Wen, it aimed to raise funds to deliver 100,000 care packs to vulnerable groups in Singapore.
"When Sylvia asked if I could lend a hand from a marketing perspective, it was the most natural thing to say yes," says Law, who is a generous donor to various causes, and also sponsors children via World Vision as well as a few stateless women in Thailand "who unfortunately have to make a living from working at strip clubs".
"For the longest time, I've been volunteering with my money, not my time. It's shameful," she says, "but time remains a luxury I can't necessarily afford. I don't want to be a fly-by-night volunteer and start cancelling on marginalised groups."
While the world may look bleak now, she believes that it is always in darkness that you find the light. "Better yet," she says, "be that light."
IT IS ALWAYS IN DARKNESS THAT YOU FIND THE LIGHT. BETTER YET, BE THAT LIGHT.
—PAT LAW
"Mae Tan, Michelle Lau and Denise Tay"
MAE TAN, MICHELLE LAU AND DENISE TAY
Co-founders of KampungKakis
For Mae Tan, Covid-19 was personal. The 28-year-old had contracted the virus on her return to Singapore and was hospitalised for treatment. During her time in hospital, she witnessed the pain that elderly Covid-19 patients had to endure.
Grateful for the care and treatment she received in the hospital, Tan resolved to pay it forward by keeping the elderly and vulnerable safe in their communities. She brainstormed with friends Denise Tay, 26, and Michelle Lau, 27, and together, they came up with the idea for KampungKakis (kampungkakis.org).
"'Kampung' means 'village' in Malay, while 'kakis' mean 'buddies' in local colloquial language. KampungKakis is thus a neighbourhood buddy system that matches those in need to those willing to help, based on proximity and the type of assistance," they say.
"For instance, if a senior is living alone, and needs help with groceries and meals, our platform will look to match him or her to a volunteer Kaki who lives within a 20-minute walking distance and has indicated that he or she is able to assist with groceries and meals in our online sign-up form."
The idea sounds simple enough, but circuit-breaker measures threw unexpected spanners in the works. For instance, it was difficult to connect with the elderly when they were not allowed to distribute flyers. New regulations also required more paperwork to whitelist KampungKakis for operation. Once the group jumped through the hoops required to operate, the concept took off.
Next up for the trio? The launch of Digital Kakis, where volunteer Kakis help the elderly with their technology needs.
"Rebecca Eu"
REBECCA EU
Founder of Mei's Own
At the heart of Rebecca Eu's homeware brand Mei's Own (meisown.com) is something few think about: Human trafficking. Set up in 2016 after a year volunteering in the Philippines opened her eyes to the issue of sex trafficking, the social enterprise works with artisans and survivors of sex trafficking in the Philippines to create homeware as well as lifestyle items, with sales proceeds supporting these two groups by way of education and vocational opportunities.
When asked about how far she has come with the enterprise, Eu says: "I still feel like there's so much more to do. This year has been a massive setback for all of us, but it's been particularly hard on artisans who've been struggling to make ends meet even before Covid-19 hit."
In times like these, "innovate and adapt" is her mantra to keep going. "Just because I can't be in Manila right now (with the foundation that supports sex-trafficking survivors) doesn't mean that Mei's Own can't continue to make an impact," she says. Turning its sights to the local community, the brand, she shares with obvious pride, has started working on a baby collection with The Art Faculty, which supports artists with autism and related challenges.
On continuing to give back to society, she says: "We have to be very intentional about how we want to help. While we're led by a vision of what we want to accomplish, we have to sometimes let go of ideas that might not be the most beneficial to our target group. We get attached to our ideas easily, but if we're truly passionate about helping others, we have to do exactly that. There's no room for ego when it comes to putting people's needs first."
"THERE'S NO ROOM FOR EGO WHEN IT COMES TO PUTTING PEOPLE'S NEEDS FIRST.
—REBECCA EU"
"Cheryl Chong"
CHERYL CHONG AND REBEKAH LIN
Co-founders of The Social Co.
"Setting up The Social Co. has been quite the learning experience," says Cheryl Chong, co-founder of the social think tank (thesocialco.sg). What started as a community project for Singapore's 50th birthday back in 2015—over teh peng (iced tea with condensed milk and sugar), no less—has since grown into a problem-solving beast of an organisation that offers support to, and channels fundraising efforts towards, various charities, depending on its sector focus for the year.
"We started with sectors most often neglected, which were initially mental health, migrant workers, seniors, adults with disabilities, and youth at risk," says co-founder Rebekah Lin. "Our journey has always been about finding a focus and a sector that we think we can add value to."
"When we were young, we wanted to jump straight into starting campaigns. But we've learned to look at the needs of the community first," says Chong, 34. "What we also learned is that we should be bringing people together. We can't do much as individuals, but together, working with charities and partners, we can do so much more."
"The end goal," Lin adds, "should always be solving the problem, not being the one to solve the problem."
This year, their focus is on charities that serve seniors, such as Alzheimer's Disease Association and St Andrew's Mission Hospital. The team is looking to bridge the gap between the old and the young, matching younger change-makers to seniors to support them—especially important now that many businesses have moved online and the less digitally savvy elderly are unable to adapt as quickly as techie youngsters.
"Rebekah Lin"
CHERYL OU
Co-founder of The Social Space
Cheryl Ou is no stranger to socially conscious businesses. The serial entrepreneur first put her passion for fair trade businesses to play in 2014 with jewellery brand Anchora, which aimed to educate and empower disadvantaged producers. This was followed in 2015 by what was billed as Singapore's first socially conscious salon, The Nail Social, which provides vocational training and employs local marginalised women with high barriers to employment. Three years later, multi-concept store The Social Space (thesocialspace.co), which promotes social and environmental sustainability as well as job opportunities for a wider target group, was born.
While the shopfronts of the café-cum-retail-space-cumnailsalon may look like any well-designed, well-curated destination for hip Sunday brunchers, The Social Space is anything but frivolous. With the intent of empowering conscious consumption while doing good, it sources its produce, ingredients and retail products from fair trade and socially conscious producers and makers. Driving home the point of sustainability is the Refillery, a self-serve section of the store where customers can bring their own bottles and fill them up with household cleansers and personal care products.
The hope is that by making conscious living more accessible with high-quality, fairly traded, and socially and environmentally friendly products, thereby dispelling the myth that social enterprises only offer substandard products and services, we can all take an active step towards bettering our social and physical environments.
"Cheryl Ou"
NURUL JIHADAH HUSSAIN
Founder of The Codette Project
In championing the empowerment of minority/ Muslim women interested in learning about or carving out a career for themselves in the tech industry, Nurul Jihadah Hussain has also helped redefine what success looks like for minority/ Muslim women.
"When you're a minority/ Muslim woman, your success is something that, generally, people have not imagined," she shares candidly. "You have to draw your own road map to success. And you often have to do it without the structures that other people may benefit from."
Set up in 2015 to drive a full-time back-to-work scheme for unemployed women looking to restart their career, The Codette Project (thecodetteproject.com) evolved into a platform that gives minority/Muslim women a leg up in the tech industry. Nurul realised, through speaking with these women, that there was an untapped demand for a safe space for this particular group to chart their own success in tech.
In the years since, The Codette Project has steadily raised awareness about technology among this group and provided them with access to the tech industry, through modular classes such as adult coding, data analytics and UX, as well as women-only hackathons.
Nurul has also taken a small but powerful step in reclaiming the narrative for this group with a series of stock images of minority/Muslim women working in tech, which are available on image library Shutterstock.
While she admits that "we're unlikely to see results in our lifetime when it comes to gender equality and minority/Muslim women in tech", she's not letting that stop her from giving it her all. "You can't start off just wanting to be successful," she says. "That takes time and effort. The work is still meaningful, and we want to continue striving for diversity and inclusion." 
"Sudesna Roy Chowdhury"
SUDESNA ROY CHOWDHURY
Founder of Tinyurl.com/covidbengali
For many, setting up a website takes months. For Sudesna Roy Chowdhury, all it took was eight hours and a little Chowdhury family power. As the number of migrant workers testing positive for Covid-19 exploded in mid-April, she saw the urgent need to help both the healthcare workers and patients communicate more effectively.
"Medical communication is a lot more important than we give it credit for," says the 24-year-old, adding that miscommunication can have devastating effects, especially when some workers have suicidal thoughts or want to go home to be with family.
Serology tests—blood tests for antibodies—was one area for potential miscommunication. "Many migrant workers are given serology tests instead of swab tests," she explains. "When they hear the word 'positive', they think they're going to die. Or they ask why they're not being isolated. But what it means is that they're actually positive for antibodies"—which indicates they were likely infected with Covid-19 at some point in the past.
With the goal of closing that potentially disastrous communication gap, the recent graduate of the NUS Yong Loo Lin School of Medicine, who was already volunteering as a Bengali interpreter as the pandemic was brewing, set out to create a website for Covid-19-related translations in Bengali (tinyurl.com/covidbengali).
Inspired by Chowdhury and the impact of her website, developer Aniruddha Adhikary took things to the next level with Translatefor.sg, which offers translations for 10 languages: Bengali, Burmese, Hindi, Malay, Mandarin, Punjabi, Tagalog, Telugu, Tamil and Vietnamese. The friends are now working on adding Chinese dialects such as Hakka, Cantonese and Teochew to the list.
"Dawn Chueh"
DAWN CHUEH
Medical student and healthcare assistant
When schools in the UK closed during an imposed Covid-19 lockdown, Singaporean medical student Dawn Chueh was given the option, like many studying overseas, to return home. The 22-year-old chose to stay on instead. Her reason? She felt that her help was needed in the already-understaffed hospital in North England, where she was then working as a healthcare assistant.
"I thought about the older folk in our neighbourhood, and the patients who stayed positive in spite of their situations but were vulnerable to this novel virus all the same," Chueh shares. "Returning home felt like I was turning my back on those I could and should help. It contradicts the reason I pursued medicine— which was to deliver the basic necessity of healthcare to those who need it most."
Chueh, who worked primarily in the Covid-19 ward, admits that it was physically and emotionally demanding: "I struggled to maintain professional emotional boundaries, and wearing fullbody PPE (personal protective equipment) on shift was terrible—imagine being stuck in a giant plastic bag for hours on end—but I was thankful for it."
Chueh is now back in Singapore running an initiative, in partnership with the Association of Women for Action and Research, Singapore, that supports the Vulnerable Women's Fund.
"YOU HAVE TO DRAW YOUR OWN ROAD MAP TO SUCCESS.
—NURUL JIHADAH HUSSAIN"