Behind the operatic voice, the coiffed moustache and the larger-than-life personality lies a man who is transforming a storied French House, one kitten heel at a time.
Behind the operatic voice, the coiffed moustache and the larger-than-life personality lies a man who is transforming a storied French House, one kitten heel at a time. Kenneth Goh meets the new head of legendary Parisian footwear maker, Roger Vivier.
My first encounter with Gherardo Felloni, the new Creative Director for Roger Vivier, was in a hotel particulier in the fifth district of Paris on the stylish Left Bank. It was the spring/summer 2019 fashion week in Paris, and the newest collection was being unveiled on a particularly hot September afternoon.
Felloni was lounging on a grand golden bed with brilliant red sheets, his brown soulful eyes bright with a spark of mischief and daring. Together with a voluptuous soprano, he was belting out Freddie Mercury's "Barcelona" and egging her on to sing more loudly than ever.
It was a startling but wonderful introduction to the world of Felloni, a man who looked like he should be starring in his own movie with his perfectly manicured moustache, impeccably pomaded hair and crisp suiting topped with an antique jewelled torque around his neck.
The Italian native may be playful about how he presents himself but make no mistake that when he it comes to shoes, this is a man who knows his it co business. Hailing from a family who ran a footwear busine factory, both the interest and the passion were factory cultivated early on for Felloni.
It wasn't a surprise that he ended up heading shoes at Dior, working with John Galliano and Raf Simons, before going on to Miu Miu to oversee accessories and shoes. And he never imagined that he would land his dream job at Vivier, which he did last spring. "For me, Vivier has always been a source of inspiration because he's one of the masters of shoes,," he said. "He's the most important shoe designer, because he invented the way we do cultivate shoes today "
Clockwise from top: Gherardo Felloni balancing the Maharaja pump on his nose. The check-in for Hotel Vivier, the venue of the spring/summer 2019 presentation. The hotel sign in bright neon lights. The Très Vivier bag in midnight velvet. The soprano singing her heart out in one of the presentation rooms. The Viv Bling sandal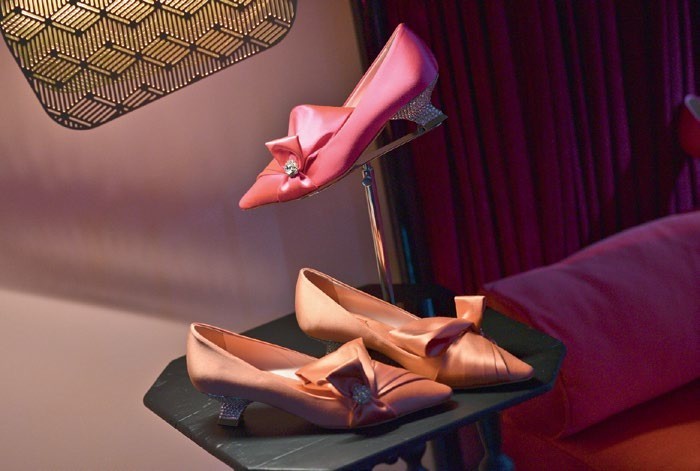 Felloni is not exaggerating. The fabled French shoemaker has crafted footwear for an illustrious list of clients, including Queen Elizabeth II, Catherine Deneuve and Jackie Kennedy. He also collaborated with French fashion houses, making shoes for Christian Dior and Yves Saint Laurent in the '50s and '60s. For Felloni, the reason for Vivier's popularity is clear: The revolutionary approach Vivier took to the art of shoemaking. "Before him, the last was always the same, it was just about the curvature and the colours, and not about the last and the heel," he said. "Vivier changed practically everything."
For his first collection, Felloni didn't stray far from the roots of the brand, spending time going through the archives for inspiration. Hence the new iteration of the iconic Belle Vivier classic pump—the Très Vivier, boasting a flatter, wider pilgrim buckle and a blockier heel.
He also continued another Vivier tradition—lavish ornamentation. "Vivier was a fan of colours, of the kitten heel, of embellishments like jewels and feathers."  Thus the wealth of bright hues, rhinestones, crushed velvet, feathers, crystals, satin rosettes and snappy leopard prints on everything from Mary Janes to pumps to sneakers.
Yes, you read right. For the first time, the brand is offering sneakers as part of its collection. The Viv'Run, a fashion sneaker, has witty references to many classic Vivier motifs— the signature buckle is there but rendered in rubber, while the sole is an aerodynamic interpretation of the famous Vivier Virgule (comma) heel. "I really like running shoes," he said. "Because I'm an '80s boy, so I went to school with running shoes. I think women's wardrobes have gotten bigger in the last 15 years, and they all have running shoes now."
It is clear he is injecting exciting fresh energy into the brand, along with humour, whimsicality and something less expected—practicality. Indeed, many of the shoes are designed with lower heels. "I think that women are sexier with kitten heels, flat shoes, running shoes, instead of really high heels," he explained. "Because they are powerful today, they don't need to look conventionally sexy to do what they want. They can choose."
Ultimately, Felloni is aware he's designing for customers who love  Vivier, and know that shoes can make or break a look. "Shoes are so important because they change the way you move. You can be wearing the same beautiful dress but the look changes dramatically depending on whether you don running shoes, kitten heels or stilettos. Shoes make the silhouette of the woman."
Clockwise from top right: Lavallière pumps in satin. Felloni in front of his sketches at the Roger Vivier office. The grand entrance to Hotel Vivier on the Left Bank of Paris. Fun and games at Hotel Vivier.