The creative duo behind Sydney-based label, Song for the Mute open up about their journey of discovery and evolution, and their plans to break new ground.
The creative duo behind Sydney-based label, Song for the Mute open up about their journey of discovery and evolution, and their plans to break new ground.
Oversized silhouettes lend a lived-in feel.
What started out as an outlet to channel creative energy soon grew into something bigger for Melvin Tanaya and Lyna Ty—the masterminds behind Australian label, Song for the Mute. Nine years on, it has developed into a cult label that has shown at Paris Fashion Week with its unconventional and well-crafted designs stocked in luxury boutiques like Lane Crawford, Selfridges and Dover Street Market Singapore. 
Ty and Tanaya.
Trained in fashion and graphic design, the duo first dipped their toes into the industry designing menswear. "I've always liked men's tailoring and structure, so that's where we started," explained Ty. 
Later, she started to feel that certain pieces were missing in her own wardrobe. So they worked to create womenswear pieces, expanding it into a small women's capsule collection and sold it with their menswear in Paris. Their quality fabrics and easy shapes soon caught the eyes of women with a penchant for no-fuss, comfortable clothing synonymous with an effortless cool. "It did really well," she recalled. 
A painter's style jacket, about $1,542, and track pants, about $962, from the menswear range.
For their newest collection, Ty envisioned an imaginary house and its occupant located in the southern part of France, which materialised in the form of clean silhouettes and lighter fabrics. More importantly, the collection marked a new direction for them. "Our voices have matured," Tanaya said, adding that they realised a more multi-dimensional approach to designing was needed.
"You have to think about the surroundings, the sound, smell, everything. We took out 'spring/summer' and 'fall/winter'. From this season onwards, it's 19.1; the next season will be 19.2. Once you see numbers on a list, it becomes chapters of an expansive story." 
Viscose bowling shirt, about $720, and linen lounge pants, about $817.
Tanaya and Ty are constantly searching for new ways to write a more compelling story arc for their label so they explore collaborations with creative forces who share the same philosophies as them. They've partnered with Australian synth music duo Lastlings to create the soundscape for the current collection. Tanaya said: "We wanted sound to be a continuation of the brand's narrative, because what music we listen to directly inspires the feeling of each collection."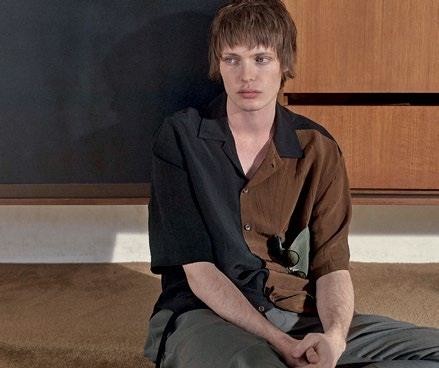 Flared dress, about $1,349. 
Meanwhile, Tanaya and Ty are honing the basics that have contributed to their success. Sourcing for one-off fabrics and material experimentation are important for the brand, so they travel to Japan and Italy regularly, working closely with traditional mills to explore unique textures and patterns that can be rendered on specific fabrics. "We're influenced by fabric. It always starts everything, before any design. The shapes, silhouettes and cuts come after—we want to let the fabric speak." Prices range from about $285 for t-shirts to about $2,122 for a coat, with exclusive fabrics and crisp craftsmanship.
Song for the Mute.
The duo is developing materials for upcoming seasons and working on a release with lifestyle brand, New Era. Other exciting projects are also in the pipeline, and there is no doubt their cerebral aesthetic will continue to resonate with many.