The latest and most talked-about collections.
The latest and most talked-about collections.
MUM'S THE WORLD
Clockwise from left: Gold-plated metal and glass Soleil Gem earrings, $109, Wanderlust + Co. Rose gold and topaz Star Heart Duō locket, $3,198, Carrie K. Gold-plated metal, Akoya pearl and diamond Blue Moon necklace, $152, Diamanti Per Tutti. Rose gold vermeil and diamond Nura Teardrop ring, $220, Monica Vinader. Penelope Cruz wearing pieces from her MoonSun collection with Atelier Swarovski. Rose gold-plated metal and crystal MoonSun brooch, $899, Atelier Swarovski by Penelope Cruz. Rose gold-plated metal and crystal Sunshine brooch, $299, Swarovski 
Show her she's still number one in your life with jewellery designs that stand as a memento of your love.
Sapphire crystal Gemset Sapphire RM 07-02, Richard Mille
BLUE IN THE FACE
Sapphire cases are not something that falls into new territory for Richard Mille. But one that's set with diamonds is. Presenting Richard Mille's new Gemset Sapphire RM 07-02, which has a sapphire crystal case that has been lasered to the nearest micrometre, before prongs are inserted to hold a row of diamonds in place. As it is, the sapphire crystal case requires 40 days to cut and shape out of a giant block, adding another layer of complexity to a watch that is already a showstopper. 
Moonshine gold Speedmaster Apollo 11 50th Anniversary Limited Edition, Omega and Buzz Aldrin 
SPACE ODYSSEY 
It was exactly 50 years ago that Neil Armstrong and Buzz Aldrin took man's first step on the moon with Omega Speedmaster Professional timepieces strapped on their wrists. Their exploration lasted just two-and-a-half hours but the momentous occasion is forever sealed in history—and Omega is celebrating the anniversary with a new limited edition Speedmaster of 1,014 pieces. Crafted from a new gold alloy called Moonshine gold, this 42mm watch features a burgundy bezel ring, black onyx indexes and a caseback outer ring engraved with "1969-2019" in burgundy.

Steel and diamond La Grande Classique de Longines (24mm) watch, $4,790, Longines 
WE'RE LOVING...
..This blue faced timepiece from Longines' La Grande Classique de Longines collection. Thanks to a gleaming steel bracelet and sparkling diamond bezel, this elegant steel number (available in 24mm, 29mm, 36mm and 37mm) catches the light at every turn, making it a great everyday timepiece for stylish women everywhere.
From top: Liens Évidence rings in pink gold and diamond, $2,820; pink gold, $2,250; white gold, $2,380; pink gold and diamond bangles, $7,080 each, Chaumet 
LINE BY LINE 
Presenting the same chic minimalism that's characteristic of the collection, Chaumet's new Liens Évidence designs see an injection of colours aerating its modern ranks. The pink and white gold rings and bangles now sport red, green and blue lacquer, and are available in larger sizes to ensure the men are not left out of the action. Perfect for stacking, this lets you indulge in a little matchy-matchy action with your significant other discreetly, if you're so inclined. 
From top: Return to Tiffany Love Bugs bee necklace in gold and silver with quartz; butterfly ring in rose gold and silver with topaz; ladybug ring in rose gold and silver; ladybug ring in rose gold and silver with quartz; ladybug flower necklace in gold and silver; daisy pendant in gold and silver; butterfly flower ring in gold and silver; butterfly ring in platinum, rose gold and silver with diamond
BUG SMITTEN
From petite ladybird earstuds to generously-sized blue topaz butterfly rings, Tiffany & Co.'s new Return to Tiffany Love Bugs collection runs the gamut from adorable everyday pieces to glamorous statement creations. Marrying the "Return to Tiffany" motif with its knack for nature interpretations, Tiffany's latest collection will change the way you feel about six-legged critters in no time. 
Steel Apple Watch Hermès Series 4, from $1,819, Apple 
RAINBOW CONNECTION 
Presenting new tri-coloured bands, the new Apple Watch Hermès Series 4 is set to satiate all your lifestyle needs—in both the tech and looks departments. It's equipped with Apple's latest watch OS 5.2, and comes with a choice of single and double tour bands in either rose sakura, craie and argile; or bleu lin, craie and bleu du Nord. As for its face, expect a new feature that allows it to change its colour along a gradient as the minute hand sweeps around the dial. Available on apple.com and Hermes.com and selected Hermès and Apple stores here. 
White gold and diamond Arceau H Déco watches, $78,000 each, Hermès 
FUN TIMES
Hermès has always had a fun, unique approach to their timepieces, with many of their designs taking an almost irreverent approach to the concept of time-telling. From 23 May to 2 June, visitors to its "Time, A Hermès Object" exhibition at Ngee Ann City Atrium level 1 will get to experience that playfulness. Promising a showcase of the Maison's newest watches, the vibrant, interactive space will invite guests to play with time and savour life's moments. 
From left: Titanium Big Bang Unico Titanium, $26,800, Hublot. Myrne is Hublot's first Singaporean Friend of the Brand 
LOCAL SPOTLIGHT
Hublot has announced its first Singaporean Friend of the Brand and it's none other than Myrne, a deejay-cum-producer whom we showcased in our 2017 September Issue as a homeboy to take note of. Since then, he's moved on to being the first Singaporean to perform at Belgium's Tomorrowland and Ultra Miami in 2018. And he has just signed a new, exclusive multiple-record deal with Ultra Records—the first Singaporean to do so—this year. "I was incredibly honoured when Hublot approached me to be the brand's first Friend of Hublot in Singapore. I love that they have a history of constantly challenging norms and daring to be different," he says.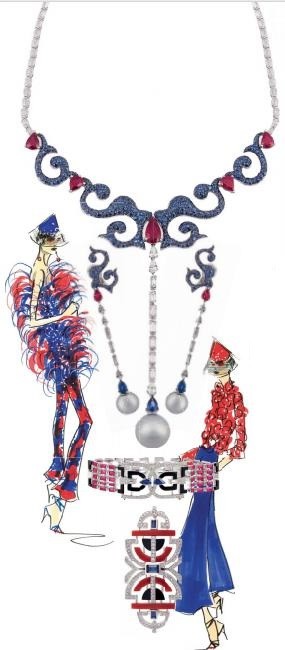 With Giorgio Armani's new Privé Haute Jewellery collection, expect designs that showcase the same sharp proportions, bold colours and play on textures that the designer is famed for. 
HAUTE MOVE 
Giorgio Armani has just debuted its Privé Haute Jewellery Collection, featuring designs that promise to complement the designer's haute couture creations perfectly. Art Deco lines and bold proportions dominate the white gold range, which sparkles with precious stones such as rubies, sapphires, red agate, onyx and diamonds. Pearls can also be found adding their gleam to earrings, necklaces, bracelets and rings. 
Richard Mille's Technical Director of Women's Collection, Cécile Guenat 
SHAKE YOUR BON-BON
To finish off on a sweet note, Charmaine Ho speaks to Richard Mille's Technical Director of its Women's Collection, Cécile Guenat, about the brand's new Bon-bon collection. 
Tell us more about the new collection. 
I wanted a theme, an idea, that you can put colours and fun shapes to. And I had, in my mind, this crown from the RM 07-01, which looks a bit like a small cake and also reminds me of liquorice. So, voila! Very quickly, everything started to fall in place. And when you look at the collection, you'll see that all the coloured ceramics we used in the collection are colours that already exist in our palette. [This collection] is still very Richard Mille; it's just another way to express the brand.
Clockwise from left: Carbon TPT and TPT Quartz RM 37-01 Cerise; ceramic RM 16-01 Réglisse; Carbon TPT and TPT Quartz RM 16-01 Fraise, Richard Mille 
What was the reaction of your colleagues when you first presented this idea internally? 
I came with a mood board that explained what I wanted to do and I told them that I was going to show them all the things that we could do with our collections for the next few years. And when I showed it to them, Richard [Mille] was like: "This is it; you should really do this; let's go in this direction." At that time, I didn't have any drawings. Just a board with images of candies, the crown, the settings, materials and colours; that's it. 
What was the biggest challenge you faced when producing this collection?
We had several challenges because the collection is a mix of métiers d'art and it's very technical—like getting the right sugar effect on the candied fruit pieces, which is done by hand. For all the little candy pieces, we had to work on getting the right thickness because you have limited space in a watch and [if any of the elements on the dial] touch the hands, they can't move. So every piece [in the collection] is unique and has a story to tell.
What has the reaction to the collection been like so far? Good or bad? 
From what my colleagues tell me, it's quite good. Of course, there are people on the internet who are totally shocked and devastated and I can understand that. But this is Richard Mille: You either like or you don't like; it's like that. And it's not a bad thing to have a bad reaction. It's a reaction so that's good and it keeps things interesting.