A SEASON FOR EXTRAVAGANT TRAVEL.
A SEASON FOR EXTRAVAGANT TRAVEL. THE CRUISE COLLECTIONS TOOK OFF THE VENEER OF GLAMOUR FOR MEANINGFUL CONSIDERATE FASHION EVERYONE CAN WEAR BY CHANDREYEERAY.
CHANEL
When the fashion cognoscenti arrived at the Grand Palais, some noted the relatively simple train station set-up. Shocking, really, from a house that had in the past conjured up faraway beaches, glorious waterfalls and even a spaceship. In retrospect, this was a good thing perhaps, since it marked Virginie Viard's first solo outing as artistic director. All attention was placed on the clothes, and not on pomp and pageantry. Signages on set pointed to locales of cruise shows past, but this time, the return to Paris was done with purpose and intent: Bring it all back to this century-old French house's DNA. With over three decades spent under Lagerfeld's tutelage, it's Viard's time in the spotlight. She debuted androgynous work-appropriate sets: Wide-legged trousers worn with white poplin blouses under tailored jackets in neutrals. They were reminiscent of Coco Chanel's approach, evoking a sense of casual cool. The brand's signature tweed jackets followed in punchy colours, paired with printed jersey leggings. Then came oversize bows fashioned into bustiers and delicately tiered chiffon dresses. The final gown spoke volumes; the minimalist column of black linen juxtaposed with a stiff white shirt-collar was an unmistakable nod to Lagerfeld's uniform of choice. The collection paid homage to both Chanel and Lagerfeld, yet displayed Viard's own sensibilities—ones that were softer and more pared back, clearly showing the effect of a modern, French woman's touch.
DIOR
Maria Grazia Chiuri brought her guests to the enchanting El Badi Palace in Marrakech, Morocco, which dates back to the 16 th century. Chiuri's location of choice stemmed from more than just wanderlust: She had in mind ideas of globalism and cultural appreciation. In particular, she wanted to spotlight African artisans and their craft. To that end, she collaborated with Uniwax, a factory and design studio that makes authentic African wax-printed cotton. Its artists reinterpreted key Dior iconography such as jungle creatures, florals and tarot prints by integrating them into the weave of the fabric, complete with deliberate irregularities. The cross-cultural exchange did not end there. Chiuri also worked with several African artists, including a female artisan who wove the opening look's fringed coat. While the textiles were new, the silhouettes were familiar: Graceful floor-length dresses accentuating the waistline, utilitarian jumpsuits, voluminous cape-gowns—all done in incredibly vibrant fabrics. On the quieter side of the collection was a series of ethereal white lace dresses and slinky black gowns—the latter a nod to Dior alumnus Yves Saint Laurent, a lifelong lover of Morocco.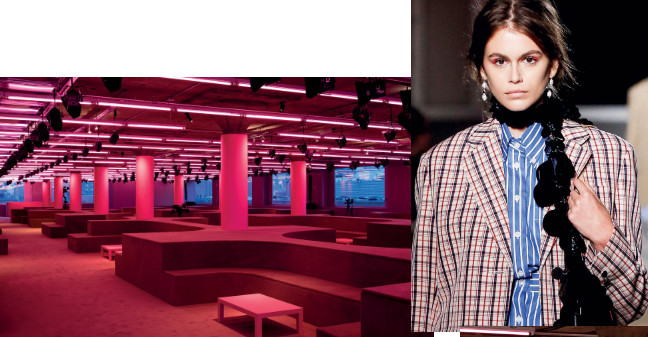 PRADA
For cruise, the philosophical Miuccia Prada rejected the culture of excess by embracing simplicity. And she did so in every aspect, starting with the location. Instead of a lavish, faraway set, she had her show in the brand's NYC headquarters, transforming the Piano Factory into a glossy pink space. Stars such as Uma Thurman, Elle Fanning and Diane Kruger filled the front row, and as models strode out in high-top sneakers worn with thick, ribbed socks, the collection's inherent air of comfort materialised: These were easy-to-wear, fuss-free clothes that were full of personality. Prada worked extensively with cotton, finely tailoring the humble fabric into menswear-inspired button-downs, shirtdresses and utility suits rendered in pastels or tight florals. There was preppy layering with varsity-style sweater vests and classic blazers in multicoloured plaid, and for the girlie girls, shingrazing A-line dresses with a melange of prints. The show's quirky styling conjured Prada's hallmark "ugly-pretty" aesthetic, with eyelet-accented, striped satin Bermudas and scarves made of oversize sequins strung together adding a dose of whimsy. With a collection of wearable, classic pieces that veered away from shock value and could combine easily to form the coolest of capsule wardrobes, the design maestro over whelmingly proved her point that good fashion can be simple yet exciting.
LOUIS VUITTON
Nicolas Ghesquière based his collection on a foreigner's fantasy of New York City and, fittingly, staged his show at the recently restored TWA Flight Center—an architectural marvel designed by Eero Saarinen in 1962 that was a fine backdrop for his retro-futuristic outing. With the city skyline emblazoned on berry-coloured jackets, the famed Chrysler Building embroidered on metallic tops, and pinstriped suiting and workwear fit for Wall Street, the clothes were an ode to NYC. There was also plenty of inky black leather, superbly crafted into slick coats, minidresses, turtlenecks and full-length gloves, with some looks veering into superhero territory. New York did, after all, inspire the fictional cities of Gotham and Metropolis. The era-defying, space-party aesthetic that has become a trademark of the House under Ghesquière was present—think '80s bubble skirts, fiercely embellished geometric tops and plush velvet—but the designer took his fascination with all things tech a step further with futuristic prototypes of classic LV bags, which flaunted new flexible screens wrapped around their bodies. Taken in all at once, it was a glitzy, flamboyant, nearly overpowering affair, much like the city in question.
GUCCI
This season, Alessandro Michele gave new meaning to the term "statement piece" with a collection literally embedded with political messages. Who can forget the gown with a uterus embroidered front and centre? Then there was the purple pantsuit that bore the tag line "My Body, My Choice", as well as other references to the pro-choice movement, such as a cape emblazoned with the date a law protecting women's reproductive rights in Italy was established. Staged in darkness at Rome's Musei Capitolini—considered the world's first museum—the models were visible only by the light of handheld torches. The Roman influence was palpable, in togas draped over chequered suits, gold-wrought accessories and clergy-style detailing. Alongside, Michele proposed quintessential Gucci prints on silhouettes from the '70s—fitting, given the decade's feminist relevance. A cameo from Mickey Mouse kept things fun in spite of the serious messages. As with any good activist, Michele included a call to action, in the form of a t-shirt printed with the logo of Gucci's foundation for gender equality, Chime for Change, with the full proceeds from the sale of the tee going towards supported charities.