SWIPE RIGHT
The promise of a perfect pout comes encased in the world's most desired  orange box—will you let Hermès kiss your lips? 
BOLD BANNER
Rouge Hermès in Orange Boîte. One of the three must-have colours, this bright and dynamic hue echoes the House's signature colour—specifically, the Skito paper of the orange box— and comes in either a matte or satin finish.
Straw hat with silk twill; silk scarf, Hermès
On a cold winter's day in Paris, a troop of fellow journalists from around the world gathers at the offices of Hermès to hear something so top secret, so closely guarded, that we all have to surrender our passports and sign non-disclosure agreements. We've all been flown here to witness a historic moment at this esteemed French house—the pinnacle of luxury and refinement.
We huddle in a room with Pierre-Alexis Dumas, Artistic Director of Hermès, who promptly introduces us to Bali Barret, Artistic Director of the Hermès women's universe; Pierre Hardy, Creative Director for Hermès shoes and jewellery; and Jérôme Touron, Creative Director for Hermès Beauty. It's a powerful cast of creatives from Hermès in one room—I've certainly never witnessed this in my 20-year fashion career. And they're all here to talk about one very special $103 tube of coloured pigment and wax. Ironic, really, when just downstairs, the never-ending queue for the brand's $10,000-a-pop iconic bags is the stuff of legend, books and movies.
I soon learn that beauty at Hermès is a lot more than just some nice-smelling, coloured wax. "Beauty at Hermès started exactly 182 years ago," says Dumas, revealing that its very first customer was a horse—and sharing how Thierry Hermes, then a craftsman at the House, made a harness for it. Harnesses then were extremely ornate, to reflect the owner's wealth, importance and power. Hermès stripped all of that, and made the harness as light, as functional and as minimal in order to reveal the natural beauty of the horse. "It is about revealing as opposed to masking," says Dumas, "about enhancing what is naturally there, and creating elegance, comfort and pleasure, so that we're the best of ourselves."
Beauty, and makeup in particular, has for long been about covering up flaws to present a perfect vision of colour, shape, tone and shadow, all painted on an impeccable face. That's exactly what Hermès Beauty doesn't want to be. "It's to reveal the best of yourself. Not to hide, but to be," says Dumas. "That's what we want; that's the idea. And the first step is called Rouge Hermès ."
To start a whole universe of makeup with a lipstick is certainly adventurous. Which begs the question: What else is new in the lipstick world that hasn't been done? Well, nothing really. There are lipsticks in the market in every shade, shape, size and form you might desire— beyond painting your lips, they plump, they moisturise.
For Hermès though, it's really about quality. "High quality," says Barret, "which means something. Quality of texture. It's not loud. It's just precise, qualitative and, hopefully, matching people's expectations."
The outlook is promising. Colour-wise, there are 24 luxurious hues. Of these, 14 are in a satin finish that come with wands with a rounded tip for full, generous application. The remaining 10 are matte, with wands featuring a pointed tip great for neat and precise lines. All are intensely pigmented, lending lips radiant, even colour that took inspiration from the Hermès archives in Lyon—where Touron referenced more than 900 leathers and 75,000 colour samples stored on silks that are "printed with the exact pigments and mediums used to print the silk scarves," says Dumas. "So our colourways are true."
"We're creating a lipstick like a mood, a flash of wit and a signature reflecting a woman's personality without altering it, revealing a woman as naturally beautiful, without makeup," adds Barret, "yet with the gesture of some lipstick."
This lipstick itself is certainly pretty. The casing designed by Pierre Hardy is a transformable cylinder, magnetic and refillable, ticking all the boxes for an expensive, heavymetal tube that's also in part recyclable and thus, ecological. Each tube comes sheathed in natural canvas, nestled in the signature orange Hermès box.
It's a power lipstick, one that holds as much kudos as a Birkin or Kelly, but at a 100 th of the price. It smells divine."It's very natural and soft, a mix of sandalwood, arnica and angelica, blended by our nose, Christine Nagel," says Touron.
It's also pretty inclusive, eschewing a typically feminine form. "There's no cliché of femininity here. There's some sensuality, but no specific femininity. So you can hold this even if you're a guy," says Hardy. And on its purported sustainability, he offers: "Let's face it: What's the percentage of people on the planet who are concerned by this? It's a very small minority, and in this minority, who is concerned about makeup and lipstick? It's a really niche market." Which is a refreshingly honest perspective in a woke era where everyone just wants to jump on the sustainability and inclusivity bandwagon, often neglecting the real cause and effect.
So what do you do when you purchase this gorgeously expensive bullet of colour, poise and pedigree? You'd want to show the world through Instagram, right? To which Hardy replies: "Instagram beauty is a mass beauty, which means everyone looks identical. Everybody's makeup is the same, really contoured to look good on social media but not in real life. Hermès Beauty is the opposite of this. It's for people who don't want to look like a living emoji."
Never a truer word spoken. And if this lipstick lives up to that promise, that pop of colour might just reveal your real inner beauty. Now, are you ready for that kiss?
BEAUTY IS A GESTURE
Rouge Hermès in Orange Boîte. Cashmere and silk scarf, Hermès
OPPOSITE: Rouge Hermès in Rouge Casaque. For a perfect pout, wield the lacquered wooden lip brush to trace the shape of your lips before filling in with colour.
Fantaisie Botanique silk scarf; leather jacket, Hermès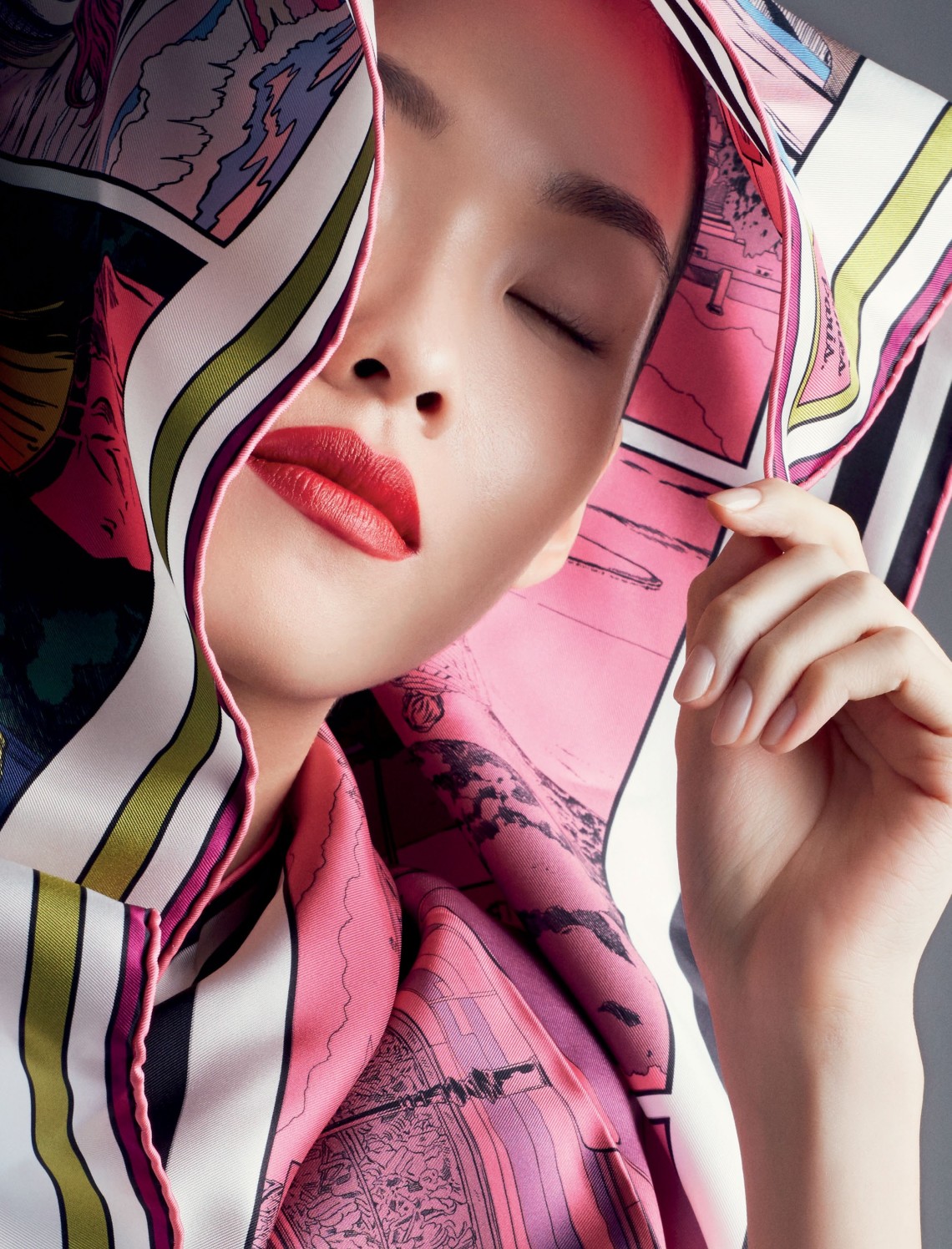 SENSORIAL SANGRIA
Rouge Hermès in Rouge H. Melding warm and cool undertones, this deep wine red is a universally flattering colour.
Cotton blazer; silk scarf (worn as belt); enamel bracelets, Hermès
OPPOSITE: Rouge Hermès in Rouge Casaque. Wow Double‑face silk twill scarf, Hermès Model: Layla Ong/Basic Models Makeup & Hair: Marc Teng Manicure: Audrey Wee
Assistant stylist: Gracia Phang Photographed by Gan. Styled by Windy Aulia