VIRTUAL MODELS AND INFLUENCERS – 3-D CREATIONS THAT EXIST ONLY IN IMAGES AND SOFTWARE – HAVE BEGUN TO OBSCURE THE LINES OF FICTION AND REALITY. GORDON NG REPORTS ON WHAT IS QUITE POSSIBLY FASHION'S NEXT FRONTIER.
"Wool coat and leather belt, Miu Miu. All other accessories, artist's own creations"
Whether you're an industry insider or not, when one looks at a fashion image, questions about its reality tend to arise quite simply because fashion is built so much on a hyper-extended version of the world. Runway outfits are styled not for real life, but a form of artistic messaging, for example. When hair and makeup are referred to as "editorial", it insinuates that F 54 they've been created for the pages of a magazine and not for, say, wearing to an office. And when photos are heavily retouched to perfection, it's often perceived as fashion's attempt to elevate the mundane and realise an ideal.
These days, however, one could well be looking at an image of a model and realise that its layers of simulation and reality (not to get into a Baudrillard spin here) have been completely flattened: Enter the world of virtual models.
The biggest names so far are perhaps Lil Miquela and Shudu; the former a virtual avatar styled after modern day social media influencers, and the latter a high fashion model working in the style of Ajak Deng. What they have in common: Neither of them actually exist – they're both works of fiction that exist only in a digital space, thanks to the hand of their makers.
There's a case to be made though that, while virtual, these avatars are very real. Lil Miquela is wildly popular, and fashion brands have caught on to that – she participates in magazine shoots and gets invited to Prada shows. Shudu, meanwhile, has a Balmain campaign under her belt. Not bad for two girls with no corporeal bodies.
In Singapore, more seem to be getting in on the action. Among them: the content creator Nicole Wong, photographer Shavonne Wong and recent Lasalle College of the Arts graduate Reyme Husaini. Each creating imagery featuring their virtual models (complete with their stats) in runway pieces from the new season for Female – the avatars' Fall/Winter 2020 magazine debut, so to speak – they shed light on how their make-belief digital characters can be an empowering thing.
Ava by Reyme Husaini
Height:172cm Bust:34" Waist:25" Hips:35" Hair:Medium Ash Brown Eyes:Dark Brown Shoes:EU38
Reyme Husaini created the virtual influencer Ava while working on his final year project at Lasalle College of the Arts in the Fashion Media and Industries program. Completely self-taught, he's only had a year of experience working with 3-D design, and describes the uphill process of learning three different software as "blood, sweat and tears". "I felt like I was out of my league," he tells us.
His idea to create Ava was born from a fascination with the idea of online influence. "Millennials and Gen Z are so digitally savvy, and they consume information every day, so it was like, what's next?" he explains. That led to research into existing virtual influencers, and a look at celebrities on social media. The difference with Ava, however, is that Husaini intends to use her platform and voice – however crafted – for good.
Ava's personality was created after conducting a survey of what his peers expect from a virtual influencer. The results: She/he ought to be stylish, up-to-date with trends, relatable and – crucially – one who's socially and politically inclined to use his/her voice. The idea of a crowdsourced personality might sound insidious, but who among us can claim to not be influenced by the company we keep anyway?
When asked about the thin line between what's real and not, Husaini says Ava is "not exactly fooling anyone. The idea is about mocking what social media has become and the idea of a simulation, like Black Mirror, and about the advancement of tech."
Lilium by Shavonne Wong
Height:186cm Bust:32" Waist:24" Hips:34.5" Hair:Brunette Eyes:Green Shoes:EU38
3-D modelling and design is a bit of a full-circle moment for Shavonne Wong, who studied IT in polytechnic (learning, briefly, some 3-D techniques) before becoming a fashion photographer. "When I was younger, I wanted to be an animator in Pixar. I've always loved the creative freedom the 3-D world provides," she says.
She's parlayed a decade of photographic experience and knowledge into considered creative choices: focal lengths, lighting choices and the most flattering angles that can elevate her renders. There are, she says, similarities between the two practices – except perhaps that 3-D now gives her more time for decision-making. She's even launched Gen V, an agency that represents her avatars.
Wong's style of design and rendering is life-like. It approaches the hyper-perfection and polish that a computer generated image has – glassy skin, not a hair out of place – then dials it back a notch for a semblance of reality. Her models have visible pores and their skin is made to appear textured like a real person.
The model in this photo is Lilium, a completely ground-up creation. Wong composites the features of her models from various people in real life. "One of the beauties of virtual models is that they can be tweaked and adjusted, and inspiration can be sourced from across the world," says Wong. "The objective isn't to replace humans or to overly simplify the form, but to create virtual models that celebrate human diversity."
Wool jacket, silk fringed skirt and leather belt, Prada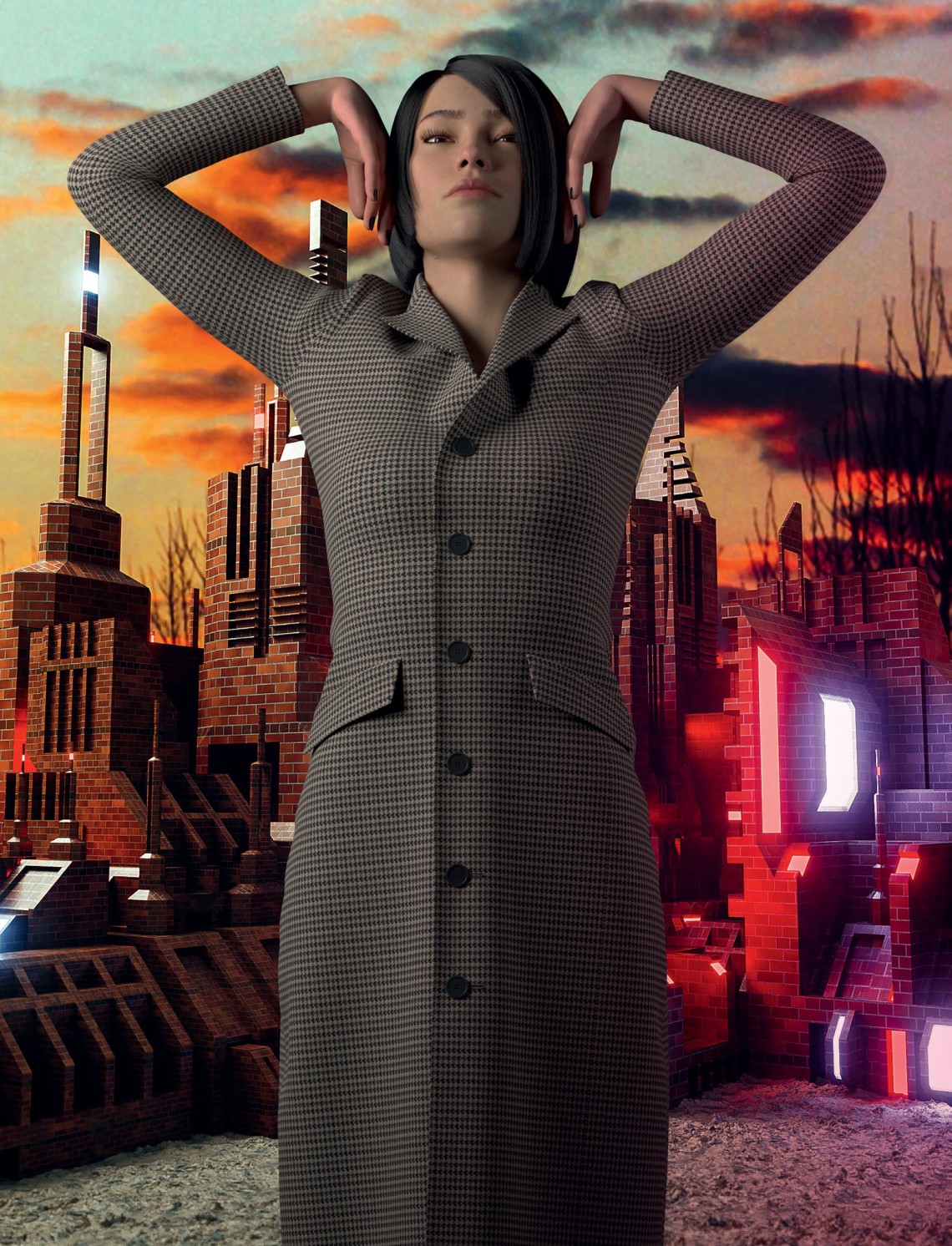 Wool coat, Balenciaga
Aeon Lou by Nicole Wong
Height:171cm Bust:32" Waist:25" Hips:37" Hair:Dark Brown Eyes:Brown Shoes:EU40
Nicole Wong is no stranger to the worlds of fashion, modelling and influencers – she's done all of that as herself, IRL. Of late, though, she's moved into a more boundary-breaking space of combining technology with fashion in content creation.
Before creating 3-D models, Wong had already begun to explore the interface between technology and fashion. Using the open-source Spark AR (augmented reality) software from Facebook, she had started work on creating filters for Instagram. There are Marc Jacobs-inspired makeup looks, sci-fi settings, and a host of other playful effects, accessible through an app and a front camera.
Wong is almost prescient in embracing the sort of technological advances that might threaten digital-native creatives. Rather than focus on the trite worry that 3-D models and influencers might put their real-life counterparts out of work, she's instead championed and led the charge for incorporating it in her work. In creating Aeon Lou, Wong says she drew inspiration from "independent women that I look up to, who aren't afraid to be who they are." 
On the canny crossover between real-life and the virtual. "I actually like it," she says. "We're all creating how we want people to see us – the idea of what they want from us." And the more gleeful upside of a virtual model? Fewer limitations. "They can be in Europe and outer space at the same time."