SO WE MIGHT NOT ALL RESEMBLE RUNWAY MODELS OR, LIKE THEM, HAVE A CREW ON HAND TO DOLL US UP, BUT WE CAN GET ONE SECRET TO NAILING THEIR BEAUTY LOOKS.
SO WE MIGHT NOT ALL RESEMBLE RUNWAY MODELS OR, LIKE THEM, HAVE A CREW ON HAND TO DOLL US UP, BUT WE CAN GET ONE SECRET TO NAILING THEIR BEAUTY LOOKS. MOH SHUYING GETS THREE OF THE INDUSTRY'S MOST CELEBRATED MAKEUP ARTISTS TO SPILL ON THE PRODUCTS THEY USED – AND ALWAYS SWEAR BY – FOR THE RECENTLY CONCLUDED FALL/WINTER 2020 SHOWS.
Thanks to its creative and image director Peter Philips, Dior Makeup is one of the few brands that have turned the products its pros use backstage at fashion shows into a full-fledged line aptly dubbed Dior Backstage and introduced in 2018. It means that Philips often starts off with the same routine for each presentation: first a layer of the all-in-one Backstage Face & Body Primer that promises to hydrate, blur imperfections, mattify, boost radiance and lend a plumping effect; followed by the Dior Backstage Face & Body Foundation that's known to instantly cover up flaws. His next must-have is a concealer – in the case of Dior's Fall/Winter 2020 show, he opted for a touch of the Dior Forever Skin Correct Concealer. Launched in stores last month, it's a creamy yet weightless fluid formula said to immediately hide undereye circles and blemishes without settling into lines. The resulting look: a clean, natural and flawless complexion. To complement a ready-to-wear collection big on attitude, he then focused on the eyes, combining the flexible, felt tip Diorshow On Stage Liner in #091 Matte Black and intense Diorshow Khol pencil in #099 Black Khol to heavily rim peepers and evoke power women of the past. Silk-blend jacket and cotton shirt, Dior 
A favourite collaborator of some of the world's most playful and independent-minded fashion labels, Nars Cometics upped the fantasy for party wear specialist Rixo, which teamed up with Christian Lacroix for Fall/Winter 2020, but first, the prep. Nars global makeup artist Vincent Ford likes to rely on a mix of Nars' Aqua Gel Luminous Oil-Free Moisturizer that not only hydrates, but also has a Light Reflecting Complex that imparts a youthful luminosity and the brand's Tinted Glow Booster, which has a soft-focus effect and helps makeup stay on for up to 16 hours. Drawing inspiration from the flamboyant Lacroix's shows in the early 2000s, he then put a dramatic, doll-like spin on smoky eyes with – get this – Nars' cult Blush. His choice of shades: the shimmery red brown Savage and satiny deep brown Aroused, two of the 10 new hues recently added to this range of intensely pigmented yet lightweight and blendable cheek colour. Here, we went for a prettier alternative, playing with pinks such as Mata Hari and Amour with a flush to match. 4 Moncler Simone Rocha nylon and tulle coat, Moncler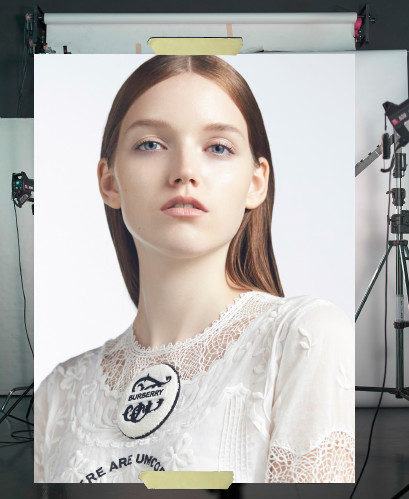 "Mother of makeup" Pat McGrath has been Riccardo Tisci's go-to cosmetics guru for years. That he wanted to keep the models' faces simple for Burberry's Fall/ Winter 2020 show, in which he reflected on his formative years as a designer, was no different. To express this idea of going back to fundamentals, McGrath used a small amount of Burberry's Fresh Glow Foundation – a lightweight, natural-looking base with "mirror-flat" reflecting pearls to enhance luminosity – and the brand's Cashmere Concealer, known for its creamy, melt-into-skin texture to even out skin tone. To complete the look dubbed the "Burberry Glow", she turned to one of the most iconic staples in the Burberry show makeup arsenal: the Fresh Glow Highlighting Luminous Pen that makes strobing and illuminating a synch with its universal shade and ultra-smooth texture, dabbing it onto the Cupid's bow, nose bridge and corners of the eyes. (Fun fact: The pen was originally created for shoots and shows, but was made available for sale after models kept making away with it.) Lace dress and silk satin bustier dress, Burberry 
As founder and head booker of Basic Models Management, Bonita Ma (third from left and dressed in a Miu Miu skirt suit and 8 Moncler Richard Quinn pumps), has helped prove that home-grown models have what it takes to front international runways and campaigns. Among her brood that's going places are (from left) Gucci and Rodarte runway regular Layla Ong in a Prada sweater and skirt and Miu Miu boots; Kaci Beh, who's walked for the likes of Emporio Armani and Dolce & Gabbana, in a Miu Miu coat, shirt and pants, and 8 Moncler Richard Quinn pumps; and Nicole Liew, who made her Milan Fashion Week debut in February, in a Miu Miu gilet, shirt and skirt, and Prada Oxfords.
HAIR & MAKEUP MANISA TAN / PALETTEINC, ASSISTED BY ZIWEI YANG MODELS KIM WESSENDROP/MANNE QUIN & VALERIA MURZINA/AVE
PHOTOGRAPHY VEECHIN STYLING IMRAN JALAL