Haute couture – the pinnacle of dressmaking – is a rarefied world of great expense and extravagance that is as necessary as it is indulgent, especially in these crazy times. Gordon Ng delves into the fantasy.
Haute couture – the pinnacle of dressmaking – is a rarefied world of great expense and extravagance that is as necessary as it is indulgent, especially in these crazy times. Gordon Ng delves into the fantasy.
Inspired by the tattooed ladies who made popular circus attractions during the Victorian era, this intricately beaded mini dress from Dior's Spring/Summer 2019 Couture collection brings new meaning to the term "needlepoint". 
It's an understatement to say that haute couture isn't meant for most of us. The inbuilt exclusivity of those hand-sewn garments, at costs starting upwards of five digits, naturally precludes participation by purchase. Instead, haute couture opens up the eyes to imagination, ideas and fantasy. 
Pierpaolo Piccioli'Pierpaolo Piccioli's triumphant show of colour and deft workmanship that gave lightness and modernity to lavishly decorated, voluminous gowns earned him a standing ovation at Valentino's S/S '19 couture show.
Because it isn't – strictly speaking – necessary, it fulfils the important role of providing the ideological inspiration that keeps creative flames alive. If ready-to-wear provides the response to a pragmatic need to get dressed, then couture responds to the human need to dream. This is especially significant at a time when the notions of high fashion are being rewritten to include four-figure T-shirts and running shoes; the pedestrian being arbitrarily elevated to luxury.
Dior's signature gauzy dresses get an even dreamier makeover with ruffles and embellishments such as sequins inlaid into skirts in the brand's couture line.
At Givenchy, creative director Clare Waight Keller juxtaposed the clean, sharp lines of men's tailoring with light, sculpted volumes, monotone with vivid primary colours, and traditionally luxurious fabrics with latex to create a new and wholly modernist vision of couture, though craftsmanship remains a cornerstone. 
Take for instance Valentino, which is heralding a couture renaissance under the masterfully modern eye and light touch of Pierpaolo Piccioli. The label's Spring/Summer 2019 couture collection was an operatic peak of beauty, treating classical tropes of elegance – feathers, frills, flowers, generous volume – with complete contemporaneity.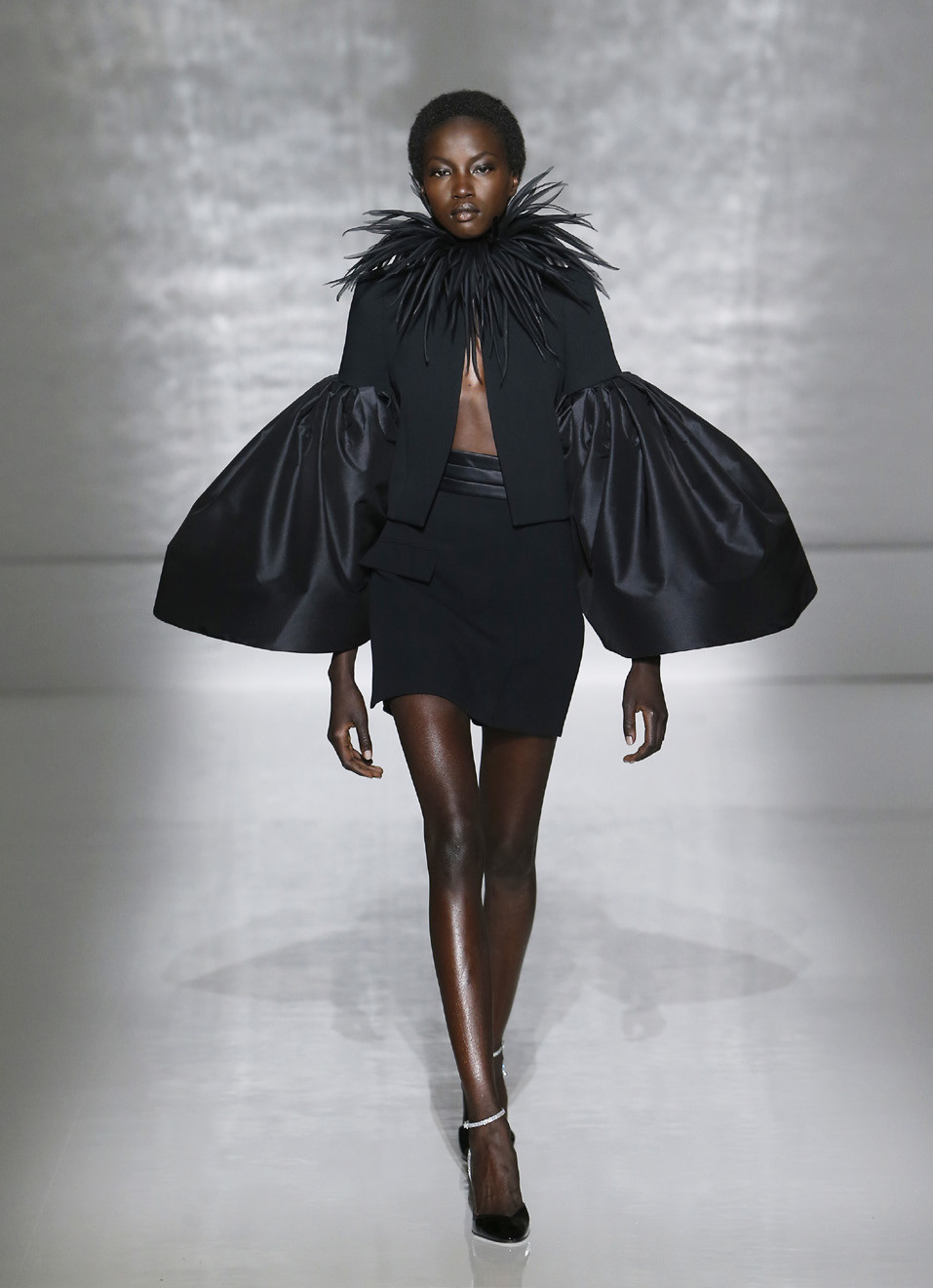 The latex bodysuits and leggings – created in collaboration with London-based specialist atelier Atsuko Kudo – were bespoke and took days to complete, while the sheen on some of the pieces was the result of hand-powdering fabrics with paillettes.
The airiness of the collection's sumptuous, floor-trailing tiered gowns was impressive, belying the complexity of construction and man-hours they had called for. According to Vogue.com, the narrow ruffles on one diaphanous organza and lace gown were rolled individually by hand and finished with stitches so delicate, they're hardly visible. (Total time it took to make this dress: a reported 1,050 hours, or almost 44 days.) Adding to the buoyancy: bold, energetic bursts of solid colours spanning Matisse blue to shocking pink to fully sequinned chartreuse green, and a pastiche of garden blooms in similarly joyous tones.
Haute couture can often come with a lot of heavy, embedded history that can weigh designers down. So it was equally refreshing when Clare Waight Keller chose a tabula rasa approach to her Spring/Summer 2019 collection for Givenchy, symbolically casting off dated associations of the house.
The result was a collection fuelled by tensions between soft and hard, old and new. Razor sharp tailoring and modernist latex by Japanese specialist Atsuko Kudo provided a cool edge, tempered by traditional and feminine couture elements. This came through in a Klein blue look with a cropped tailcoat worn over a skirt made of embroidered floral applique and Chantilly lace; and another with a men's waistcoat cut sexily and dramatically low, worn with a layered, pleated skirt in  pure white. 
The savoir faire that went into Chanel's S/S '19 couture collection was as breathtaking as its refreshing play on bell skirts and balloon sleeves. Highlights included the creation of every horizontal blind tuck on the dresses by hand, as well as the use of real flowers immortalised in resin as decoration.
These juxtapositions of the feminine and masculine similarly drive the house's ready-to-wear, but it's in the couture that the ideas are explored to their fullest. Think of the perfume analogy that John Galliano once used to explain haute couture's influence: a parfum essence at the top, travelling downwards and thinning out for more commercial collections and products. By the time one gets to the ready-to-wear, accessories, and cosmetics, the ideas have been distilled enough so that they're suitable for everyday. 
Explosions of tulle and all-over sequins added dramatic romance to Armani Prive's S/S '19 Art Deco-inspired couture collection,  while more "practical" silk suits were as ornately detailed inside as they were on the outside.
There's a lot of debate these days about the relevance of haute couture, which is naturally steeped in astronomical privilege. But without the heart and soul of couture, the fashion industry would conceivably be crueller and more corporate-driven than it already is today. Perhaps it is precisely because most of us are not meant to buy haute couture that its creativity and spirit can exist beyond sales figures. How's that for a living dream?
PHOTOS All Dior Photos Ines Manai; Chanel Photos Benoit Peverelli