Your forehead is usually shiny so you must have oily skin, right? Not necessarily. Find out your true skin type with this guide, then follow the tips to kick-start your New Year with fabulous skin.
Your forehead is usually shiny so you must have oily skin, right? Not necessarily. Find out your true skin type with this guide, then follow the tips to kick-start your New Year with fabulous skin.
Dry as a bone Symptoms:
Small pores, flaky patches, rough texture, feels tight after cleansing
Your skin prescription:
Opt for a gentle, soap-free cleanser to retain moisture, and swap toner with a hydrating lotion instead as the former can sap moisture from thirsty skin.
Swap granular scrubs for gentle chemical exfoliants with lactic acid once a week, as lactic acid binds moisture as it exfoliates.
Use a nourishing treatment oil to replace the oil in your skin. Warm it in your fingers and softly press it onto your face and neck.
Use an oil-based moisturiser with ingredients like avocado, rosehip and macadamia oil to strengthen the skin.
Avoid ingredients that weaken your skin, such as alkaline soaps, alcohol-based toners and hydroxy acids.
WHY, WRINKLES? WHY?
Wrinkles: the one word that can make women worldwide shudder in unison. The key to keeping them at bay? SPF. Rather than use a singlepurpose sunscreen, you may want to opt for multitasking moisturisers that offer sun protection on top of hydrating your skin, since they're more convenient. Just remember that, as with all sunscreen, you'll still need to reapply it throughout the day to stay protected while you're out and about.
You're a lil' oily, a lil' dry
Symptoms: Shiny T-zone, enlarged pores, blackheads
Your skin prescription:
A pre-cleansing oil followed by a gel-based cleansing wash. Pay attention to the T-zone, which is most prone to oiliness.
A clay-based mask twice a week to keep excess oil at bay.
A matte lotion on the T-zone to reduce excess oil and shine.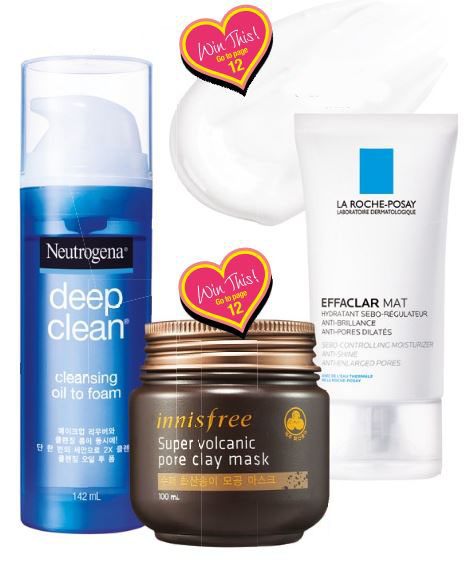 You're a tad sensitive
Symptoms: Redness, tight and warm feeling, skin irritations, broken capillaries
Your skin prescription: 
Choose a mild, soap-free cleanser that contains calming, soothing ingredients.
Exfoliate once a week with a product containing salicylic acid or lactic acid, or digestive enzymes like pineapple or papaya, which break down the structure of dead skin cells.
Choose moisturisers with glycerin and antioxidants to help calm and shield the skin from the environment and moisture loss. 
Apply a hydrating gel mask for 10 minutes, twice a week. Pick one with anti-inflammatory extracts like cucumber, marshmallow and wheat germ.
STRETCHED TO THE LIMIT
Stretch marks occur when (surprise, surprise) your skin is over-stretched by things like growth spurts, pregnancy or rapid weight gain. They're scars in the purplish-red lower layers of the skin, which eventually fade to become silvery, shimmery lines. Prevent these bad boys by eating healthy and using massaging creams and oils to improve the skin's elasticity.
LED light therapy treatments are also effective ways of reducing the appearance of stretch marks, and will help to prevent them from developing into unsightly scars. Intense pulsed light (IPL) therapy can diminish redness, but won't make the marks disappear.
Your skin is scaly like a snake
Symptoms: Skin feels tight, dry and cracked; flaky, rough skin; eczema patches on various parts of the body
Your skin prescription:
Look for soap-free body washes to avoid exposure to irritants.
For eczema sufferers, the bad news is there is no cure for this skin disorder. However, there are ways to treat it and minimise occurrences.
Topical steroids are often recommended to treat eczema flare-ups but are offered as short-term solutions as there may be side effects.
Increase your intake of omega-3 fats by eating foods like sardines and salmon to help normalise your skin fats and keep your cells plump and hydrated.
Keep skin barrier healthy by moisturising regularly, especially after showering, which may have stripped the skin of its natural moisture.
BACK AWAY, ACNE
Ugh, bacne – the reason why we can't wear backless dresses and will go for tees over singlets. Bacne is caused by hormonal imbalances in the body – same as acne. Keep the area clean with an antibacterial cleanser and exfoliate with a hydroxy acid two or three times a week, avoiding scrubs. If there are large spots that are really problematic, apply a spot treatment. Remember to keep the area clean at all times – if you've been sweating, have a shower, stat.
You're balanced (and blessed)
Symptoms: Skin feels even, minimal lines or wrinkles, even tone
Your skin prescription:
Keep it simple with a foaming cleanser or cleansing water, and if you need a hit of moisture during the day, spritz a hydrating mist.
An antioxidant-rich rejuvenating serum and lightweight moisturiser are the perfect team to cover you for both day and night.
Use a product with retinol (a form of vitamin A) at night to keep skin healthy, and a granular scrub once a week to remove dead skin cells.
You're a ball of shine
Symptoms: shine on T-zone, blackheads and whiteheads, open pores
Your skin prescription:
Oily skin looks worse if you don't keep it clean. Cleanse your skin in the morning and at night with a pH-balanced foaming cleanser. Avoid anything with high levels of glycolic acid and benzoyl peroxide as they can be very drying and can lead to peeling and irritation.
Try to use an alcohol–free toner regularly as well as a light, oil-free moisturiser.
Exfoliate with a granular scrub once or twice a week to unclog pores and prevent spots from surfacing.
Apply lightweight and oil-free sunscreen daily.
If the oil build-up is extreme, consult your GP.
Acne: what's the deal?
Symptoms: Whiteheads and blackheads; small, red and tender bumps and pimples with pus at the tips
Your skin prescription:
Blackheads and whiteheads are the most common types of acne and can be treated with products containing benzoyl peroxide or salicylic acid.
Inflamed spots (aka papules and pustules) can be treated with topical or oral antibiotics prescribed by your GP.
If tender pimples appear around the same time as your period, it's probably hormonal acne.
Adult acne could be caused by chronic stress and unhealthy lifestyle habits. Salicylic acid, tea tree and benzoyl peroxide can help fight adult acne. It's always best to consult your GP if your acne is troubling you. However, severe acne as an adult can be a sign of polycystic ovary syndrome (PCOS) – a hormonal imbalance that causes an overproduction of male hormones, resulting in acne and oily skin.