WELCOME GENERATION BUY-ANYWHERE. FLIP AND SCROLL THE FRESHEST FINDS OF FALL 2019.
BE A DOLL
We like short skirts with a long jacket. Wear a cartoon sweatshirt or go for gold with hardware, and pick the right footwear pair.
On Emilia, long jacket with embroideries, Trolls wool pullover, Trolls wool miniskirt, all from Moschino; kitten heels, Manolo Blahnik; socks, stylist's own.
On Stella, dress with metal chain and dollar sign appliqués, Moschino; utilitarian boots, Prada
FAN FICTION
Frankenstein and Elizabeth Lavenza meet Darth Vader, a sci-fi fantasy takes over.
Dress, and bag, all from Prada; thigh-high printed boots, Longchamp 
STRONG SUIT
Power dressing meets oversize and high saturation this season. Make that paper and suit up like a #boss.
Striped blouse, suit and heels, all from Salvatore Ferragamo; bag, Pinko; Moonsun Limited Edition brooch, Atelier Swarovski by Penelope Cruz
SWEET PURSUIT: TAILORING THAT'S SMART AF WITH THE SHARPEST FINISHING TOUCHES.
LIKE TINTED GLASS
Business on the top, party on the bottom. Strong shoulders and feminine pleats mean add to cart.
Double breasted blazer and sequin pleated skirt, all from Pinko; sneakers, Longchamp
CLASP BACK
Dainty and sparkly, a gorgeous slide will make you shine bright.
Monsoon Limited Edition hair clip, Atelier Swarovski by Penelope Cruz 
PEPPER CHALLENGE
A sturdy, structured shape and clean lines make for a perfect bag for day and night.
Ferragamo Boxyz bag, Salvatore Ferragamo 
AT ATTENTION
Throw us a bone — Herringbone and modern draping make for an empowered work look.
Long jacket and pants, cropped knitted top, all from Michael Kors; booties, Manolo Blahnik; bag, Longchamp
CHOKED UP
Sleek, minimal and luxe. Invest in a statement choker that will dress up any neckline.
Fluid choker, Atelier Swarovski 
WHAT'S THE POINT
Look forward in a classic reimagined. Wear with neutrals to make a point.
Booties with kitten heels, Christian Dior 
TIME TO PLAY: FROM HIGH-LOW HEMS AND OFFBEAT HIMHER STYLING, KEEP IN CHECK WITH THESE PICKS.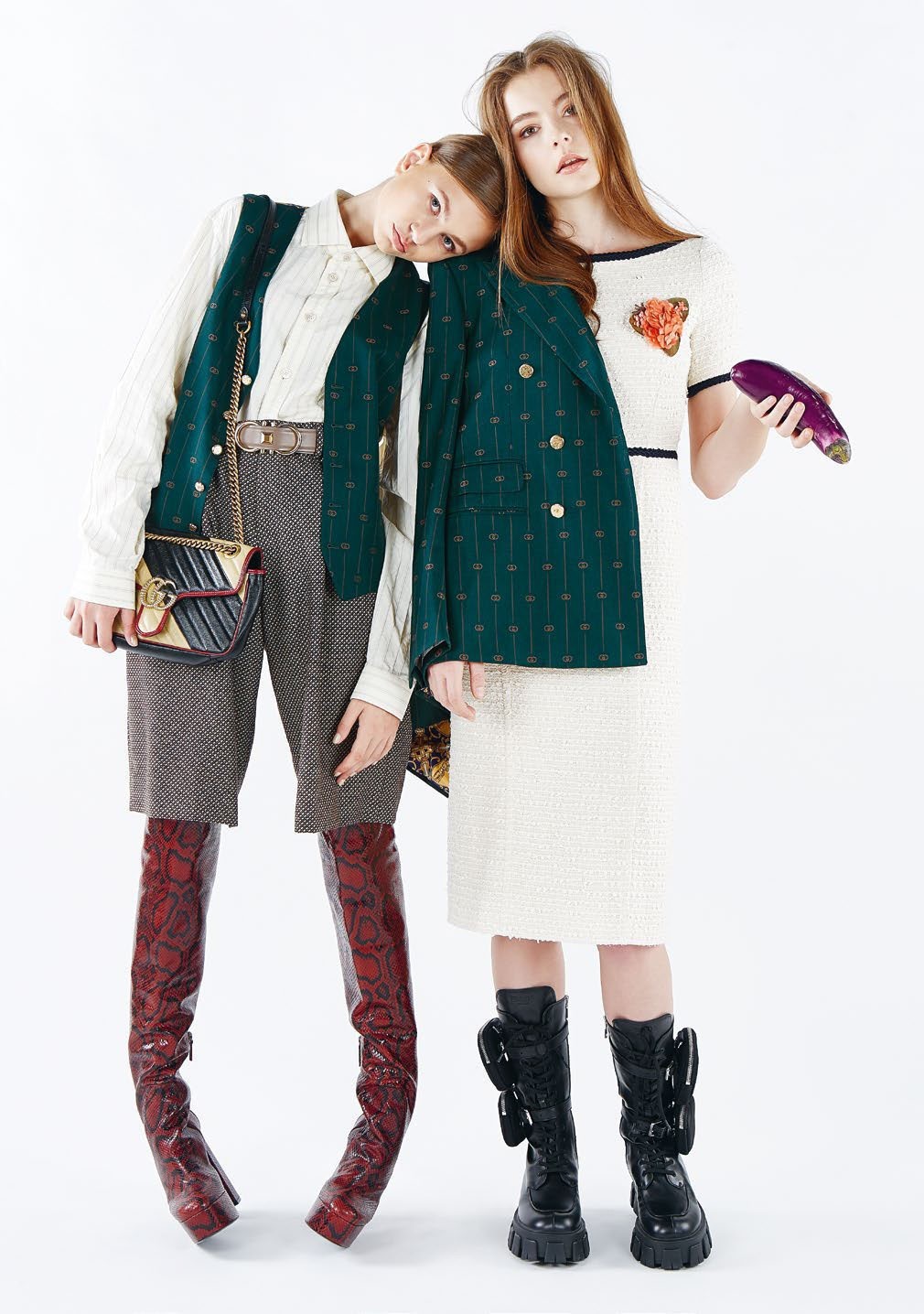 TAG THE SQUAD
Stand in the style hall of fame with varsity-prep dresses and nostalgic school blazers and waistcoats, done in big boots.
On Emilia, pinstriped shirt, shorts, gilet, and Marmont bag, all from Gucci; python thigh-high boots, Longchamp; belt, Salvatore Ferragamo.
On Stella, blazer, dress, and floral appliqué brooch, all from Gucci; utilitarian boots, Prada
NEW CLASSIC
A timeless shape reimagined. Express yourself with a bring-everywhere bag in snake-effect studded leather.
Mademoiselle Serpent D'Eau Hobo bag, Longchamp 
POP ART
Take on the night in sky-high booties and artful takes on colour and pattern.
Booties in muticoloured print, Manolo Blahnik 
CHECK YOURSELF
Never get wrecked with checks and tartans which are here to stay this season. Reimagined in an oversized, menswear-like parka, when it rains you'll shine.
Knit polo tee, oversized tartan hoodie, pleated tartan tulle skirt, all from Christian Dior; python thigh high boots, and bag, both from Longchamp
BRAND CONSCIOUS: WORK TO PLAY WITH LOGOS AND  SIGNATURE LOOKS IN THE SIMPLEST COLOURWAYS.
GOOD GOURD
Ultra-modern chunk and sporty designs are now a wardrobe mainstay. Invest in a must-have.
Freeminder sneakers, Longchamp 
MORE THAN AN ICON
A classic in the perfect size, sling on a denim-leather combo that's meant for day and night.
Mademoiselle denim hobo bag, Longchamp 
MONO MANIA
Make way for easy monochrome twopieces that aren't #OTT and last forever.
On Emilia, leather jacket (worn as shirt), cropped jacket, and leather pants, all from Longchamp; booties, Christian Dior.
On Stella, leather jumpsuit, sneakers, and bag, all from Longchamp
SQUARE ONE
Back to school! Hit purchase on casual comfort.
Sweater dress + pencil skirt = style points.
Flag logo sweatshirt dress, and knit striped pencil skirt, both from Tommy Hilfiger; earring, Atelier Swarovski; utilitarian boots, Prada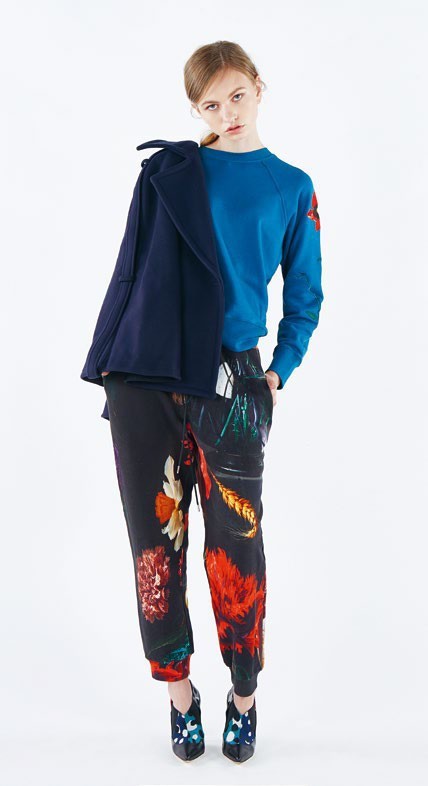 PATTERN PLAY
Your outfit is a canvas. Paint it with warm floral prints and cool blues as an homage to autumn.
Knit pullover, printed pants and jacket, all from Paul Smith; booties with prints, Manolo Blahnik
Art Direction Mils Gan Grooming Artist Kah Yean Styling Assistant Lim Lee Ann, Yap Jin Wen and Hanan Khair Models Emilia Korona/ICON Models and Stella/Tangerine Models
Text, Creative Direction & Styling Voon Wei Photography Muhammad Zulfikry CLEO.CO