Songstress, actress, advocate, philanthropist and entrepreneur – is there anything Demi Lovato can't do?
Songstress, actress, advocate, philanthropist and entrepreneur – is there anything Demi Lovato can't do?

Just like Justin, Britney, Christina, Keri Russell and Ryan Gosling – who collectively formed the famed Mickey Mouse Club of 1993 – Demi Lovato's entry to showbiz saw her joining the Disney Channel's ranks alongside several future superstars. Do the names Miley Cyrus, Selena Gomez and Nick, Joe and Kevin Jonas sound familiar?
Back then, if you'd pitched Demi against Miley's Hannah Montana or Selena's Alex Waverly, you probably wouldn't have guessed that the one who'd end up with the most enviable life would be Demi Lovato. But at a time when her fellow Disney graduates are nabbing headlines for the latest hiccup in their love lives, or their eyepopping stage antics,
Demi's life seems like a refreshing oasis of calm in comparison: not only does she regularly top the charts and play to sold out shows, she is also a socially conscious superstar, in a stable relationship with her boyfriend, Wilmer Valderrama, and has launched her own line of skincare – Devonne by Demi – to boot.
Like a Skyscraper
But first, there is the music. Declaratively titled Demi, Demi's fourth album saw her returning to more familiar rock/stadium-pop territory, after experimenting with a more R&Binfused sound with her third album, Unbroken. With a three-octave range, Demi's soprano voice is widely acknowledged to be one of the best in pop, and whether it's soaring over electrifying dancefloor-ready anthems like "Neon Lights" or showcasing wounded vulnerability on more tender emotional ballads like "Shouldn't Come Back", Demi certainly did those famous pipes justice.
But more than that, Demi also co-wrote 10 of the 13 tracks, pushing the album into more personal territory with songs about overcoming her public struggles, past breakups, and even one about her tumultuous relationship with her father. A sweeping piano ballad, "Warrior", in particular, speaks to Demi's experiences with depression, bulimia and self-harm, with Demi summing up her evolution in the bridge: "A little girl grew up too fast/ All it took was once, I'll never be the same/ Now I'm taking back my life today/ Nothing left that you can say."
Give Your Heart a Break
Those familiar with Demi Lovato's story also know that the popstar doesn't just sing, she uses her voice to give back to causes close to her heart. After her father's death in 2013, Demi opened up about his struggles with mental illness and launched the Lovato Treatment Scholarship to offer financial help to those struggling with mental health or addiction issues.
Having spoken out against bullying since the early stages of her career, Demi also advocates equality and body positivity, an issue that's becoming increasingly important to her as she launches her own line of skincare in the US.
Indeed, scroll through her Instagram feed (@ddlovato) and you'll realise Demi has ditched the popular #ManCrushMonday hashtag in favour of one that's more in line with her take on empowerment – the #NoMakeupMonday selfie. While Demi prefers a heavily lashed, smokey-eyed, contoured look for the stage, these weekly posts see the songstress' skin wiped clean of every trace of makeup.
"I think it's important to be true to yourself, to stay true to who you are, and makeup is totally fine, but it's great to take one day out of the week to appreciate your beauty," shared the artist-turned-beauty-guru on her Instagram. "Just because society tells us that we have to wear makeup, it's not always the case."
"I think it's important to be true to yourself, to stay true to who you are, and makeup is totally fine, but it's great to take one day out of the week to appreciate your beauty."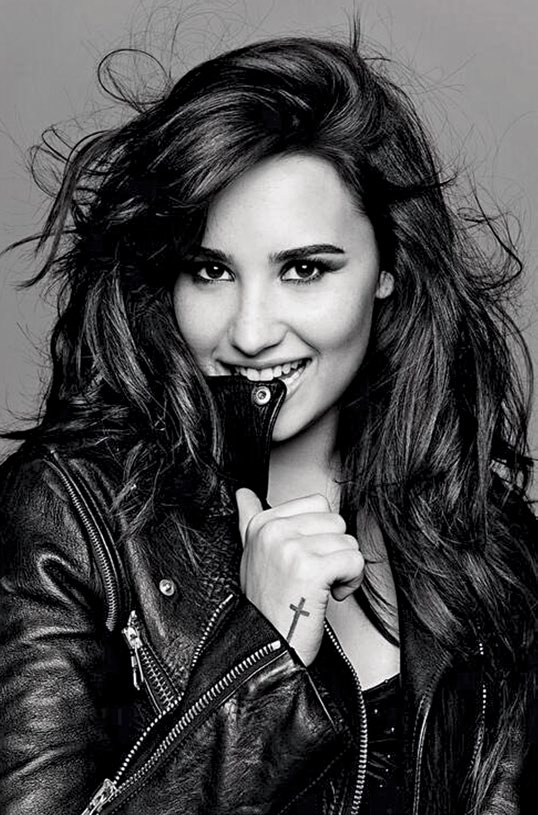 Everybody's Perfect (In Unusual Ways)
Of course, with her flawless, glowing complexion, Demi makes it look only too easy to walk away from eyeliner, concealer and the like. And the credit for her famously gorgeous skin might go to her awesome genes, but Demi's also got a few not-so-secret beauty must-haves up her sleeves – namely her own three-step line of skincare, called Devonne by Demi.
"My passion for skincare came from when I was a young girl; I got a book – it was a spa-type book that came with essential oils and recipes, things that you could pull out of your kitchen and make yourself. I became very fascinated with skincare and that was ever since I was eight or nine years old," explains Demi.
"When I was younger I struggled with body image issues, but I knew that the one thing I could control was my skin, if I took care of it the way that it deserves to be taken care of," she says. "For me, skincare is self-care. This isn't an endorsement deal. And, in fact, a lot of people have asked me, 'Well, why didn't you do an endorsement deal?' I turned them down because I didn't use their products. I'm very authentic to endorsing something that I'm passionate about."
For Demi, that meant building a product from the ground up, with the help of industry experts. And since beauty isn't just defined by the way you look, a percentage of the profits from Devonne by Demi goes back to Demi's Lovato Treatment Scholarship, and helping people who are undergoing the same struggles Demi lived through before.
Somebody to You
There's also nothing that makes you feel quite as beautiful as being in love and, after a shortlived romance with Joe Jonas, Demi's settled into a happy relationship with former Hollywood lothario, Wilmer Valderrama. Though they've been dating since 2010, Demi and Wilmer kept their relationship fairly under wraps until finally dialing up on the PDA this year – "After sharing my ups, putting up with my downs and supporting my recovery, he still never takes credit and I want the world to know how incredible his soul is," Demi wrote on Instagram, "I really wouldn't be alive today without him."
And while we all love a happy Hollywood love story, here's one thing we know – there are plenty of teens and fans suffering from depression, an eating disorder, or being bullied, who might not be alive if it weren't for Demi Lovato – the artist, activist, and role model. And that, if you ask us, is the best kind of love.