Thailand is a fun-filled tropical paradise that has something for everyone. A place where your options are only limited by the amount of time you have to spare. You can lounge by the pool and sip cocktails, or find adventure in the craggy limestone rocks or, better yet, put a little om into your oomph with our top 10 Thai yoga and wellness retreats.
Thailand is a fun-filled tropical paradise that has something for everyone. A place where your options are only limited by the amount of time you have to spare. You can lounge by the pool and sip cocktails, or find adventure in the craggy limestone rocks or, better yet, put a little om into your oomph with our top 10 Thai yoga and wellness retreats.
1 Museflower
Museflower is Chiang Rai's first and leading professional holistic wellness centre and features the country's first Himalayan crystal salt all-natural swimming pool (that means no chlorine).
Offering a hatha-focused yoga retreat, programmes are tailored for the individual depending on the length of stay. Generally, two 60-minute yoga classes are offered daily, once in the morning and once in the afternoon, on some days there will be meditation sessions for 30 minutes following morning yoga sessions. There is also plenty of leisure time when guests can enjoy additional private wellness sessions (choice of additional yoga, tai chi or reiki sessions), a complimentary Hado counselling session and a 60-minute spa treatment.
Museflower's in-house yoga retreat is available all year round and is flexible in terms of start date. The retreat has three-, five- or seven-night programme offerings, but guests can also customise their own yoga retreat programme. www.musefloweretreat.com
2 Island Yoga
Island Yoga is a rustic retreat located on the island of Koh Yao Noi in the Phang Nga region of southern Thailand. The property hosts vacation retreats for all levels of students, offering three-, five- and seven-night programmes that can commence at any time of the year. There are a number of options to choose from, with most classes based in hatha, vinyasa or yin yoga. There is also the opportunity to join yogi adventure outings, workshops and sunrise meditations.
Island Yoga caters to every type of traveller. Accommodation choices range from dorm beds and budget private rooms to their more spacious bungalows with a fan, hot shower and mosquito net, while the air-conditioned bungalows provide a little more luxury. The retreats also allow for plenty of time to relax and to explore this unique island. www.thailandyogaretreats.com
3 Chiva-Som
Chiva-Som is the original wellness destination in Thailand; with a heritage of more than 20 years, the hotel is dedicated to yoga and wellness programmes. That means every hotel guest will choose from the 13 well-designed holistic programmes ranging from cranial relief and cell vitality to intensive yoga programmes.
Located in Hua Hin, the Chiva-Som experience begins with a personal and private health and wellness consultation to help you choose the best programme according to your physical condition and wellness goals. Guests can choose to focus among hatha, vinyasa or ashtanga yoga styles, and each retreat includes three wellness cuisine meals per night of stay, an optional complimentary physical analysis, skin consultation, eight daily fitness and leisure activities, unlimited use of the Water Therapy Suites (steam, sauna and Jacuzzi) and a complimentary daily treatment per night of stay. www.chivasom.com
4 Kamalaya
This resort is built around a cave that has been used by Buddhist monks as a meditative retreat for centuries. Kamalaya follows a fusion of ideas bringing together healing traditions from East and West, healthy cuisine and genuine service in a nurturing environment where guests can explore their true spiritual potential. Kamalaya is located on the quieter end of Koh Samui in the south and offers private one-on-one sessions that includes asana practice (physical postures), pranayama (breathing) and meditation. Programmes are suitable for beginners and experienced yogis alike, as the daily sessions are tailored to each individual's skill level and goals.
Instruction can be adapted to fulfil a range of goals, such as addressing physical limitations, developing a regular home practice or deepening and intensifying existing practice. The yoga practice is further supported by the inclusion of holistic spa therapies, including Ayurveda treatments from experienced Indian therapists. Choose from three-, five- or seven-night packages. www.kamalaya.com
5 Absolute Sanctuary
Situated on a hill overlooking the sea in the secluded northern part of Koh Samui, Absolute Sanctuary provides a tranquil resort where guests are lulled by the sounds of nature and awed by the views of the ocean horizon.
The retreat's Yoga Holiday Programme offers an unlimited choice of daily classes combined with healthy meals and daily massages. Up to 25 classes are conducted a week and covers styles including ashtanga vinyasa, hot, flow, hot flow, gentle flow, pranayama and meditation, yin, yin-yang, hatha, restorative, Pilates, yoga Pilates, yoga core, detox yoga, and their own signature Absolute Hot Series. There are also classes for beginners.
Programmes are available all year round and range from five, seven or 10 days: longer stays are also available upon request. www.absolutesanctuary.com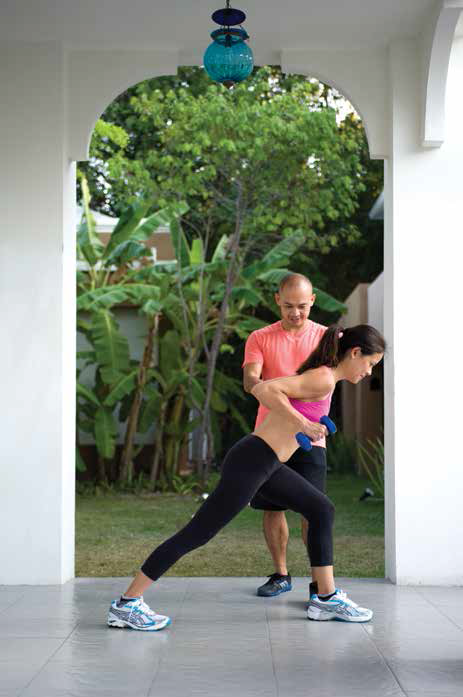 6 Samahita Retreat
One of the world's best-known retreats among yoga aficionados, Samahita Retreat is for those serious about improving their postures and techniques with a signature programme that combines yoga and fitness. YogaCoreCycle is an all-inclusive yoga and fitness holiday option that also includes accommodation, food, yoga, fitness, core and cardio, meditation and breathwork – all directly on the beach. This programme includes three main components: Yoga, which ranges from breathing practices to dynamic asana classes; Core for functional fitness, core and strength work with TRXs, Bosu and stability balls; as well as cardio-heavy Cycle classes. www.samahitaretreat.com
7 Dhamma Suvanna
While not exactly a yoga retreat, Dhamma Suvanna is a unique addition to the list. The retreat here focuses on Vipassana meditation, which means 'to see things as they really are'.
The retreat is located in Khon Kaen city in northeast Thailand, an area associated with a rich Buddhist history with a distinctive Lao-Thai culture where even the food and architecture reflects this heritage. While it is a less familiar part of Thailand to the western world, and an area where the local population speak a dialect closer to their Laos neighbours; make no mistake, this area and its people are proudly Thai.
Vipassana was spread by the Buddha more than 2,500 years ago and was taught by him as a universal remedy for universal ills. This is a non-sectarian technique that aims to eradicate the practitioner from all mental impurities and the attainment of happiness. Yin yoga uses the same approach to the body as Vipassana does towards the mind. Think of it as mental yoga! www.suvanna.dhamma.org
8 The Sanctuary
To many one-time backpackers, Koh Phangnan is better known for its famed Full Moon parties and hedonism; it is perhaps surprising that another side of the island exists after sunrise. As the name suggests, The Sanctuary is the place to go for a bit of respite. The resort is known for its detox programmes, which also include three sweat-inducing yoga classes a day. Some will come to The Sanctuary just for the yoga programme. Focused, static asanas and concentrated breathing is the theme here, with the aim of unifying the body and the mind.
Flanked by lush, tranquil forests and facing the sea, The Sanctuary is located on its own little spot on Hat Thian beach on the island of Koh Phangnan, which is one boat trip away from its more famous neighbour Koh Samui. The resort caters to those looking to return to yoga basics, and to all budgets. www.thesanctuarythailand.com
9 The Pavana Chiang Mai Resort
The Pavana Chiang Mai Resort prescribes to the 'Five Habits to Longevity', a philosophy that combines elements of cleansing, eating properly, exercising, breathing and mind-purification.
The Pavana offers a number of yoga holiday packages for different types of travellers. The Yoga Holiday is an eight-day, seven-night package designed for relaxation; it is ideal for beginners, and seven classes are included in the stay. The Yin Yoga programme provides a deep dive into yin yoga over a four-day period, with 13 hours of practice included. The Om Yoga Retreat has a distinct focus on asanas and breathing, with eight hours of practice over four days and three nights. The Deeper Into Yoga programme is a five-day retreat with 13 hours of private hatha-vinyasa yoga instruction. www.thepavanachiangmairesort.com
10 Yoga Elements Bangkok
Probably the most highly rated yoga studio in Bangkok, Yoga Elements is not actually a retreat, but then again, it is located at Sukhumvit Soi 13 in the heart of Bangkok, surrounded by world-class hotels and within walking distance from BTS Nana.
There are many instructors with diverse yogic and cultural backgrounds. Yoga Elements offers both traditional styles such as ashtanga, vinyasa and yin yoga as well as modern derivations. An advanced studio, Yoga Elements is known to take a thoughtful, combined approach to their teachings. Up to 10 classes are available each day, beginning in the early morning all the way until the 8pm class. www.yogaelements.com