The region offers many great places to visit, and an even greater selection of vessels to make your boating holiday perfect.
The region offers many great places to visit, and an even greater selection of vessels to make your boating holiday perfect. 
THERE ARE MANY MYTHS when it comes to boating. One is that you need a lot of money to do it. Not true, although it can be an expensive venture. Chartering is an age-old tradition of simply hiring out a boat, much like renting a car has become commonplace over the past 50 years.
Sure, there are yachts being chartered that cost upwards of US$500,000 a week to rent but there are many others out there that cost a fraction of that amount. Like anything, set a realistic budget and there are sure to be several options and destinations to choose from in Asia.
Experience is important. You want to know if the Captain and crew have the skills, knowledge and boat necessary to keep you safe and make the trip enjoyable. Even a half-day island tour can go wrong quickly if there are lack of experience or boat maintenance issues involved.
The Reasons
There are as many reasons for chartering a boat as there are fish in the sea. Some want to learn how to sail, others want to enjoy a vacation with family and friends, or visit the Komodo dragons in Indonesia. Whatever the reason, you've made a good choice. Some have called their yacht charter experience the best vacation ever. Quite a few end up buying their own boats. Others have tried sailing for the first time, and it has become a lifelong pastime. The important thing is to get out there and give it a try.
The Destination
One of the most important decisions to make is figuring out where you want to go, and when. It makes no sense to visit Antarctica in the middle of winter there, or try to sail through the beautiful Andaman islands in monsoon season. Luckily, year-round in Asia there are fantastic locations just waiting for your footsteps to make tracks on pristine beaches, hiking trails, and dirt paths.
And many companies are out there with helpful advice, and itineraries, so that you make it to the right place, at the right time. After all, in some cases they have sailed these routes in Asia for several decades. They know where to go, and when. All you have to do is step aboard, and enjoy.
Thailand
Cruising the hundreds of paradise islands around Phuket is one of Thailand's most attractive yachting offerings. Simpson Yacht Charter, a boutique charter company run by Simpson Marine, Asia's leading new sales and brokerage company. From November 2015 to April 2016,Simpson Yacht Charter set a new record for the number of charters it has sold.
"We have clients from Asia that would like to learn more about the yachting lifestyle and they are looking for advice on how to get started," says Simpson Yacht Charter Manager Adrien Darene. "We have the infrastructure and support to make it possible for them to try yachting through taking a charter."
Last year the company saw a record number of luxury charters sold to international guests with charter boats leaving almost every week of the year. Most charter inquiries are for traditional weekly holidays discovering mythical Koh Phi Phi islands. Another popular destination is Phang Nga Bay, where the emerald green islands and sandy beaches are perfect backdrops for snorkelling.
"Thailand is the ultimate destination for yacht charter holidays in Asia," says Darene. "The islands around Phuket enjoy light wind, flat sea, delicious cuisine, pristine waters and fine sandy beaches. Phuket is only two hours by flight from Kuala Lumpur, Singapore, Hong Kong and Bangkok, making the island a perfect destination for a short yacht charter holiday."
"Fifty percent of our clientele is expatriate community who live in Southeast Asia (primarily Singapore and Bangkok) and in the People's Republic of China. The remaining 50 percent of our clients come from Russia, Europe and USA," says Darene. "Phuket is well serviced by low-cost carriers from across the region with 15 flights a day from China alone."
Mainland Chinese Clients
Simpson marine is now offering tailor-made charter holidays direct to the Mainland China market. The company represents some of the world's finest yacht brands providing a full range of sales and after-sales service through its network of 16 offices in seven countries. Simpson Marine carries Beneteau Group (Sail, Power, Lagoon, MC), Sanlorenzo, Monte Carlo Yachts and Viking and has sold more than 2,000 yachts to Asian clients over the last 30 years.
Making yachting easy has been at the centre of the company's strategy for the 30+ years that it has been in business.
"Customers across Asia are keen to understand more about yachting and need quality support and advice on how to get started and take part in this exciting and enjoyable pastime," says Mike Simpson, Founder and Managing Director of Simpson Marine.
The China market offers a huge opportunity with increasing numbers of Chinese wanting to experience the thrill and freedom of getting out on the water. Importantly for Chinese clients with limited time, Simpson Yacht Charter offers total freedom regarding the duration of charter so they can choose what works best for them from 2 days to two weeks or even a day-trip experience. At each stage the professional Simpson Marine staff will be available to help clients choose the right boat and level of support required; from fully crewed yacht to bare boats charter where the client will do all the sailing themselves.
"We can see more Chinese guests travelling to very remote destinations, including North and South Poles, to experience something unique and different. Yacht charter can provide guests with the feeling of independence and freedom as they can decide where and when to go next and they can enjoy maximum privacy on their own private 'islandyacht' ", says Angel Zhou, Simpson Marine China General Manager.
In 2015, Chinese charter guests accounted for 10% of Simpson's total charters and this number is expected to grow with the company now actively promoting this activity in China.
Simpson Marine's regional spread over 7 countries in North and South East Asia enables clients from most parts of Asia to go to Phuket and enjoy their first boating experience, which in some cases can lead to yacht purchase.
"Yacht charter is often the first step towards ownership and this is what we try to encourage today in China," says Zhou. "During my last nine years spent with Simpson Marine in China, I have seen an increasing number of Chinese travellers requesting to explore sea life and water sports. This almost never happened when I was starting.
"We are doing a lot of education here in China with dedicated sailing events and traveller forums to help people understand how fantastic a sport it is and how enjoyable it can be for the whole family.
To cater to this special clientele, Simpson Yacht Charter offers tailormade trips for as little as one to three days, in conjunction with the more typical weekly or two-week charters. Chartering guests can choose among Lagoon catamarans, power boats and selected superyachts, and they can count on a concierge welcoming service from the moment they land in Phuket, if needed.
Yacht Care Programme
Simpson Marine also runs a unique Yacht Care programme for absentee owners across Asia who wish to keep their yachts in Phuket even though they live elsewhere.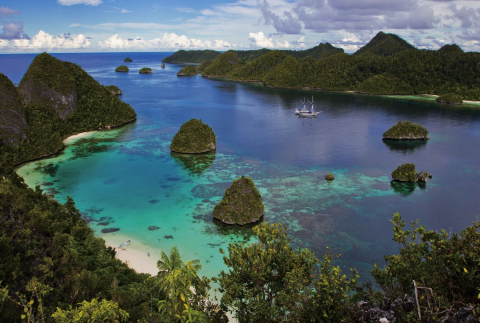 "It's a concierge service that allows Owners living overseas to place their yachts in Thailand or Malaysia, have them cared for by Simpson Marine and be made fully ready and provisioned with just a few hours' notice when the owner wants to fly in and go cruising," explains Sergio Loiacono, Simpson Marine Thailand Country Sales Manager.
"Our programme is unique, with no restrictions on owners. Simpson Marine takes care of all maintenance, cleaning, repairs, provisioning, crew placement and concierge service for these yachts and the operational cost of the service can be covered by charter, if the Owner wants to use our charter programme, too.
"With a yacht care programme, we solve a problem many customers face in Asia – where to keep their yacht and how to enjoy it at a moment's notice."
Simpson Yacht Charter offers four Lagoons between 40 and 62 feet catamarans for charter from Phuket and I'm pleased to see that they were all fully booked the past high season 2015/2016 in Thailand with 50% of the guests coming from Asia.
The other half are European or Russian clients who enjoy Thailand's summer when it's winter in Europe. Simpson also charters some power yachts and selected superyachts, with the Sanlorenzo 104 Indigo, presented for chartering at the Singapore Yacht Show.
"The most popular itineraries include Koh Phi Phi, Krabi, Koh Lanta, the Sioman but we see guests who want to go further towards Malaysia and Indonesia, too," says Darene. "In addition, we also see higher demand for water sports and diving instructors on board."
Asia Yachting
Phuket-based Asia Yachting recently announced yacht chartering services to the hottest vacation destinations around the globe, from Thailand and neighbouring Indonesia and Malaysia to global destinations such as the Caribbean, Bahamas, Americas, Europe, and Oceania.
Its featured charter boat is the Lagoon 450. This is one of the ultimate sailing catamarans, which also makes it an elegant and comfortable charter boat for up to 12 guests. There's a large sunbathing area directly forward of the flybridge, a perfect place to admire the fabulous landscape. The saloon and four double cabins are exceptionally well lit with natural light.
SeaTrek
With an expert-led eclipse cruise and a couple of nice charter trips already under its belt for the year, SeaTrek is preparing for its first Dances, Dragons and Magical Lakes cruise of the 2016 season departing on May 10.
The phinisi Katharina's charter operations are going strong, but in an effort to better meet guests' wide and varied travel needs, she will be joining Ombak Putih on the regular cruise programme between Bali and Komodo, offering more departure dates throughout the season, as well as the option of a more intimate cruise experience with fewer fellow passengers.
Both boats are in tip-top shape having had their annual maintenance and TLC, and the crews are well rested and ready to show guests the time of their lives.
Mention in modern travelling circles that you've visited the Spice Islands and you will own the room. From the very earliest days of Persia and Rome, the fragrances of exotic eastern spices have been ever-present in Asia and Europe, their origin a mystery to all but a few, their value beyond measure, and the desire to possess it having created the modern mercantile world we live in today.
Getting to the Spice Islands today under your own steam can be difficult, but SeaTrek makes it simple with three specialist tours heading that way this season under the watchful eyes of resident historical and maritime experts Ian Burnet, Jeffrey Mellefont and Nick Burningham – three men who will bring the story of the Spice Islands alive in the comfort of SeaTrek's magnificent boats.
SeaTrek is making two journeys to Borneo this year in collaboration with The Orangutan Conservancy and field biologist Dr Raffaella Commitante, to help bring awareness to the great apes' plight.
The Orangutan Conservancy (OC) is dedicated to the protection of orangutans in their natural habitat through research, capacity building, education and public awareness programs, and by supporting numerous on-the-ground efforts to save Southeast Asia's only great ape.
Orangutans are found only in the rainforests of Borneo and Sumatra. The population of wild orangutans has declined by more than half in the last 50 years, and approximately 80% of its natural habitat has been lost in the last half century. Research suggests that there are only about 40,000 left in the wild.
The Orangutan Conservancy works to protect the apes in their natural environment, and if we can help this great ape to survive for the future, many other native species, including plants and insects, will also be here for generations to come.
There is no dive equipment on board, but Raja Ampat works with local operators to use their facilities for guests who want to do scuba.
A Class Of Her Own
The stunning phinisi superyacht Dunia Baru is a boat of many firsts, and she has added another one to the list. Dunia Baru recently became the first wooden boat to be classed by the Indonesian classification society, Biro Classification of Indonesia (BKI). Certifying Dunia Baru's quality, her seaworthiness and her commitment to being the best.
Established in 1964, BKI is the only national classification board assigned by the Indonesian government to classify Indonesian-flagged vessels. While classification is not essential for private yachts, it is required for charter yachts, and building and maintaining a yacht to class signifies that the yacht meets the strictest quality and safety standards.
From judging the integrity and structural strength of the hull to assessing the reliability of technical systems such as steering, generators and propulsion, classification rules determine the construction, maintenance and operation of yachts. Classed yachts have to go through periodic surveys to ensure operational safety, yacht management and that maintenance is done to the right, predetermined standards.
BKI is an authorised body that performs audits and issues certificates required by the IMO, including the International Code of Safe Operations of Ships and for Pollution Prevention, which was implemented to prevent injury or loss of life, and to avoid damage to the marine environment.
As a true labour of love, meticulous attention to detail and quality was paid to Dunia Baru during her nearly eight-year build in order to ensure that she would be the safest, most reliable and most beautiful yacht ever built in Indonesia. Being the first wooden boat in Indonesia to be classed by BKI is a reminder of the uniqueness of Dunia Baru.
Largest Wooden Sailing Yacht
Another extraordinary phinisi cruising Indonesian waters is the 65.2m Lamima. Through Camper & Nicholsons, the world's largest luxury wooden sailing yacht is offering a one-night experience in the Bulgari five-star resort Uluwatu for all charters booked in May and June at the weekly all inclusive rate of US$140,000 plus local taxes. T
he Bulgari resort is the perfect start to a luxury cruise on board Lamima, as both have a similar philosophy – providing a private haven for relaxation, massage and spa rituals, activities to awaken your senses, contemporary Indonesian cuisine and the promise of a unique experience.
This journey starts at the exclusive Bulgari resort surrounded by the breath-taking beauty of the unspoilt nature of Uluwatu in Bali. Located in one of the world's most exclusive destinations, boasting magnificent views of the Indian Ocean, and a contemporary design that combines traditional Balinese architecture with Italian styling, the Bulgari Resort Bali is second to none.
The recommended itinerary is from Bali to Komodo and comes with an attentive Lamima crew of 19 including a dedicated guide, two experienced Indonesian chefs, two spa therapists, and two dive masters who know the best dive locations.
This charter is based on all-inclusive terms (excluding hotel expenses) and includes all transfers, meals, refreshments, beverages, diving equipment, watersports, spa treatments, shore excursions and any National Park entry fees.
Built For Two
For the ultimate in privacy, check out this intimate phinisi – Alexa. Featuring only one cabin, Alexa has been converted from a traditional cargo vessel into one of the most romantic ships sailing today.
Alexa Private Cruises recently announce that Alexa will make the journey to Raja Ampat in October 2016 and is available for cruising in this stunning region between November 2016 and April 2017.
Located at the Northwest tip of New Guinea in Indonesia's West Papua province, the Raja Ampat archipelago has more than 600 mostly uninhabited islands. The Raja Ampat (literally translated as The Four Kings) Islands are one of the most bio-diverse regions in the world; a beautiful paradise that remains untouched due to its remoteness.
As far as underwater beauty goes, Raja Ampat harbours offer the greatest diversity of marine life with a sheer number and variety of fish (including 1,223 species of coral reef fish, 565 hard corals and some 700 mollusks). It is like swimming in a tropical aquarium. However, the beauty above the water is no less stunning. The islands are dramatically diverse and feature dense tropical forests, unique flora, astounding rock formations, and an amazing array of bird and wildlife.
Raja Laut
May to September is the best time of the year for a yacht charter vacation in Komodo National Park, the jewel in Indonesia's vast archipelago of 17,000 islands.
Few places in the world could possibly match the cultural and natural diversity found in the islands beyond Bali – towering volcanoes, dry savannah landscapes, quiet coastal villages, emerald seas, and megalithic cultures. It was Burden's 1932 voyage through this volcanic landscape that inspired the 1933 classic film King Kong. Sail from Bali across the imaginary Wallace Line to the Komodo and beyond, where the flora and fauna of subtropical Asia make a sudden and dramatic change into those typical of Australasia.
The chain of islands east of Bali are known as the Lesser Sunda islands. There is adventure offered all around – from climbing rugged mountains to peer into active volcano craters, or trekking through forests to bathe under beautiful waterfalls; or biking through rural lands to visit remote villages.
However, it is Komodo that is the centre of attention. Komodo National Park is a Unesco World Heritage site consisting of 29 islands ringed with beautiful coral reefs. Home of the giant lizard – the Komodo dragon – the park was declared a World Heritage Site in 1991.
The islands in the park boundary are untouched by modern development, and below water Komodo offers some of the world's best coral reef diving. When not exploring you can simply relax in idyllic bays and enjoy pristine beaches.
Raja Laut also cruises in Myanmar. While famous for ruby, sapphire and jade, in Myanmar pearling has quietly been a traditional activity in the Mergui Archipelago for centuries. Among the 800 coral fringed islands and beaches of the Mergui exist some of the most sought after gems in the world – golden pearls. Referred to by the locals as "tears of the ocean", in general Mergui pearls are said to be warmer in colour tone than South Sea cultured pearls. However, it is the Mergui's rare golden pearls that are perhaps the finest of their kind.
In March 2013 at a Hong Kong auction, these pearls were sold for record prices. One 19mm pearl, known as the New Dawn of Myanmar, was sold for US$40,000.
It is probable that the first pearlers in the Mergui were the Moken – sea gypsies known locally as the Salon people – and possibly the oldest inhabitants of the region.
The Moken are likely descendants of sea gypsies from Indo-Malaya who found refuge in 800 or so islands, islets and rocks that make up one of the world's most beautiful archipelagos.
Until recently, the Moken lived with their families in small wooden boats called Kabang and only live on land during the monsoons.
From June until September, Raja Laut is based in Indonesia, an amazing country with literally thousands of islands, including Bali, Komodo, Flores, Alor and many many more.
From October until April, Raja Laut is based in the Andaman Sea, a wonderful cruising area that includes the Mergui Archipelago, Phuket, Langkawi, Andaman & Nicobar, and hundreds of other beautiful islands worth exploring by boat.
Silolona Sojourns
Silolona and Si Datu Bua are modern incarnations of those glorious traditional Indonesian sailing ships originally bred for trade along the historic Spice Routes. Luxuriously melding all the safety and amenities of the 21st Century with the style and grace of ages long past each was meticulously designed and handcrafted, specifically for the highly acclaimed Silolona Sojourns of Discovery.
At 50m, Silolona is a powerful handcrafted traditional wooden sailing vessel newly built from the finest tropical hardwoods to German Lloyds specifications by the Master Konjo boat builders of Sulawesi.
The 40m Si Datu Bua (Beloved Princess) is Silolona Sojourns newest traditional sailing ship. Each year, the best brokers worldwide charter Silolona and Si Datu Bua, which are listed with all major yacht charter brokerage companies. 
Ocean Emerald
The very definition of modern luxury Ocean Emerald was imagined by the avant-garde British architect firm Norman Foster and brought to life in 2009.
Designed to create unforgettable journeys for all who ride in her, Ocean Emerald has five elegant suites that can accommodate up to 12 people. The stunning 41-metre Ocean Emerald is available for charter with Riviera Orientale - Yachting Society (ROYS) in May.
Ocean Emerald is the first superyacht to obtain the official charter licence from the Thai Government, which was awarded in September last year. Since then it has had over 70 days of charter, which proves there is a good demand for luxury.
Other ROYS' exclusive yachts are available in Hong Kong, Thailand, Philippines and in Indonesia.
Oscar II
The 104-foot (31.52m) luxury charter yacht Oscar II is now available for charter with Northrop & Johnson. She will cruise throughout the Whitsundays and Sydney, Australia.
Oscar II is ideal for chartering with family and friends. Take a dip in the Jacuzzi while enjoying breathtaking panoramic views of Australia's beautiful surroundings. Afternoons will be well spent on Oscar II's open decks with alfresco dining areas and a wide variety of comfortable lounge spaces.
If you want to sit back and relax, Oscar II offers state-of-the-art surround sound and a home theatre to enjoy movies.
Oscar II also has toys and tenders, including Jet-Skis and snorkelling gear, to enjoy in the beautiful waters of Australia.
Northrop & Johnson recently unveiled its 2016 charter catalog Seascapes, the quintessential guide to luxury yacht charter and stunning destinations. Seascapes features a comprehensive assortment of luxury destinations and exceptional charter itineraries, as well as a collection of more than 100 of the world's top superyachts for charter.
Sahana
In a nod to the growing Australian charter market, central agent Bray Management has designed the 36m Sahana charter yacht specifically around the guest experience.
Originally built by Australian yard Oceanfast, Sahana has undergone an extensive refit by an experienced owner determined to create a yacht that fulfils guests' needs.
"I was looking for a near-new vessel with custom/ship-style engineering," says the Owner of Sahana. "I also favour full-beam saloons. This provides you with the volume of a much bigger yacht, incorporating huge lounge, dining and bar with four usable areas within the saloon."
After an extensive refit that has seen interior volume carved into spaces that work with the guest experience, the resulting yacht offers something new to the Australian charter market.
Sahana is within the size threshold necessary to access Australia's marine parks, including sites like the Great Barrier Reef, but equipped with space more often associated with much larger yachts.
Finer details of the yacht include a carefully curated wine cellar, a full garage of toys and experienced crew who deliver a market leading guest experience.
"Sahana breaks from convention in how superyachts are presented for charter in Australia. With minimalist appeal, she is like a New York penthouse on the water. I am incredibly excited to offer the Sahana experience to our clients," says Cameron Bray of Bray Management in Australia.
The yacht is currently lying in the Whitsundays and will summer in Sydney, before further cruises through the region next season.
Saluzi
At 69.1m, the iconic Saluzi is the largest charter yacht based permanently in Asia. She was also recently named Best Charter Yacht at the Asia Boating Awards.
With accommodation for 32 guests spread over five voluminous decks, she features two master suites, a spa, gym, vast open-air cinema and a karaoke bar. Envisaged as an ultra-chic floating beach house, Saluzi's shallow draft is perfect for exploring isolated bays in Southeast Asia and the Indian Ocean.
Michelangelo
Based in Hong Kong, the wooden junk Michelangelo's distinctive feature is her extraordinary space. She measures 88 feet in length and over three decks she offers 4,000 square feet of discreet luxury to accommodate up to 52 guests in absolute comfort. Each cruise is designed as a bespoke event - intimate and personal.
The crew is a "can-do" team that delivers thorough planning, creative solutions and perfect execution.
From Landlubbers To Landyards
If you've always wanted to try sailing, but aren't quite ready to take the plunge into a certification course, there are many opportunities across Asia for you. If you're on vacation in Boracay in the Philippines, hire one of the local paraw boats that can provide an inexpensive opportunity for people of all ages and abilities to find out how fun, safe and accessible sailing is.
You can usually sign up with no prior sailing experience. Or try sailing on a weekend or after work with colleagues on a weekday. Most marinas and yacht clubs have notice boards, or Facebook pages, where you can find someone willing to show you the ropes.
Once you find a quick and easy introduction to what it's like to sail the seven seas, beware – once you've tried it you'll want to do it again, and again.
www.simpsonyachtcharter.com
www.simpsonmarine.com
www.duniabaru.com
www.camperandnicholsons.com
www.burgessyachts.com
www.alexaprivatecruises.com
www.northropandjohnson.com
www.oceanemerald.com
www.rivieraorientale.com
www.braymanagement.com.au