Experience the perfect marriage of style and substance crafted to change the way you look at luxury forever.
Experience the perfect marriage of style and substance crafted to change the way you look at luxury forever.
42-METRE MOTOR YACHT CONTINUUM REACHES 50 KNOTS
ANDREW TRUJILLO DESIGN has continued its creative collaboration with Adam Younger on the new concept design M/Y Continuum.
The 42-metre motor yacht features a stepped hull (with twin steps), designed to incorporate triple water jets driven by three MTU 16 Cylinder diesels. She can cruise very comfortably on just two engines, greatly extending her range. At top speeds Continuum can reach 50 knots.
The overall scheme shows a deep bow with fluted spray rails, giving good sea keeping and handling in various conditions, but also long and gentle waterlines providing acceleration and overall efficiency.
Continuum features a conventional layout, with the main deck incorporating a generous-sized master cabin in the bow, with a large skylight. Aft of the master cabin is the raised pilothouse, with a galley just beyond. On the lower deck, beneath the main saloon is the guest accommodation with space for two or three cabins, as well as crew cabins. A spacious sundeck above the main deck completes the vessel, complete with a bimini.
The aim of this yacht concept was to take on a relatively conventional layout, clothe it with a contemporary and dynamic design plus design a very quick vessel.
BAGLIETTO SHOWCASES TWO PROJECTS IN MIAMI
ITALIAN BOAT BUILDER BAGLIETTO presented two new projects created by Francesco Paszkowski Design in Miami during a private event.
The first of the two projects is a 44-metre yacht that continues Baglietto's long-standing tradition of open crafts. The 44m Open stands out for the great livability of both its outdoor and indoor spaces, while preserving the impressive performance of a sporty craft. Two possible layouts are available, with four or five cabins, as well as a third option in which the main deck can be raised, making room for a larger master cabin.
A wide sunbathing area with a small custom-made pool can be found aft, while a second living area located forward allows for enjoyment of the sea view in privacy. The new 48m Explorer stands out for its excellent sea-keeping features, making it ideal for long-range cruises. Great onboard comfort is ensured in the saloon and the connected dining area, located on the main deck.
A large galley with storage area can be found amidships, while the full-beam master cabin extends across the entire bow area. The sundeck is entirely devoted to hospitality, featuring a sunbathing area, lounge, and a dining area. There is also room for a Jacuzzi tub, which has been included in the stairwell. The transom hosts a beach area with a bar, a gym, a Turkish bath, and a sauna. As for possible fittings and furnishings, the owner is offered a very wide range of choices, from an essential style to a highly sophisticated one.
FERRETTI YACHTS' NEWEST CREATION
PART OF THE FERRETTI GROUP, Ferretti Yachts is introducing another extraordinary masterpiece – Ferretti Yachts 850.
The new model is the result of collaboration between Ferretti Group's Product Strategy Committee, Studio Zuccon International Project for the exterior design, and the Group's Engineering Department for the naval/technical engineering and fitting out of the interior.
The waterlines draw inspiration from the successful Ferretti Yachts 80-footer and have been adapted to the increased length of the hull, which is now 26 metres. The profile is completed by the flybridge with its optional fore-and-aft hard top over the raised pilothouse and roll bar in grey to contrast with the ivory white of the hull and superstructure.
The aft area can be enjoyed to the full thanks to an innovative mechanism to open and fold down the transom door, which becomes a beach area that can also be lowered under the water. The cockpit can be accessed from both sides and is furnished with a multi-purpose sofa, which can be used both as a chaise longue and seating for diners at the large outdoor table thanks to the collapsible backrest.
The new yacht features design elements by Minotti, with who the Ferretti Group has cooperated to integrate accessories, wood selections and the built-in furniture. Beyond the dining area stands an original bookcase with open frames, which divides the saloon from the lobby while preserving visibility and a sense of proximity.
Below deck the Ferretti Yacht 850 offers generous spaces for owners and guests, with a master stateroom, two spacious VIP double cabins, and a fourth starboard cabin fitted with twin beds.
BREEDENDAM YACHTS SELLS FIRST BOAT OF MTB FOURZERO DESIGN
NETHERLANDS-BASED BREEDENDAM YACHTS has sold the first boat in the wheelhouse version of its MTB fourzero design.
Construction is now underway of this new addition to the Breedendam Yachts portfolio in the yard's facilities in Leeuwarden, with delivery expected during the 2016 summer sailing season in Europe.
Her aluminium hull has a blue colour scheme and the owner has requested various special features on board, including a wide array of diving equipment and a hydraulic bathing ladder and gangway. The first MTB fourzero Wheelhouse will also be equipped for both warm and cold climates so that it can be used in areas ranging from the Netherlands to the Caribbean. Another feature also makes it possible to allow the yacht to run dry so that the owner can explore shallow regions. Her layout is highly practical with accommodation for four people.
Her interior design will provide a relaxed atmosphere in a contemporary style that matches the timeless lines of the exterior.
All technical systems feature the latest technologies including an electrical system making operating equipment simple, including a remote with an iPad. The sunroof and the sliding window between the saloon and cockpit are also electrically operated and LED lighting is used throughout.
MCY 80 TO BE PREMIERED IN CANNES
MONTE CARLO YACHTS will be presenting the 24-metre MCY 80 as a world premiere during the Cannes Yachting Festival this autumn.
At 24m, the MCY 80 takes its place on the podium as the third-largest yacht in the collection.
With smooth exterior lines and shaped bulwarks that enhance the level of light and space across the main deck, the MCY 80 boasts a curvy, modern look. Signature elements include a class-leading entertainment foredeck and Portuguese bridge. The flybridge, an iconic characteristic of the MCY range, can be equipped with a Jacuzzi, large bar area and sunbathing chaise longues to create an exterior hideaway that is as luxurious as it is intimate.
The main saloon and the cabins are flooded with natural light and offer meticulously designed spaces for both social and private moments. The brushed and bleached oak floorings found throughout set an elegant ambiance that is further enhanced by precious leather and stone features. Design furnishing choices such as the Hermes, Armani Casa and Minotti elements complete the interior. The MCY 80 is designed and built at MCY's Monfalcone state-of-the-art shipyard.
OCEA NEMO 44 OFFERING THE BEST FOR SEAFARERS
MC YACHT & CO'S OCEA NEMO 44 aims to fulfil the growing demand of a brand-new superyacht class providing an all-around seafarer boat, able to sail in deep waters with comfort, luxury and an extensive range of amenities. The outdoor layout offers a sociable area with a 25sqm beach club bringing the total open-air space to 300sqm.
A sea or fresh water swimming pool can be onto the raised deck, while the main deck features a veranda. A distinctive feature of the Ocea Nemo 44 is the reduction of big stairs for connecting decks. The 44-metre Ocea Nemo 44 has been designed in order to outfit a full-beam waterline garage, where an up to eight-metre tender can be stowed. Large volumes and stowing areas allow for the storage of a drop keel sailboat, a dinghy and a number of floating devices.
CONSTRUCTION BEGINS ON FOURTH OTAM 80 HT
ITALIAN BUILDER OTAM is beginning construction on hull number four of the 25.5- metre Otam 80 HT Millennium.
Every detail of the new hull is customisable, according to the client's needs. The Otam 80 HT maintains all the technical advantages of its predecessors. Built entirely of resin and Aramat, the 80 HT is designed to guarantee high-speed even in rough seas in complete safety and comfort.
The deep-V hull translates into soft and fluid behavior through waves and a cruising speed even in rough seas of 40 knots in complete safety. Propulsion will be entrusted to two MTU M94 engines developing 2,600 hp at 2450 RPM and their respective Arneson Drive 15 A 1 L transmissions.
ABEKING & RASMUSSEN READY TO LAUNCH CLOUDBREAK
GERMAN SHIPYARD ABEKING & Rasmussen is ready to launch the exceptional 72.5-metre explorer yacht CLOUDBREAK.
Named after the famed and challenging Fijian surf spot, the yacht is on schedule for delivery from the shipyard in May. This unique, custom-built project has been in development for more than four years.
The yacht's striking Espen Øino designed exterior is seamlessly complemented by the textured and contemporary interiors created by Parisian interior architecture studio Christian Liaigre with furnishings carefully selected by P H. D Architectural Bureau.
At more than 2,200 gross tonnes, it is clear that the internal volume specification for this project will make the vessel one of the most substantial global explorer yachts of its kind. International brokerage company SuperYachtsMonaco secured the initial purchase of the vessel on behalf of the owner and have carefully managed the construction process. Cloudbreak will also be available for charter.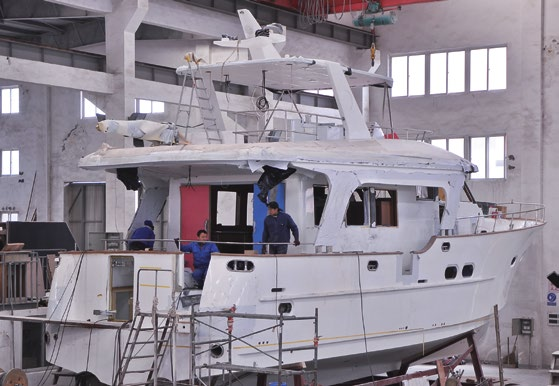 EXPLORER PREPARES TO SHIP NEW GENERATION CRUISER
EXPLORER MOTOR YACHTS 58 PILOT HOUSE cruiser is nearing completion at the company's China-based shipyard. The company expects delivery to her Norwegian owner in May.
First announced in late 2014, the three-cabin (plus optional crew cabin) classic-style cruiser drew instant attention, with four already ordered going to buyers in Norway, Sweden, Hong Kong and the Middle East. The Explorer 58 Pilot House is a semi-displacement cruiser offering three cabins and two bathrooms with the master suite stretching across the full beam amidships. Hull number one, equipped with a pair of 480hp Cummins turbo diesel engines, will cruise at up to 18 knots. By contrast, hull number three will be delivered with a pair of 670hp Cummins turbo diesels, providing speeds up to 23 knots.
"Hull three, for a client in Hong Kong, will be our first with a dark blue gel coat. We researched gel coat suppliers extensively before selecting Scott Bader," explains Explorer CEO Mark Campion. "This company has a powerful reputation for quality dark colour gel coats. The client fell in love with the classic modern styling of the Explorer 58 Pilot House, which he considers will be timeless. The galley layout is totally different from the first two to suit the client's boating needs in the warm climates of Hong Kong. The port guest cabin will have four bunks for their children."
34M FEADSHIP SHOWCASES CLIENT-FIRST APPROACH
DUTCH SHIPBUILDER FEADSHIP has launched an innovative 34-metre motoryacht, offering a record amount of glass as a proportion of the exterior profile plus an array of features found on much larger Feadships. The essence of Feadship and the base of its premium brand status in the luxury motoryacht world is a dedicated focus on building bespoke superyachts between 40m and 100m+.
However, as CEO Henk de Vries explains, underpinning this decades long success story has been an ability to respond positively to off-the-wall requests. "Three years ago, the owner of a pure custom Feadship asked us to build a smaller yacht to Feadship standards," says de Vries. "It needed to have a length and draught that would allow access to new markets where mooring facilities are restricted and facilitate cruising in shallower depths. We don't like saying no to clients at Feadship so we decided to explore whether it was even practical to design and construct a 34m cruiser to Feadship quality within the boundaries of this compact size."
This unprecedented approach was successful and the go-ahead was given to Feadship De Voogt Naval Architects to develop three 34-metre Feadships as commercial yachts with unrestricted ocean going capabilities. The yachts have the largest window surface expressed as a percentage of the profile ever seen on a Feadship. In addition to the visual effect of glass, the lounge and dining areas also feel expansive due to their 2.45m high ceilings, which is uncommon even on yachts twice the size.
Hull 692, the first to be launched, features an interior from the boards of Bannenberg & Rowell Design, with an owner's stateroom on the main deck and guest suites for eight people in a double and twin suite which can be converted to a single VIP stateroom when desired and two twins on the lower deck. All who come aboard will be served by six crew members and have access to some excellent watersport options including a 5.6m custom tender and a waverider.
HEESEN YACHTS DELIVERS AMORE MIO
AFTER SEA TRIALS in the North Sea, Dutch superyacht builder Heesen Yachts delivered the 45-metre YN 17145 Amore Mio to her owner in international waters.
Sea trials took place in January. Powered by twin MTU 16V diesel engines, Amore Mio's aluminium hull sliced through the seas at a top speed of 30 knots. After meeting all requirements, the superyacht proved to be quiet, yet highy manoeuvrable.
The solidity of the semi-displacement, aluminium hull design means this yacht is capable of both rapid acceleration and a very smooth ride. With a range of 2,750-nautical miles at 12 knots, Amore Mio can cross the Mediterranean with ease or cruise the entire length of the Caribbean from St. Barths to Grenada, stopping off at as many islands as one chooses on just one tank of fuel.
The high-calibre design of the yacht was done by Omega Architects, with Heesen handling the naval architecture. Amore Mio is the first yacht to be delivered by Heesen in 2016. Later in the year two more will follow: the 70m flagship Project Kometa, and the 50m semi-displacement Project Akoya.
ITALIAN SEA GROUP LAUNCHES 55M HYBRID YACHT
THE ITALIAN SEA GROUP SHIPYARD launched the first yacht of the year on March 24. The 55-metre E Motion hybrid yacht Quinta Essentia is the biggest yacht ever built by Admiral Yachts. Quinta Essentia features an exterior design, which enhances the brand's elegance, and it also revisits Admiral's classical style with a new look. Quinta Essentia is a hybrid propulsion yacht with a displacement hull, built in aluminium to minimise draft and weights.
The result is an extremely efficient yacht, with low fuel consumption, low noise levels and vibration under way. Admiral E Motion 55 offers an advanced hybrid propulsion system that integrates two traditional engines with two electric motors, also connected to variable speed generators.
The system also boasts a traditional transmission with two shafts. The entire propulsion system and the whole build technique guarantee the most silent, safest and incredibly efficient navigation on board this new superb yacht. The 55m yacht will be showcased at the Monaco yacht Show in September 2016.
S/Y DAHLAK JOINS PERINI NAVI FLEET
S/Y DAHLAK IS THE LATEST LAUNCH in the expanding Perini Navi fleet. The 38-metre sloop was given the name after the Red Sea archipelago where her new owner sailed as a boy. With hull lines by Philippe Briand and built entirely on site at the Group's Picchiotti shipyard in La Spezia, Italy, the sailing yacht is a sister ship to the award-winning P2 launched in 2008.
Dahlak and P2 share the same rig configuration and basic naval architecture, including a near-vertical bow to stretch the waterline length to the maximum and a high-aspect ratio sail plan for fast upwind sailing. But there also are some key differences. The new yacht is constructed entirely of Sealium aluminium alloy and boasts several technical innovations including a Lithium polymer marine bus system providing 'clean' power, three semi-automatic electric captive winches engineered by Perini Navi and a carbon fibre furling boom offering performance and safety in all sea conditions.
The interior layout offers accommodation for up to eight guests in a full-beam owner's stateroom and two ensuite cabins. The galley has been extended by one frame and includes a serving hatch, while the deckhouse dining and seating area upholstered in fresh cotton fabrics by Zimmer+Rohde is now separated from the navigation station by the waist-height joinery. The crew quarters can accommodate up to six crew in three ensuite cabins.
SUNREEF INTRODUCES SUNREEF SUPREME
LUXURY CATAMARAN MANUFACTURER Sunreef Yachts is introducing the Sunreef Supreme – a superb series of sailing and power catamarans with impressive living spaces and innovative design solutions.
Sunreef Yachts' latest concept was created to respond to a growing demand for more personalised, comfortable and technically advanced units. The Sunreef Supreme is an audacious line of yachts and superyachts designed to become the world's most comfortable and spacious range of lifestyle-oriented boats.
This game changing concept of power and sailing catamarans premiered at the recent Singapore Yacht Show (Apr 7-10). The first unit presented from the range is the Sunreef Supreme 68, a sailing catamaran with a total living space equaling almost 300sqm, offering the surface of a superyacht on a unit below 24-metres.