Forget greasy nuggets made from mystery meat and salty, cheese-laden pasta dishes. SASHA GONZALES finds eateries that serve healthier children's meals that will have your little ones asking for seconds.
THE COASTAL SETTLEMENT
This colourful cafe near Changi Boardwalk is decked out with cool finds like oldfashioned TVs, vintage bicycles and antique telephones. There's also a courtyard with swings and rocking horses for Junior and his friends to play in. Choose to sit indoors where it's cool or on the outdoor patio where the playground is set up.
The menu is a mix of Asian and Western items, like seafood dumpling soup, crispy coastal wings, ribeye rosti, XO prawn aglio olio, crayfish laksa and thin-crust beef rendang pizza.
WHAT TO ORDER The kids' menu is for children aged 12 and below and features only Western options. There's pizza with ham, mushrooms and cheese ($16); and a 120g portion of sliced Angus ribeye steak served with broccolini, tater tots (potato nuggets) and a sunny side-up egg ($18).
VEGANBURG
If your family is vegetarian, or you're just looking to cut down on your kids' meat consumption for health reasons, you'll find some delicious options at this plant-based burger joint.
Veganburg specialises in handcrafted, GMO-free and cholesterol-free burgers made from plant-based patties and, whenever possible, seasonal, organic and locally sourced ingredients like potatoes, mushrooms, avocado and broccoli.
In addition to burgers, you will also find chik'n nuggets, hot dogs, smoked franks, soup and fries – all vegan – on the menu.
WHAT TO ORDER The mini meal, which comes with a mini burger, a platter of fries and broccoli, two Oreo cookies, a drink, and a sticker pack. Each mini burger contains a crispy veggie protein patty, eggless mayonnaise, lettuce, and fibre-rich buns made from quinoa, flax seeds, pumpkin seeds, sunflower seeds and barley. The meal is $8.80 for children aged 12 and below, or buy the a-la-carte burger for $4.90.
FIND OUT MORE 44 Jalan Eunos, tel: 6844-6868; www.veganburg.com
CAFE MELBA
This casual eatery combines the flavours of Melbourne and Asia – the food is wholesome and hearty.
Fusion dishes include kaya tart and chilli crab pizza, but you will also find cafe classics like eggs benedict and the Reuben sandwich. The chefs boast impressive backgrounds: Executive chef Kacey Whaitiri-Roberts, for instance, has worked alongside Michelinstarred chef Gordon Ramsay.
As well as a mouth-watering menu, the Goodman Arts Centre branch also offers an art-and-craft event for kids every first Saturday of the month; a kids' bouncy castle, which is available every day; and a kids-eatfree deal every Monday (parents have to purchase a main meal to enjoy this deal). The outlet at Mediapolis has a bouncy castle on weekends and public holidays, and games like tic-tac-toe every day of the week.
WHAT TO ORDER The kids' set meal includes fruit juice or plain milk, a choice of chocolate, strawberry or vanilla ice cream, and a main dish. The mains are kid-pleasers – think beef Bolognese pasta and Hawaiian pizza – but if you're after something healthier, try the pan-seared fish and chips. All kids' set meals are priced at $16.
FIND OUT MORE #01-56 Block N, Goodman Arts Centre, tel: 6440-6068, and #03-01 Mediapolis, 1 Stars Ave, tel: 6352-2721; www.cafemelba.com.sg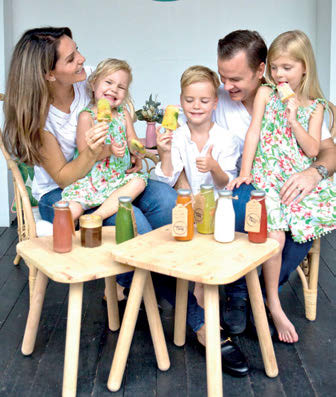 CARROTSTICKS & CRAVINGS
Located in the idyllic Dempsey area, this cafe is the brainchild of Melbourne expat and mum, Terri-Anne Leske , who also runs cooking classes and has written a number of cookbooks.
The menu is packed with healthy options for diners of all ages, like fibre- and nutrientrich grain bowls, salads, wraps, and even wholesome snacks and desserts. 
Grab a table outside so your little ones have some space to run around and play.
WHAT TO ORDER Breakfast and brunch items dominate the kids' menu. Junior can pick from nutritious dishes and sweet treats like scrambled eggs served with sourdough toast; a mini acai bowl; toast with smashed avocado and feta cheese; a kids' sized salad; coconut water and fresh fruit popsicles; and banana smoothie chocolate-chip popsicles. The cafe also sells a range of healthy nutfree school snacks. Menu items are priced at around $10 each.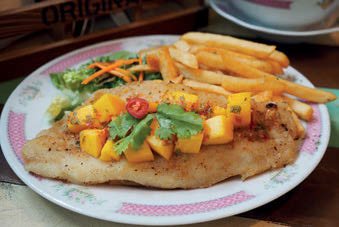 EAT PLAY LOVE CAFE
This eclectic cafe serves a variety of Asian and Western dishes like chicken chop, creamy tom yum pasta, pineapple rice and mango salsa fish, all at reasonable prices. It also offers a decent selection of desserts, waffles and light bites.
What makes this place special is its Craft Corner. For $5 per hour, children get an endless supply of art materials to create their own works of art with.
Parents can join in, too. You can also purchase craft kits for your kids to work on while they're waiting for the food. There are kits for foil art, window art, sticker mosaic, paper puppet and DIY dolls. 
WHAT TO ORDER The kids' menu includes dishes like chicken baked rice (chicken and mushrooms with rice, baked in a sauce and topped with cheese); mini chicken burgers (mini pulled-chicken burgers with fries); and spaghetti bolognese. Each kids' meal ($9) includes a lychee punch, Milo, milk or Yakult.
FIND OUT MORE #01-07 Aliwal Arts Centre, 28 Aliwal Street, tel: 6444-6400; www.eatplaylove.com.sg
JAMIE'S ITALIAN
Founded in 2008 by British celebrity chef Jamie Oliver and his Italian mentor, chef Gennaro Contaldo, the Jamie's Italian chain of restaurants has expanded from the United Kingdom around the world.
The food is rustic and comforting, and inspired by Oliver's visits to Italy and Contaldo's childhood on Italy's Amalfi coast. You can expect freshly made pastas with vibrant sauces, hand-stretched pizzas with delicious toppings, free-range meats and sustainable seafood, and classic Italian desserts. Vegetarian and vegan options are available.
WHAT TO ORDER The kids' menu includes dishes like fantastic fish stew, made with sustainably caught fish, Jamie's seven-veg sauce, potato dumplings, peas, basil and lemon.
The five-a-day picnic box contains a freerange chicken wrap, rainbow vegetable crisps, mixed dried fruits and an apple, while happy chicken lollipops are freshly made, freerange chicken fillet "lollipops" served with baked potato fries and crunchy seeds.
All kids' mains are $12 each and include a salad and drink. The Kids' Desserts include fresh seasonal fruit and fruit sorbet.
ZAFFRON KITCHEN @ EAST COAST
This modern Indian restaurant serves North Indian dishes like naan, paratha, tandoori roti, tandoor-cooked meats, curries and biryanis. You'll also find traditional Indian desserts on the menu.
The 96-seater restaurant is spacious, which adds to its relaxed vibe. For children aged seven and below, there's an indoor play area with a small playhouse, plenty of toys and a big-screen TV showing kids' movies.
WHAT TO ORDER The kids' meals include a choice of a chicken tikka burger, a naan chicken tikka wrap or crumbed fish, served with fries or corn and a drink (iced Milo, apple juice, orange juice or Ribena). Each meal is priced at $7.50. For an extra $3, your little one can also have ice cream.
FIND OUT MORE 135/137 East Coast Road, tel: 6440-6786; www.zaffronkitchen.com
WATAMI JAPANESE CASUAL RESTAURANT
Most families love going out for Japanese, but if your kids don't like raw fish and you don't want them loading up on fried food, then check out this family-friendly restaurant.
The main menu has an array of appetisers, salads, sashimi and sushi, rice and noodle dishes, and fried and grilled items.
WHAT TO ORDER The menu features two kids' meals – the udon set ($8.90) consists of udon noodles in broth, a small portion of fried chicken pieces and fries, edamame beans, a slice of watermelon and a bottle of Yakult.
The Junior's Gozen Set ($12.90) consists of udon noodles in broth, two pieces of sushi, a small portion of tempura and fries, chawanmushi (steamed egg custard), edamame beans, a slice of watermelon and a bottle of Yakult.
FIND OUT MORE
There are several outlets island-wide, including #01-33 Bishan Junction 8 Shopping Centre, tel: 62583577, and #05-09 Causeway Point, tel: 6893-0955;
www
.watami.com.sg