The new and improved way to low-fat cooking with Naturel's latest range of premium spray oils
The new and improved way to low-fat cooking with Naturel's latest range of premium spray oils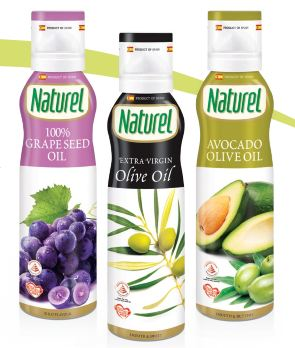 Whether you're frying, BBQing, baking or making salad dressing, a little bit of cooking oil goes a long way. However, pouring onto spoons or straight from traditional bottles can prove messy and inefficient, putting unnecessary fat into our meals. Waste no drop with Naturel's new range of premium spray oils that make adding oil super-convenient and fuss-free, giving you greater control over oil distribution and usage and more options for a healthier diet (each spray contains less than 9 calories!) with three transfat-free variants to choose from – Grapeseed Oil, Extra Virgin Olive Oil and Avocado Olive Oil. Boasting a triple action spray mechanism of Drip, Stream and Spray, you can easily adjust how much oil to use for each dish. By applying different amounts of pressure, you can lightly coat a skillet without accidental spillage or ending up with a pan that has too much oil in it. Using ingredients from Spain, each oil carries a different flavour and is best suited for different types of cooking: 
Chicken super food pasta with avocado pesto
375 g Naturel organic penne , 1 tbsp of Naturel pure olive oil , 2 chicken breasts, sliced
100 g bag mixed baby kale, spinach and chard leaves , ¾ cup sliced fire roasted peppers
1 red onion, thinly sliced , Basil leaves, to serve
AVOCADO PESTO
1 avocado, ½ cup basil leaves, ¼ cup toasted walnuts, plus extra to serve
2 sprays of Naturel Extra virgin olive oil Spray , 1 tbsp apple cider vinegar or lemon juice , ½ garlic clove, crushed
1. ln a large saucepan of boiling salted water, cook pasta following packet instructions. Drain. Return to pan. Keep warm.
2. Meanwhile, in a large frying pan, heat oil on high. Cook chicken 1 min each side until lightly browned and cooked through. Season.
3. AVOCADO PESTO In a small food processor, combine all ingredients and process until smooth. Add a little water to thin if required. Season.
4. Toss chicken, baby kale mixture, peppers and onion through cooked pasta to combine. Spoon into serving bowls, scatter extra walnuts over and dollop with pesto mixture to serve.