Be the hostess with the mostest this festive season with satisfying, delicious tidbits that'll please all your guests.
Be the hostess with the mostest this festive season with satisfying, delicious tidbits that'll please all your guests.
Christmas is around the corner. Then comes Chinese New Year. That means gatherings aplenty involving friends, family and those near and dear. House parties require careful planning, and since we Singaporeans are all foodies at heart, the food that you serve needs to be well thought out. Even the snacks you select can make or break a celebration. With so many logistics to keep in mind, choosing munchies that can appeal to the young and old is a priority. Taste, of course, is non-negotiable. These days, you also have guests who are waistline-conscious as well – yes, festive weight gain is a very real problem – so you'll want tidbits that are healthy. And you'll want snacks that can be served at both day and night events. Does all that sound like a tall order? Not at all, if you consider Tai Sun's premium nut and fruit mixes. They check all these boxes, and then some. Here are three reasons to get them today!
1 OH-SO-DELICIOUS
Tai Sun is a home-grown heritage snack-food brand that takes its time-honoured roasting techniques and recipes very seriously, so only the highestquality snacks are produced. The nut and fruit mixes are yummy and have a smooth, buttery-soft mouthfeel. There's no way you can stop just at a handful; you'll just want to keep popping them into your mouth. These snacks also have a wonderful, timeless appeal, and people of all ages love nuts and fruits.
2 PRETTY PACKAGING
Everyone loves taking photos of their food during social events to upload on Facebook and Instagram, so beautiful packaging is key. For this holiday season, the brand's signature nut and fruit mixes come in premium packaging: The snacks are placed in clear, air-tight jars that are capped off in an auspicious shade of gold or red. The healthier Nature's Wonders range comes in gold packaging that will look fabulous alongside your Christmas decor. Red, as you probably know, symbolises luck, happiness and joy, making the red packaging of the signature Tai Sun range perfect for Chinese New Year. They're great as gifts too, when you go visiting.
3 HIGH IN NUTRITION
Nuts have a whole slew of health benefits. Packed with protein, fibre and essential fats, they are a vitalityboosting snack. Cashews, in particular, are great because they contribute a good level of protein and are a useful source of minerals like iron and zinc. They're also rich in magnesium, which is said to delay age-related memory loss. You'll be pleased to know that there are Baked JUMBO Cashews under the healthier Nature's Wonders range. More crunch, more satisfaction. It's no surprise that this is Tai Sun's best-selling product. Macadamias and almonds are also noteworthy. Macadamias are full of good fat – they supply good levels of the healthy monounsaturated variety. They're a rich source of fibre and have a combination of minerals, including magnesium, calcium and potassium. Almonds are calcium-rich, and consuming them ensures you're getting enough of this bonebuilding mineral, especially if you can't take dairy. They are also high in vitamin E, a nutrient that helps to improve the condition and appearance of your skin. Tai Sun make things easy by putting both nuts in one product – Baked Macadamia with Almonds Mix under the Nature's Wonders range. But don't just buy products under the Nature's Wonders range. Yes, they're unseasoned and freshly baked to seal in the natural flavours – truly guilt-free! – but to keep things interesting, have a mix of snacks from both ranges so your guests will have the best of both worlds. After all, it's time to celebrate! Happy holidays!
RAVISHING RED
The signature Tai Sun range has everyone's most loved favourite Chinese New Year snacks. California Pistachios (530g, $16.20; 330g, $10.10). View more products from this range at www.taisun.com.sg.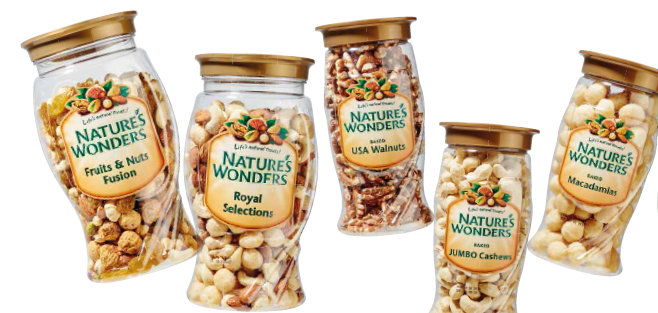 GO FOR GOLD
The Nature's Wonders range is rich in essential nutrients, protein, antioxidants and fibre. (From left) Fruits & Nuts Fusion (620g, $14.60), Royal Selections (620g, $20.80), Baked USA Walnuts (270g, $9.95), Baked JUMBO Cashews (380g, $12.90), Baked Macadamias (380g, $21.30), Macadamia with Cashews Mix (400g, $14.90), Baked Macadamia with Almonds Mix (400g, $14.90), Baked Cashews with Almonds Mix (400g, $12.90), and Fruits & Nuts Fusion (400g, $10.95).