Gift delectable sweets and chocolates to loved ones, or take away fresh sandwiches, salads and desserts for your dinner party.
Gift delectable sweets and chocolates to loved ones, or take away fresh sandwiches, salads and desserts for your dinner party.

1. Artisan Boulangerie Compagnie Known for its artisan breads and delicate pastries, this modern French-style bistro and bakery bakes its offerings fresh daily, using the fi nest imported ingredients and traditional techniques. Must-try: the Hazelnut Crunch Cake ($8).
2. District 10 Bar & Grill Do not expect the usual fare found at its other outlets. The specialty at Suntec City is its Dry Aged Meat featuring highly marbled quality meat on bone like the 45 Days Dry Aged Corn-Fed Traditional Fiorentina Steak ($22 for 100g, minimum order of 800g).
3. Wine Connection A bottle of wine is the perfect emergency gift – this Le Casette Prosecco Spumante Extra Dry DOC ($19.90) has floral scents of almond blossom and jasmine with ripe apple and hints of pear. The gentle acidity and long creamy finish make it the perfect accompaniment to light appetisers as well as fish and other seafood.
4. PasarBella The city-side branch of the gourmet market chain houses 15 food stalls, and is designed to resemble a streetscape, complete with cobblestone paths and a New York-style fire escape. Look out for chef Damian D'Silva's South East Sliders pastry sandwiches and Kyle Henderson's (Lolla) Porsena sandwich shop, as well as Pimp My Salad by Sarnie's Ben Lee and yakitori by Wildbird.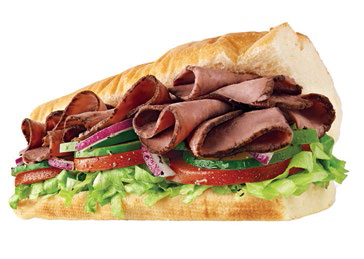 5. Subway The Roast Beef 6-inch ($6.90), with less than 6g of fat, is piled high with lean roast meat (sans artificial colours, flavours and preservatives) and your choice of fresh veggies such as crisp green peppers and juicy tomatoes. To take it up a notch, add some spicy jalapenos for a kick in the taste buds.
6. Sumo Salad Freshness in a bowl: Sumo's Famous Grilled Chicken Caesar ($9.50 for a small serving, $10.50 for a large serving) combines the finest bacon, egg and parmesan cheese with succulent grilled chicken and golden croutons, all tossed on a bed of cos lettuce and coated in Sumo's Caesar dressing.
7. Godiva For the first time, Godiva's Christmas gift boxes not only come with a limited-edition gold-tone snowflake charm, but also with alphabet charms. Create personalised gifts by selecting letters or pictures to spell out Christmas blessings to a loved one. From $42 for eight pieces to $134 for 32 pieces, and $3 for each letter or picture charm.
8. Royce' Hang up the Christmas decorative ball ($18.50) on your tree after you've relished the Pure Chocolate and other delectable flavours of R Chocolat inside it. Enjoy a 53-piece assortment ($89) of crunchy Christmas Cookies, luscious Royce' Pure Chocolate and other popular Royce' items like Fruit & Nutty Bar Chocolate, Amande Milk Chocolate and Chocolate Wafers, among others.
9. Llao Llao The Spanish fro-yo chain serves up the perfect party dessert. Take away its frozen yogurt in a medium ($11) or large ($18) container, and choose three toppings for your refreshing, low-fat soft serve.
10. Tony Roma's A Christmas feast ($88++) fit for a king: Tony Roma's pork ribs in smoky apple, Red Hots and Carolina Honeys sauces, crispy fried shrimp, fried onion rings, tender Caprese chicken and corn on the cob, served family style. Also comes with Christmas-themed salad, chocolate lava cake, and a jug of drink of your choice.
11. Rive Gauche A jarful of Christmas Cheer: freshly baked fruits and nuts cookies ($18) and almond cookies coated with raspberry powder ($18).
12. Andersen's of Denmark Get hold of its Christmas ice cream log cake ($75 for 1kg), made using a traditional Danish recipe and packed with premium ice cream. Flavours: Belgian Chocolate Chip
and Macadamia Nut.
13. The Shop by HIC Why not serve organic cold-pressed juices packed with phytonutrients, vitamins and minerals at your Christmas dinner? The C-lemonade, Citrus Chia, Maquila and Lemon & Spice juices make yummy, yet healthy, party drinks. From $7.50.
14. Cedele Savour the great taste of desiccated coconut, almond croquant and coconut gula melaka frosting blended together perfectly in the Pandan Gula Melaka log cake ($52). What's more, it's rich in fibre, vitamins and minerals!