Amassing a cult following in recent months, these homegrown cafes, eateries and home kitchens are wowing diners with innovative ideas, fresh new flavours and DIY kits that are simply mouthwatering.
Amassing a cult following in recent months, these homegrown cafes, eateries and home kitchens are wowing diners with innovative ideas, fresh new flavours and DIY kits that are simply mouthwatering.
CARROT CUBES
Claire Huang's unique carrot cake flavours have wowed diners from all over. (@carrotcubes, 1,000 fans)
Order: @carrotcubes on Instagram
Location: Blk 527 Ang Mo Kio Avenue 10, #01-115, Cheng San Market
Fried with lots of eggs, Claire Huang's chai tow kway (carrot cake) has a skilful "char" to them – crispy on the outside and really soft on the inside. And she throws out the debate of whether the white or black version is better by coming up with her own – the spicy Hottie Carrot Cake ($5.20) with Thai chilli flakes and shrimps, and flavourful Bacon and Cubes ($6.20) with bacon bits.
So tasty are her fluffy carrot cake dishes that Claire, 32, sold a record 180 packets in one day when she introduced delivery a few months ago to reach out to more diners, via Insta-inbox orders.
With just the right amount of Thai chilli flakes, the Hottie Carrot Cake has a robust flavour and aroma with the chye poh (turnip), garlic and shrimps. 
If you're looking for that extra oomph, the salted tang of the bacon bits also give this unconventional creation, Bacon and Cubes, a slight crunchy texture. Claire's adventurous creations is winning over diners, from students, families, and just about anyone craving a good plate of chai tow kway. 
KIN
Chef Damian D'Silva whips up a new feast of heritage meals for family-style dining. (@restaurantkin.sg, 1,501 fans)
Order: order.restaurant-kin.com
Location: Straits Clan Lobby, 31 Bukit Pasoh Road
He may be known for his Peranakan and Eurasian cuisines but Damian D'Silva's new heritage menu, Be With Kin (BWK), has included Hakka and Cantonese classics into his spread curated for family dining – available for delivery and takeaway. 
On the menu is the Hakka Fried Pork ($18) – a crispy pork belly that's not too greasy, with an intense flavour of five-spice and artisanal black bean sauce, served with chilli vinegar. The Lei Cha Fan ($18) or Thunder Tea Rice is a flavourful combo of cabbage, mani chye, leek, long bean, beancurd, and herbaceous basil-mint Chinese mugwort broth.
Kin's Be With Kin menu, launched over the Circuit Breaker, encourages family-style dining over a variety of hearty Singaporean heritage cuisine meals.
The time-honoured Cantonese dish Chi Pow Kai ($16) comes with juicy parcels of paper-wrapped boneless chicken in special marinade, served with garlic chilli. BWK is an extensive and impressive menu that's reasonably priced for communal dining. It offers sets, small and large mains, sides and desserts.
You can find Damian's iconic Peranakan dishes like Buah Keluak Fried Rice ($28); and set meals like the Peranakan Chap Chye ($70-$98), which is a generous portion for two. 
Damian says: "It's heartwarming to know that despite all that's going on, people are taking the time to sit down with family at home to enjoy a lovingly prepared heritage feast."
Enjoy Po's DIY popiah platter, with fresh tiger prawns or flower crabs, eggs, crushed peanuts, vegetable filling, and handmade wheat skins.
PO
With its fresh ingredients and soft handmade wheat skins, these Popiah Platters are simply delish. (@porestaurant, 2,560 fans) 
Order: order.po.com.sg
Location: The Warehouse Hotel, 320 Havelock Road, Robertson Quay
They may be pricey, but Po's Popiah Platters are of a refined quality. The eatery's menu is conceptualised by chef Willin Low of the famed Wild Rocket, and it has been home delivering the delicious signature popiahs DIY style – so as not to rob you of the fun of wrapping it. 
There are two platters to choose from: Fresh Flower Crab Popiah ($78 for six pieces and $104 for eight pieces), and Prawn Popiah ($63 for six pieces and $84 for eight pieces). 
The neatly packed DIY set comes with fresh handmade wheat skins, stewed pork, and vegetable fillings, as well as popiah toppings and condiments. 
Within the fillings, there are 14 different kinds of hand-cut vegetables that have been stewed and caramelised. Pork, shrimp and bamboo shoots add a rich savoury depth, balanced by the sweetness of the jicama, carrots and Holland peas.
If you're looking for something different, go for the Fresh Flower Crab Platter. Enjoy the fresh, juicy chunks of crab meat from locally-farmed flower crabs, instead of traditional tiger prawns.
The Pastrami Reuben ($24) is another star sandwich. The housebrined pastrami brisket is a savoury treat.
PARK BENCH DELI
Have a sandwich party with these DIY kits made by this popular lunchtime deli. (@parkbenchdeli, 13,000 fans)
Order: www.parkbenchdeli.com
Location: 179 Telok Ayer Street
The American-style deli has brought back the fun and created three DIY kits (Cheeseburger, Pastrami Reuben and PJP Pack) for those who prefer assembling their own meal. The kits can serve from two to eight people.
Individually sealed and cold-packed (for the meat and cheese), the Cheeseburger sandwich kit ($72) comes with eight fresh beef patties, 16 slices of American cheese, eight Martin's potato buns and 150ml of house-made burger sauce.
All you have to do is cut up some vegetables for your sandwich. No one would bristle if you added slices of avocado. You can also opt for the plant-based Impossible Burger ($88.90 for 2.27kg).
One of our favourites is the Pastrami Reuben ($75). The value-for-money kit comes with 500g of house-cured and smoked pastrami brisket, eight slices of Swiss cheese, creamy Russian dressing coleslaw, pastrami jus, mustard, dill pickles, and eight slices of rye bread. It serves up to four people.
For something lighter, the PJB Pack (from $12) can make eight open-faced sandwiches. The pack includes a 180ml jar of delicious house-made Almond Hazelnut Butter, a 180 ml jar of Strawberry Rhubarb Jam, and a Bakery Brera Brioche Loaf.
We get it if you're too lazy to DIY. Order ready-made sandwiches like Kale and Mushroom Melt ($16), served with sourdough rye bread. It's packed with a medley of richly-flavoured shimeji, portobello and brown button mushrooms – and creamy three-cheese mix.
Butcher Boy's do-it-yourself Build A Bao kits, with Buttermilk Fried Chicken and Pork Katsu Croquette for a fusion twist.
BUTCHER BOY
This bar and grill got creative and came up with a do-it-yourself kong bak bao kit that has been selling out. (@butcherboysg, 4,700 fans) 
Order: butcherboy.com.sg
Location: 31 Keong Saik Road
These DIY bao kits have been selling out at least a week in advance – and for good reason. The guys behind Butcher Boy have put a twist to the all-time favourite kong bak bao, or braised pork belly steamed buns. 
Instead of braised pork belly fillings, the Buttermilk Fried Chicken or Pork Katsu Croquette fillets put a unique spin on the traditional dish. They come frozen and precooked – all you need to do is bake or air-fry them, and pop the big white fluffy baos into a steamer. 
Priced at $48 for six buns and $88 for 12 buns, they come in a no-frills carton box. Inside, you'll see the buns and ingredients – separated, packed and labelled. 
Despite having spent close to a week in this writer's freezer, the buns and ingredients weren't hard or dry but soft and fluffy, when heated in a steamer and air-fried. 
Sink your teeth into the Buttermilk Fried Chicken and hear the crunch of the crispy breaded fillet. The beautifully golden Pork Katsu Croquette was a delectable hit – flavourful and juicy with the fibrous texture of shredded meat.
The buns were dressed with a hearty dollop of Butcher Boy's delicious homemade Peking Hoisin Sauce and Soya Mayo, which added an umami touch, and the cucumber pickles for a sour bite. There's also an option for vegetarians: Shroom and Soya Bao.
SAINT PIERRE
Chef-owner Emmanuel Stroobant of Saint Pierre came up with a novel way to interact with diners, bringing fine-dining to their homes. (@saintpierresg, 2,206 fans)
Order: e-mail info@saintpierre.com.sg or call 6438-0887 at least five days in advance
Location: #02-02B One Fullerton, 1 Fullerton Road
Fancy having a personal chef in your home? Well, you can, albeit via a virtual experience by chef-owner Emmanuel Stroobant of the homegrown two-Michelin-starred restaurant, Saint Pierre. Dine on a contemporary French cuisine at home and enjoy the atmosphere of a get-together. 
When you scan the QR code, it takes you to a virtual Zoom room. Available for lunch and dinner, the curated Omakase meal is delivered to your home by Saint Pierre staff. It comes in a lacquered bento box comprising eight starter-sized dishes – a selection of amuse-bouche, starters, mains and desserts. The menu changes every week.
Hokkaido Hairy Crab with Ikura (salmon roe) from Virtual Saint Pierre's Omakase meal, presented in a premium bento box.
Emmanuel enters the (Zoom) room when guests have all gathered virtually. He introduces the menu's selections, interacts with diners, who can choose to continue the virtual party at their own leisure.
"The trying times have only spurred us further to be more innovative with our approach to dining," says Emmanuel, 52. "This is our way of bringing friends and families from different parts of Singapore together, bonded by a shared love for fine cuisine and sparkling conversation." The novel idea has seen "positive response", he says. Priced between $180+ and $220+ per person, Virtual Saint Pierre is inspired by the restaurant's 26-course A-Z menu from 2017.
"Virtual dining doesn't replace the real experience," Emmanuel adds. "But on the bright side, our guests can dine comfortably in their pyjamas!"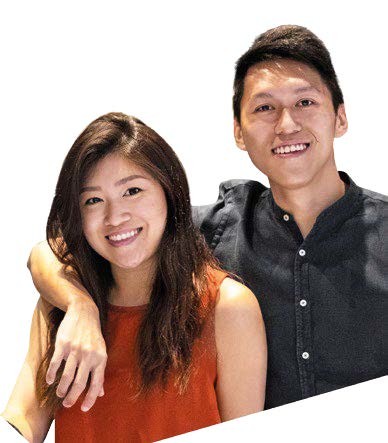 POKE THEORY
Siblings Joey and Vannessa Lee of Poke Theory revived an old favourite that became a hot seller. (@poketheorysg, 14,100 fans) 
Order: www.poketheory.com.sg
Location: 27 Boon Tat Street
It's really spicy, packed with delicious cubes of umami – and Mala hotpot lovers are giving the Sichuan Mala Salmon poke bowl (from $12.30) a thumbs-up. 
The spicy bowl has become the bestseller in recent months when it made a comeback to the menu after a year.
It was reintroduced to cater to those craving for hotpot meals. Poke Theory's co-founder Joey Lee, 26, says: "The mala flavour was our most popular seasonal flavour. Since people are ordering lunch for different generations (at home), we felt it was also a good chance to introduce the dish to the older generation."
The spicy, tongue-tingling Sichuan Mala Salmon is an all-time favourite seasonal special.
The flagship at the Central Business District also offers acai bowls, an array of colourful cold pressed juices, and healthy oven-baked treats like Kale Chips and Crispy Salmon Skin.
To provide islandwide home delivery, they partnered displaced private-hire drivers.
"We collaborated with Village Concierge, a company organising a system for over 100 private-hire drivers, to develop an islandwide delivery system that helps the drivers directly," Joey adds. 
"Our full menu is available, and you get your food within the hour."
Delivery starts from $4.
Other must-tries on the menu: The Mentaiko Madness (from $13.40) salmon poke bowl, and Spring Fling ($8.30 for regular, $10.60 for large) acai bowl, served with fruits, granola and seeds.
MOFO CHILI
This chilli shop is taking the hotness to an insane level – and Singaporeans are lovin' it! (@mofochili, 1,000 fans) 
Order: mofochili.bigcartel.com
They've made their chilli a talking point, and if you're up for a real challenge – you can now to order these fiery spices online. The aptly-named – The Dodge The Bullet fried chilli paste, Final Destination fried chilli paste, and the Mofo Gunpowder chilli powder – will give you a different sort of kick. Warning: Final Destination isn't for the faint-hearted. 
This year, spice company Mofo Chili relaunched its site mofochili.bigcartel.com during the Circuit Breaker to make the items (halal and vegan-friendly) more accessible to chilli lovers. It saw orders spike 50 percent in recent months. Behind Mofo Chili are Manado-born sisters, Monica Josephine and Steffi "Foi" Elvira, who are based here. They also harvest the chillies in their own plantation in Manado.
FINAL DESTINATION FRIED CHILLI PASTE
Spice level: We definitely pulled a "final destination-worthy" face upon tasting it. It looks almost the same as the Dodge The Bullet Fried Chilli paste, but the spice is on a whole new level. A small spoon is enough as a condiment. This product is a standout among the three, thanks to the solid kick that it gives.
Best eaten with: Dry noodles (especially Indomie noodles) or rice.
DODGE THE BULLET FRIED CHILLI PASTE
Spice level: It's rated level five out of 10 for spiciness on the website. This is a palatable chilli paste that's fragrant and just spicy enough. It's also slightly savoury and goes perfectly with any kind of rice dish. The spice does build up and you may need to stop for a sip of water, but for seasoned spice eaters, this isn't a tear inducer.
Best eaten with: Fried rice or mixed into any kind of stir-fried vegetables.
MOFO GUNPOWDER CHILLI POWDER
Spice level: It's rated as a level seven chilli and we totally understand why. For an unassuming bottle of chilli powder, one wouldn't expect to be hit with a sharp "slice" on first taste. The spice blends well into soups and brings out savoury flavours. But if you're not careful with the amount you're pouring in, you may end up needing lots of tissue on the side.
Best eaten with: Yong Tau Fu soup or sprinkled on a pizza.
AGATHA'S GARLIC CHILLI
The family-recipe chilli with a wait list of more than 60 bottles made by theatre actress Pam Oei. (@pam_oei, 5,200 fans)
Order: @pam_oei on Instagram
Everyone is going gaga over this homemade garlic chilli, well, at least that's the case for some 5,200 followers on Pam Oei's personal Instagram account. 
With the theatres closed, she has turned to making her family-recipe garlic chilli. And her chillis ($15 a bottle, minimum two bottles per order through Pam's Insta-inbox) are so good, you have to wait up to three weeks to get your hands on it. 
Pam, 48, says she's struggling to keep up with the massive amount of orders. "I can only manage making one batch (20 bottles) a day," she says. "The entire process takes six hours. From washing the chillies, chopping, blending, cooking... it's a lot of work!"
She adds: "My nine-year-old son washes the bottles, my filmmaker husband Ken Kwek helps me chop, blend and deliver the chilli (when he's not writing) on his scooter. I also rely on a good friend who gives tuition all over the island for delivery. A lot of the time, I deliver them myself!"
Pam named the chilli Agatha's Garlic Chilli because her late mum taught her how to make it. The original recipe came from Pam's paternal grandma – a true blue Nyonya. "So it's my Ah Ma's recipe," she says.
Last Christmas, Pam made the chilli as gifts for her friends, who encouraged her to sell it. Since her theatre work has been cancelled until October, Pam decided to make it and "use the chilli to pay my bills'.
She says will continue selling the chilli when the theatres reopen. "I could always stock some bottles in the fridge and sell them on the side for extra income," she adds.
THE CIRCUIT BAKER
It's a fast-fingers challenge on Instagram to place brownie orders with this home bakery started by couple Claire and Fabian Tan. (@thecircuitbaker, 4,000 fans)
Order: @thecircuitbaker on Instagram
Gone in 90 seconds. That's how fast their fans are snapping up these Sea Salt Fudgey Brownies when pre-order forms are released on the bakery's Instagram account on Sunday at 12pm and Wednesday at 6pm. 
A box of six brownies is priced at $15. These delectable dark brown cubes are worth the wait: Crispy on the outside, these brownies are soft, chewy and fudgey on the inside. Decadent and moist, they aren't too dense or sticky. To balance the sweetness, sea salt is sprinkled on top. 
NOT YOUR AVERAGE BROWNIE The SeaSalt Fudgey Brownies
What's so special about the brownies?
Claire Tan (CT): Ours are less sweet and you won't get "jelak" (sick of eating). We also use high quality ingredients such as bourbon vanilla beans (Madagascar), Maldon Sea Salt Flakes, and French chocolate and butter. 
Each batch is painstakingly hand-mixed to ensure the quality of our brownies, and timed to a tee in the oven for that perfect texture. 
How did The Circuit Baker come about? 
CT: Baking has always been my passion and hobby. When the Circuit Breaker started in April, my job was affected. My husband Fabian, a business analyst, was to move to Manila for his job, but his plan was disrupted due to the pandemic. 
So we started to bake for friends to better make use of our time at home. A close friend requested for brownies so we whipped up a batch. We received rave reviews from our friends and family! From there, we started selling them. A friend coined the name for us and The Circuit Baker was born.
I bake in the morning (Monday to Saturday) and my husband delivers the brownies in the afternoon. Our online order form (maximum of six boxes per form) is released on Instagram. 
Once the total number of orders meets our weekly quota, the form closes.
The team at Brotherbird consistently comes up with unique croissant flavours like S'mores (above middle & right) and White Chocolate Banana (above, left).
BROTHERBIRD BAKEHOUSE
Pre-orders exploded for this bakery when it introduced a new croissant-only menu. (@brotherbird_ bakehouse, 24,000 fans) 
Order: @brotherbird_bakehouse on Instagram
Location: #01-05 CT Hub 2, 114 Lavender Street
It became Insta-famous the moment it switched to making croissants, as it was more feasible to deliver. And online pre-orders skyrocketed for its new croissant-only menu, which features six different flavoured-fillings. The croissants are sold at $28 for a box of six. 
What's interesting is, the menu changes. Flavours include Key Lime Meringue, Kinder Bueno with Almonds, Samoa Smores and Oolong Osmanthus.
The Oolong Osmanthus Croissant was one of its best flavours. When you tear open this buttery, flaky pastry, the floral tea filling inside gives it a pronounced fragrance. It goes well with a cup of tea.
 The team at the Brotherbird Bakehouse were experimenting with croissant recipes when they opened 18 months ago at Lavender Street. They were taken by the unexpected results of the croissant flavours like mango sticky rice and taro. 
Then, the bakehouse was known for its mochi cakes and artisanal ice cream. When its outlet Stateland Coffeehouse at Bali Lane closed this year, staff members were sent for a two-week training programme to equip them with proper baking skills.
A Brotherbird spokesman says: "This way, we could expand the croissant production load. We've learnt how to reshuffle manpower efficiently to meet demands. 
"Our online platform also reached out to our customers, and the pre-orders for our croissants kept the business afloat."
PUFFS AND PEAKS
The popular cream-filled doughnuts by mother-and-daughter bakers Linda Sng and Ong Jing Ting are selling like hot cakes. (@ puffsandpeaks, 8,000 fans)
Order: @puffsandpeaks on Instagram
Their tasty made-from-scratch cream fillings of traditional and modern flavours are among the reasons these fluffy doughnuts have become an overnight sensation.
They're not too sweet – just enough to keep you coming back for more. Ong Jing Ting, 23, founder of Puffs and Peaks home bakery switched from baking decorative cakes to making these to-die-for doughnuts ($14 for a box of four) this year. She also roped in her mother, Linda Sng, to help. 
Tell us more about the doughnuts.
Jing Ting (JT): They're our most popular item although we also sell banana bread. So far, we've sold about 2,000 doughnuts since we introduced them! Our flavours include vanilla bean, hazelnut, matcha green tea, taro and seasonal favourites. 
Each filling is made from scratch. We roast and grind the nuts, and even blend the boiled taro until it is completely smooth!
How's business so far? 
JT: The doughnut orders are at an all-time high. We have to limit the orders and fulfil what we're able to do. We take orders mainly through Instagram. 
We try to have two days of rest each week, but we end up doing admin work on those days!
How did Puffs and Peaks come about?
JT: I was a one-woman show when I started Puffs and Peaks five years ago. I was in polytechnic and it was a passion project. Over time, I decided to focus on the baking business and took in small orders. 
Last year, my mum got retrenched. It was unexpected, but also the perfect time for her to join me. She has always been an avid baker, but took on a corporate job to support the family. She contributes more traditional flavours of baked goods, while I like to experiment with new flavours. We've managed to create a good range of quality products. 
What's it like working with Mum?
JT: I'm fortunate to share the same passion as my mum. We advise each other a lot. We get a lot of comments and opinions through our Instagram account, and it's difficult to deal with so many at any one time. 
We keep each other grounded and tell each other that "we've done our best and we cannot satisfy everyone". She reminds me that we're baking for those who appreciate our creations. And that's all that matters.
LE MATIN PATISSERIE
Ex-Noma pastry chef Mohamed Al-Matin is gaining a loyal following who just can't get enough of his pastries from his online bakery Le Matin Patisserie. (@lematin.sg, 6,759 fans
Order: www.lematinpatisserie.com
His gourmet pastries are fast becoming a cult favourite. In April, Mohamed Al-Matin, who worked as a pastry chef at Denmark's Noma restaurant (No. 2 on The World's 50 Best Restaurants list) started his online bakery Le Matin Patisserie in Singapore. 
The name of the bakery is a play on his name and "le matin", which means "the morning" in French – the time to bite into a flaky, buttery puff pastry with a cup of tea or coffee. 
While you can get the classic kouign amanns and galettes, your order isn't complete until you've added a Smoked Cruffin (a muffin and croissant hybrid) to your bag. 
What's so special: the delicious cream inside the cruffin is charcoal-infused and smoked with applewood. The pastry is adorned with eucalyptus meringue. 
Another must-try: the Pistachio Escargot. The delectable pastry is made out of a croissant base that's coiled into a tight coin, then topped with crushed pistachio custard and rose-scented cranberries. 
STANDOUT PASTRY
Smoked Cruffins
A box of five pastries costs $49, including delivery.
Matin, who trained at the prestigious Le Cordon Bleu Sydney, is currently working with a team of four bakers in a temporary kitchen. The initial months as an entrepreneur-cum-baker was tough for the 31-year-old Singaporean. He was swarmed with more than 1,200 orders from the time he started the online bakery.
He tells Her World: "I think I went without sleep for more than a few days during that time. The orders just kept coming in, and I struggled a little bit with manpower."
Matin isn't about to give up on his dream of setting up a brick and mortar shop though. His plans were shelved due to the pandemic when he returned to Singapore last year after he left Noma. "I had to scale down my production and go online instead," he says.
These doughnuts are stuffed with unique fillings like pear and passion fruit cream.
DOUGHTER BAKERY
This home-based bakery is doling out one-of-a-kind duo texture mochi cakes with seasonal flavours that has dessert lovers craving for more. (@doughterbakery, 3,400 fans) 
Order: @doughterbakery on Instagram
While mochi is traditionally chewy, these mochi cakes are crusty on the outside with a chewy, melt-in-the-mouth texture inside. And they're shaped like muffins. In January, Melissa Gan and her fiance launched Doughter Bakery on Instagram to fuel their passion for baking cookies and mochi cakes. 
Less than two months after the launch, customers flooded their Insta-inbox with orders for their mochi cakes. "We were fortunate to be able to turn our passion for baking into something more by feeding Singaporeans during the stay-home period," says Melissa. 
The Matcha and White Chocolate Cake: The white chocolate balances out the bitterness of matcha, making it creamy and chewy at the same time.
The duo, who hold full-time jobs, got creative with their mochi cakes flavours that include Kaya and Coconut – inspired by Melissa's love for the traditional kopitiam breakfast of kaya and butter toast. 
She adds: "Seasonal flavours like Black Sesame and Cinnamon were created through many rounds of testing. We felt that these flavours would go well with the chewy texture of our mochi cakes." 
Melissa handles the baking and photography, while her fiance buys the raw materials, handles the operations, and manages their Instagram page.
They're now taking pre-orders fortnightly. The menu is released on their Instagram account and you can order through a form. 
She enthuses: "We're very grateful to have satisfied the cravings of more than 1,000 customers!"
Photos 123RF