Feeling overwhelmed by the sheer number of dining options at Suntec City? Let our food trails guide you to ayummilicious experience– there's something for all taste buds!
Feeling overwhelmed by the sheer number of dining options at Suntec City? Let our food trails guide you to ayummilicious experience– there's something for all taste buds!
THE CAFE TRAIL: FOR TIMES WHEN YOU NEED A QUICK BITE OR A MEAL T O GO .
JAMAICA BLUE
Take some time out of your busy schedule to unwind here over a super-refreshing Handcrafted Botanical Soda ($6). Choose from three flavours: lemonade, pomegranate and citrus & lychee.
GELÁRE
The freshly baked Classic Waffle A La Mode ($11.90) is crispy on the outside but delightfully fluffy inside.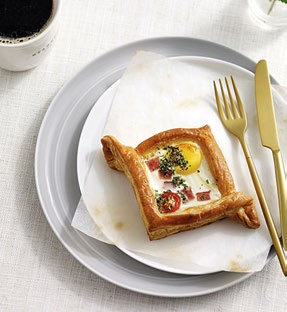 STARBUCKS
Start your day with one of the cafe's eight breakfast sets ($6.90 with a freshly brewed, tall-sized coffee). We like the savoury Croque Madame Puff.
A-GAN TEA
The cafe uses tea leaves from Taiwan's Ali Mountain. Try Red Bean Matcha (from $3.50) and Milk-Lid Matcha (from $3.50) for a delicious take on regular milk teas.
ROYCE'
Nothing perks us up like Fruit Bar Chocolate ($20 for 10 pieces), filled with strawberry, mango, cranberry and almond puffs. Yum!
THE HOUSE OF ROBERT TIMMS
The Aussie-based gourmet coffee purveyor isn't just great for a cup of joe – quell your hunger pangs here too with the Hot & Spicy Blue Mussels ($25.80), featuring live Australian shellfish simmered in white wine and chilli padi.
THE HEARTY FOOD TRAIL: FOR A MORE SUB STANTIAL MEAL TO SATIATE SERIOUS HUNGER PANGS.
THE MANHATTAN FISH MARKET
A must-try: the Manhattan Flaming Seafood Platter – Dory ($38.95), featuring fish fillets, oysters, calamari and prawns flamed before your eyes.
BISTRO 1855
Whether it's lunch or an after-work bite, Bistro 1855 has you covered. Take your pick of hearty mains like Truffle Pizza ($26) or one of the tasty bar bites, like Crispy Pork Belly ($10).
MAD FOR GARLIC
This garlic-themed Italian restaurant dishes out pastas, pizzas and steaks enhanced with the bulb's fragrance. Try the Lobster Cream Pasta ($23.50), which is topped with garlic cream sauce, generous chunks of lobster and fish roe.
DISTRICT 10 BAR & GRILL
The Suntec City outlet focuses on premium cuts of dry-aged meat. Carnivores will love the highly marbled signature 45 Days Home Dry Aged Corn Fed Traditional Fiorentina Steak ($19 for 100g, minimum order of 800g).
ALT. PIZZA
Tuck into a hot piece of pie at this joint. The Hangover ($17) is a classic – organic tomato sauce, mozzarella, pepperoni, fennel sausage and roasted onions.
L'ENTRECOTE THE FRENCH BRASSERIE
French fare doesn't have to be pricey. The restaurant's signature L'entrecote Steak is from $32.90 only. If steak's not your thing, order the Escargots de Bourgogne (garlic butter snails, $13).
OSG BAR+
Western classics with a South-east Asian twist – think Curry Duck Confit ($25.90) and Nonya Laksa Linguine with Tiger Prawns ($25.90).
MORGANFIELD'S
Expect hearty grub here like the signature Sticky Bones (barbecued pork ribs) and the Tequila Spiked Chicken ($23.90), which features half a bird marinated in spicy tequila, lime and paprika, and chargrilled to aromatic perfection.
THE ASIAN FLAVOURS TRAIL: CHINESE, JAPANESE, INDIAN AND MORE… TAKE YOUR PICK.
GRANDMA'S
Warm your soul with a selection of wholesome Singapore dishes. The Chicken Curry ($12.90) boasts a secret blend of spices simmered in a rich coconut curry.
HAN'S
Head here for fuss-free, quality East -meets- West meals at decent prices – like a hearty Hainanese Pork Chop with Rice ($13), or Chicken Rendang wtih Rice ($12.50).
DIN TAI FUNG
You can't go wrong here if you're craving Taiwanese cuisine. Make a beeline for it s signature Steamed Pork Dumplings ($7.80 f or six; $10.30 for 10).
MUTHU'S CURRY
Must-tries here: Tandoori Chicken ($14), and the award-winning Fish Head Curry (from $22) which features seasonal fish served with juicy okra in a rich gravy.
THE SOUP SPOON
Get the Tokyo Chicken Stew ( $7.50), which has chicken chunks sim mered in a broth of sake, mirin and soya sauce with lotus roots, mushrooms, white radish and bam boo shoots.
HEAVENLY WANG
Start your day the Singapore way, with a Kaya Butter Set ($5). Slices of toasted bread slathered in kaya spread are served with two soft-boiled eggs and a hot beverage.
KUISHIN BO
The restaurant's lunch and dinner buffet (from $36.90 an adult for lunch, and from $54.90 for dinner) offers a smorgasbord of more than 100 items, from tempura and oden to Japanese desserts.
ICHIBAN BOSHI
Order the Hoshi Sashimi ($49.90) for thick slices of assorted sashimi like scallop, swordfish, salmon, octopus, yellowtail and sweet shrimp.
SAIGON BAGUETTE
Enjoy authentic Vietnamese fare here. The soupbase of the Beef Combination Pho ($9.90) is brewed for 10 hours from 10 ingredients.
SUMIYA
Get a taste of Irori Genshiyaki, an ancient cooking method where fish are grilled slowly over a charcoal bed so the meat remains succulent. Prices vary according to the type of fish selected.