Rise and shine! Fuel up in the morning by chowing down on these healthy toast options.
Rise and shine! Fuel up in the morning by chowing down on these healthy toast options.

We all know that breakfast is the most important meal of the day, and even though it's tempting to grab something easy and quick on the go like a curry puff, it's not exactly the healthiest start. For a meal that's both nutritious and yummy, we suggest revamping the humble toast. Because as much as everyone loves kaya and butter, they're not great for your body in the long run. Here are some ways to jazz up your breakfast toast and kick-start your morning on a tasty and guilt-free note.
AVOCADO
Other than tasting magical in guacamole and California rolls, avocado also makes for a great toast topping. It may be rich and creamy, but it's full of goodies such as potassium, has plenty of vitamins (namely B, C and E) and is low in sugar. And because it contains oleic acid, it has the effect of making you feel full for longer – always a plus if you're wary of overeating.
CALORIE COUNT: A fifth of a medium sized avocado contains approximately 50 calories.
Spread on smashed avocado with some lime juice, and season with salt and pepper.
HUMMUS
Not everything that comes out of a jar is unhealthy! If you're running against the clock, grabbing a pot of hummus and a slice of bread can still make for a speedy and nourishing breakfast. Thanks to chickpeas, the main ingredient in hummus, you'll get a good dose of protein, iron and fibre. And because it's filling, you won't be raiding the pantry before lunchtime.
CALORIE COUNT: A tablespoon of hummus contains approximately 30 calories.
It's great on its own, but for added oomph, you can add tomatoes and a hardboiled egg.
BANANAS
Vitamins, potassium, magnesium, protein… the list goes on. This curved fruit packs a nutritional punch, but if you find it too plain to eat on its own, slice it up and use it as a toast topping. And because they're naturally free of cholesterol, fat and sodium, you can chow down on them without feeling guilty.
CALORIE COUNT: An average sized banana contains approximately 100 calories.
Layer your toast with peanut butter and slices of banana, before dusting with cinnamon.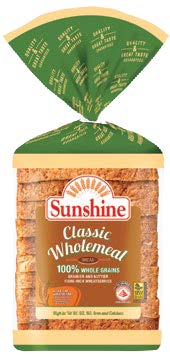 Breaking Bread
Considering how much of a pantry staple bread is, the next time you go grocery shopping, pay attention to exactly what loaves you're buying off the shelves. For those embarking on a healthier diet, opt for wholemeal bread instead – the Sunshine Wholemeal Bread range, for example, is endorsed by both the US Whole Grain Council and the Health Promotion Board as a Healthier Choice product. Made with sprouted grains (which are whole grains), they contain more fibre, vitamins, minerals and antioxidants than your average white bread slices.