If you're houseproud and love to entertain, you'll want the very best for your family and guests.
If you're houseproud and love to entertain, you'll want the very best for your family and guests. Turn the page to find out how these award-winning pantry essentials and home appliances will take your home and your life to the next level…
CATEGORY: BEST BLENDER
WINNER:
Bosch VitaMaxx Vacuum Blender (MMBV621M)
Blending Bliss
The most fuss-free way to eat fruits and veggies, and get all that vital nutrients, is to blend them up into a creamy smoothie, and drink it. With Bosch's VitaMaxx Vacuum Blender, you can make a smoothie in under 10 minutes.
The VitaMaxx is a vacuum-type blender that uses a vacuum pump to remove air from ingredients in the blender jug. This process slows down the oxidation process for fruit and veggies to help prevent browning or discolouration. In fact, this BPA-free blender can retain up to five times more oxygen-sensitive nutrients, like vitamin C – even after 24 hours, for maximum freshness in every smoothie.
Its high-powered 1,000-watt motor delivers up to 37,000 revs per minute while its six-blade, stainless steel rotating blade cuts through fibrous veggies and hard ingredients easily, so you can throw caution to wind and add extra servings of spinach, nuts or ice into the blender. At $1,299.
Bosch VitaMaxx Vacuum Blender is available exclusively at the UnserHaus Experience Centre, Bosch Online Store, Bosch Flagship Store on Lazada, Courts Megastore and Courts Causeway Point. www.bosch-home.com.sg 
FOR THAT PERFECT POTION 
Bosch VitaBoost MMBH6P6B
Whether you crave hot soup, a cold shake or smoothie, this highperformance, 2-litre blender offers you an array of delicious possibilities with its six programmes (one of which for ice cream!) for your preferred blend. At $699.
Bosch VitaStyle Mixx2Go MMBM7G3M Mini Blender
This stylish blender not only whizzes up both hot and cold ingredients, it also comes with a ToGo bottle made of durable Tritan so you can take your favourite concoction on the go. At $189.
CATEGORY: MOST INNOVATIVE MOP
WINNER:
Hizero F801 All-in-One Cordless Floor Cleaner
Cleaning Hero
We all know how tedious cleaning floors can be: Sweep, vacuum, mop. It is not only tedious and tiring, but time-consuming as well. Thankfully, with Hizero F801, you can get your floors spick and span in one fell swoop!
Combining the capabilities of a powerful vacuum cleaner and a damp mop, this all-inone cordless appliance integrates sweeping, mopping, drying and self-cleaning, saving you time and energy. Its dual-tank water system means clean water is used every time (one litre cleans 1,076 sq ft) while its two-step trash removal system separates solids from liquid waste for easy disposal.
Hizero's bionic technology also ensures there is no air outlet to release allergens or dust, which is great for those with asthma or allergies. With this All-In-One Cordless Floor Cleaner, you can get hard floors sparkling clean without breaking a sweat. At $799.
The Hizero All-In-One Cordless Floor Cleaner is available at major departmental stores and electrical chain stores, including Takashimaya D.S., TANGS at Tang Orchard, Harvey Norman, and selected Best Denki and Courts stores. Visit their distributor, VISO's showroom at: #03-10, 100 Pasir Panjang Road. www.hizero.com.sg 
CATEGORY: BEST COMPACT WASHING MACHINE
WINNER:
Brandt Compact Top Load Washing Machine (BT653HQA)
Wash Smart
Doing laundry doesn't have to be a chore. Brandt's Compact Top Load Washing Machine promises to help you breeze through laundry duty. Its Easy Start function registers all your settings in each cycle and constantly updates all data. So, as soon as the washer is switched on, it automatically proposes your most frequently-used programmed wash cycle.
This smart washer also lets you choose from different programmes such as for sensitive skin or dark colours to suit your needs. It comes with a load capacity of 6.5kg, and its sleek, compact design (just 40 cm wide!) means it'll fit in almost any home.
Equipped with an induction motor, which comes with a 10-year warranty, this washer significantly reduces energy consumption. Its Opti function allows you to adjust water and electricity consumption, and cycle time for a perfect wash each time. It also features a central LED control panel and a LCD display for easy viewing and use. With the Brandt Compact Top Load Washing Machine, you might just be looking forward to laundry time. At $1,099.
Brandt appliances are available at all leading electronics dealers and retailers. www.brandt.sg
CARE FOR  YOUR CLOTHES
Brandt 8kg Dryer BWD58H2DA
Under the memo function, the dryer proposes your most frequently-used programme as soon as it's switched on. The large drying load capacity makes it ideal for big families and the operation of the heat pump requires little energy and significantly reduces energy consumption. At $1,499.
Brandt Front-Load Washer BWF814AG
You probably have lost count of the number of times you've forgotten a sock or shirt after the washer is running its cycle. Now, with Brandt's Add-Wash function, you just need to push a button and pop the forgotten item in, even in the middle of a wash cycle. At $1,299.
CATEGORY: BEST BUILT-IN OVEN
WINNER:
Brandt Built-In Pyrolytic Oven (BXP6577X)
A Smarter Roast
Elevate your cooking routine with an intelligent oven like Brandt's Built-In Pyrolytic Oven. Made in France, it boasts a new heat-diffusion technology to ensure consistent temperature throughout the oven chamber for uniform doneness in your cooking. Its AutoCook feature automatically determines the ideal cooking time, temperature and function for your dish.
To save you even more time, its Pyro Express feature uses residual heat to pyroclean the oven cavity in just 59 minutes, so you can focus more on enjoying your meal without worrying about all that cleanup.
Perfect for large families or anyone who loves to entertain, this oven has an optimal volume of 73 litres and lets you stack your oven dishes over six levels so you can easily whip up a feast in no time. Plus, it consumes minimal energy, thanks to its unbeatable insulation and superb temperature control. At $2,209.
Brandt appliances are available at all leading electronics dealers and retailers. www.brandt.sg
EFFORT-FREE COOKING
Brandt Built-In Steam Oven BKV6132X
Enjoy healthier meals with maximum flavour and minimal effort thanks to this steam oven's nine automatic steam-cooking functions, with presettable cooking durations. You can also manually select from a range of temperatures from 55 C to 100 C. At $1,999.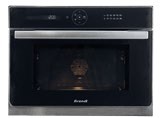 Brandt Combi Microwave BKC6575X
Whether you're thawing, cooking or reheating food, the Quattro system ensures that heat is distributed evenly, while the auto-programme function calculates the duration and cooking mode for anything you want to cook. At $2,209.
CATEGORY: BEST MULTI-DOOR FRIDGE
WINNER:
LG Instaview Door-in-Door ® Refrigerator (GF-Q4919MT)
Elegant and Efficient
More than just a statement piece in your kitchen, the sleek LG Instaview Door-inDoor ® Refrigerator works to extend the period of freshness for your food items with its NatureFRESH ™ features. Its LINEARCooling ™ and Door Cooling+ ™ technologies help minimise temperature fluctuations and maintain an even temperature throughout different compartments. The fridge also consumes 32 per cent less energy and is 25 per cent quieter than conventional fridges, making it much more energy-efficient. A smart air filter removes 99.9 per cent of bacteria and bad odour to keep food items fresh.
The refrigerator also comes with LG's unique Instaview Door-in-Door ® feature; this gives you a peek into one of the compartments without opening the fridge door (wasting energy) – you only need to knock twice on the glass panel. At $5,189.
LG appliances are available at leading electrical stores island-wide. www.lg.com/sg
SIMPLIFY YOUR CHORES 
LG Styler in Mirrored Finish S3MFC
The new LG Styler works to disinfect, eliminate odour and refresh your apparel, bedding and soft toys with its TrueSteam ® technology. Its mirrored finish lets you check your outfits or envision your ensembles before wearing them, a perfect complement to a walk-in wardrobe. At $3,299.
LG Quadwash
Dishwasher DFB227HM Four multi-motion spray arms rotate and spin back and forth to tackle dirty dishes using highpressure water jets. The quiet dishwasher also features LG's TrueSteam ® technology that disinfects and gives you up to 60 per cent less water spots. At $3,299.
CATEGORY: MOST INNOVATIVE WASHING MACHINE
WINNER:
LG TWINWash ® (FG1450S3WN + TG2402NTWW)
Take A Load Off
Dirty clothes can pile up very quickly. From your kids' sweaty, food-stained clothing, your office wear to your partner's work wear and football kits, the amount of laundry that needs to be washed every day, sometimes in separate batches, can take up hours of your precious time.
To save time, the LG TWINWash ® washing machines let you run two loads at once, so you can get twice the amount of laundry done at the same time.
Each TWINWash ® machine comes with one main washer and one mini washer, so you can conveniently separate your laundry based on colours or delicateness. LG's TrueSteam ® technology penetrates fabrics with steam to eliminate 99.9 per cent of household allergens while softening wrinkles and getting rid of odours. At $2,998.
LG appliances are available at leading electrical stores island-wide. www.lg.com/sg
CATEGORY: BEST LUNCHEON MEAT
WINNER:
MaLing Pork Luncheon Meat
Exceptional Flavour
Cooking up meats from scratch takes time, but with MaLing Pork Luncheon Meat, you can instantly add that rich, savoury flavour to your dishes without any fuss.
Infusing that unmistakable taste that Asians have come to love, this popular luncheon meat is so easy to prepare and goes well with almost everything – stirfried with rice, fried as slices to go with noodles, or added atop pizzas as a delicious topping. You can also cut it into strips and whip up yummy luncheon meat fries. If you are strapped for time, wrap it with a slice of plain bread, or simply eat it on its own.
Pairing high-quality ingredients with unforgettable flavour, it is no wonder MaLing takes the crown as the No. 1 best-selling canned luncheon meat in Singapore. At $2.85 (397 g).
MaLing, Narcissus and Yifon products are available at major supermarkets and minimarts.
SUCCULENT SIDES
Yifon Longans In Syrup
Freshly-picked, large longans from Thailand make a great refreshment – be it in a chilled dessert or as a delicious beverage. You can also enjoy their fruity sweetness right out of the can. At $2.25 (565 g).
Narcissus Pork Leg With Mushrooms
Well-marinated and stewed to perfection, this chunky meat literally falls off the bone and offers rich flavour with each bite – the perfect addition to a plate of plain beehoon. At $4.50 (397 g).
CATEGORY: BEST PEANUT BUTTER
WINNER:
Skippy Squeeze – Creamy Peanut Butter
Be My Main Squeeze
Whether you spread it or slather it, SKIPPY ® has got you covered. Now, to make it even more convenient for you to get your peanut butter fix for the day, you can squeeze it!
SKIPPY ® Squeeze comes in an innovative soft squeeze pouch for portability, so you can snack on your favourite nut butter wherever you go – be it at the office, an outdoor picnic or on your next trip overseas.
The no-mess packaging is designed so you can savour the yummy lip-smacking peanut butter - without the inconvenience of storing jars, and using and washing knives. With SKIPPY ® Squeeze, you just need one squeeze and out comes the nutty deliciousness! No more sticky fingers, too. At $4.30 (290 g). SKIPPY ® Creamy also comes in jars — 500 g ($6.75), 340 g ($5.25) and 170 g ($3.45).
SKIPPY ® products are available at major supermarkets and minimarts.
 SNACK ATTACK 
SKIPPY ® Peanut Butter Chunky
Craving a taste of crunchy goodness? This is loaded with real peanut chunks for an extra scrumptious bite. At $6.75 (500 g).
SKIPPY ® Peanut Butter Choco Stripe
This combines the sweet and indulgent taste of chocolate with the roasted flavour of peanut butter for a mouthwatering treat. At $7.00 (530 g).