Flagship smartphone makers have it tough.
Flagship smartphone makers have it tough. Having to always squeeze out more performance, eke out more display space, and still come up with exciting new features year-on-year is difficult to say the least. And then there's the competition. 
Apple iPhone 11 Pro Max - Asus ROG Phone II - Google Pixel 4 XL - Huawei Mate 30 Pro - Samsung Galaxy Note 10+
AT A GLANCE
PROCESSOR:
Apple A13 Bionic
DISPLAY
6.5-inches  2,688 x 1,242 pixels (458 ppi) Super Retina
DIMENSIONS
158 x 77.8 x 8.1 mm
WEIGHT
226g
PRICE
$2,039
APPLE IPHONE 11 PRO MAX
The iPhone 11 Pro Max is one of two iPhones to be the first to be assigned a "Pro" moniker. The phone follows the same overall aesthetic as the iPhone XS Max, with a stainless steel body and a glass back. This has an IP68 water and dust resistant rating, and Apple says the phone can stay submerged in up to 4 metres of water for up to 30 minutes.
While the design language is the same, the iPhone 11 Pro Max is noticeably thicker and heavier than its predecessor. Thickness is up by 0.4mm from 7.7mm to 8.1mm, and weight is up 18g for the iPhone 11 Pro Max from 208g to 226g. Not a deal-breaker by any means but it's something worth taking note of since the iPhone 11 Pro Max is noticeably heftier in the hands. The iPhone 11 Pro comes in four colours. Space grey, silver, and gold returns, with a new midnight green option.
In terms of display, The iPhone 11 Pro Max gains a 6.5-inch, 2,688 x 1,242 pixels, Super Retina XDR (458 PPI) display. This can now go up to 1,200 nits when viewing HDR10 movies or photos. Clarity, sharpness, and colour accuracy are all excellent with this phone.
The audio side has also improved, because the iPhone 11 Pro Max comes with stereo speakers that support spatial audio. Compared to the iPhone XS Max, the newer iPhone 11 and iPhone 11 Pro sound just about as loud, but distortion is less pronounced and sound is more controlled at extreme volumes. Also, stereo separation is more distinct and there's even the slightest palpable sense of bass.
Now on to the camera system. The iPhone 11 Pro Max has a triple camera system for the very first time so there's now a wide 12-megapixel f1.8 (26mm), an ultra-wide 12-megapixel f2.4 (13mm) and a telephoto 12-megapixel f2.0 (52mm) setup. Apple's made it easy to jump from stills capture to video – just hold down the shutter and flick to the right to change modes.
Stills and videos are sharp with good colours, and the iPhone finally gets Night Mode, which activates automatically when lighting is poor. A good thing about this, is that you can adjust exposure time manually in case you have a tripod handy, to a maximum of three seconds. But it must be noted that Apple has tuned Night Mode so it doesn't turn night into day, but rather just gives you as much detail and dynamic range as possible while preserving the intent of the image.
The iPhone 11 Pro Max easily bests the competition in terms of benchmark tests. The A13 bionic chip has 23% more transistors than the previous A12 chip, and this gives faster processing while using less power.
The iPhone 11 Pro gets a third camera.
Besides the camera cluster, phone design and materials used remain similar to last generation.
Face ID and the notch remains untouched as it's still the main biometric security mode for the iPhone 11 Pro.
AT A GLANCE
PROCESSOR:
Qualcomm Snapdragon 855 Plus
DISPLAY
6.59-inch 2,340 x 1,080 pixels, (391 ppi)
AMOLED DIMENSIONS
170.88 x 77.6 x 9.48 mm
WEIGHT
240g
PRICE
$1,598
ASUS ROG PHONE II
The ASUS ROG Phone II follows much of the same form and design aesthetic of last year's original, where it stood out for its Air Triggers – touch sensitive sensors that act like the shoulder trigger buttons on a game controller.
But there are noticeable changes that make the ROG Phone II more appealing this time around. The off set fingerprint sensor has been removed from the back and replaced by an in-display sensor, and the smaller vent is now functional. Under its hood, this year's model also comes with an increased battery size, speedy UFS 3.0 storage, an incredible 12GB of RAM, and bragging rights for being the first smartphone to sport a 120Hz 2,340 x 1,080 HDR10 AMOLED display, as well as the fastest Snapdragon 855 Plus chipset available.
Running on Android 9 Pie, the ROG Phone II looks fairly contemporary up front. The display is framed by black edges less than a centimetre thick at the top and bottom, with its largest visual standout being the coppergrilled front speakers.
It's on the back where things take on a decidedly flashier aesthetic. There's a heatsink embedded in a glossy plastic section stamped with the words 'ROG Aerodynamic System'; basically a vapour-cooled chamber system much like what its predecessor uses. Ringing the phone's sides are the usual bevy of connectors: a USB Type-C port, a 3.5mm headphone/mic port, the power button, and a volume rocker.
Of interest is the mobile Armoury Crate app, which functions just like its desktop counterpart. You get a system monitor with usage and temperature readings, options to adjust fan speed on the included AeroActive Cooler accessory, and Aura Lighting controls. Yes, this phone does have RGB lighting, strobing away via the ROG logo on the back when X Mode is on.
Another bonus add-on are the programmable Air Triggers, which simulates bumper triggers on a controller for greater control flexibility. However, these are sensors and not physical springs, so don't expect sensitivity along the lines of an actual gamepad.
The ROG Phone II is capable of a lot, but its cameras are its weakest point. It has a dual-lens camera system on its back, comprising a 48MP main lens and a 13MP 125-degree wide-angle lens. It sports the same Sony IMX586 image sensor as the Asus ZenFone 6. Image quality is acceptable but not quite what you would expect from a $1,600 phone.
This is a phone built for gaming and for gamers, in terms of both hardware and design, and it looks and feels great to use in my experience with Mobile Legends: Bang Bang and PlayerUnknown's Battleground Mobile. The swathe of accessories paints some interesting possibilities too, though the entire suite costs nearly as much as the phone.
Specs-wise, you get a large 48MP main rear camera, but implementation is not as advanced as the rest.
For a gaming phone, the ROG PHone II has aggressive styling.
At 120Hz, it's fastest screen on the block.
AT A GLANCE
PROCESSOR:
Snapdragon 855
DISPLAY
6.3-inch 3,040 x 1,440-pixel P-OLED
DIMENSIONS
160.4 x 75.1 x 8.2mm
WEIGHT
193g
PRICE
$1,319
GOOGLE PIXEL 4 XL
The Pixel 4 and 4 XL contain some of the biggest upgrades that Google has made in a single year to its smartphones. And while the crowning glory of the Pixel series has always been its camera, the Pixel 4 serves up a platter of new features, including radar-based gesture sensing and Face IDstyle Face Unlock.
This is perhaps the most exciting upgrade the Pixel line has gotten to date. When I say exciting, I mean this mostly from a technological standpoint. This isn't a phone that you're going to clamour after because of its looks. Bezels are back again, but unlike last year's muchdecried notch, there's a good reason for the top bezel now. It houses the cameras and sensors necessary for Face Unlock and gesture sensing.
The Face Unlock technology is similar to Apple's Face ID, relying on an IR flood emitter and dot projector. While it is not the first Android smartphone to implement 3D face unlock, it is the first Android to be secure enough for payments and authentication purposes. And just like the iPhone, the Pixel 4 is bidding goodbye to the fingerprint sensor.
Dubbed Motion Sense, the radarbased gesture sensing tech will let you interact with the phone without ever touching it, so you can simply swipe to silence your alarm in the morning or navigate your playlist. There's proximity detection capabilities built into it too, so it can sense when you're approaching the phone and get the Face Unlock sensors ready to scan your face. This makes unlocking your phone quicker, and unlike on the iPhone, it sends you straight to your home screen without having to swipe up again. If you walk away from the phone, Motion Sense will know and turn off the always-on display.
Other features include a 90Hz display with Ambient EQ, which changes the screen colour temperature to match your surroundings, and the next-gen Assistant, which runs locally on your phone and has a better understanding of context.
The camera gets a second 16-megapixel telephoto lens with an f/2.4 aperture. This joins the 12.2-megapixel camera from last year, and Google is leveraging the telephoto lens for improved Super Res Zoom and Portrait mode. The camera app gets dual-exposure sliders as well, which should help in scenes with challenging lighting by allowing you to separately manipulate the shadows and highlights.
The way I see it, the Pixel 4 exemplifies the potential of the Pixel line and I'm already looking forward to what Google will do with the Pixel 5. Compared to the competition though, there's nothing in here that really pushes it above the crowd.
The Pixel 4 XL's camera cluster looks as huge as the iPhone 11 Pro's, but really only has 2 cameras.
Return of the bezel, but at least this time, comprises 3D face unlock sensors, just like the iPhone.
Regardless of the colour you choose, you get black sides, which is a great contrast for the rear, while making the front screen look seamless.
AT A GLANCE
PROCESSOR:
Hisilicon Kirin 990 Octa-core (2x2.86 GHz Cortex-A76 & 2x2.09 GHz Cortex-A76 & 4x1.86 GHz Cortex-A55)
DISPLAY
6.53-inches FHD+ 2,400 x 1,176 pixels (409 ppi) OLED
DIMENSIONS
158.1 x 73.1 x 8.8 mm
WEIGHT
198g
PRICE
$1,298
HUAWEI MATE 30 PRO
Easily one of the most talked about phones this year because of its status as the first Android phone without Google Mobile Services out of the box, Huawei's Mate 30 Pro actually has lots of other talking points worth covering. It's a 6.53-inch device that runs on Huawei's latest Kirin 990 SoC chipset, with EMUI 10.0 and Android 10. There's only one storage conflguration - 8GB RAM matched with 256GB of storage – though additional storage can also be added by way of Huawei's Nano memory card.
The Mate 30 Pro features an 88-degree curved OLED display that wraps around the sides of the phone. It has a resolution of 2,400 x 1,176 pixels and does double duty by providing virtual volume controls that can be assigned to either side. As such, there's really only one button on the phone, so the screen-to-body ratio is truly maximized.
This has good brightness and contrast, with colours that actually seem a bit more accurate than our previous benchmark - the P30 Pro. We'd say you get a slight bit more saturation with the Mate 30 Pro, leading to richer colours. Unfortunately, the audio quality straight out of the phone doesn't quite match, as the volume of the under-display speaker of the Mate 30 Pro is quite a bit softer than the rest of the phones in this shootout.
Power management is a strong point with this phone. Not only does it come with a huge 4,500 mAh battery, it also supports 40W wired Supercharging and 27 Wireless Supercharging. In our testing, the Mate 30 Pro lasted a good 16 hours at full volume and maximum brightness, easily beating the next best option by a good 500 minutes.
It also charges very quickly, hitting 45% charge in just 30 minutes and getting back to 100% in an hour and seven minutes. No worries about running out of power with this phone then.
The Mate 30 Pro also takes good advantage of the front-facing camera to add some interesting features. For example, when viewing photos on screen, the phone is able to detect the direction of your face and automatically rotate the picture to match. There's also a new privacy feature where the phone is able to sense if someone other than yourself is looking at the screen and automatically hide the content of your notifications.
Yet that's not the best part. The camera system of the Mate 30 Pro is where it really takes the cake, pushing smartphone video capture to new levels with a second 40MP ultrawide sensor. It's able to go up to ISO 51,200 for extreme lowlight videos, and has incredible slow-motion capture capabilities, even giving you the ability to slow down a bee in flight with just your phone.
Probably the most advanced camera system among the lot.
Since the Mate 20 Pro, Huawei has had 3D Face unlock, and the Mate 30 Pro retains it.
There's only a single button, as the screen curves all the way to the sides to provide programmable touch buttons.
AT A GLANCE
PROCESSOR:
Samsung Exynos 9825 octa-core (2x2.73 GHz Mongoose M4 & 2x2.4 GHz Cortex-A75 & 4x1.9 GHz Cortex-A55)
DISPLAY
6.8-inch 3,040 x 1,440 pixels (498 ppi) Dynamic AMOLED In nity-O Display
DIMENSIONS
162.3 x 77.2 x 7.9 mm
WEIGHT
196g
PRICE
$1,598
SAMSUNG GALAXY NOTE 10+
Say Samsung Galaxy Note series and you'll think bigger display, long battery life, high-end hardware and of course, the S Pen stylus. That's hasn't changed this year, with the 6.8-inch Galaxy Note10+ having a screen-tobody ratio of >94%, giving you all the screen real estate you could ever need from a phone.
The Note10+'s WQHD+ (3,040 x 1,440) Dynamic AMOLED Infinity-O display supports HDR+ and goes up to 1,200 nits brightness, with a Display contrast ratio of 2,000,000:1. We thought it provided good contrast and natural colours and didn't have any issues viewing the screen even in bright noon sunlight.
The Note10+ has Samsung's new 7nm 64-bit octa-core Exynos 9825 processor. Two storage configurations are available: 12GB RAM/256GB and 12GB RAM/512GB. It's the first Samsung phone to adopt the speedier UFS 3.0 storage spec for internal storage. It also has a microSD slot that takes up to 1TB more of storage, so you can literally have as much storage space as some of today's laptops.
The signature S Pen also gets new tricks too. You can now use it to remotely zoom the camera in and out, as well as to switch camera modes with a literal flick of the wrist. Your handwriting can also be digitized to text with just a tap, so you don't have to retype your notes to get them on your computer. The Galaxy Note10 also features what Samsung says is the world's slimmest vapour cooling system, which delivers optimal performance during gameplay without adding additional bulk.
Samsung has taken great pains to make the Note10+ more of a productivity tool than before, with the addition in-camera video editing capabilities and better integration with computers via Samsung DeX and the Your Phone app for Windows10. These two apps let you project and control the Note10+'s screen onto your monitor, so you can easily drag and drop files or just take advantage of the computer's larger display as well as the keyboard and mouse. The Note10+ has a wide-angle 12MP 2PD AF F1.5/ F2.4 main camera, an ultra-wide 16MP F2.2 camera, a telephoto 12MP F2.1 camera, and a VGA DepthVision camera for augmented reality and 3D applications, like the AR Doodle feature and the 3D Scanner app. Both the main and the telephoto cameras have OIS, and the Note10+ even has a microphone zoom feature, which concentrates audio capture on your subject as you zoom in.
Video has definitely become a point of emphasis for the Note10+, as Samsung has added a native video editor app that lets you do simple edits like cuts and transitions. What's nice is that you also get ready access to an online library of free soundtracks for your personal projects, so you can quickly complete your piece.
Similar camera setup to the S10+, but the Note 10+ has an additional DepthVision sensor.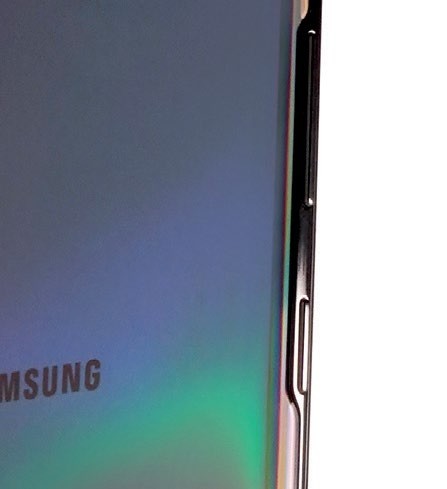 As a flagship productivity device, the Note 10+ has a solid, classy design and feel.
There's a single punch hole camera in the middle top of the front screen, which Samsung calls Infinity-O display.
AND THE BEST FLAGSHIP SMARTPHONE IS….
THE SAMSUNG GALAXY NOTE10+
The Apple iPhone 11 Pro Max had the best benchmark performance; the Huawei Mate 30 Pro had the best camera; the ASUS ROG Phone II has the best gaming package. Sure, they're all really good individually, but our overall best smartphone this year goes to the Samsung Galaxy Note10+. It is easily the most well-rounded with features that will be useful to most people.
You've got future-looking Augmented Reality features, a capable video editor, and better support for audio capture during video recording.
The Note10+'s integration with computers is also more seamless than ever, so you can really take full advantage of the larger display of your laptop for both work and play. The Note10+'s Dynamic AMOLED Infinity-O display is also one of the few that will go up to WQHD+ (3,040 x 1,440) resolution and a quality set of speakers that give good resolution and imaging.
Productivity features thanks to the S Pen, 12GB of RAM, and up to 512GB of storage that can be further increased by way of a microSD plus a fairly large 4,300mAh battery just adds to that the fact that the Galaxy Note10+ offers the best value of all the smartphones in this shootout.