Held at bayfront event space, the 11th edition of shape run was a feast for the eyes, making everyone achieve her personal best.
Held at bayfront event space, the 11th edition of shape run was a feast for the eyes, making everyone achieve her personal best.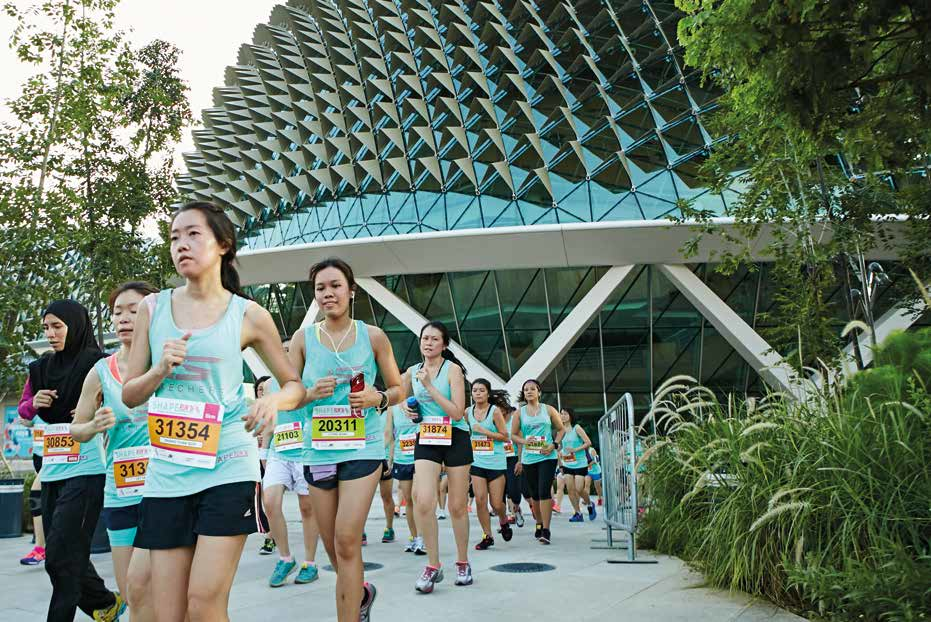 For the first time, Shape Run was held at Bayfront Event Space, situated next to Marina Bay Sands (MBS) and a stone's throw from the Bayfront MRT station.
From as early as 5.30am on July 24, 9,500 participants started showing up in their pretty robin egg blue Shape Run Skechers tank tops. Some also wore bright pink capes, which they bought to support Life Community Services Society, a charity that helps disadvantaged children. Printed on the back of the top were the words "Go like never before". And they did.
The sun had yet to rise, but the MBS area was already lit up by smiles of eager runners taking part in the 15km, 10km, 5km and 1.8km family fun run categories, as well as cheery vibes from host Charmaine Yee. At 6am, the horn sounded for the 15km flag-off , symbolising the start of a fun-filled event to come.
Participants were treated to postcard-worthy views as they ran past iconic landmarks such as the Art Science Museum, Gardens by the Bay, Marina Barrage, Singapore Flyer, Esplanade and Merlion Park. The scenery was so stunning that many stopped to take selfies and wefies. Talk about running motivation!
An hour and 10 minutes later, 35-year-old physiotherapist Ong Kaifen dashed past the finishing tape to become the fastest 15km runner. Grinning while catching her breath, she said: "I'm very, very happy with my performance. The scenic route made it so enjoyable to run."
That was exactly the sentiments of other runners, who looked flushed but happy.
Suzanne Walsham, winner of the 5km race, said: "Love the nice, flat course. It was a beautiful run against an amazing backdrop!" A Shape Run veteran, the 42-year-old accountant completed her race in a speedy 18:36.
For another seasoned runner, stock broker Vivian Tang, 45, who topped the 10km race with a timing of 41:06, the steady pacing of the road marshal made all the difference. "I'm so grateful to the marshal who led the way by cycling in front of me. By spotting him, I could focus on maintaining my targeted pace of four minutes per kilometre."
In the 1.8km family fun run, timing was irrelevant as families with children as young as three months old were seen strolling along MBS, pram in hand. For them, Shape Run was an opportunity to enjoy an active day out while spending quality time with their loved ones.
Insurance agent Jennifer Oh, 47, joined the 1.8km fun run with her sisters and their kids. "We had a great time clocking steps and taking a nice walk together," she said.
Back at the race village, participants were clearly on a runner's high. They checked out various sponsor booths to sample food and drinks, tried out beauty products, shopped discounted sports gear and took part in lucky draws. Others jumped on the chance to take photos with cute mascots, proudly wearing their finisher's medals.
With more energy than ever, they kicked and punched their way through a 45-minute piloxing workout led by True Fitness instructors. Everyone left the event psyched, ready to take on the rest of the day.
The official hashtags of Shape Run 2016 are #shaperun and #runmypersonalbest. For more photos and updates, check out www.shape.com.sg and follow us on Facebook (www.facebook. com/ShapeSingapore) and Instagram (@shape_sg).
WHAT WAS IN THE SHAPE RUN GOODIE BAG – THE BEST RACE PACK EVER!
Skechers Racerback Tank Top worth $59
Biotherm Skincare Kit
Runner's Bib
Timing Device (Competitive Categories only)
Runner's Handbook
Finisher's Medal
Finisher's Certificate (For Competitive Categories only; soft copy)
Acuvue Voucher worth $30
AIBI Discount Voucher
Buzz Voucher
Captain Oats Instant Oatmeal
Cheryl W Wellness And Weight Management
Service Voucher
Compressport Discount
Voucher Enervon C Capsule Pack
Eu Yan Sang Voucher
Fitness First 3-day Pass worth $75
H-Two-O Original Isotonic Drink (500ml)
MegRhythm Steam Eye Mask Naturel Organic Mixed Brown and Red Rice (150g)
Salonpas Pain Relief Patch Senka Perfect Whip Facial Foam (120g) Or Tsubuki Shampoo and Conditioner (220ml)
Sofy Extra Dry Sanitary Napkin True Fitness 10-day Pass worth $110
UCA Cassava Chips Original (60g)
Plus other goodies from our sponsors!
WE COULDN'T HAVE DONE IT WITHOUT YOU!
PRESENTER DUO REWARDS
CO-PRESENTERS BIOTHERM & SKECHERS
OFFICIAL COMPRESSION WEAR 2XU
OFFICIAL FITNESS EQUIPMENT AIBI
OFFICIAL WELLNESS & WEIGHT MANAGEMENT CHERYL W
OFFICIAL ISOTONIC DRINK H-TWO-O
VENUE SPONSOR RAFFLES CITY
OFFICIAL PAIN RELIEF PATCH SALONPAS
OFFICIAL FACEWASH SENKA
OFFICIAL SANITARY NAPKIN SOFY
OFFICIAL FITNESS PARTNER TRUE FITNESS
OFFICIAL HAIR CARE TSUBAKI